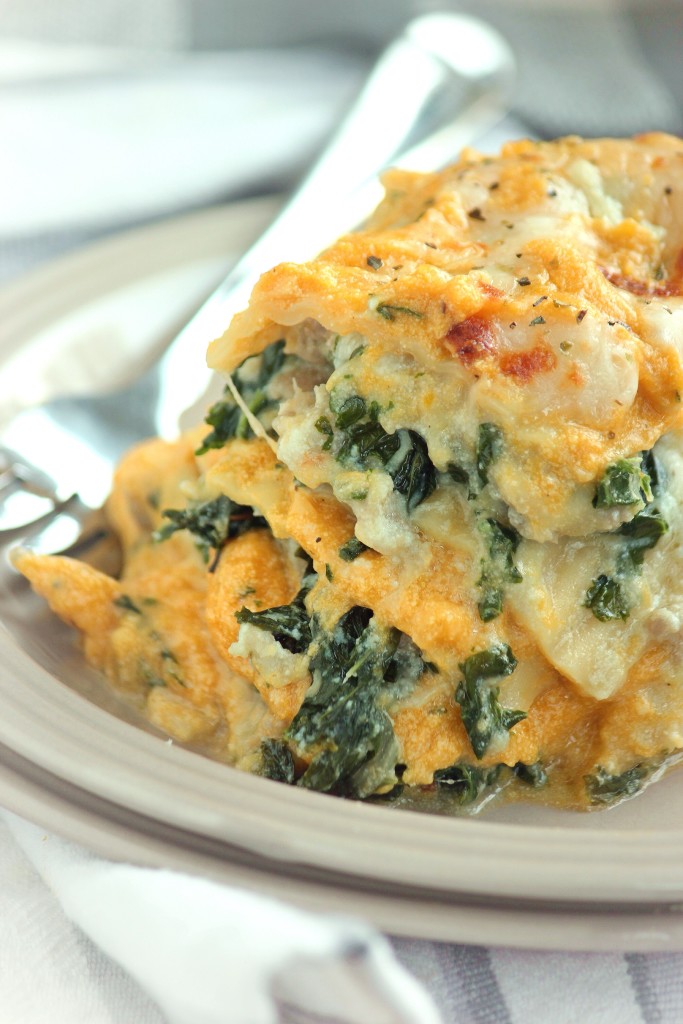 I've made a lot of food and drink concessions being married to Dave – the first was beer. Before we met, I was more of a 'raspberry vodka with sprite' kind of gal who chased beer with diet coke. The other was seafood. I thought seafood belonged at the bottom of the ocean and NOWHERE ELSE. But Dave is a beer man – and a seafood man – and so down the beer/seafood rabbit hole I fell.
The newest concession though is squash. Dave planted squash in our garden this year and now, we have squash growing out of orifices that we never thought squash could grow. We're giving it away like crazy. Cooking and roasting it like crazy. And still. SO MUCH SQUASH. I figured this was the time to embrace it – make it work – make it go away!
This recipe guys? Its made me fall in love with squash. And I have to say I think the key is the caramelized onions. My friend Ash introcuded me to this amaaaaaaaaaaazing Butternut Squash Dip and it calls for caramelized onions. The onions kind of dull down the 'squashiness' and give it a whole different flavor while still staying sweet and squashy. This recipe for Butternut Squash & Spinach Lasagna looked pretty good so I made it with a few tweeks – but when I made it the second time, I remembered that caramelized onion magic, made a few more tweeks and YES. SQUASH FOR LIFE.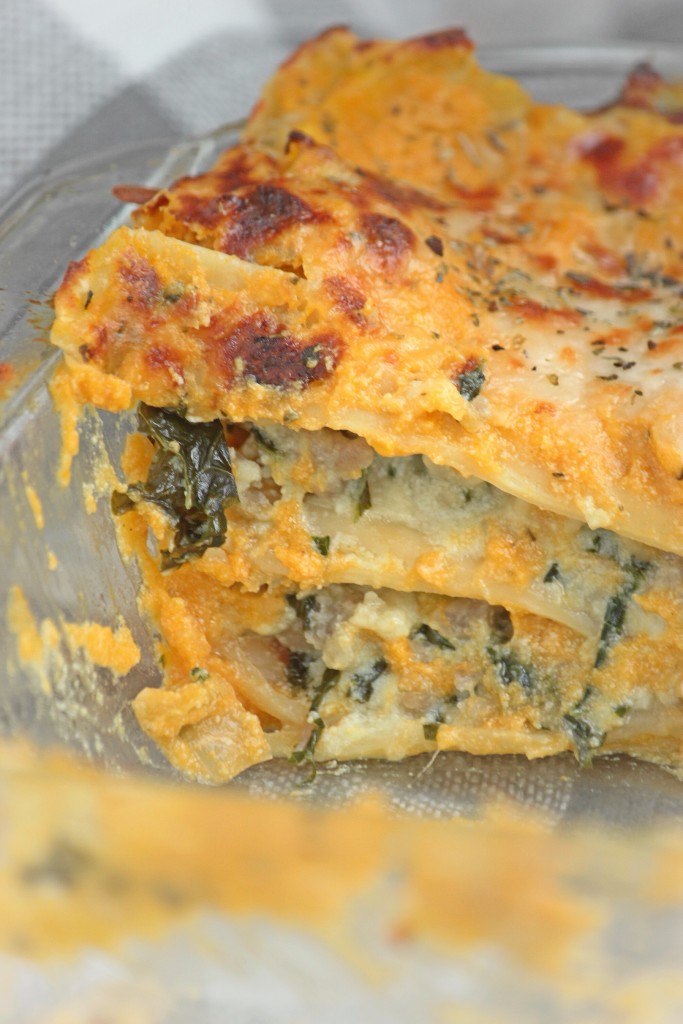 At first glance, it seems like there's a lot of moving parts to this recipe, but you can caramelize your onions while your kale and sausage are cooking and if you've already got the squash puree ready to go, you're golden. As a result of excessive squash, we've got squash puree coming out of our eyeballs, which is convenient for recipes like this. But if not, you can always buy the pre-peeled squash, cut it into chunks and roast it in the oven as a shortcut. As a way to avoid having to actually peel the squash which I find to be as easy as changing a squirmy 8 month old's dipaer (NOT EASY AT ALL), just slice the squash in half, take the seeds out and let it roast for about an hour and a half on 375 degrees. Again, more time, but more sanity

This is the most perfect fall comfort food peeps – and it allowed us to get rid of 1/2 of a squash – 849587496745 to go.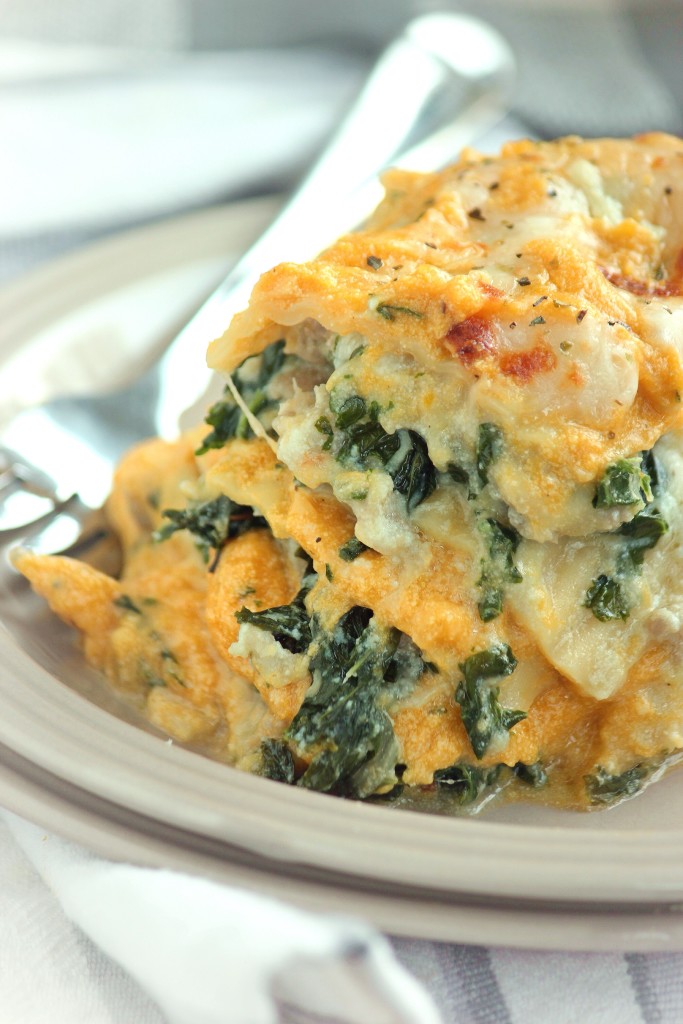 Butternut Squash, Kale & Sausage Lasagna
2016-10-25 18:14:09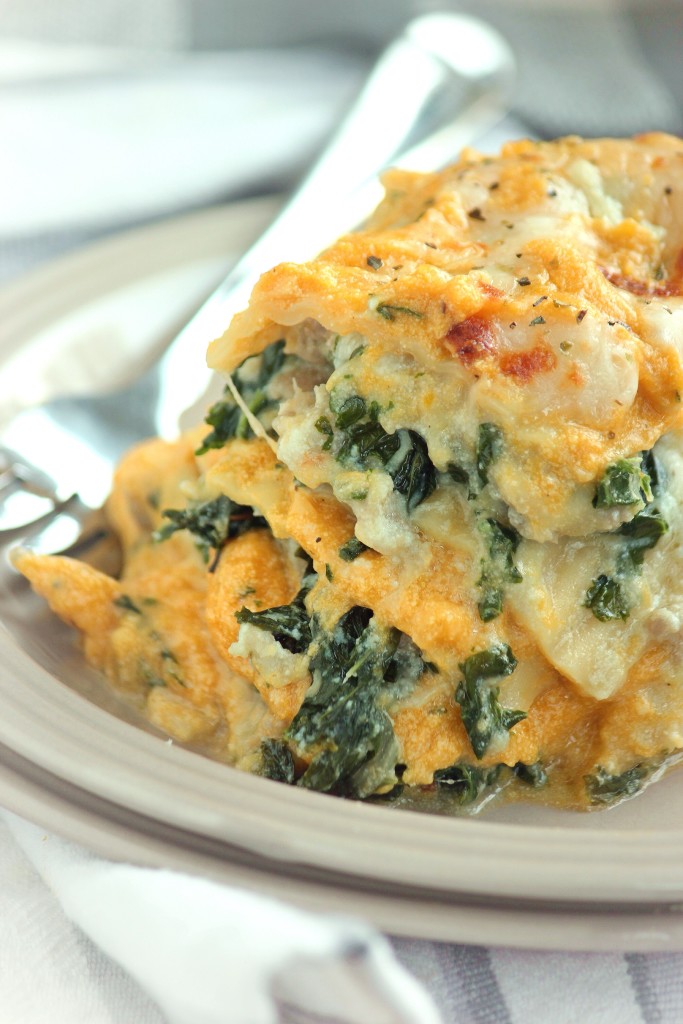 The most delicious combination of fall flavors, wrapped up in one ooey, gooey lasagna
For the sausage/kale layer
1 tablespoon olive oil
1 lb ground Italian sausage
1 medium bunch of kale, chopped small
2 large garlic cloves, minced
1 teaspoon salt
½ teaspoon pepper
1 cup ricotta
1 cup shredded mozzarella cheese
For the butternut squash layer
1 tbsp olive oil
½ large onion, sliced and caramelized
2 cups butternut squash puree (about 1/2 of a large butternut squash, roasted)
1 cup part-skim ricotta cheese
½ cup milk
1 teaspoon salt
½ teaspoon pepper
For lasagna
12 cooked lasagna noodles
1-2 additional cups of shredded mozzarella cheese (depending on how heavy you want to sprinkle in between layers)
Instructions
Preheat oven to 375 degrees F.
Bring a large pot of salted water to a boil and cook your lasagna noodles. Set aside once cooked.
Heat your olive oil in a large saucepan over medium heat. Add your ground sausage (if you have sausage links, just remove the casings and break up with a spatula) and cook all the way through, until sausage is browned, stirring frequently. After your sausage is fully cooked, add your minced garlic, chopped kale, salt and pepper. Let the kale wilt a bit and then begin mixing the sausage and kale together until the kale is fully cooked and reduced in size by about half. After the kale is fully cooked, you can stir in your ricotta and mozzarella and set mixture aside.
While your kale and sausage are cooking, you can be caramelizing your onions. Heat 1 tablespoon of olive oil over medium heat and add your onions, stirring frequently until they're fully caramelized. You'll know they're done when they turn golden brown and have reduced in size by about half.
Prepare your butternut squash layer by adding your squash puree, caramelized onions, milk, ricotta, salt and pepper to a food processor and pulsing until fully combined and spreadable. You can always add more milk if you think you need it, but I found that 1/3 cup was a perfect amount to keep it nice and thick but still spreadable.
Assemble your lasagna by lightly greasing an 8x8" baking dish with non-stick cooking spray. Take 1/3 of the squash mixture and spread it on the bottom of the pan, then lightly sprinkle with mozzarella cheese and cover with 3 lasagna noodles (I had to cut a bit off of each noodle for them to fit – or you can just fold over). Spread ½ the kale/sausage mix over the noodles, then sprinkle a little mozzarella cheese and another 3 cooked lasagna noodles. repeat layers again - 1/3 squash/mozz/cooked noodles then the other ½ of kale/sausage/mozz cheese/last 3 cooked noodles – then your last layer should be the last 1/3 of the squash mixture on the top, sprinkled lightly with mozzarella cheese.
For ease of reading (sometimes I get confused with layering in lasagna recipes) layers should go as follows - 1/3 squash mixture/mozzarella/3 cooked noodles/1/2 kale/sausage mix/mozzarella/3 cooked noodles/1/3 squash mixture/mozzarella/3 cooked noodles/1/2 kale/sausage mix/mozzarella/3 cooked noodles/1/3 squash mixture/Mozzarella
Cover dish with foil and bake for 30 minutes covered. Remove foil and cover for another 10 minutes, until cheese is browned and bubbly on top. Let rest for 5-10 minutes before cutting and serving.
Adapted from Julia's Album
And They Cooked Happily Ever After http://www.andtheycookedhappilyeverafter.com/