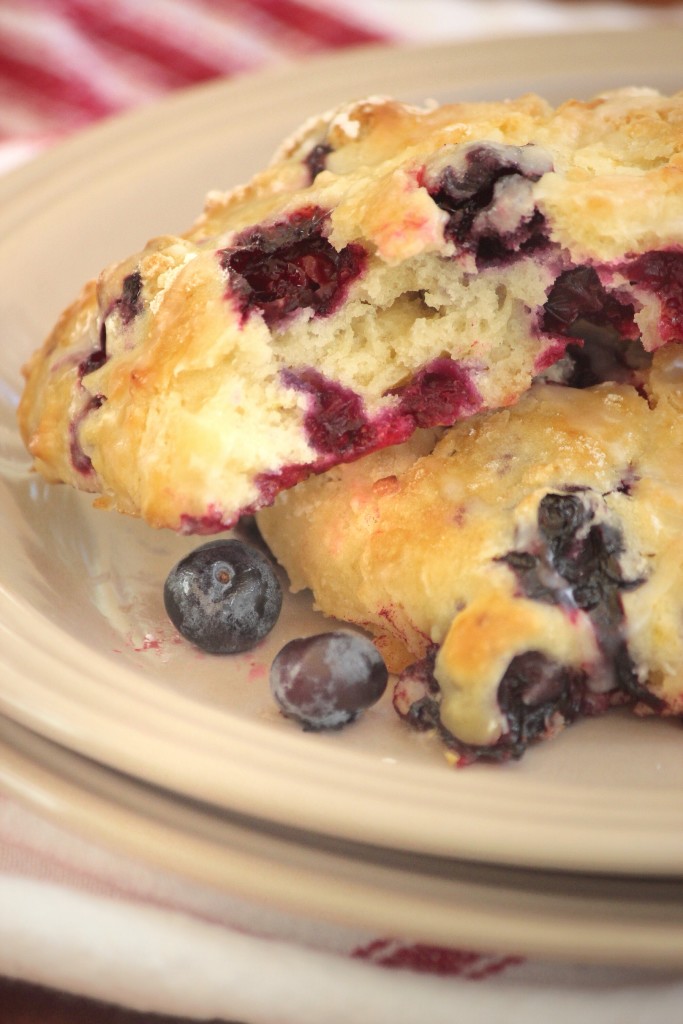 We hit the blueberries (here-on-in referred to as "blubes") hard this summer guys. HARD. When you have an orchard at the bottom of your street with hundreds of bushes of plump blubes ready to be yanked off their branch, you gotta. And when you get home with 2 quarts of blubes and a blue teeth from eating so many while you were picking them, you gotta figure out what else to do with them.
ENTER LEMONY BLUEBERRY GOAT CHEESE SCONES STAGE LEFT.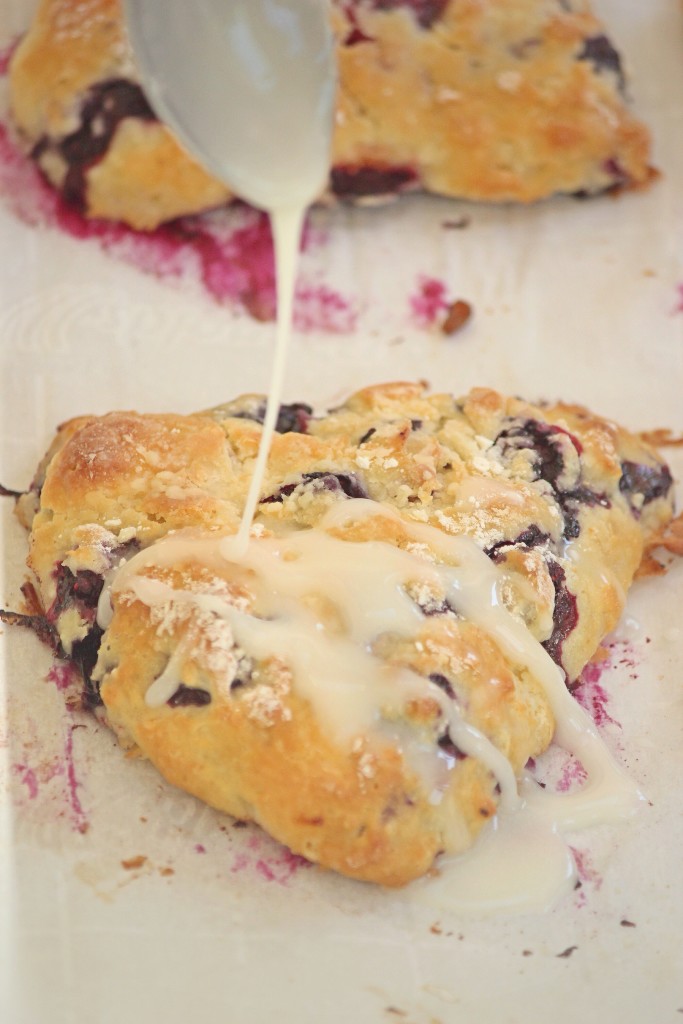 I made these
Blueberry Goat Cheese Scones
a couple years back using my most fave scone recipe from Martha Stewart. So easy to throw together. HOWEVER, this time, I did a little research beforehand and found this amazing tip from
Sally
(she knows her scone shiz – and every other baked good for that matter) She recommended freezing the butter. FREEZING it. And then grating it with a cheese grater. Whaaaa? But when Sally speaks I listen. And guys, wow. It made SUCH a difference. I didn't grate them, but instead just cut the frozen butter with a knife and gave the shards a rough chop, and I couldn't believe how differently they came out with essentially the same recipe (with the addition of some lemon zest and juice) but just freezing the butter. You gotta be careful not to touch the butter with your hands too much though. The less hand contact means the butter will stay frozen yielding a happy scone, not a sad scone. They were super crunchy on the outside but soft soft and moist on the inside, just like you want a scone to be. I also didn't chill the dough this time (no chill time = scones in belly faster).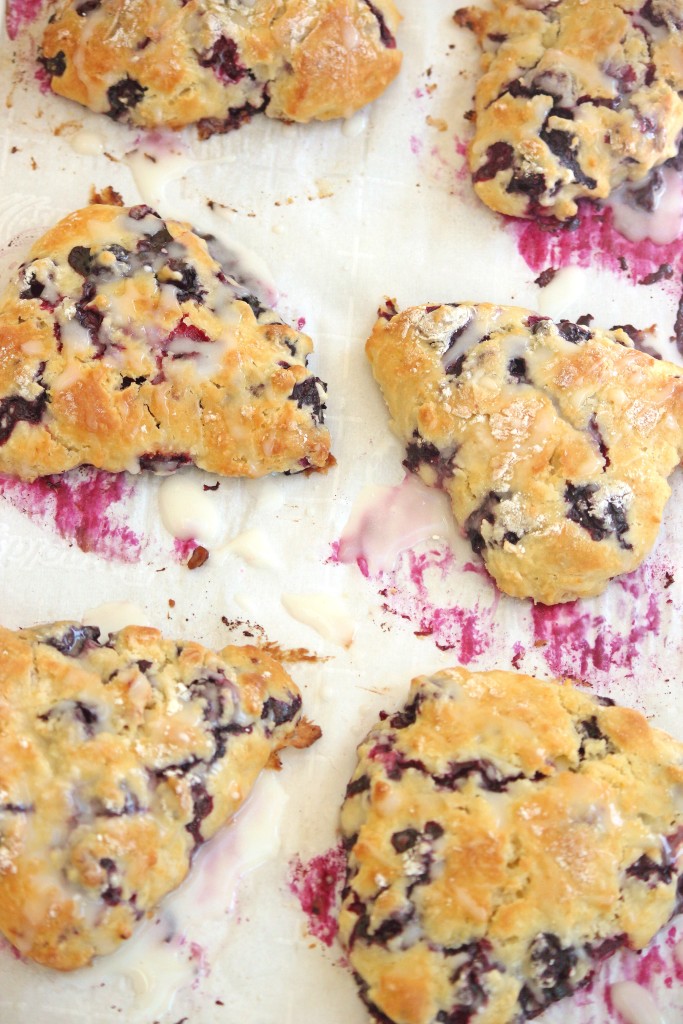 Another tid bit that I discovered is that there truly is no better scone than one that is hot and fresh out of the oven. So, I recommend that if you're not serving these right away, wrap them individually in foil (I actually threw mine in zip lock sammy bags) and when you're a hankerin' for a fresh scone, pop it in the oven and leave it in for an additional 3-5 minutes.
Lemony Blueberry Goat Cheese Scones
2016-08-24 18:56:22
Lemon, Blueberry and Goat Cheese in a crisp on the outside, soft on the inside piece of scone magic
Ingredients
6 tablespoons unsalted butter, FROZEN
2 cups all purpose flour
1/4 cup white granulated sugar, plus 2 tablespoons for blueberries
2 teaspoons baking powder
1/2 teaspoon salt
zest of 1 small-medium sized lemon, plus the juice of 3 small/medium sized lemons (you will need 2 lemons total)
1 cup fresh blueberries
3/4 cup light cream
1 egg
3 oz. crumbled goat cheese (about 1/3 cup)
2-3 tablespoons powdered sugar
Instructions
Place your butter in the freezer for 30 minutes to 1 hour before you start. After butter is frozen, preheat your oven to 400 degrees F.
In a large mixing bowl, combine the flour, sugar, baking powder, salt and lemon zest. Set aside.
In a small mixing bowl, combine your blueberries, juice of 1 lemon and 2 tablespoons sugar and toss to coat the blueberries. Set aside.
In another small mixing bowl, whisk together your cream, egg and juice of 1 lemon. Set aside.
Take your frozen butter out of the freezer and cut it with a knife, trying your best to not make hand contact with the butter. The butter will cut in thin shards since it's frozen. After you've cut it into chards, just give it a rough chop, still without touching the butter with your hands. Then, cut the butter pieces into the flour mixture with a fork until the mixture becomes crumbly. Set aside.
Add the sugar/lemon coated blueberries and your goat cheese crumbles to the flour/butter mixture and gently toss to coat in flour. Then, mix in your egg/cream mixture and fold it gently into the dry mix, being careful not to smoosh the blueberries. Don't over work the dough. Mix it until it just starts to come together.
Dump the dough out onto a WELL FLOURED surface. It'll be very wet and sticky. Put some flour on your hands as well, and work the dough into a disc (about 8-10" in diameter). Then slice the disc into 8 triangles.
TWO OPTIONS
Bake the scones right away in preheated oven for 18-20 minutes until the scones just start to turn golden brown. Remove them from the oven and let them sit for 5 minutes on the baking sheet.
Alternately, you could wrap each slice of scone dough and freeze it. When ready to bake, pop them in the oven frozen and bake for 22-24 minutes.
Just before serving your scones, whisk together the juice of the last lemon with 2-3 tablespoons of powdered sugar until it reaches your desired texture. If you like a thicker glaze, keep adding powdered sugar until it reaches the consistency you like.
Adapted from Martha Stewart
Adapted from Martha Stewart
And They Cooked Happily Ever After http://www.andtheycookedhappilyeverafter.com/