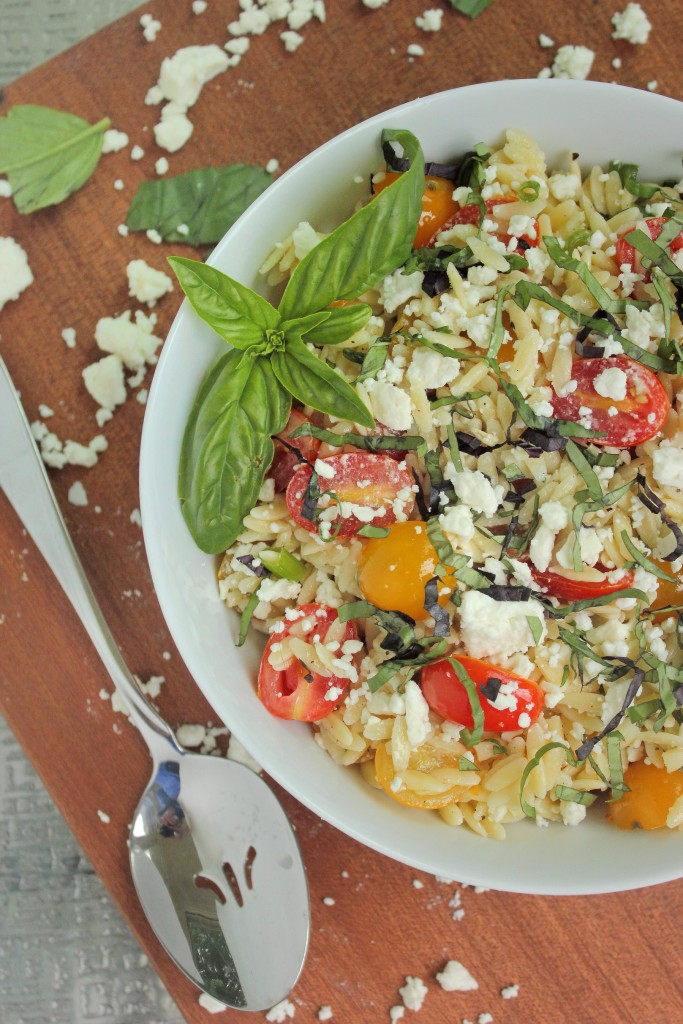 I never thought I could love a summer side more than I love Ina's Orzo with Roasted Veggies, one of my top 3 most popular recipes of all time.
A couple weeks ago, I needed a side dish last minute and it was nine thousand degrees outside. And while the flavor of the roasted veggies in the orzo salad is beyond amazing, its not exactly ideal to turn the oven on on a hot summer day to roast them. I mean, Ina totes has central air, so roasting on a hot summery day is NBD for her. I got a box fan in the window and a sweat rag to wipe my brow.
So I swapped out the roasted veggies with tomatoes. All the fabulous flavors of the orzo salad are still there, but the fresh juicy tomatoes add a whole new dimension to the salad. A non-sweaty dimension at that. And they allow for a speedier delivery as you don't have to wait for the veggies to roast to get this gem on the table.
Bye roasted veggies. Hello tomatoes. Welcome to the best summer side dish you've ever been in in your round, juicy life.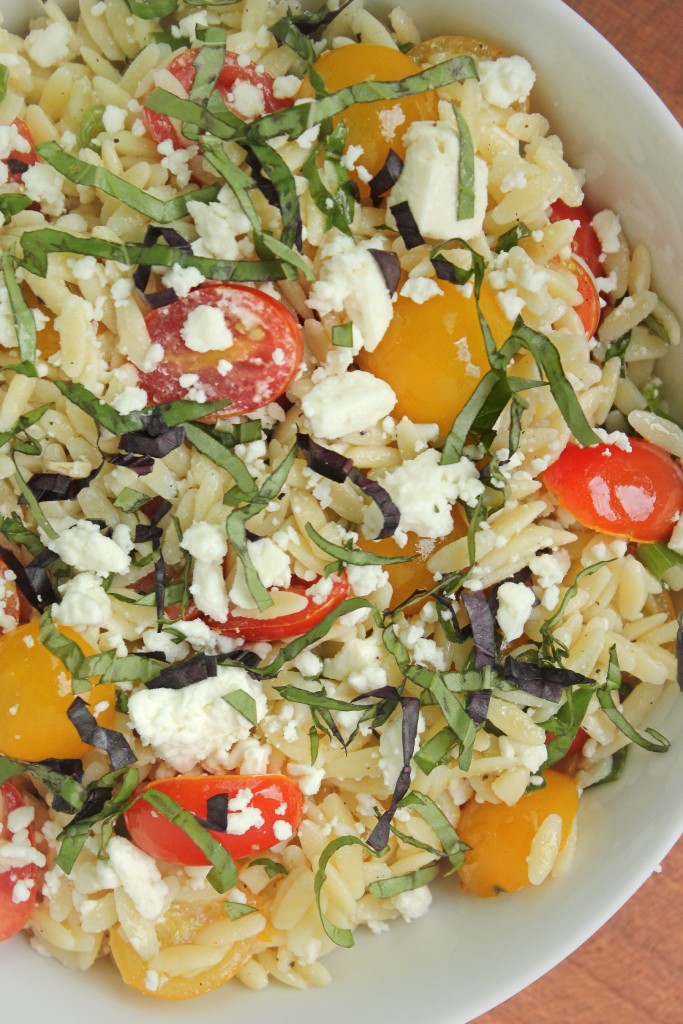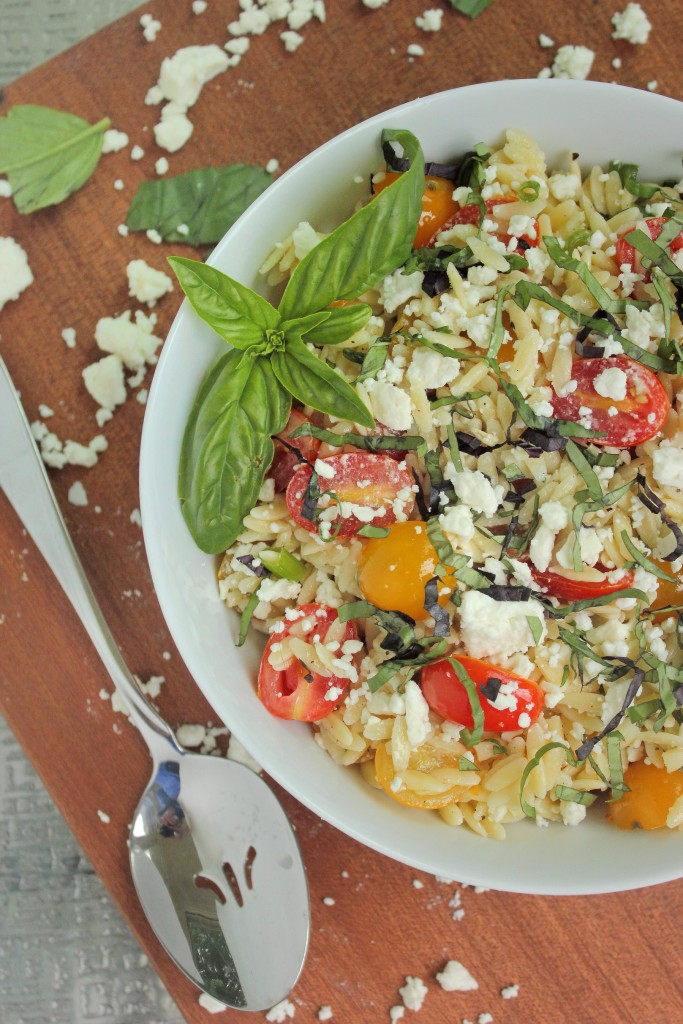 Lemony Tomato Basil Orzo Salad
2016-07-01 13:14:04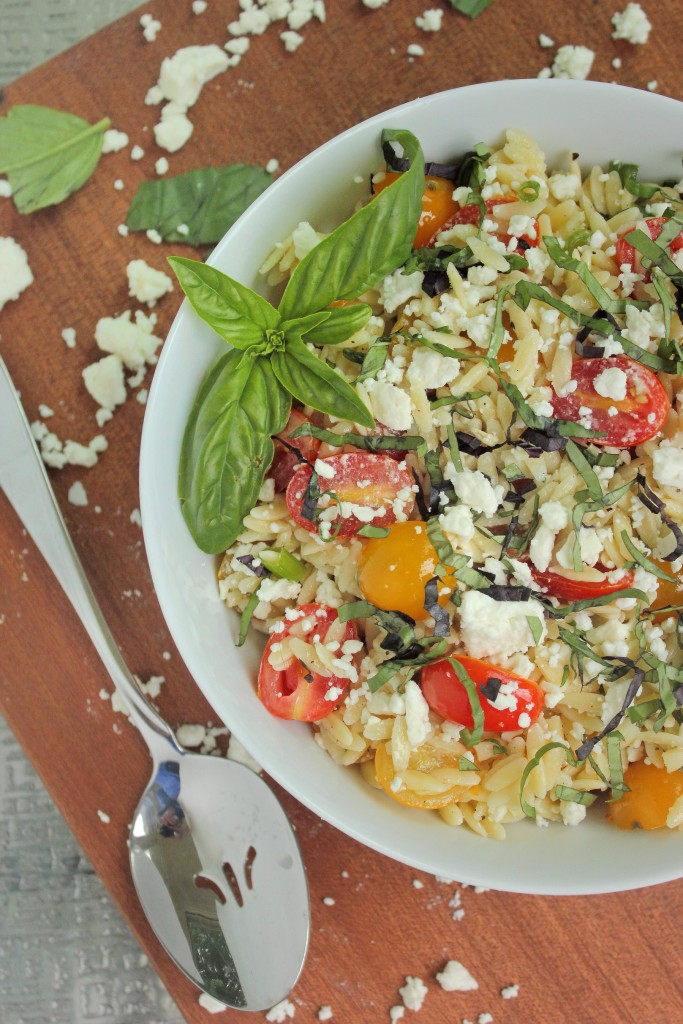 A light, fresh and summery side dish that will be the hit at your next BBQ!
For the dressing
1/3 cup freshly squeezed lemon juice (juice of 2 lemons)
1/3 cup olive oil
1 teaspoon kosher salt
1/2 teaspoon freshly ground black pepper
For the salad
1 cup (1/2 lb) uncooked orzo
1 cup (each) red and yellow grape tomatoes, halved (2 cups tomatoes total)
4 scallions, minced (white and green parts)
1 cup crumbled feta cheese
15 fresh basil leaves, cut into julienne
Instructions
Prepare your dressing by whisking together the olive oil, lemon juice, salt and pepper. Set aside.
Cook the orzo in boiling salted water for 7 to 9 minutes, until tender. Drain and transfer to a large serving bowl.
While the orzo is still warm, pour the dressing over it, adding the tomatoes, and fold to combine.
Let the orzo and tomato mixture cool to room temperature and then fold in the scallions, feta cheese and chopped basil leaves. Serve at room temperature.
Adapted from Ina Garten
Adapted from Ina Garten
And They Cooked Happily Ever After http://www.andtheycookedhappilyeverafter.com/