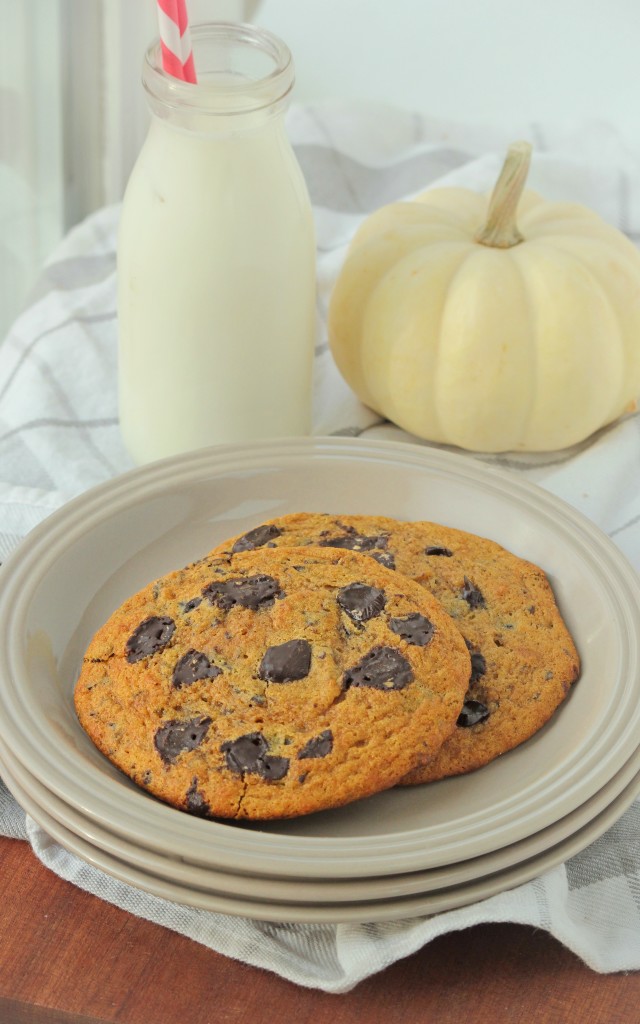 There are some nights when you finish up dinner, you're layin' on the couch, and you just wish you had a little sumthin' sweet. Like cookies. Like, pumpkin chocolate chip cookies. And unless you're bed/couch ridden with a serious case of vertigo and you ask you husband with a slight whimper to make you a batch of chocolate chip cookies to make your feel better (yes, Dave did this. #Keeper), chances are, those cookies aren't gonna fall out of the air.
This very thing happened to me the other night. I just wanted a little cookie – maybe like 2. And I wanted them to be pumpkin chocolate chip. And I wanted them NOW. So I took matters into my own hands and futzed around with a small batch pumpkin chocolate chip recipe after checking out this recipe and this one, and I gotta say, GO ME.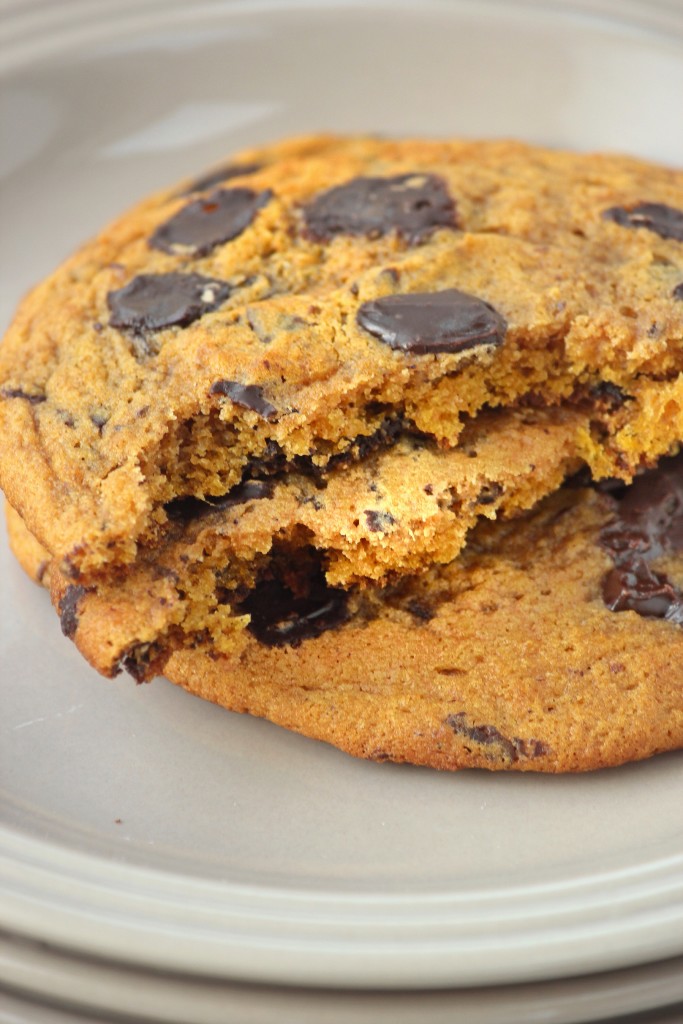 Cookies are like a pandora's box of sorts, because there are so many ways to make them and everyone has their own preferences – crunchy, chewy, cakey – the list goes on and on. And with every pumpkin chocolate chip cookie I've ever had, while they are one of my most fave fall treats, they're kind of more like a pillowy pumpkin chocolate chip cake. THESE cookies though are like legit cookies – still soft, and chewy, but more reminiscent of the shape/texture of a classic chocolate chip cookie. And of course, experimenting with chilling time of the dough would probably change the texture even more, but the whole point of a recipe like this is that usually when you're making it, you want the cookies like YESTERDAY. So the prospect of chilling the dough just adds time to the recipe. Time you and your belly don't have.
I timed these – 22 minutes total, from prep, to oven preheating, to baking. They'll yield 4 regular or 2 large pumpkin chocolate chip cookies. 8-10 minutes will get you a soft/chewy cookie; 10-12 will crisp your edges up a smidge, but still leave the center soft and chewtastic.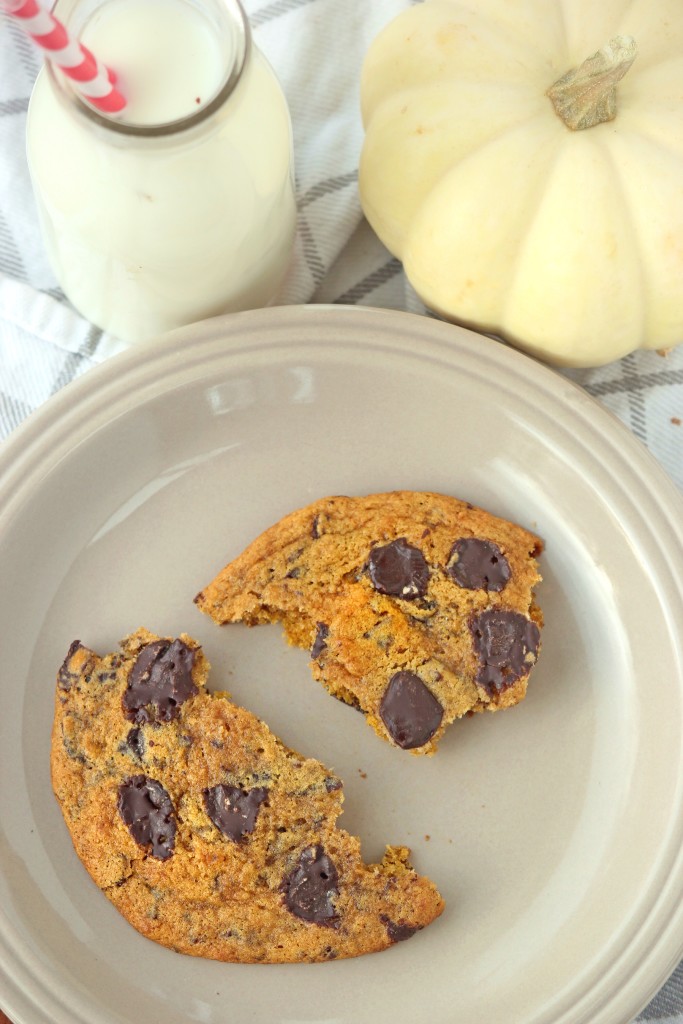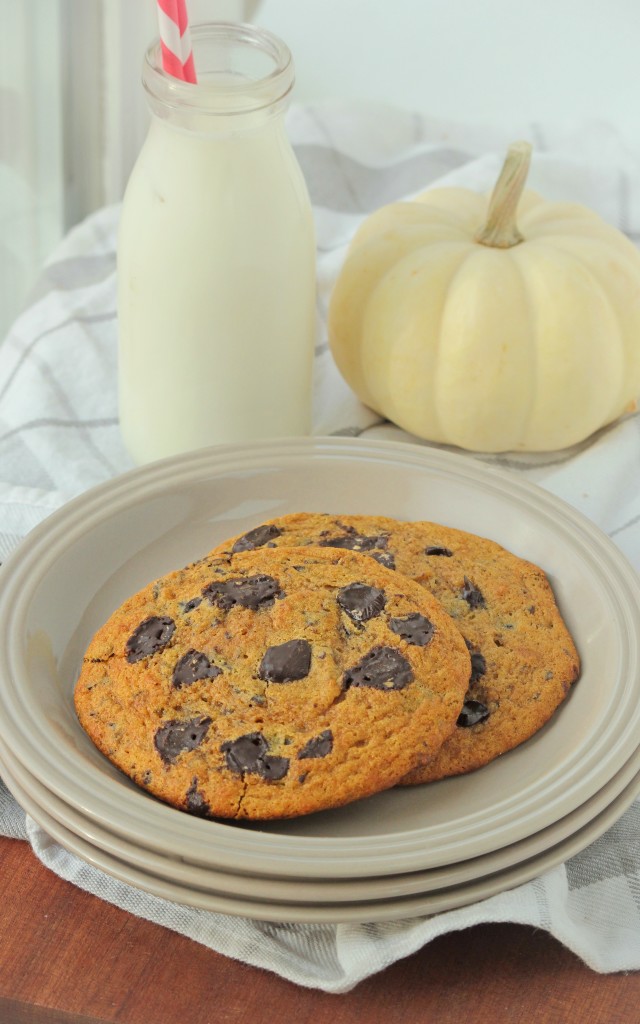 Pumpkin Chocolate Chip Cookies for Two
2015-11-20 11:26:18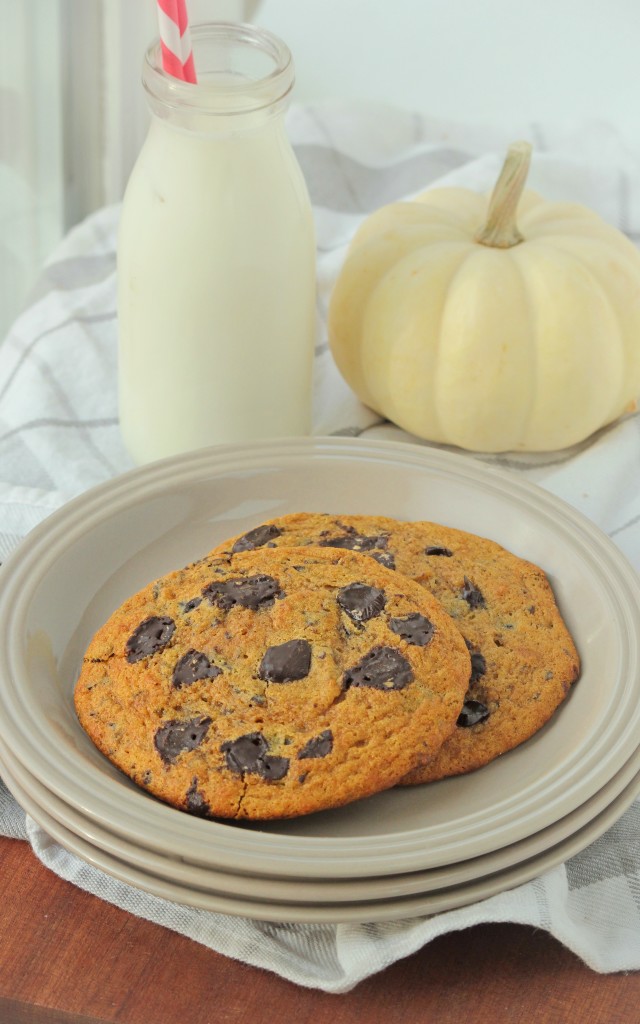 A perfect sized batch of Pumpkin Chocolate Chip Cookies for 2 people (or 1 very hungry person)
Ingredients
1/4 cup all purpose flour
1/4 teaspoon pumpkin pie spice
pinch of kosher salt
1/4 teaspoon baking powder
1/4 teaspoon baking soda
2 tablespoons unsalted butter, melted
2 tablespoons brown sugar
1 tablespoon white sugar
2 tablespoons pumpkin puree
1/4 teaspoon teaspoon vanilla
3 tablespoons chocolate chips or chunks
Instructions
Preheat oven to 350 degrees F.
In a small bowl, mix together your flour, pumpkin pie spice, salt, baking soda & baking powder. Set aside.
In a small saucepan (or in the microwave), melt your butter. Whisk in the brown and white sugars until combined. Then, whisk in your pumpkin puree and vanilla and until combined. Slowly add in the flour mixture until your batter forms and then gently fold in the chocolate chips/chunks.
On a baking sheet lined with parchment paper, scoop out 2 or 4 dollops of your dough (2 will yield 2 large cookies, like the size pictured - 4 will be regular sized).
Bake in preheated oven for 8-10 minutes (for a softer cookie) or 10-12 minutes (still a soft cookie, but a bit of a crispier edge). Let cool on baking sheet for about 5-10 minutes. Serve warm.
And They Cooked Happily Ever After http://www.andtheycookedhappilyeverafter.com/