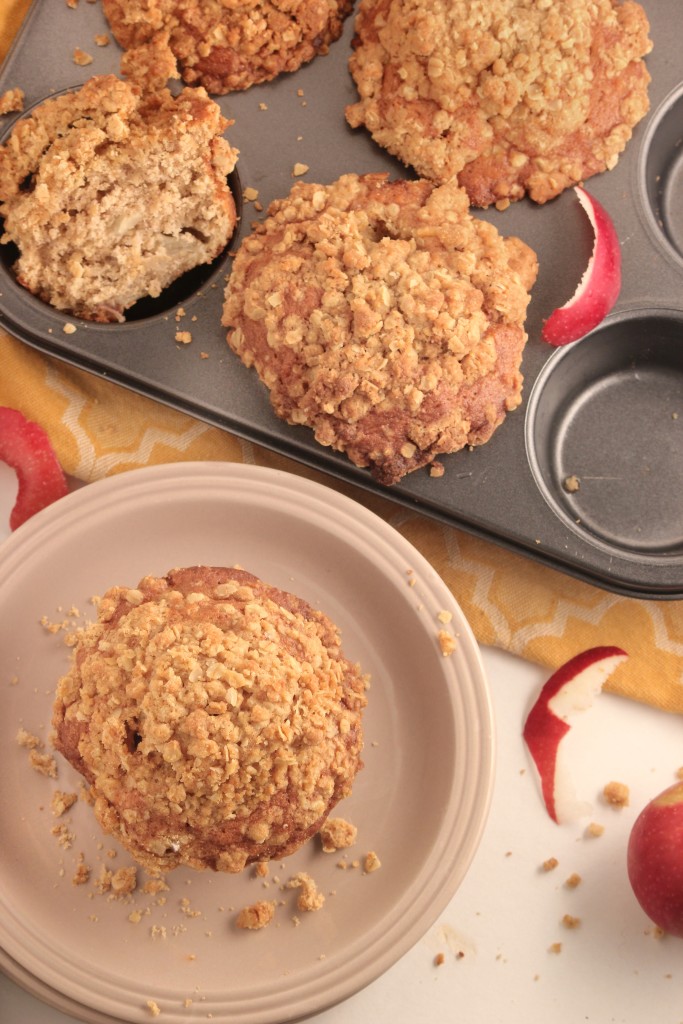 The only time it's a problem having an apple orchard right down the street from you is NEVER. Its awesome. Especially when you wake up in the morning and the faint smell of cider donuts is wafting in the air. Yeah, that's also never a problem.
But last weekend it became a problem when Dave and I saw the sign for FREE APPLE PICKING. Apparently, it was a goooood season for pickin' this year, and they just had so many apples left over that they were like "hey come and swarm our orchard with your own bags and pick til' you drop". It was like a scene from the walking dead – and instead of the zombies feeding on human flesh, they were feeding on apples – filling bags of all shapes and sizes with as many apples as they could get their hands on. At first we were like "ok people, really?". But then, we became zombies. And fed on the apple'y flesh. Then we got them home and said what the F are we gonna do with all these apples?
CUE THE APPLE CRISP MUFFINS. Remember Allrecipes.com? That site we went to religiously before blogging became hot? (or maybe just me) I've gotten some of my most fave recipes of all time from Allrecipes, and that's excactly where I found this gem. With a few tweaks and the addition of my most FAVORITE apple crisp topping of all time (also found on Allrecipes), these muffins came to life, and then ended their life real quick in my belly – and Dave's – and his co-workers – and my co-workers.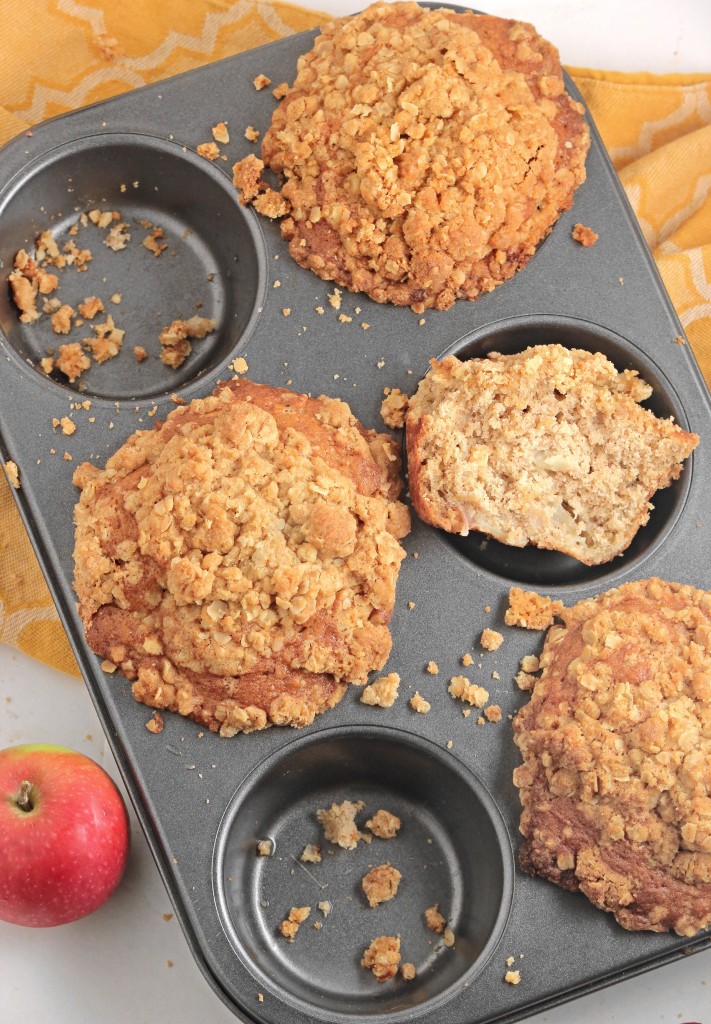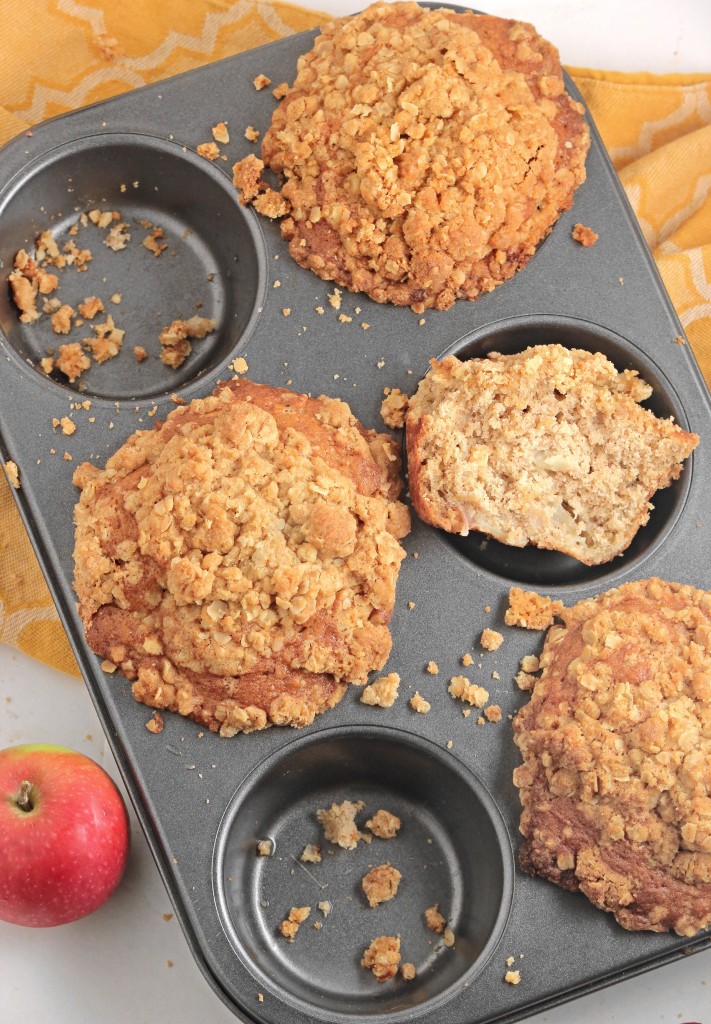 Apple Crisp Muffins
2015-11-11 17:45:00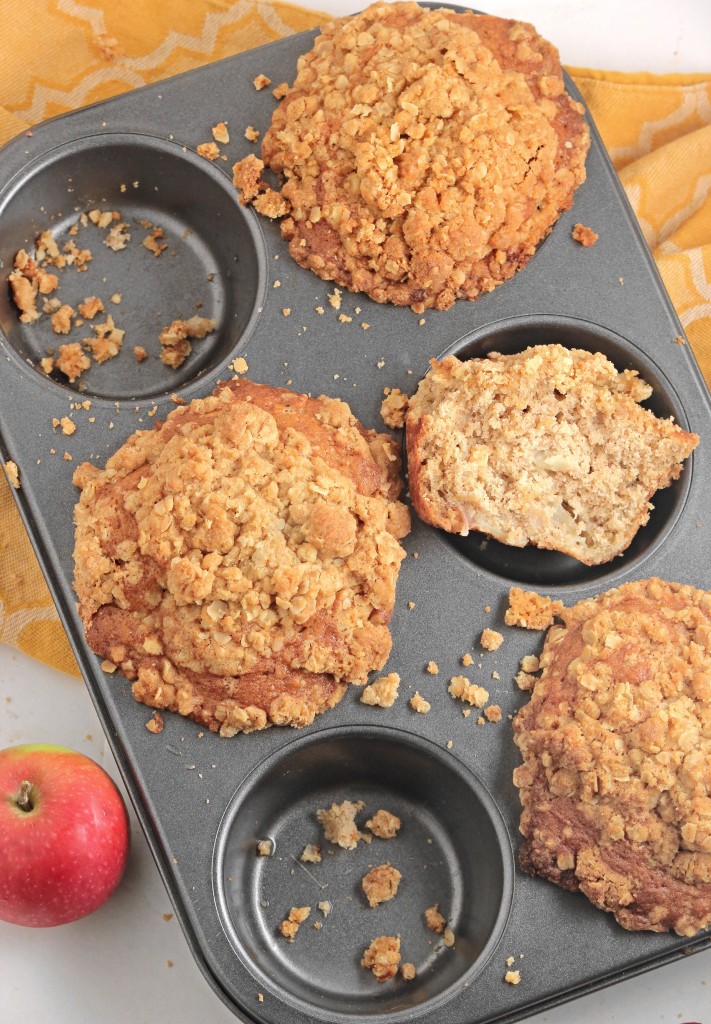 The most moist and flavorful apple muffins, made with big chunks of apples and topped with the crunchiest and most delicious crumb topping evahhhhh
For apple muffins
2 cups all-purpose flour
1 teaspoon baking powder
1/2 teaspoon baking soda
1/2 teaspoon salt
1 teaspoon cinnamon
1/4 teaspoon nutmeg
1/2 cup (1 stick) unsalted butter, melted
1/2 cup white sugar
1/2 cup brown sugar
2 eggs
1 & 1/2 teaspoons vanilla
3 cups apples (about 3-4 large apples, 1/2 grated, 1/2 chopped)
For crisp topping
1 cup quick oats
1 cup flour
1 cup brown sugar
1/4 teaspoon baking powder
1/4 teaspoon baking soda
1/2 cup (1 stick) butter, melted
Instructions
Preheat your oven to 350 degrees F.
In a large bowl, sift together your flour, baking powder, baking soda, salt, cinnamon and nutmeg. Set aside.
In another large bowl, cream together your butter and sugars with an electric mixer or in a stand mixer. Add your eggs and vanilla and beat until fully combined. Set aside while you prepare your apples. I used a large cheese grater to shred my 1.5 cups and then just did a rough chop for the other 1.5. Using half of them shredded helps to distribute the liquids to keep the moisture in. Gently fold your shredded and chopped apples into your wet ingredients and then add the flour mixture into the wet mixture, a little at a time, gently stirring in between.
Spray a 12 count muffin tin (or a 6 count large, bakery sized muffin tin) with non-stick cooking spray or paper cupcake liners. Place about 1/3 cup in each slot, so it just reaches the top of the slot.
Prepare your crumb topping by mixing together the oats, flour, brown sugar, baking powder and soda and then pouring the melted butter over the mixture to form the crumbs. Cover each muffin with a sufficient amount of crumb topping, pressing it lightly into the top of the muffin. You may have a little crumb topping left over, but that is never an issue!
Bake your muffins in preheated oven for 20 minutes, or until a toothpick inserted in the middle comes out clean. Let them cool in the tin for about 5-10 minutes and then let cool on a wire rack.
Notes
Recipe yields 12 regular or 6 jumbo/bakery style muffins
Adapted from Allrecipes.com
Adapted from Allrecipes.com
And They Cooked Happily Ever After http://www.andtheycookedhappilyeverafter.com/