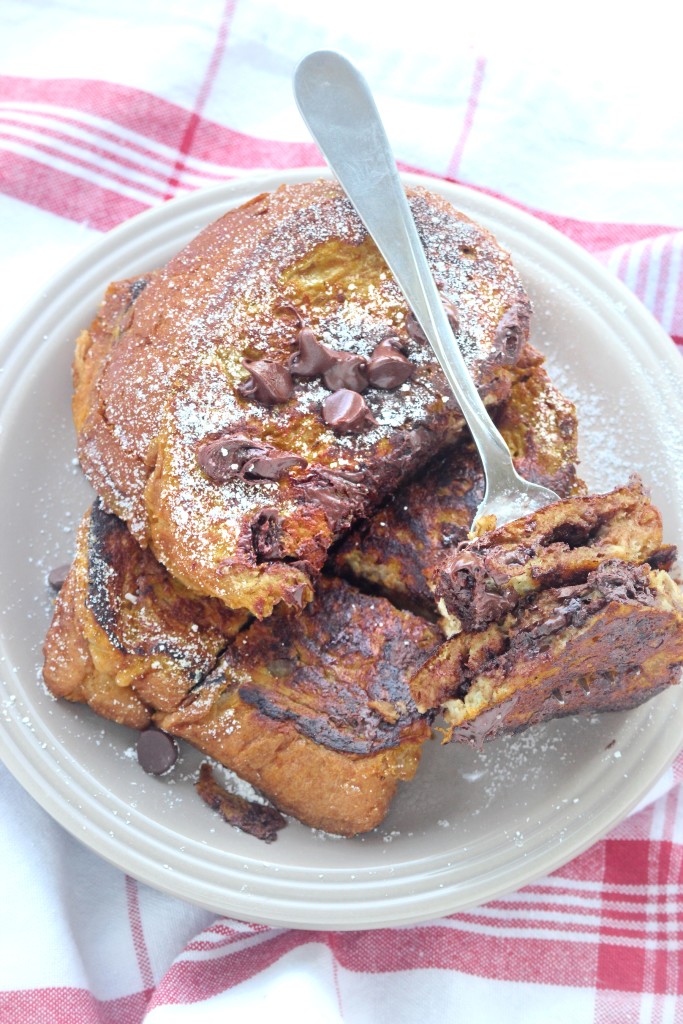 Dave and I have been hitting the french toast HARD lately. Like we're on a french toast bender. Or like "Spring Break: French Toast". It used to be a treat, but now it's like at least once every day on the weekend, we holla at the challah.
But lets be real – life's short. You should dip funny spelled bread in eggs, toss it on a hot griddle and then send it to a wet, maple syruppy drowning death. OH no wait – drowning in your hungry Saturday morning stomach death!
Was that too graphic? I'll blame it on Halloween.
But no – send your challah to it's pumpkiny-chocolatey death with this Chocolate Stuffed Pumpkin French Toast, while the pumpkin gettins' still good!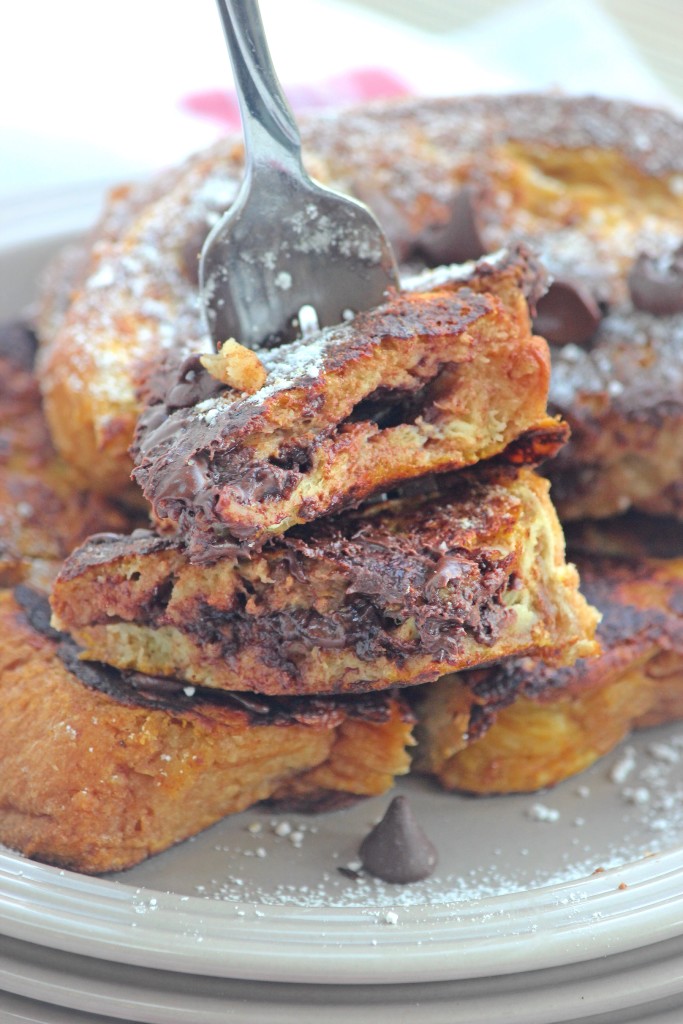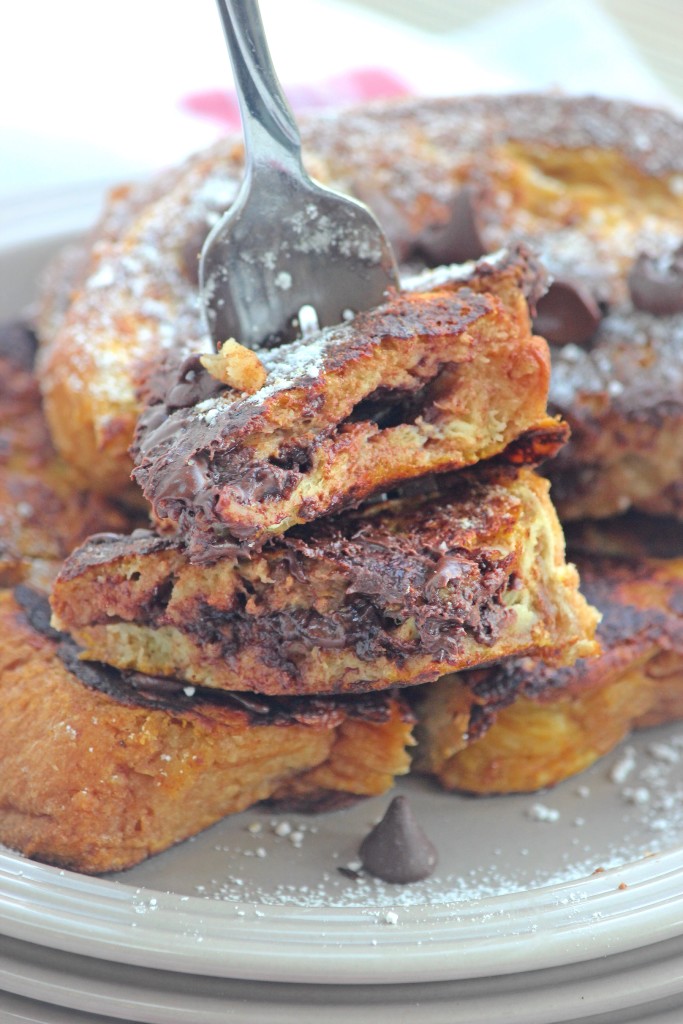 Chocolate Stuffed Pumpkin French Toast
2015-10-22 11:21:40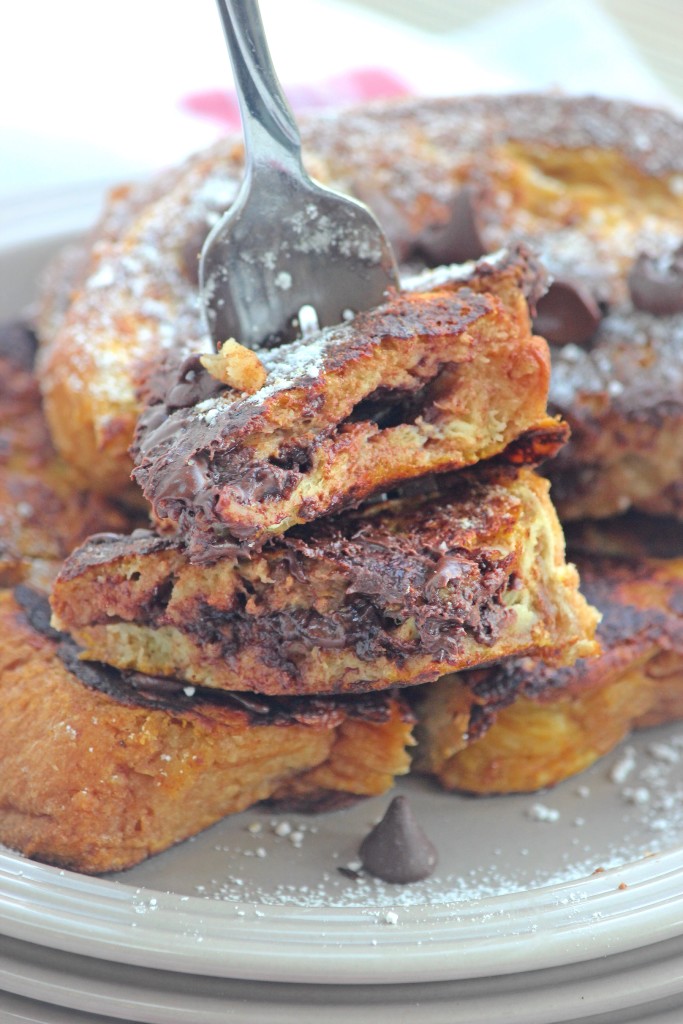 Fall's perfect breakfast - thick slices of Pumpkin French Toast stuffed with chocolate
Ingredients
1 loaf of challah bread
5 eggs
2 teaspoons vanilla
2 teaspoons pumpkin pie spice
1/2 cup pumpkin puree
3/4 cup milk
2 cups chocolate chips plus more for topping
Instructions
Slice your challah bread into thick slices (about 8-10). Take a small, sharp knife and gently slice a slit in the side of each slice of bread, gently making a small pocket with the tip of the knife. Be careful to not slice through the other end of the bread. Gently sprinkle the chocolate chips into the pocket. You don't need a ton of them as they'll melt when cooking. I'd say maybe about 2 tablespoons per slice. You can kind of push them gently into the pocket with your fingers, and then loosely pinch the slit closed with your fingers. If there's still a little opening that's ok.
In a large bowl, whisk together your eggs, vanilla, pumpkin pie spice, pumpkin puree and milk. Carefully dip each slice of bread into the mix, covering the bread completely.
Heat a large skillet to medium/high heat and then place your challah slices on the heated skillet. Cook on one side for about 2-3 minutes, until golden brown - then flip and cook on the other side for another 2-3 minutes. Serve hot with extra chocolate chips, maple syrup and a sprinkle of powdered sugar.
And They Cooked Happily Ever After http://www.andtheycookedhappilyeverafter.com/