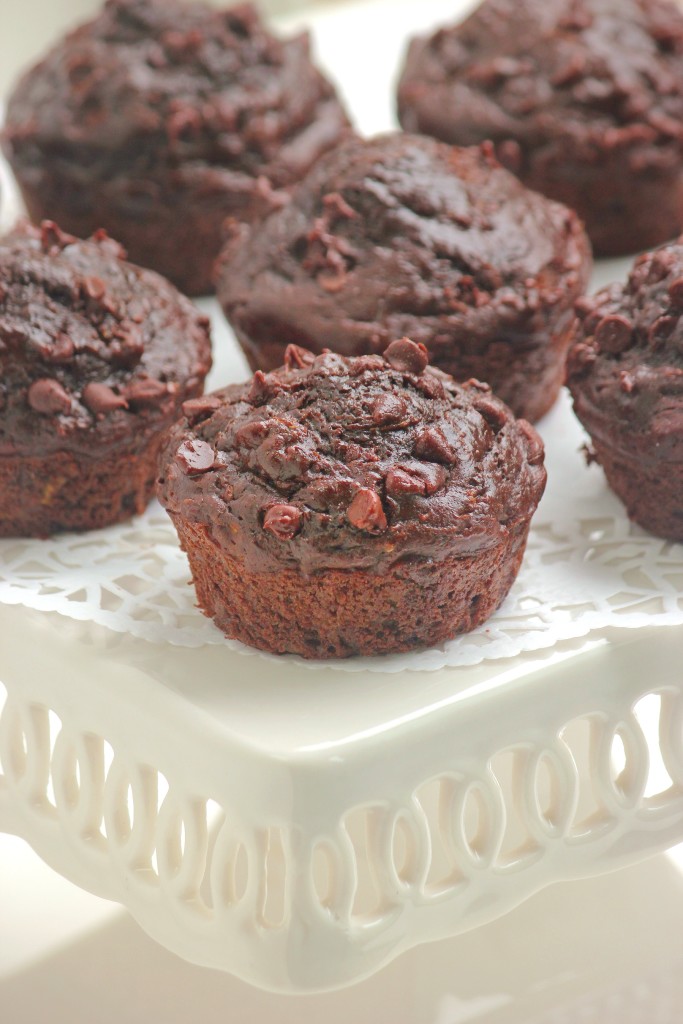 I know you're all like 'Squash muffins? It's practically November Kate'. And I'll admit, this post is LONG overdue, but I couldn't not share with you guys. I almost don't even feel like there are words/pictures/ANYTHING to convey to you how UNREAL these muffins are.
Dave planted this massive garden back in May. And we thought it was massive then –but throughout the summer months it yielded more produce than we could have ever dreamed – beans, tomatoes, eggplant, even CORN, even PUMPKINS – and the main ingredient to this beauty, yellow squash. We ate a LOT of squash this summer, but I felt like it had more of a purpose in life than just being sliced, salt and peppered and sautéed. And now that we've had our first freeze and got our final harvest in before it hit, I'm reminiscent of the magic that became these these decadent Double Chocolate Yellow Squash Muffins.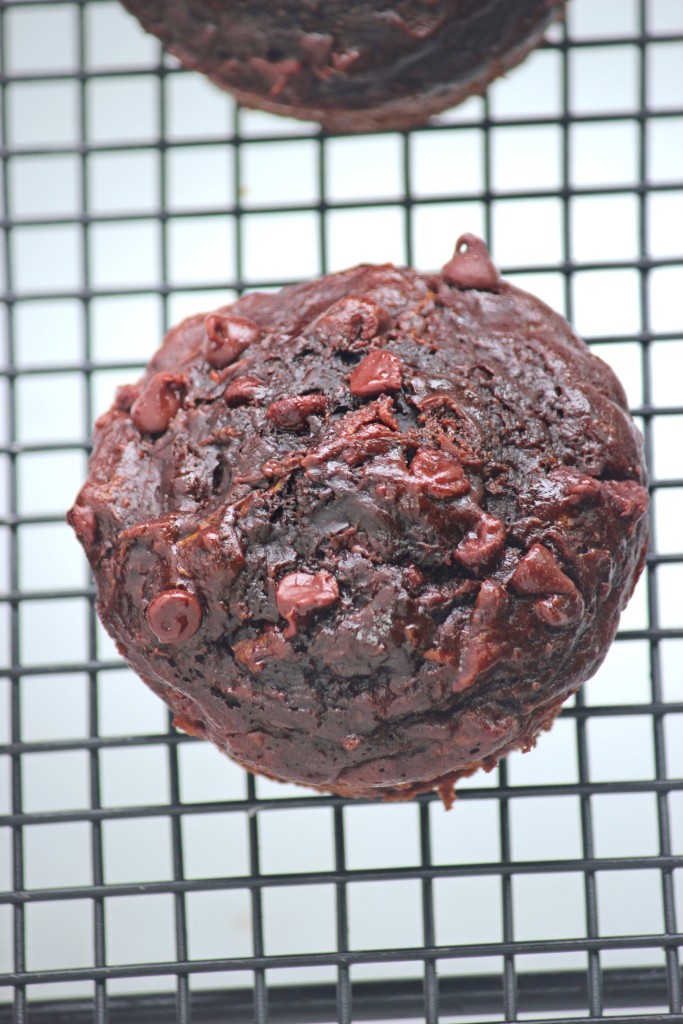 You see 'zucchini' baked goods all over the place, especially in the summer time. But did YOU know, that you can use yellow squash in place of the zucchini? And it will taste just as good if not BETTER?
I took Sally's recipe for Chocolate Zucchini bread and modified it a smidge – basically swapped the zucchini for squash, completely eliminated the oil – only used greek yogurt and used mini chips vs. reg sized chips. Mini chips might be my new favorite thing. Using them in a recipe means that you can use less than you may have to use with regular sized chips, because their teeny size allows them to creep into crevices of your muffin that larger sized chocolate chips may not be able to. I made these twice, one with 3/4 cup of mini chips and once with 1/2 cup, and both times, I felt the chocolatey goodness was SPOT ON. The chocolate chips make up the majority of the fat & calorie content of these muffins so you can really spare yourself some fat and calories by using less chips. But if you're feeling like a splurge, add more chips, cuz' again, there's squash in these, so HEALTHY.
Those mini chips get all up in dat' muffins grill and be like 'yousa gonna be da' most chocolatey muffin made with vegetables EVAHHH'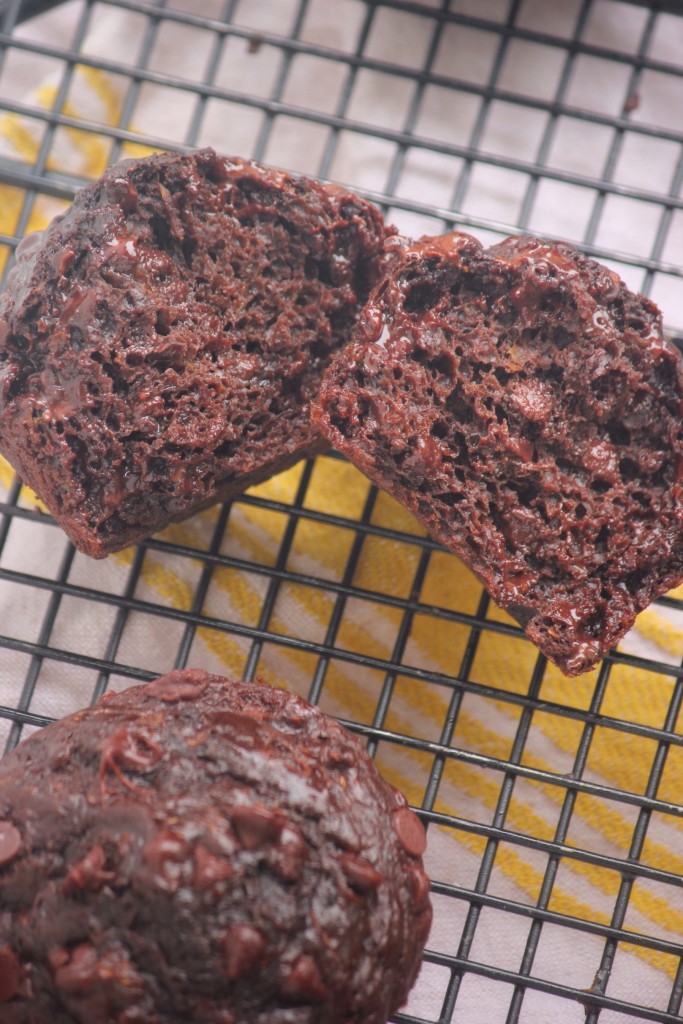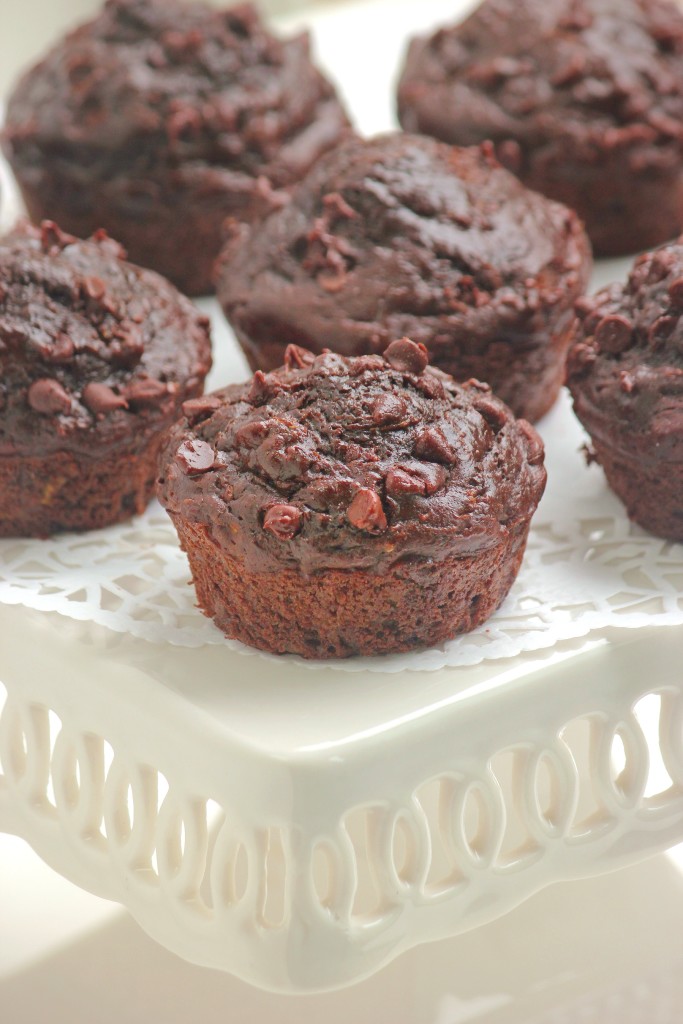 Double Chocolate Yellow Squash Muffins
2015-10-22 10:04:00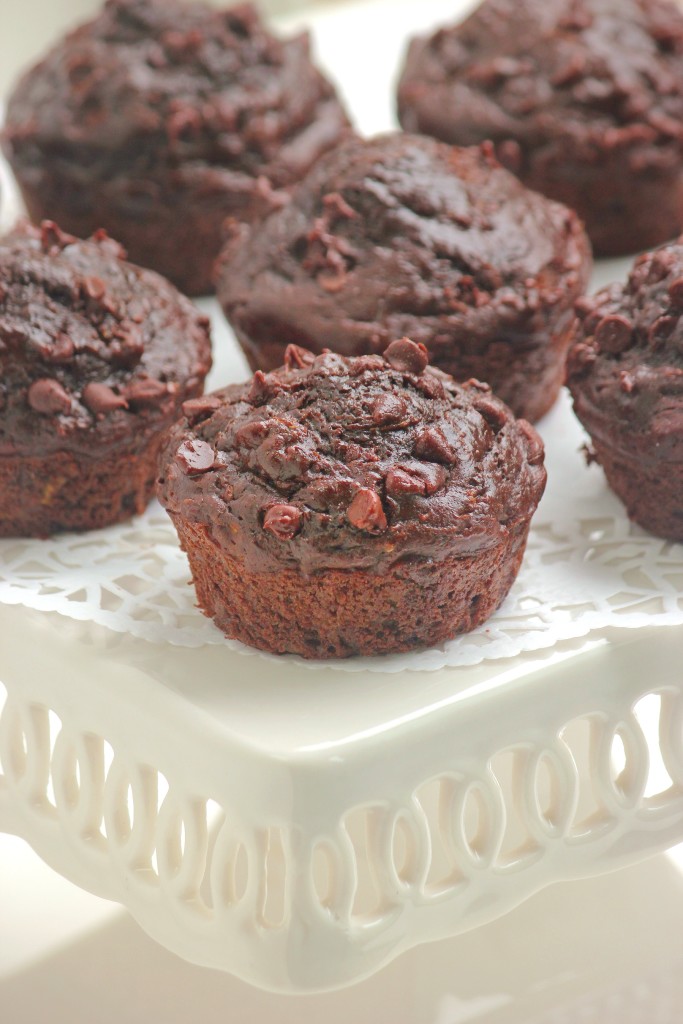 Rich, moist and decadent Double Chocolate Muffins made with yellow squash. So good they'll have you adding yellow squash to everything!
Ingredients
1 and 1/2 cups shredded yellow squash
1 cup all-purpose flour
1/2 cup natural unsweetened cocoa powder
3/4 teaspoon baking soda
1/4 teaspoon baking powder
1/4 teaspoon salt
1/2 - 3/4 cup mini chocolate chips
2 large eggs
1/2 cup plain Greek yogurt
1/2 cup granulated sugar
1 teaspoon pure vanilla extract
Instructions
Preheat oven to 425°F. Spray a 12-count muffin tin with non-stick cooking spray and set aside.
Shred your squash with a grater and place on a couple paper towels to absorb some (but not all!) of the moisture. Press a paper towel on top as well. Set aside.
In a large bowl, whisk the flour, cocoa powder, baking soda, baking powder, salt, and chocolate chips together until combined. Set aside.
In a medium bowl, whisk the eggs, yogurt, sugar, and vanilla together until completely combined. Pour the wet ingredients into the dry ingredients and lightly whisk until combined. Using a rubber spatula or wooden spoon, fold in the shredded squash. Pour/spoon batter into prepared baking pan, scraping up every last drop. It should be just enough for 12 muffins.
Prepare batter as directed above, fill each muffin slot to the top with batter and bake the muffins for 5 minutes at 425°F. Then, keeping the muffins in the oven, lower the temperature to 350°F and continue to bake for an additional 14-15 minutes or until a toothpick inserted in the center comes out clean.
Notes
Depending on how chocolatey you want these, you can add anywhere between 1/2 cup and 3/4 cup of mini chocolate chips. I made these both ways and thought that the chocolate flavor was great it both versions! The plus with the 1/2 cup option is that you'll save yourself some calories and fat.
Adapted from Sallys Baking Addiction
Adapted from Sallys Baking Addiction
And They Cooked Happily Ever After http://www.andtheycookedhappilyeverafter.com/