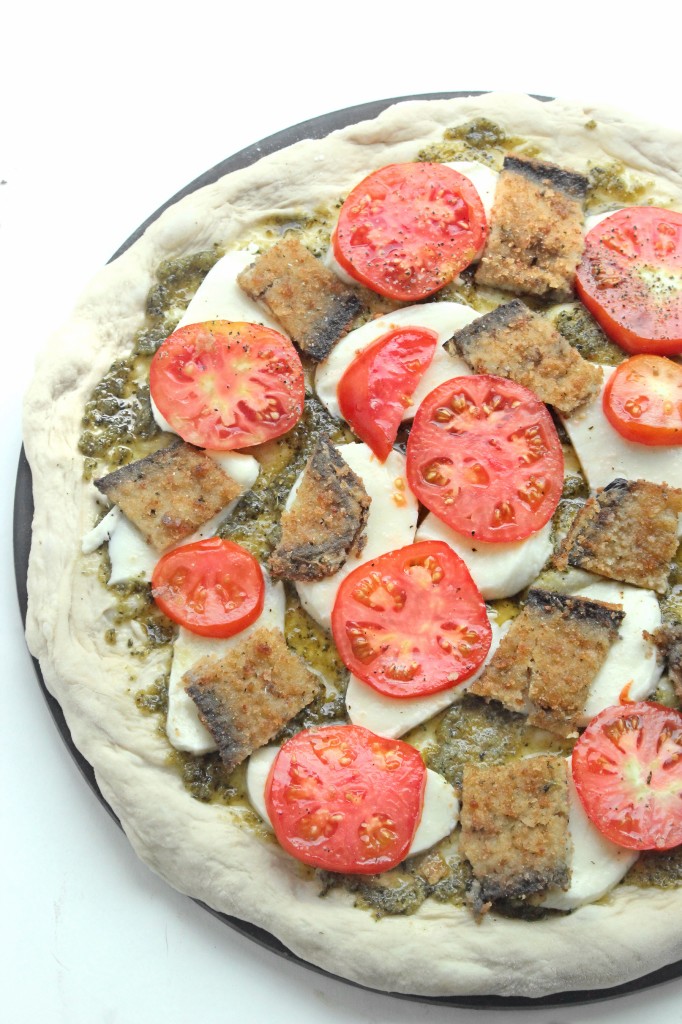 When you make pizza every Friday for 52 weeks (give or take a few) a year, needless to say you gotta keep things fresh and new. This strange thing happened when I asked Dave on a Thursday night "So pizza tomorrow night?" – and he winced. WINCED. And said "Eh, I'm getting kind of sick of pizza". The horror. But we had gotten lazy. Friday after Friday it was dough, sauce, cheese, turkey pepp and maybe some prosciutto. NO wonder the wince!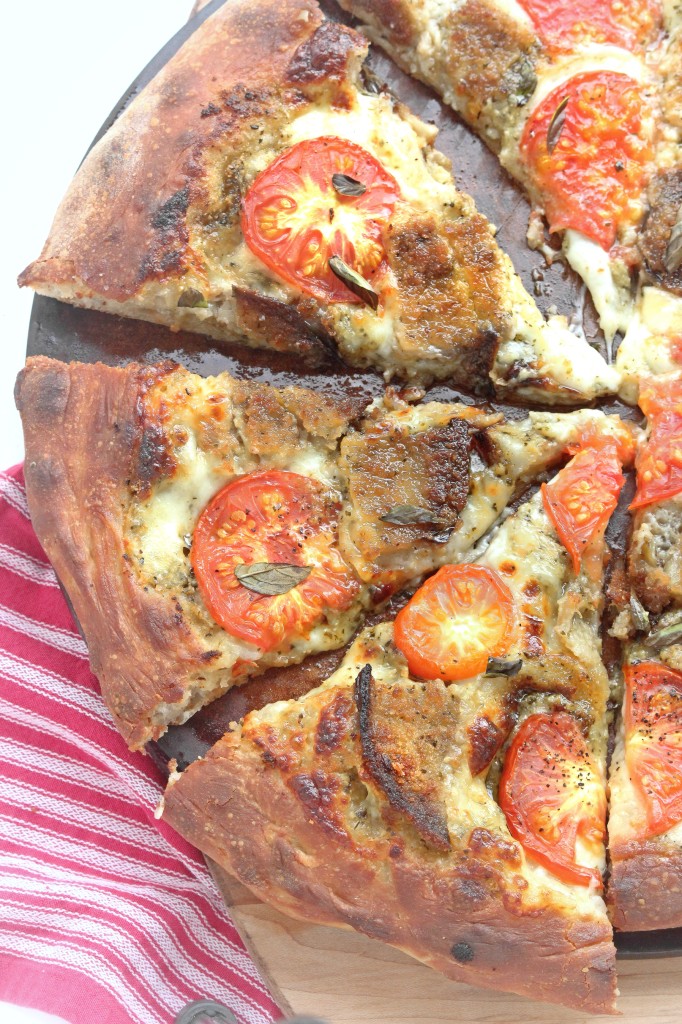 This past Friday I was determined to shake things up. So I took a nod from that fab sandwich I love from The Met Bar and Grill that inspired these Baked Eggplant Caprese Stacks from a couple months ago. I basically took all those ingredients and slapped them on our pizza – baked eggplant, pesto, sliced mozzarella and the most amazingly perfect fresh tomatoes from our garden.
PIZZA NIGHT IS SAVED!
Baked Eggplant Caprese Pizza
2015-08-15 08:15:25
The ingredients of one of my all-time favorite sammies slapped on a pizza. Put back that tube of pepperoni and try this out for Friday pizza night!
Ingredients
1 ball of your favorite pizza dough
1/2 cup (or more if you like) of prepared or homemade pesto*
6oz (about 3/4 of an 8oz log) sliced fresh mozzarella
2-3 medium sized tomatoes, sliced about 1/4" thick
2-3 slices of baked eggplant, cut into 1" chunks*
4-5 large basil leaves, chopped
Instructions
Preheat your oven to 550 degrees F.
Roll out your pizza dough and place on a pizza stone. Spread a thin layer of pesto over the dough (you can adjust the amount of pesto - 1/2 cup will give you a thin layer but if you prefer more, feel free to add). Place the mozzarella slices over the top of the pesto, and then alternate the tomato slices and baked eggplant chunks over the top of the mozzarella.
Bake pizza for about 10-12 minutes until the crust reaches your desired level of golden brown. Remove from oven, let cool for about 5 minutes and then garnish with chopped basil leaves
Notes
If you prefer homemade pesto, here's a great recipe!
There's a lot of stores that will serve pre-made baked eggplant - I got mine at our local Market Basket and it was delicious! Trader Joe's also has premade baked eggplant in their freezer section and it's very good. But, if you want to make it from scratch, follow this recipe from the Baked Eggplant Caprese stacks. It's very easy to make - just takes a few extra minutes!
And They Cooked Happily Ever After http://www.andtheycookedhappilyeverafter.com/