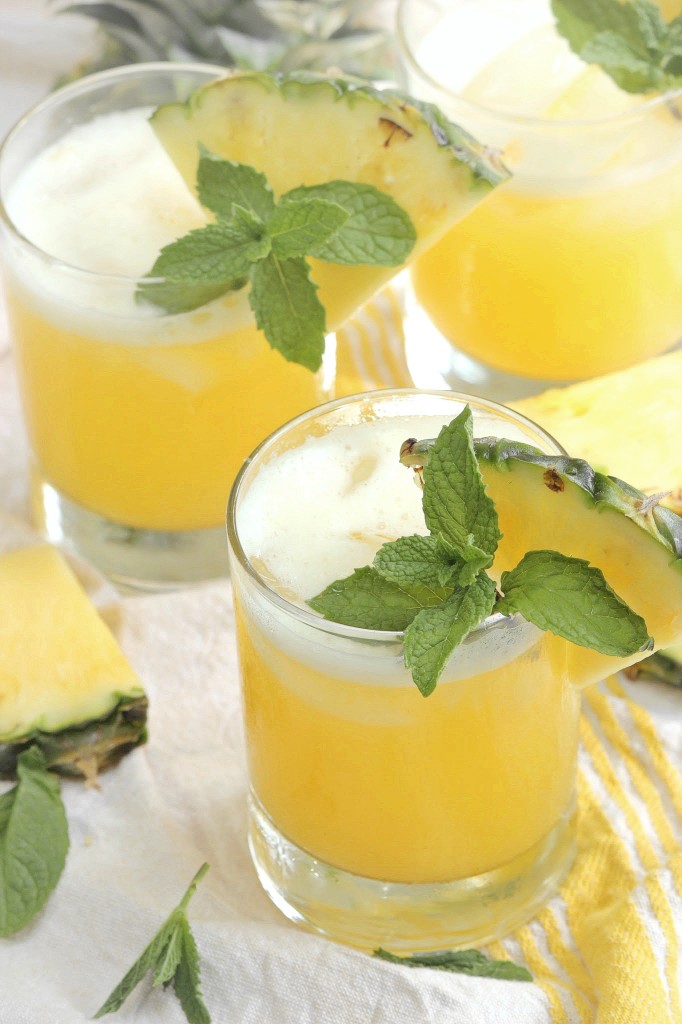 Would you judge me if I told you that I made these on a Friday afternoon? Before 5pm? And I was um…alone in my kitchen? "Summer Fridays" at work translate to "Cocktail Testing Fridays" at home.
Regardless of the judgement, you'll be less judgey of me when you try these Skinny Mint Pineapple Margaritas, made primarily with fresh juices and a hit of my most favorite TJ's product ever – organic liquid stevia – which adds the perfect hint of sweetness to any cocktail you're looking to spruce up, without all the sugar and calories. Alternately though you could use agave nectar or simple syrup.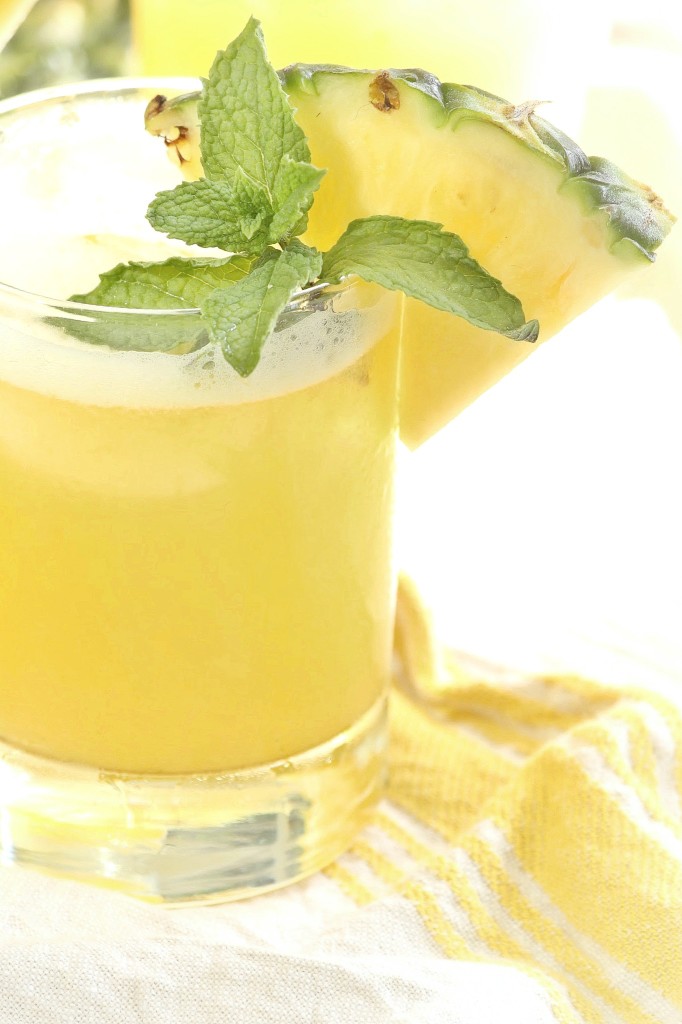 And I know the amazingness that is mason jars is like so old news. But I have just been obsessed with them lately and how unblievably functional they are. My new fave thing to do is store cocktails in them! In a big one – a few small ones – leave 'em in the fridge and then shake and add ice when you're ready to get yo draaaaaaaaaaaank on.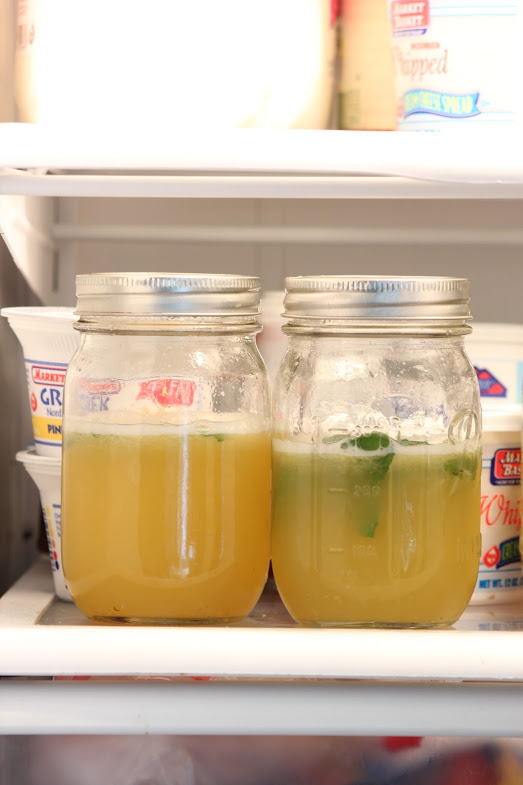 I think I heard your Dad say he wants a batch of these for Father's Day – but don't tell him I told you 😉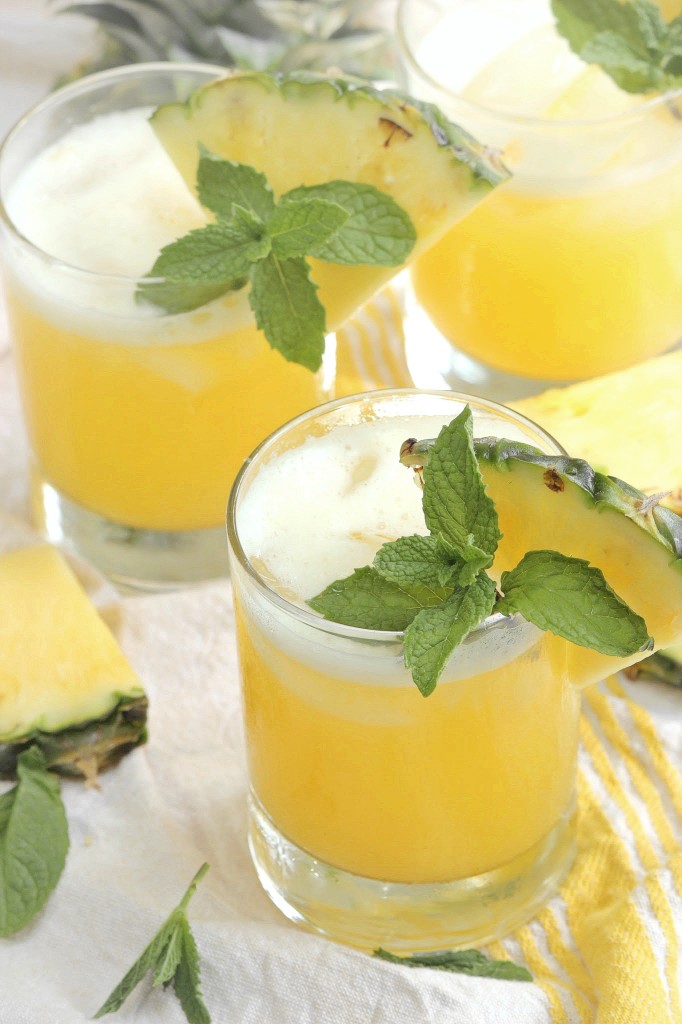 Skinny Mint Pineapple Margaritas
2015-06-17 17:46:00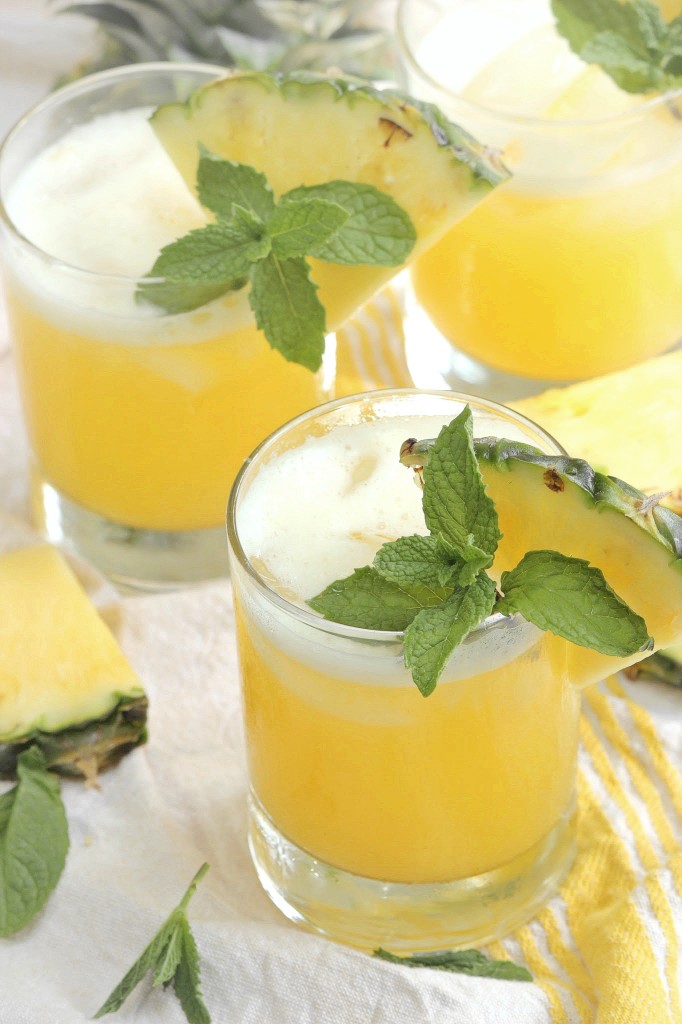 Pineapple Margaritas with a hint o' mint! And, they're light on the calories while remaining heavy on the cocktail goodness. Your signature summer cocktail is HERRRRE!
Ingredients
3 or 4 1-2" chunks fresh pineapple, plus more fresh pineapple for garnish
8-10 large mint leaves, plus more for garnish
4 ounces (1/2 cup/8 tablespoons) fresh lime juice
4 ounces (1/2 cup/8 tablespoons) fresh orange juice
6 ounces (3/4 cup/12 tablespoons) silver tequila
8 ounces (1 cup/16 tablespoons) pineapple juice (I used canned because it's easier and you're not using a ton of it, but if you'd like to try your luck at fresh pineapple juice, have at it!)
8-10 drops of Trader Joe's Organic Liquid Stevia (or sweetener of your choice – agave/simple syrup - start with 2 tablespoons and adjust to taste)
Instructions
In a cocktail shaker, muddle your mint leaves and fresh pineapple with the bottom of a wooden spoon to form a puree. To the mint/pineapple puree, add the lime and orange juice, tequila, pineapple juice and liquid stevia/sweetener of choice. Add 3-4 ice cubes to the shaker and shake vigorously for about a minute.
Strain the margarita mixture through a strainer into a large glass measuring cup or bowl to separate the mint/pineapple puree (you could certainly leave it in too if you like the puree in your drink – leaving the mint leaves in will also enhance the mint flavor).
Fill 3 or 4 glasses (see note*) with ice. Pour the pineapple margarita over the ice and serve with additional mint leaves and pineapple wedges.
Notes
This recipe will yield just about 2 cups of margarita, so depending on how large of a glass and how much ice you use, you will get 3-4 margaritas out of it.
And They Cooked Happily Ever After http://www.andtheycookedhappilyeverafter.com/