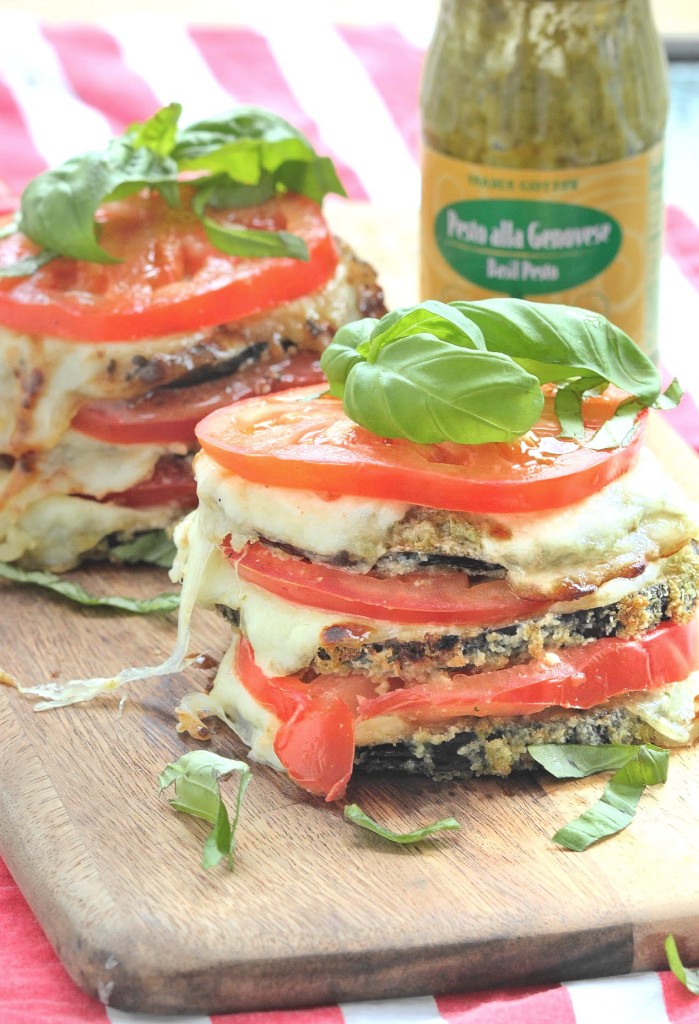 Life is busy. WICKED busy. That's why it's important to make dinner dates with your gal pals any chance you get. And when my gal pals and I get together, we go to The Met Bar – and like, 90% of us order the Met Caprese Club Sandwich – fried eggplant – mozzarella – tomato – pesto – arugula – ciabatta. And obviously, we swap out the lame chips for fries.
There's a reason we're friends.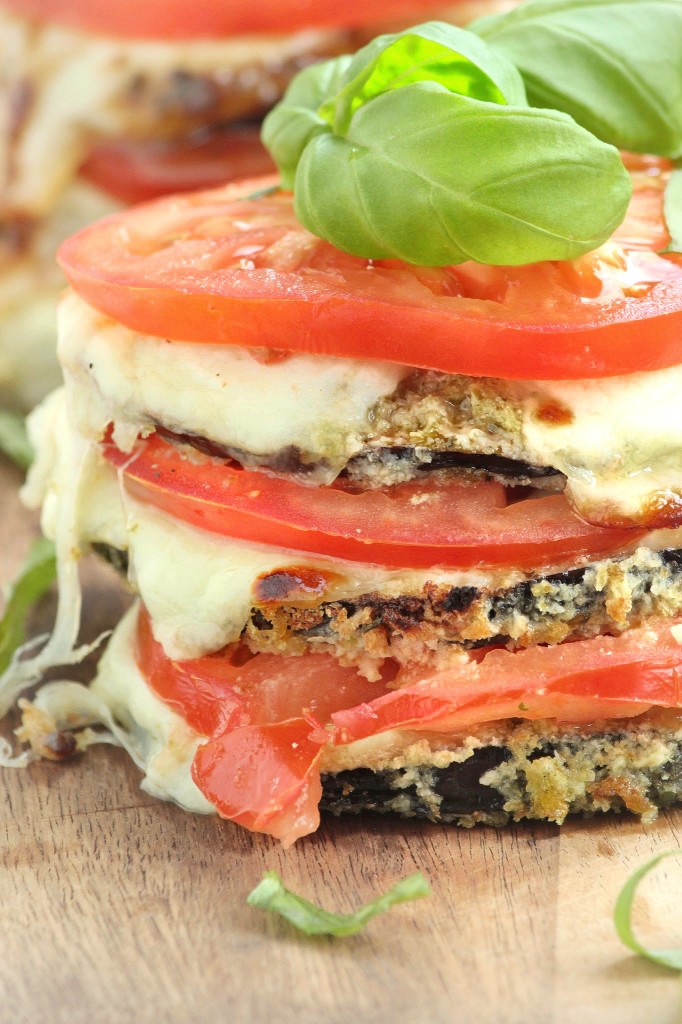 Last week I made the Met Caprese Club sammie at home for dinner – sans the sammie – and the arugula. Even Dave liked them – and there weren't even fries! You'll see in the instructions that I did this a little differently, not baking the tomato with the eggplant/pesto/cheese, but adding it at the end. And that is because I am a person who LOVES tomatoes, but has weird temperature issues with them. This is a result of that. But, if you are partial to the temp of your tomatoes, you can certainly stack 'em all and toss 'em in the oven.
Get stackin' kids.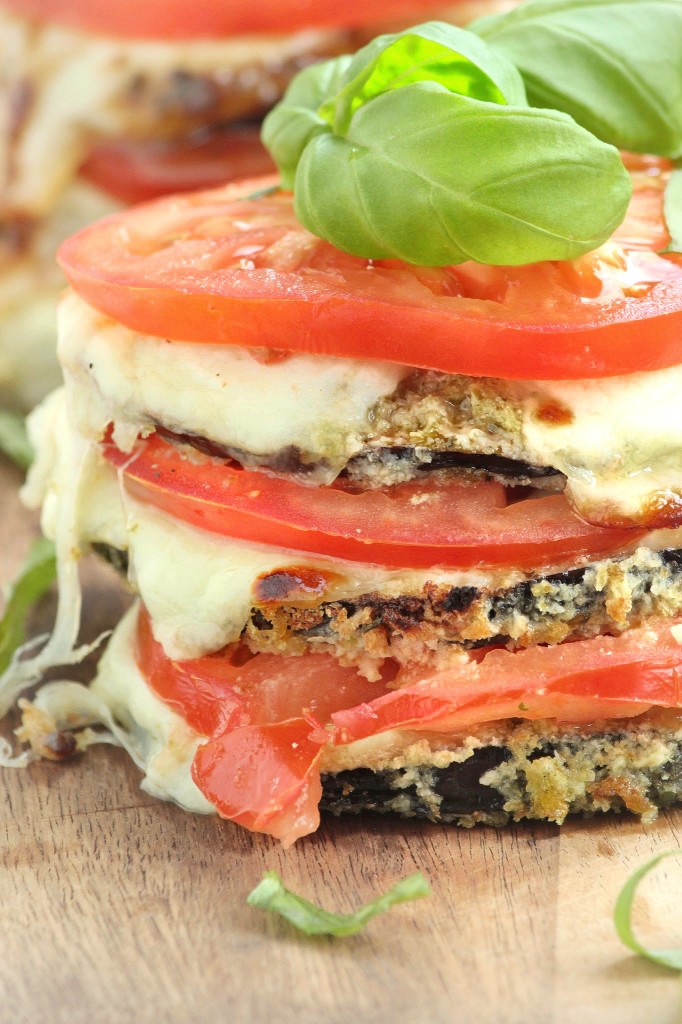 Baked Eggplant Caprese Stacks
2015-05-28 17:44:02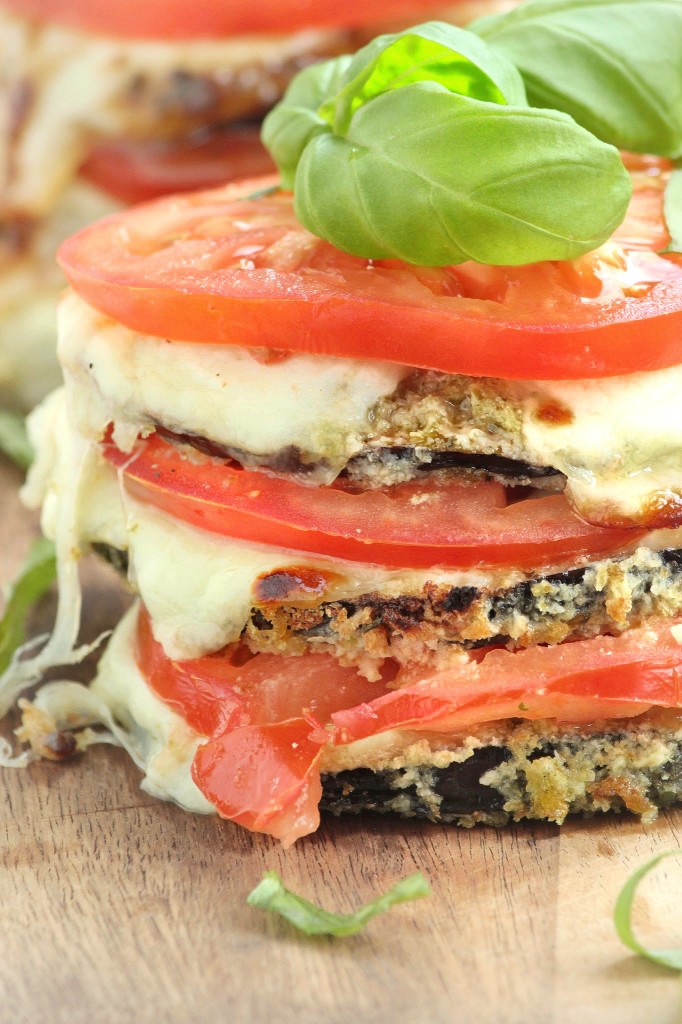 Serves 2
Inspired by one of my fave dishes at The Met Bar, the Met Caprese Club Sandwich, hold the sandwich! Layers of fresh mozzarella, tomatoes, pesto and baked eggplant, sprinkled with fresh basil - its a tall stack of deliciousness
Ingredients
1/2 of a large eggplant, sliced into 6 pieces, approximately 1/8" - 1/4" thick (or whatever your preference - I prefer a thinner slice of eggplant)
2 eggs
splash of milk
salt & pepper
1/2 cup of panko breadcrumbs
1/4 cup regular breadcrumbs
1/4 cup freshly grated parmesan cheese
1/4 teaspoon garlic powder
1- 8oz log of fresh mozzarella, sliced into 12 slices
1/2 cup fresh or prepared pesto
1 large tomato, sliced into 6 slices
*5-6 large basil leaves, chopped
*balsamic vinaigrette dressing
Instructions
Preheat your oven to 350 degrees F.
Slice your eggplant into 6 slices and lay out on a couple layers of paper towels. Sprinkle both sides of the eggplant slices with salt and pepper and let them sit for 10-15 minutes. This will help some of the liquid to 'sweat' out of the eggplant. Dab the liquid beads off the eggplant slices with a paper towel.
Whisk together your eggs and milk in a medium sized bowl. In another flat dish (like a pie plate) mix together your panko, regular breadcrumbs and garlic powder and spread them out in the dish in a flat layer. Dredge each piece of eggplant in the egg mixture and then press into the breadcrumbs, covering both sides.
Bake each eggplant slice in the preheated oven for about 5-7 minutes on one side - flip - and then another 5-7 minutes on the other side, until the breadcrumbs start to brown slightly. Remove from oven.
Spread the pesto onto each slice of eggplant (feel free to use more if you'd like) and then cover the pesto with 2 slices of mozzarella cheese. Since the eggplant slices are quite large, you'll need two pieces to cover each slice. Place the pesto/cheese covered eggplant slices in a shallow baking dish and cook for an additional 5-8 minutes until the cheese starts to melt. In the last minute, turn the brolier on low to give the cheese a golden brown top.
Remove the eggplant slices from the oven. On two medium sized plates, layer each stack: eggplant slice/tomato/eggplant slice/tomato/eggplant slice tomato and then sprinkle the fresh basil on top. Additionally, you could drizzle some balsamic vinaigrette on there as well.
Notes
*As I mentioned, I didn't really want the tomatoes to cook with the eggplant slices in the oven, which is why I cooked the eggplant/pesto/cheese separately and then stacked afterwards. Feel free to prepare your stack with the tomatoes and then bake it in the oven. You may just need to add another few minutes onto the cook time to get the cheese to melt, since the layers will all be stacked on top of each other.
And They Cooked Happily Ever After http://www.andtheycookedhappilyeverafter.com/