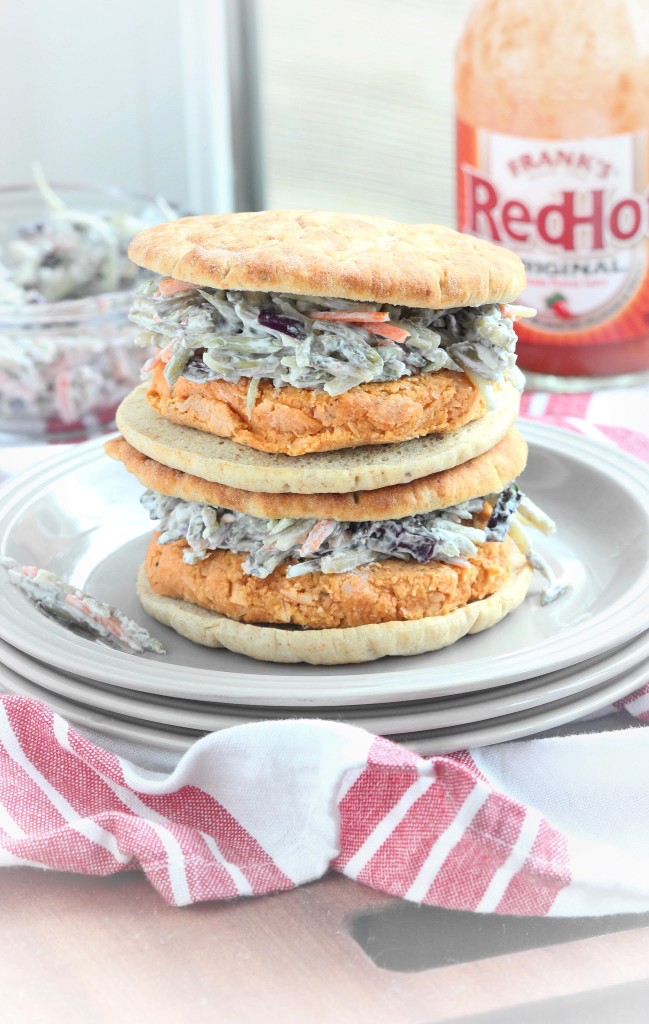 I was home last week with poison ivy. Itch. Scratch. Itch. Scratch. NOOOOOOOOOO DON'T ITCH AND SCRATCH. Being alone with my thoughts and my itchy skin made me think I have got to do something to keep my hands busy.
Cue these Buffalo White Bean Burgers with Garlic Ranch Slaw. SCRATCH THAT.
When I made these White Bean Pesto Burgers with Bruschetta a couple weeks ago, I didn't think a more perfect bean burger could be created. But a run in with urushiol oil made me hallucinate a white bean burger – with buffalo flair.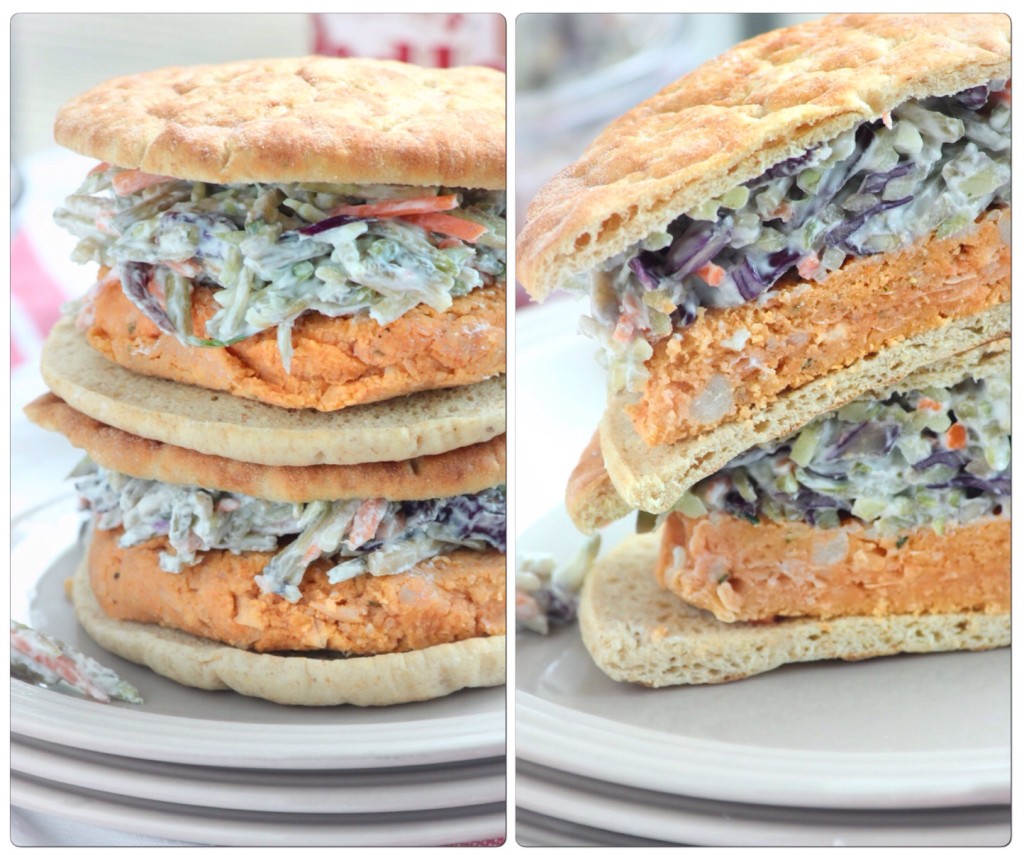 We all know I'm a buffalo kind of gal (like Franks buffalo – not like, home on the range buffalo). I have an entire SECTION of Buffalo Chicken items – but I realized that I've been avoiding my buff love lately. And with Memorial Day weekend/summer on the horizon, I think it's time to kick up the heat. The best part about these is that they're low in fat & calories, so while you're turning up the heat, you can be turning down the calorie intake for your beach bod.
Ssssssssssssssssssssssssssssss (that's the white bean buffalo burger – sizzling – cuz' it's hot).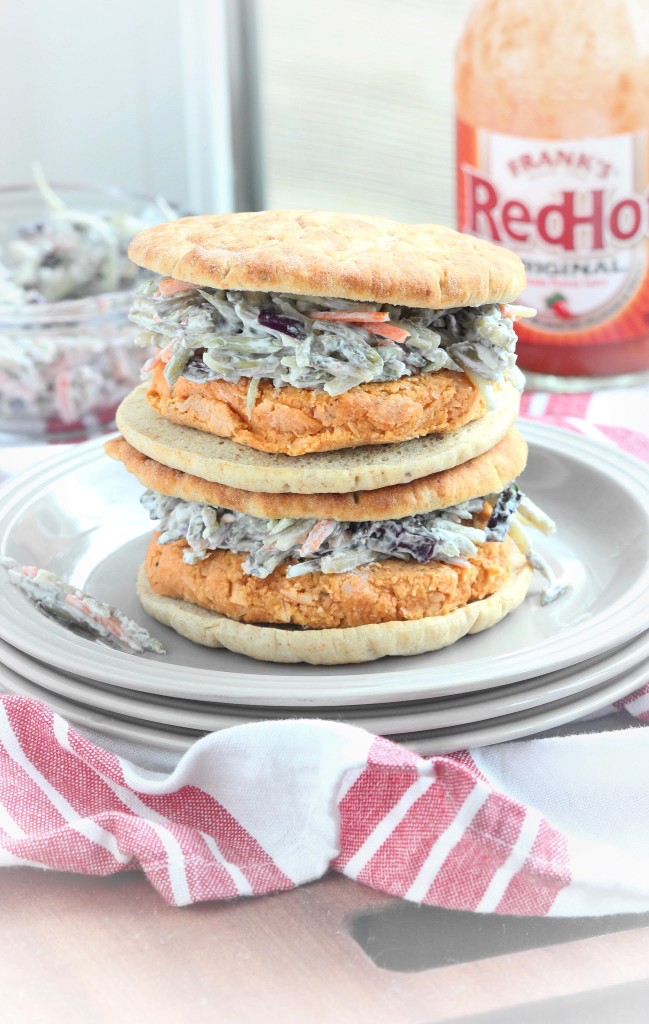 Buffalo White Bean Burgers with Garlic Ranch Slaw
2015-05-20 18:48:50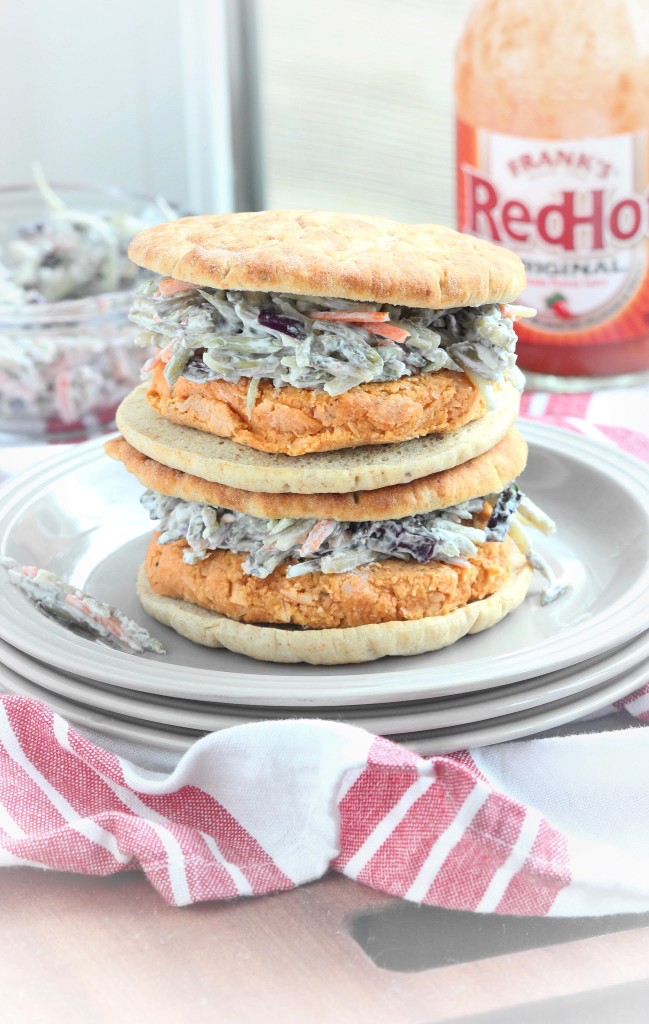 Buffalo lovers UNITE with these healthy and low fat white bean burgers made spicy with Franks buffalo sauce! Top 'em with some garlic ranch slaw and your new fave veggie burger is born
For the burgers
1 - 15oz can white cannellini beans, rinsed and strained
1/3 cup Franks Hot Sauce (not wing sauce)
1 egg
4-5" piece of celery, chopped finely (about ½ of 1 stalk)
4-5" piece of carrot, chopped finely (about ½ of 1 carrot)
1 small garlic clove, minced
1/3 cup seasoned bread crumbs (or plain is fine too – I used the Italian flavored)
For the Garlic Ranch Slaw
2 cups bagged coleslaw mix (or broccoli slaw)
½ cup plain, fat-free greek yogurt
1 small garlic clove, minced
1 teaspoon ranch dip powder (Hidden Valley Ranch is a good one)
To prepare your burgers
Combine all ingredients except the breadcrumbs in a food processor and pulse until a puree forms. You can still have some white bean chunks in there. Scrape out the white bean/buffalo puree into a mixing bowl and fold in the breadcrumbs with a rubber spatula. Divide the mixture into 4 patties.
Heat a large skillet over medium-high heat and let burgers cook on one side for 3-4 minutes, until they start to turn golden brown. Flip and cook on the other side for an additional 3-4 minutes.
To prepare your slaw
Place two cups of bagged coleslaw in a medium sized mixing bowl. In a separate small bowl, mix together your yogurt, minced garlic and ranch mix. Fold the ranch yogurt mix into the slaw until fully covered. This will be just enough to 'wet' the coleslaw mixture but not make it super soggy. If you prefer a wetter coleslaw, feel free to adjust the amounts of yogurt/garlic/ranch mix.
Place about ½ cup of the ranch slaw on top of your burger and serve on a bun, sandwich thin, or all by itself!
And They Cooked Happily Ever After http://www.andtheycookedhappilyeverafter.com/