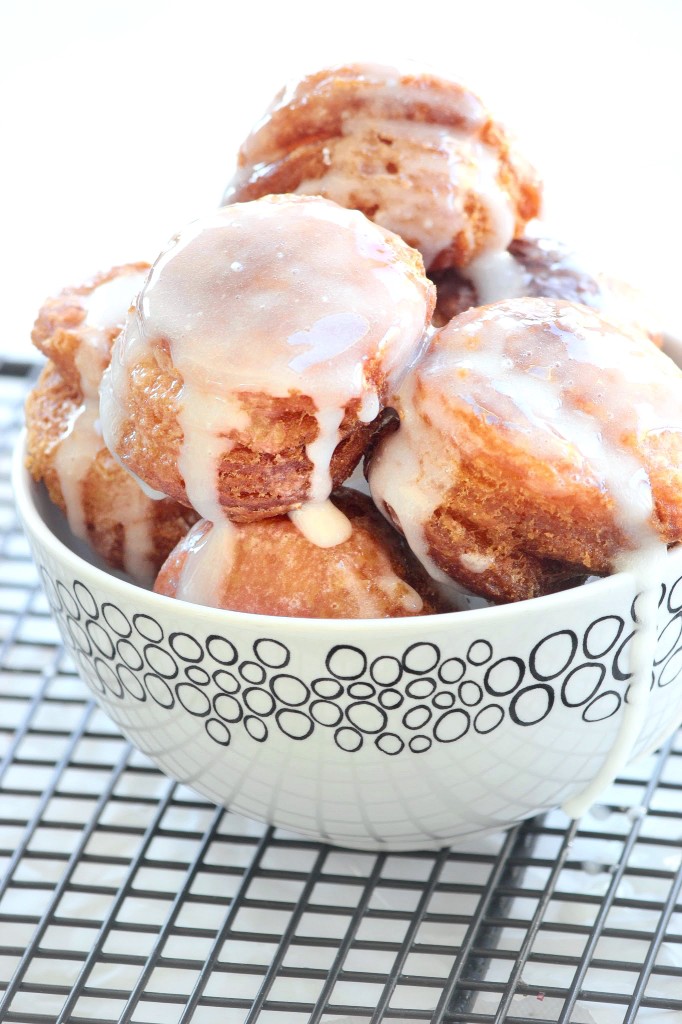 2 things happened this weekend:
1) SPRING – OMG – worst winter ever? What worst winter ever?
2) These unfairly easy and amazingly delicious and addicting homemade cronut holes.
Just like I've had raking and organizing our basement on my "ugh, totes need to do this this weekend" list, I've had these cronut holes on my "things I'd like to try out and eat a lot of " list. Both lists seem to only get longer and never shorter.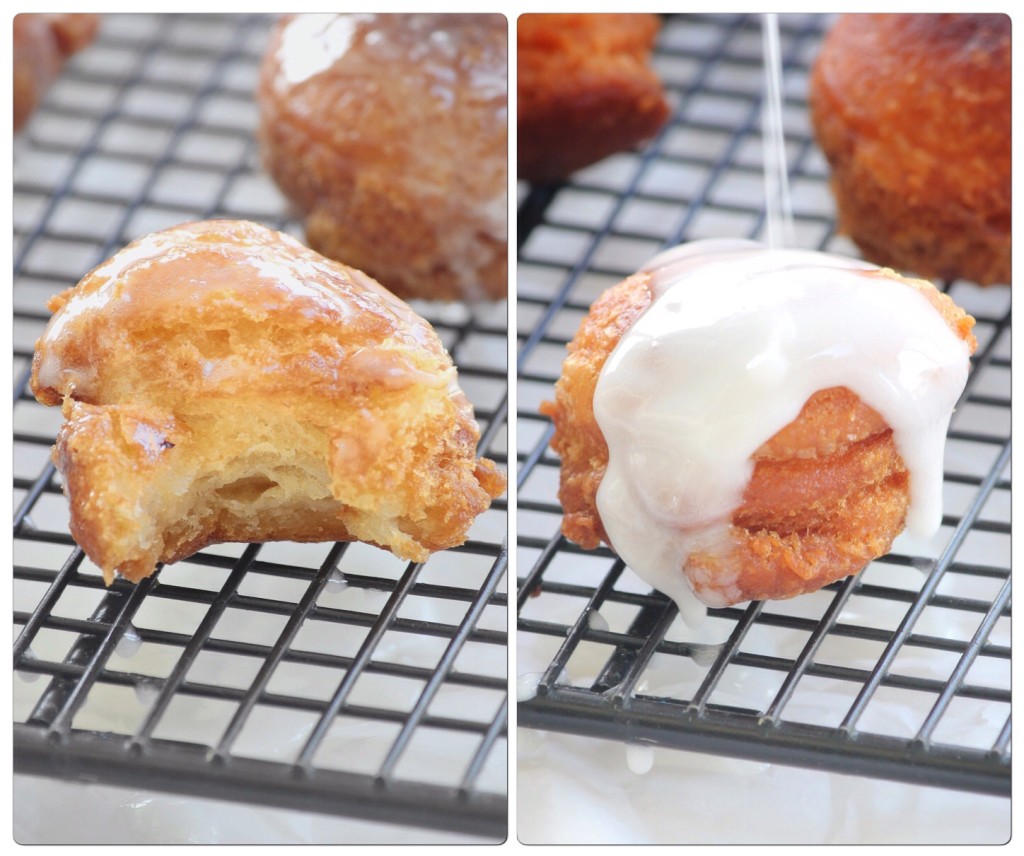 Cronuts have been hot for a while now – I mean, even Dunkin Donuts has one – but I've never actually had one. But after seeing a bunch of Pinterest posts of people making their own in the comfort of their own home, well shoot! Why would I go out and buy one? And I thought it would be fun to make them into holes vs. a whole donut cuz ya know, everything in moderation (well, that's when you don't eat the whole bowl of them – won't mention any – DAVE – names).
3 ingredients guys (minus the oil for frying). 1 can of Crescent Rolls will make about 6 cronut holes, which doesn't seem like a lot, but it's because layering is key in the perfect cronut hole. Those layers will plump up and give you a nice pillow to sink your teeth into. And the cronut holes are substantial – much larger than a standard donut hole, so you may even be ok with 6, but if not, just double the recipe. It's like a wise man once said: tis' better to have an excess of homemade cronut holes than to not have enough.
Wise men are like, so wise.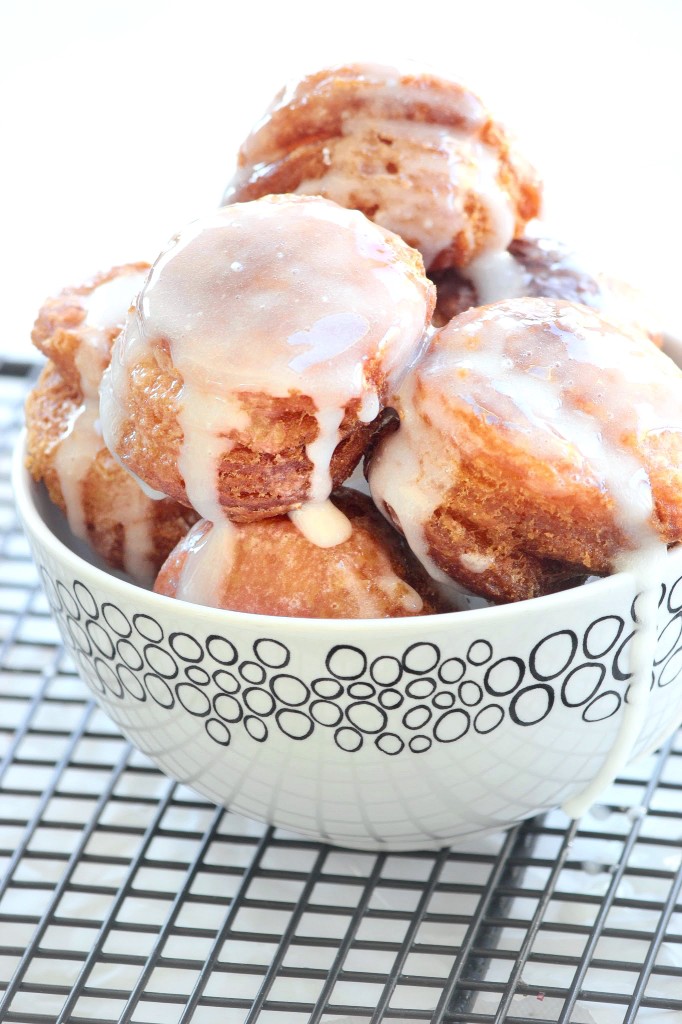 3-Ingredient Homemade Cronut Holes
2015-05-04 18:59:05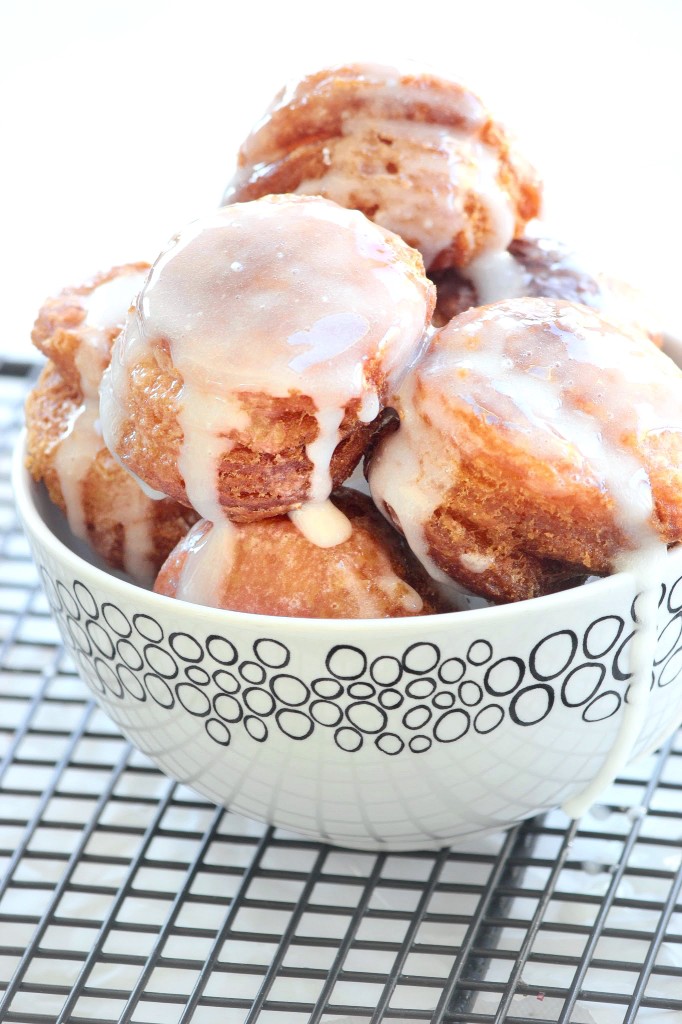 3 ingredients and a few minutes in a nice hot oil bath separate you from these unreal and stupidly easy to make homemade cronut holes. Who needs a bakery when you've got your very own kitchen?
Ingredients
*oil for frying (vegetable or canola)
1 tube Pillsbury Crescent Rolls
4 tablespoons powdered sugar
1 tablespoon skim milk (or cream or whole milk – even water if you don't have any of those)
Instructions
Fill a heavy bottomed skillet about 2/3 way with vegetable oil and let heat to 350 degrees. If you don't have a thermometer, the best way to tell when the oil is done is listening for it. You'll start to hear popping noises when it's heated. You can also test it out by flicking some water on it. When the oil is heated, the water should crackle when it hits the oil.
To prepare your cronut holes, remove the dough from the tube. There will be 4 squares, each with 2 triangular pieces of dough attached to each other. You want to stack the 4 squares on top of each other. Once stacked, take the round plastic cap from the top of any spice container you have in your spice rack and press down on the dough with it. The cap from the spice jar serves as your 'cutter'. This should yield 6 cronut holes.
Place your cronut holes in the hot oil. Let them cook on one side for a minute or so, and then continue flipping them every minute or so with a set of tongs. You want them to be cooked through but also not to burn. You'll know they're done when they start to turn a rich, golden brown (probably about 3-4 minutes each side, flipping frequently). When they're done, lay them out on some paper towels to soak up the excess grease.
Prepare your glaze by whisking together the sugar and milk until a thick glaze starts to form and the lumps disappear. You can always adjust with more water/sugar to reach your desired consistency. Drizzle some glaze over the top of each cronut hole and let it drip down the sides. This amount of drizzle will give a substantial 'dollop' on the top of each cronut hole, but if you're a 'heavy on the glaze' type of person, just double the recipe for the glaze and really soak those babies!
And They Cooked Happily Ever After http://www.andtheycookedhappilyeverafter.com/