Salads are pretty standard at our house. Greens – tomatoes – cucumbers – some lame dressing – maybe a hit of some sort of cheese. LAME SQUARED. I realized this lameness one night and wanted to change it. But what seems to be a problem with creating amazing and non-lame salads is that you have to have all these 'non-lame' ingredients conveniently just chilling in your fridge and/or pantry.
I'll be honest in saying that the inspiration for this salad was a bag of pistachio 'nutmeats' (best.word.ever.) that Dave had gotten in his stocking at Christmas. Basically the pistachio, sans the shell. Then I was just like 'Ok, what else do I have that goes with nutmeats?' – and badda binnnng, badda boooom – our new favorite salad was born! Dave who can barely finish a serving of lame salad had a second serving of this guy – so that's when you know it's a good one!
Make lame salads a thing of the past and try this one tonight!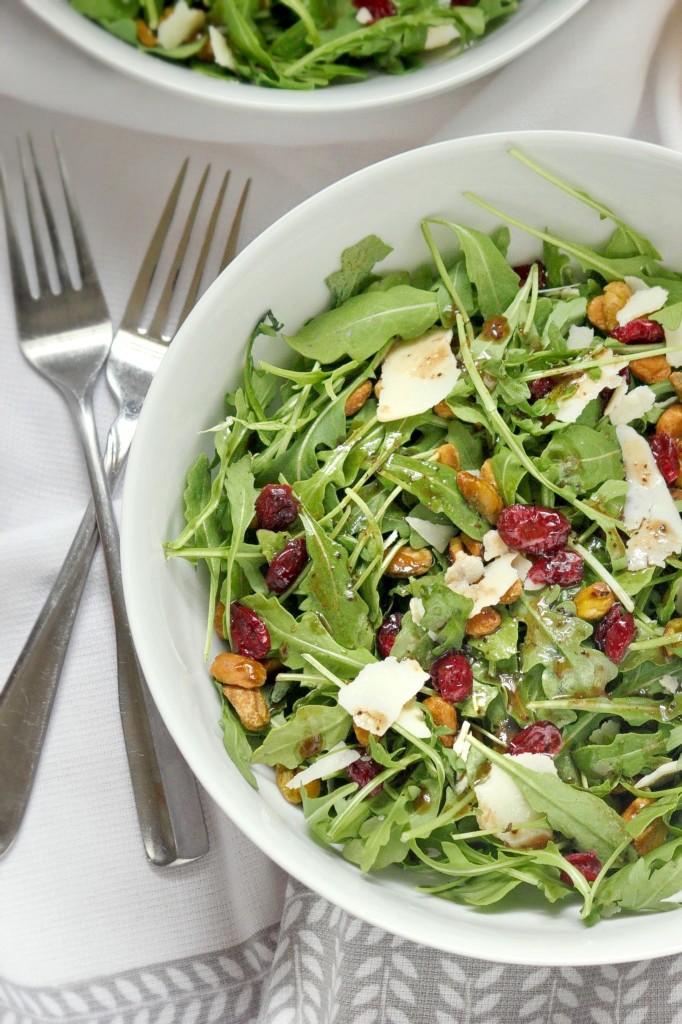 Arugula Salad with Cranberries, Pistachios, Parmesan & Homemade Balsamic Vinaigrette
2015-04-07 19:01:52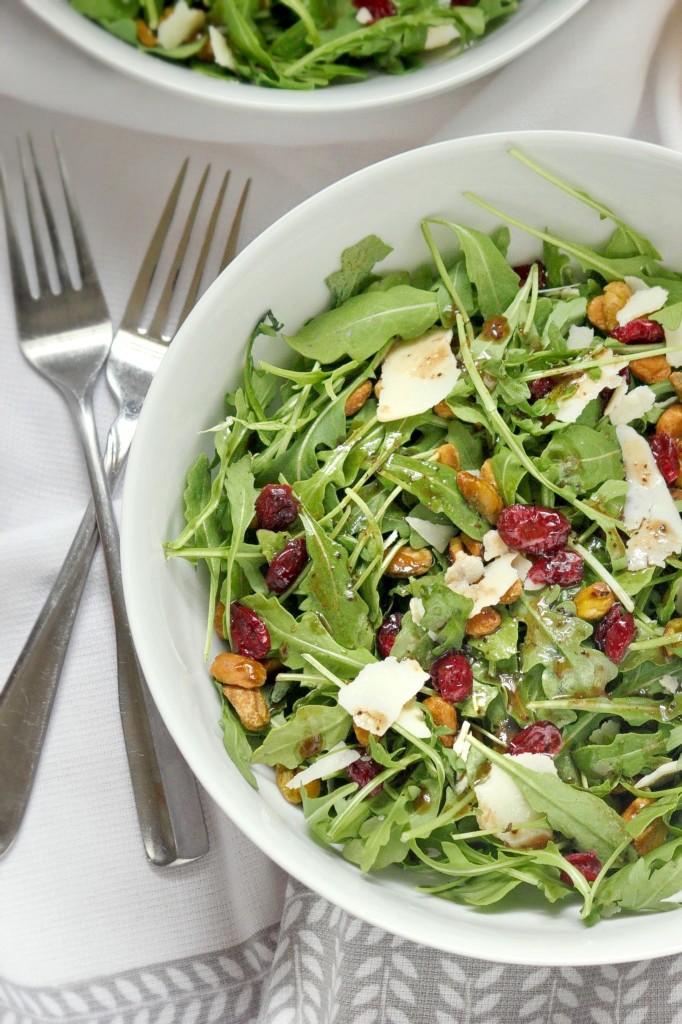 Serves 4
A springy combination of flavors in a gorgeous and delicious salad! Arugula, pistachios, cranberries and shaved parmesan tossed in a super simple and tasty balsamic vinaigrette dressing!
For the salad
8 cups of arugula
1/2 cup dried cranberries
1/2 cup pistachio nutmeats (te he)
1/2 cup shaved parmesan cheese
1 cup homemade balsamic (recipe below)
*feel free to add more of any of these ingredients if you like
For the homemade balsamic (you'll never buy it again!)
1/4 cup balsamic vinegar
1 teaspoon Dijon mustard
1 teaspoon sugar
1/2 teaspoon salt
1/4 teaspoon freshly ground black pepper
1 clove garlic, peeled and minced
1/2 cup extra-virgin olive oil
To prepare your Balsamic Vinaigrette
In a small bowl, whisk together the vinegar, mustard, sugar, salt, pepper, and garlic until the sugar and salt are dissolved. While continuing to whisk, add the olive oil in a thin, steady stream until emulsified. Taste and adjust the seasoning, if necessary. (this will give you more dressing than you need - store the extra in the fridge for your next salad!)
To prepare your salad
Place 8 cups of arugula in 4 salad bowls (2 cups each). Lightly dress the arugula with 2-3 tablespoons of the balsamic dressing (I usually just pour the dressing over the arugula and toss it lightly with my hands until evenly coated). Split the cranberries, pistachios and shaved parmesan over the 4 salads and then add more dressing to your liking. Serve right away!
Adapted from Emeril Lagasse
Adapted from Emeril Lagasse
And They Cooked Happily Ever After http://www.andtheycookedhappilyeverafter.com/