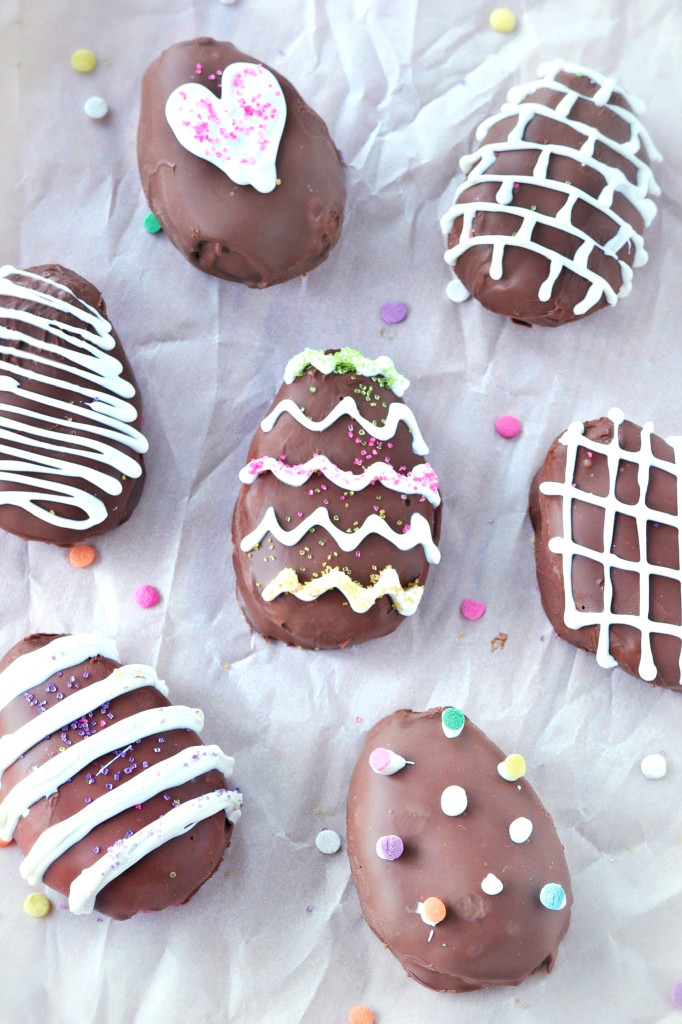 The Bunny comes SUNDAY. These Cookie Butter Easter Egg Truffles come TODAY.
From the minute I took my first finger full of cookie butter some years ago, things (especially my hips) have never been the same. I've done things like this with it – and this – oh and don't forget about these.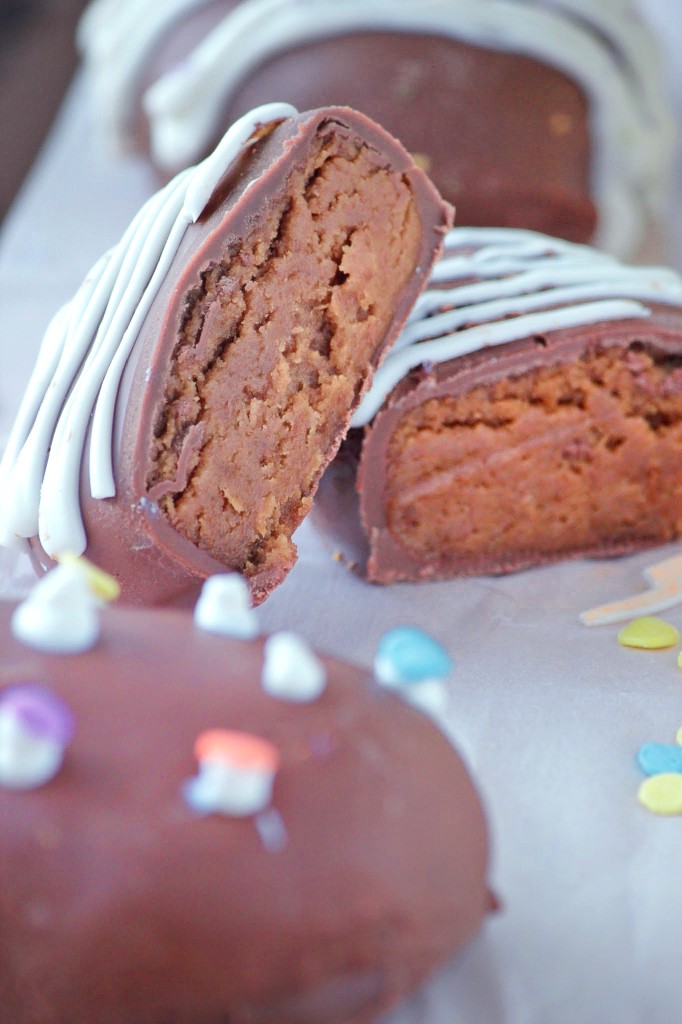 When I saw Ali's post for these (hers are way prettier, let's be honest) I thought YES. It's been a while since 1) I had an excuse to crack open a fresh jar of cookie butter and 2) I made truffles! And as much as I swoon over cookie butter, I also like swoon HARD over truffles – like these – and these – and OMG. These.
So here's THESE. The easiest 4 ingredient (minus decorations) Cookie Butter Easter Egg Truffles, made not only with cookie butter but with Biscoff cookies, for a DOUBLE PUNCH of cookie butter goodness – right in the cellulite!
And now, the rest of the cookie butter in the jar is mine to do bad things with.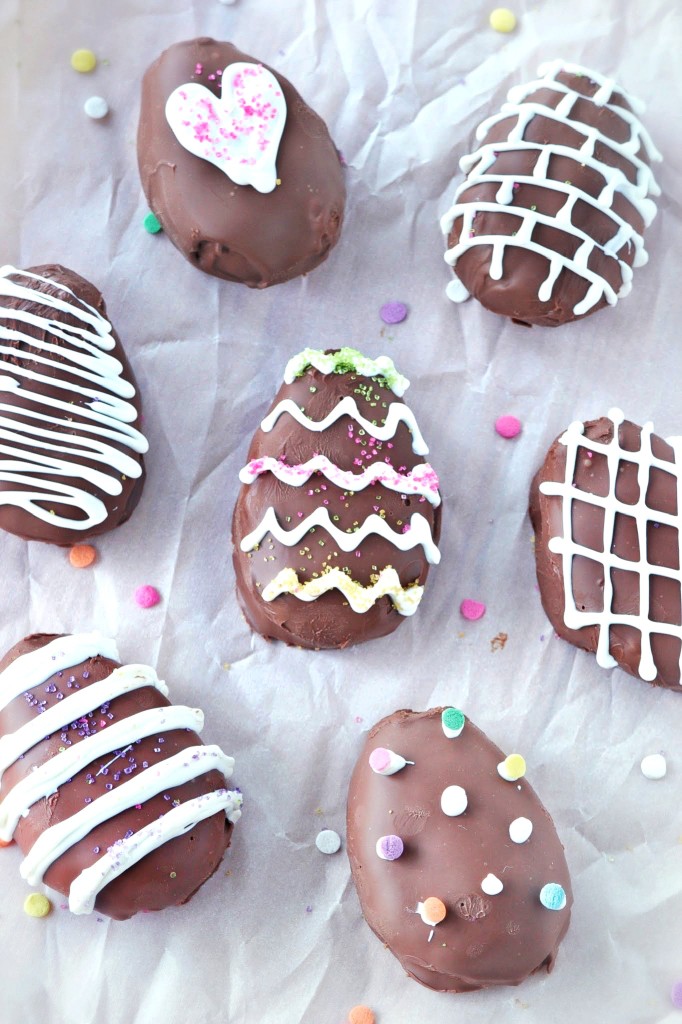 4 Ingredient Cookie Butter Easter Egg Truffles
2015-04-01 18:24:59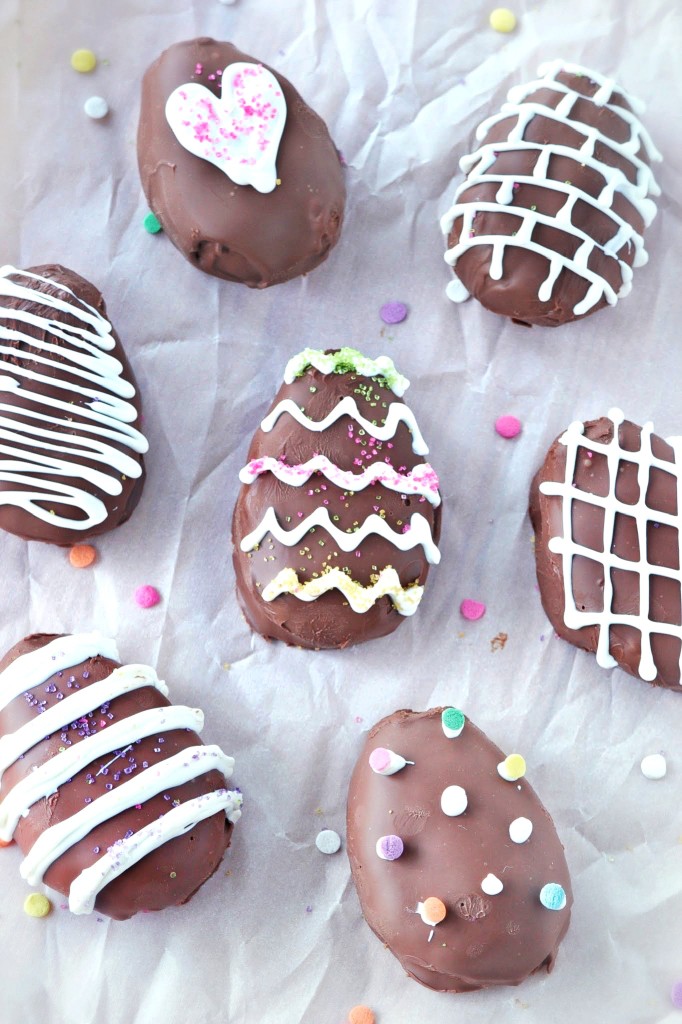 Cookie butter and easter egg fans rejoice! These super simple, 4 ingredient cookie butter easter egg truffles couldn't be any easier to make - or shove in your mouth. Decorate with sprinkles, colored chocolate and more!
Ingredients
24 (1 package/sleeve) Biscoff/Speculoos cookies (the cookies that cookie butter is made from - you can get them in the cookie section of most grocery stores or Trader Joes has them as well)
6oz (3/4 block) reduced fat cream cheese, softened to room temperature
1/2 cup cookie butter (also called Speculoos or Biscoff Spread)
12oz milk chocolate, melted (either 1 bag of chocolate chips or a couple of large size milk chocolate candy bars. Trader Joes 1lb milk bars melt PERFECTLY for truffles)
Assorted sprinkles, candies, etc. for decoration
Instructions
In your food processor, add the Biscoff cookies. Pulse until they're reduced to crumbs. To the cookie crumbs, add your cream cheese and cookie butter. I like to break the cream cheese up into little clumps, but either way, you'll have to stop and scrape the dough from the sides with a rubber spatula a couple times while mixing.
Pulse all the ingredients in your food processor until a thick dough starts to form. Remove dough from food processor and place in a large mixing bowl,
Take about 3 tablespoons of the dough and roll it between the palms of your hands. Then, shape it into an egg shape and place on a baking sheet lined with parchment paper. When you've formed all of your eggs (should make about 8), freeze them for 1 hour up to overnight. You want them to be frozen when you dip them in the chocolate so they don't get all mooshy.
When you're ready to dip your eggs, melt your chocolate in a double boiler* or in the microwave and then dip each of your eggs into the melted chocolate. I recommend transferring the chocolate into a tall/deep dish or glass even, and then using a wooden bamboo skewer, like you'd make kabobs with. That way you can stick the skewer in the top of the egg without making a huge hole in and then dip the egg into the chocolate, getting a nice even coat and having minimal opportunities to dent the egg using a spoon or something else to dip the chocolate in.
Place the dipped eggs on a parchment or wax paper lined baking sheet and let the chocolate on them dry. Once dry, decorate with sprinkles or additional colored chocolate. Wiltons Candy Melts are awesome for this type of treat!
Chill your truffles until ready to serve. Store in the fridge for up to a week or freeze for up to a month.
Notes
*For a double boiler, place a little bit of water in a saucepan and let it come to a boil. Then place a glass bowl that is large enough to sit on top of the saucepan (not fall inside of it) and put your broken up pieces of chocolate or your chocolate chips into the glass bowl on top of the saucepan of boiling water and stir frequently until the chocolate melts. Be very careful not to let water get into the chocolate or it will sieze and you'll have to start all over. Waste of perfectly good chocolate!
Adapted from Gimme Some Oven
Adapted from Gimme Some Oven
And They Cooked Happily Ever After http://www.andtheycookedhappilyeverafter.com/