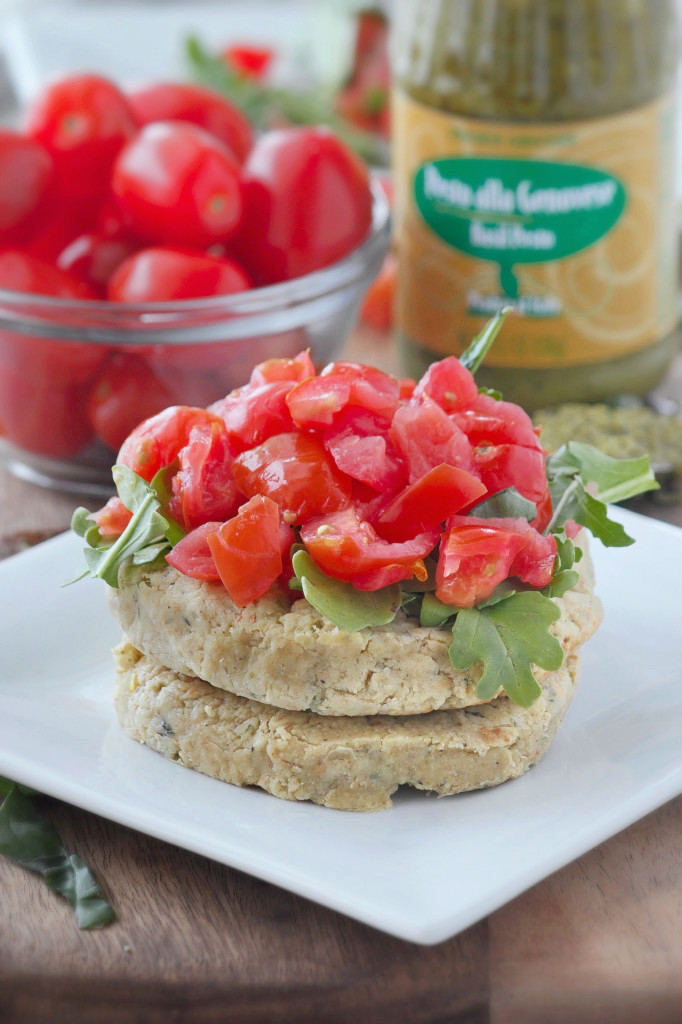 Guys, I've got one for ya. This guy right here. And I can say that because I've made these at least a dozen times to get them juuuuust right for youusss guys.
I've often times mentioned my lunch rut dilemma. And I know we all get into them. But lately it's like "Woah lunch rut, slow your roll". I just can't even be bothered to try to come up with new ideas, let alone go and buy the stuff to make them. However, these White Bean Pesto Burgers with Bruschetta have given me hope in a world full of lunch ruts.
I really enjoy a good black bean burger (like this one – move over Morning Star). And I thought ya know, you never really hear much about white bean burgers – what up with that? I love white beans! They are just like an old friend whose been around forever and is kind of plain but throw a scarf and some red lipstick on her and BAM – she's totally your perfect wingman at the club!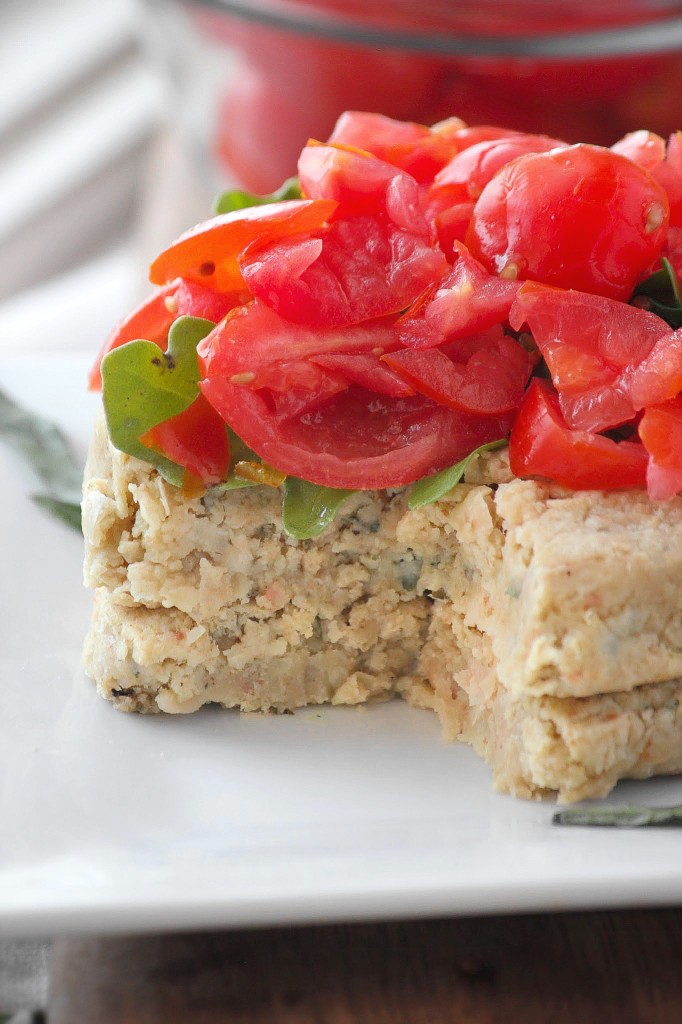 (not sure that analogy works for white beans – but you feel me, right?)
And my first thought for a white bean burger was to add pesto flavoring to it. And from the get go, the flavor was SPOT ON. But what I couldn't seem to get right was the texture. I'd add an egg white here, take away some breadcrumbs there – then re-work it – put my thing down flip it and reverse it. But they'd always come out a smidge on the dry side. I just couldn't seem to figure it out. But then it hit me – don't BAKE the burgers in the oven – PAN SEAR them! Like you would a real burger! In the words of Michelle Tanner – DUUUU-UUUUHHH.
And that was the icing on the cake – the cherry on top – the nail being hit on the head. PERFECTION. You guys are gonna love these. And the bruschetta topping? There are no words. Feel free to add more pesto – I really didn't want them to be like overwhelmingly pesto'y. Just a faint taste. These can be stored for up to a week in the fridge and heat up perfectly and love the inside of brown paper lunch bags.
Now go on' get outta here lunch rut – don't show yo' face round here no mo!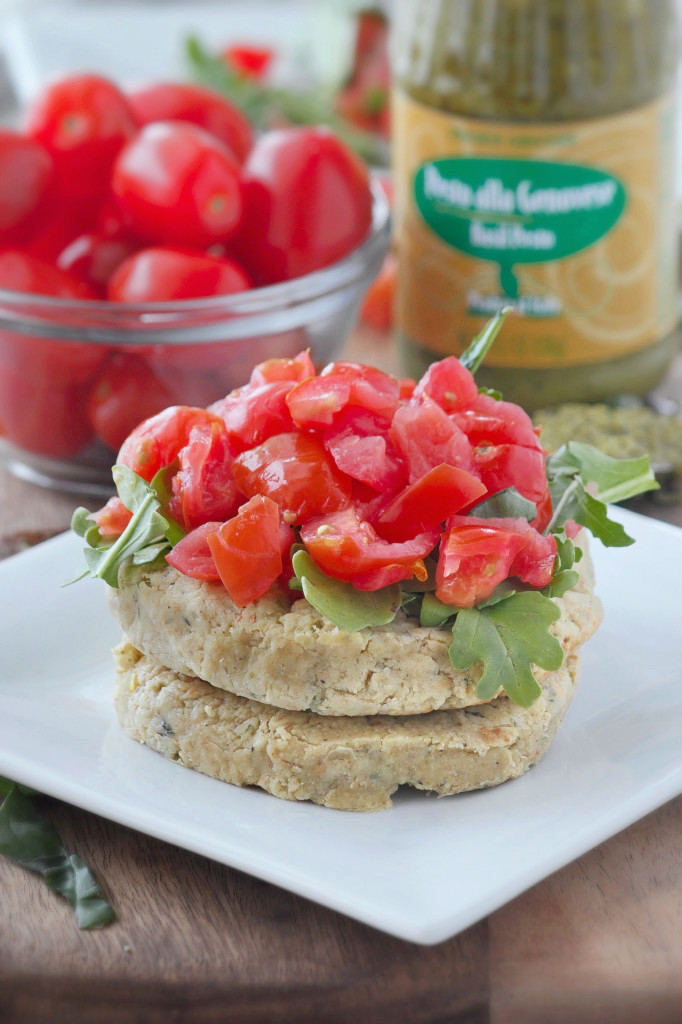 White Bean Pesto Burgers with Bruschetta
2015-03-30 16:45:23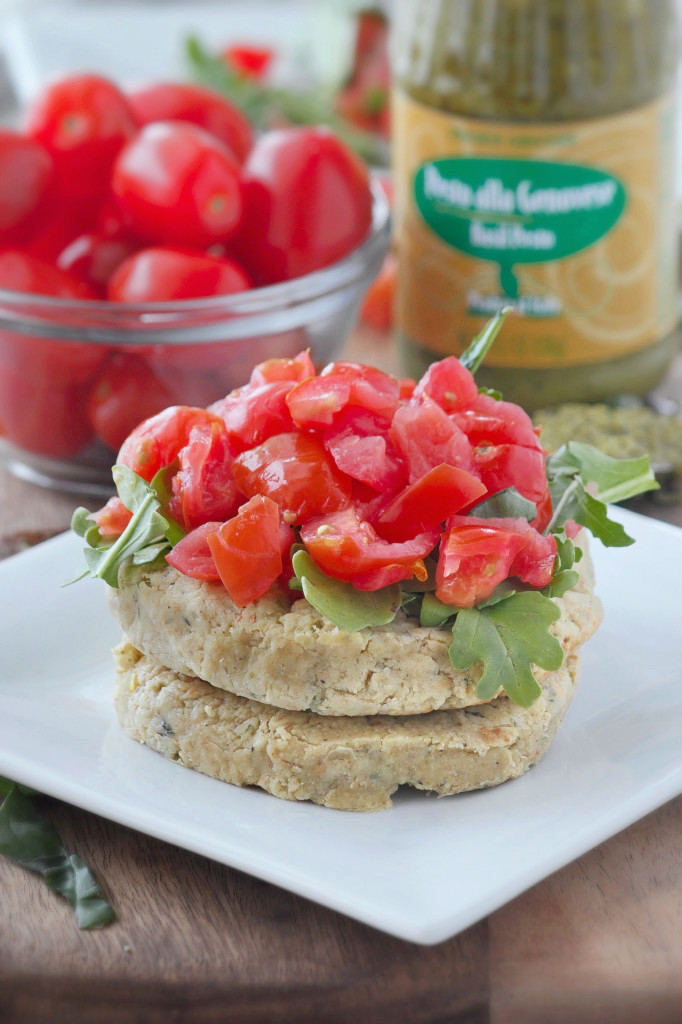 A new spin on 'veggie' burgers - white beans pureed to perfection flavored with pesto and topped with bruschetta. The perfect solution for your lunch rut!
For the white bean burgers
1 15oz can white cannellini beans
1 tablespoon pesto (or more for a bolder pesto flavor)
½ teaspoon salt
¼ teaspoon ground black pepper
1 small garlic clove, minced
1 egg + 1 egg white
½ cup breadcrumbs (I used the Italian seasoned kind, but plain should work just fine too)
For the bruschetta topping
4 vine ripe tomatoes
3 tablespoons balsamic vinegar
4 tablespoons italian dressing
1 garlic clove, minced
1 teaspoon kosher salt
1/2 teaspoon ground black pepper
12 basil leaves, chopped
To prepare your bruschetta
Prepare your bruschetta topping by pulsing your tomatoes in a food processor (or chopping with a knife). In a small mixing bowl, whisk together your balsamic vinegar, italian dressing, garlic, salt & pepper. Pour the balsamic dressing over the tomatoes and gently toss together. Fold in your basil leaves, leaving a few to sprinkle on top. Set aside until your burgers are ready or chill in the fridge, covered, for up to a week. I always like to let my bruschetta come to room temp before serving. Something about cold tomatoes - ick squared.
To prepare your white bean pesto burgers
In a food processor, place your white beans, pesto, salt, pepper, garlic, egg and egg white and pulse until the mixture is pureed and fully combined. It's ok to have some bean chunks left in there too. If you don't have a food processor, this is just as easy to do with your hands in a large mixing bowl. Little messy, but still works!
Take your white bean mixture out of the food processor and place in a large mixing bowl. Fold in your breadcrumbs until the mixture becomes solid enough that you can form patties. Form the mix into 4 patties. The mixture may seem a little 'soggy' at this point, but think of it as if you were making real burgers and the texture of the beef when you do that. It should feel just about the same.
Heat a large skillet over medium heat. Spray with non-stick cooking spray and add the burgers, letting them cook on one side for about 3-5 minutes (you'll know the side is done when it just starts to turn golden brown). Flip to the other side, and cook for another 3 minutes or so, until the other side is golden brown.
Top burgers with bruschetta and serve warm either on a bun or all by themselves! These are so good, there's no bun required!
And They Cooked Happily Ever After http://www.andtheycookedhappilyeverafter.com/