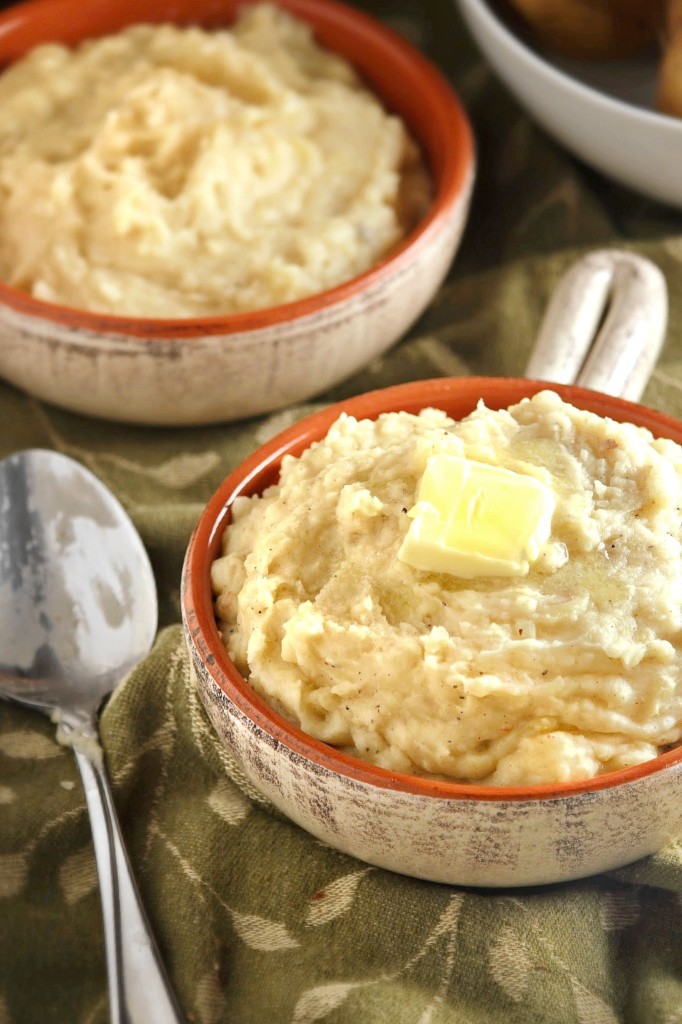 While I love to eat mashed potatoes, I hate to make them. Over the years, I've tried on so many attempts to make a perfectly smooth mashed potato. I've tried potato ricers – electric beaters. For some reason, I just can never get it right, and mashed become lumptastic (not that it ever stops me from eating them). And you CAN'T have lumptastic taters on tday! And you won't with this recipe.
The process with mashed potatoes is kind of a pain in the rear – you peel, cut, put them in water, bring them to a boil and then you have to keep testing them to see if the fork pushes through but you can't over do them because then they get all gluey. ICK. Never doing them that way again.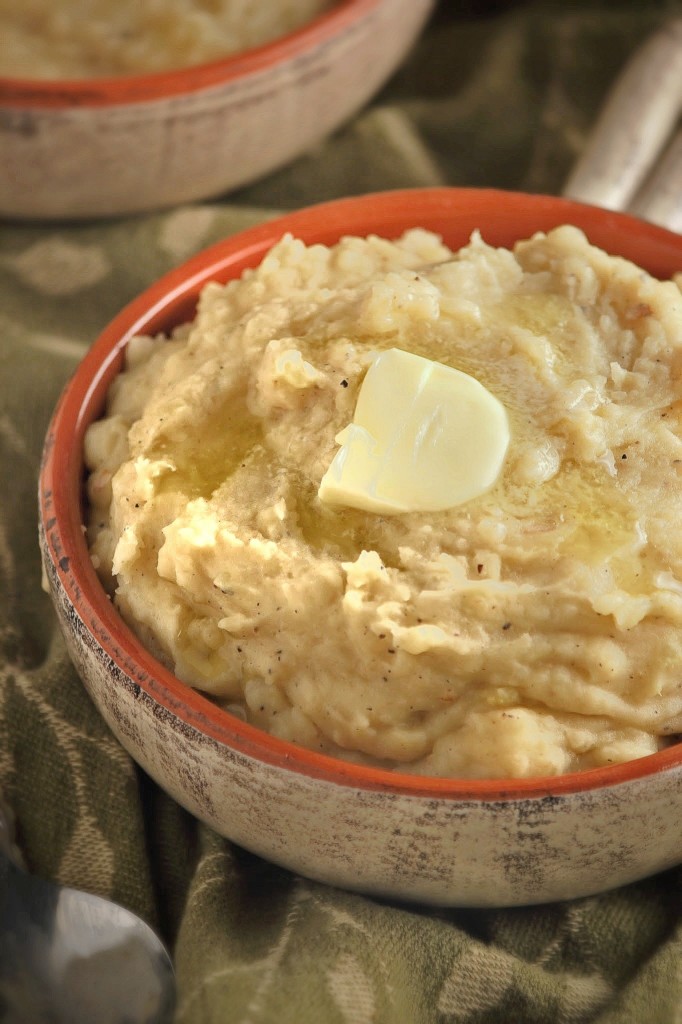 These Crock Pot Garlic Mashed Potatoes are an adaptation from my girl Lindsay at Pinch of Yum. In the midst of her kitchen reno, she was also having a love affair with her crock pot and made these mashed potatoes. These are a slight adaptation and provide an awesome base for any mashed potato really. You can go hog wild at the end and add all kinds of extras – different kinds of cheese – meat – herbs – spices. The options are endless (and making my mouth water). But one thing you will not have is lumps.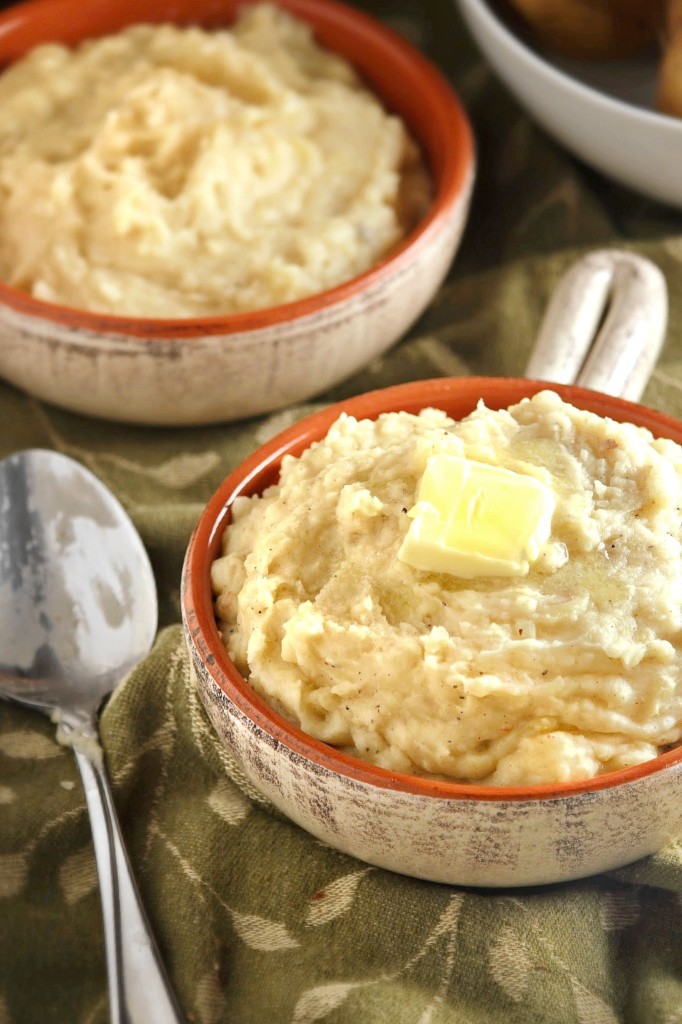 Crock Pot Garlic Mashed Potatoes
2014-11-16 17:48:01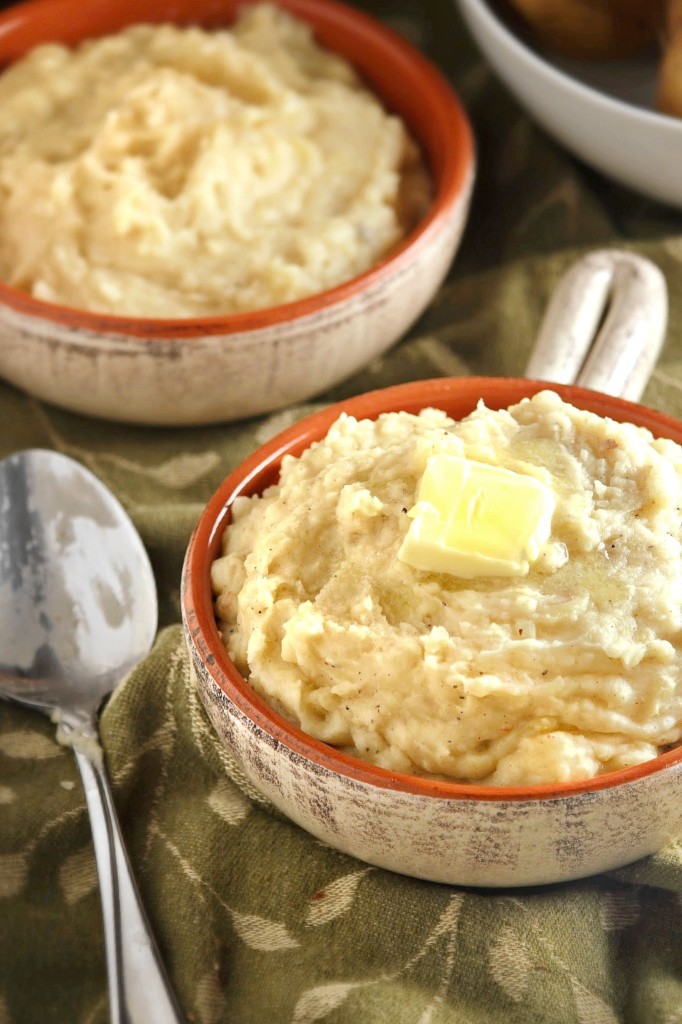 Serves 6
Say goodbye to lumpy mashed potatoes forever - these Garlic Mashed potatoes are cooked to perfection in your crock pot - a perfect solution for the disappearing stove top space at Thanksgiving!
Ingredients
3 lbs (about 5-6 large) yukon gold or golden russet potatoes, peeled and cut into 1-2" cubes (should have 8 cups total)
3/4 cup chicken broth
3/4 cup milk or half & half
1 teaspoon salt
1/2 teaspoon black pepper
2-3 large garlic cloves, smashed
2 tablespoons butter
2 tablespoons cream cheese
1/4 cup cheese of your liking (I used a shredded mexican style cheese, but you could use any cheese really. It doesn't make them cheesy by any means, just enhances the flavor. Feel free to omit it if you like)
additional salt/pepper/butter to taste
Instructions
Cut and peel your potatoes and place them in the pot of your crock pot. Cover them with the chicken broth, milk and garlic cloves and season with the salt and pepper.
Cook potatoes on low for 3 hours. After 3 hours, add the butter, cream cheese and shredded cheese and mash them with an electric mixer on low until mashed potatoes start to form and get smooth and creamy (about 1-2 minutes). Taste the potatoes and season with additional salt/pepper/butter or any fixings you like. Serve hot.
Notes
Mashed potatoes are a pallette for many different flavors so use these as a base and get creative with your additions at the end!
Adapted from Pinch of Yum
And They Cooked Happily Ever After http://www.andtheycookedhappilyeverafter.com/
And don't forget the STUFFING! Check out this
easy peasy recipe for perfect Thanksgiving Stuffing
, also cooked in your crock pot!