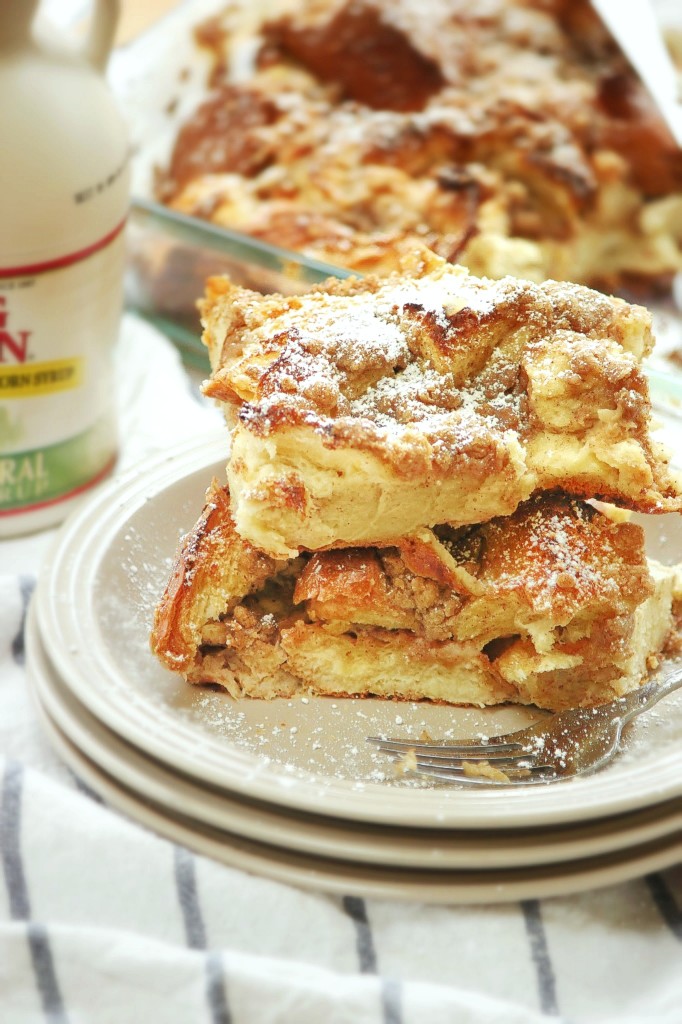 Overnight French Toast is like the Christmas of breakfast foods – you get it all ready to go, put it in the fridge, and you literally cannot sleep because you are SOOO excited to wake up the next morning and get that soft, moist (sorry, had to) melt in your mouth version of french toast in your belly the minute the sun rises.
Or maybe that's just how I feel about it. Regardless, you set it – forget it overnight – pop it in the oven the next day – smother it in powdered sugar and maple syrup and stuff your face with it. Its' THAT easy. And with the holidays comin' around, we're all looking for easy recipes for holiday gatherings that will have people wondering "How did she DO that?".
I got inspired for this Apple Pie French Toast combo after making this from Damn Delicious a few weeks ago (sans the cheesecake filling) and scratching my head trying to figure out what to do with this delish Apple Pie Filling from Inside BruCrew life that I had made a while ago and stuck in the freezer.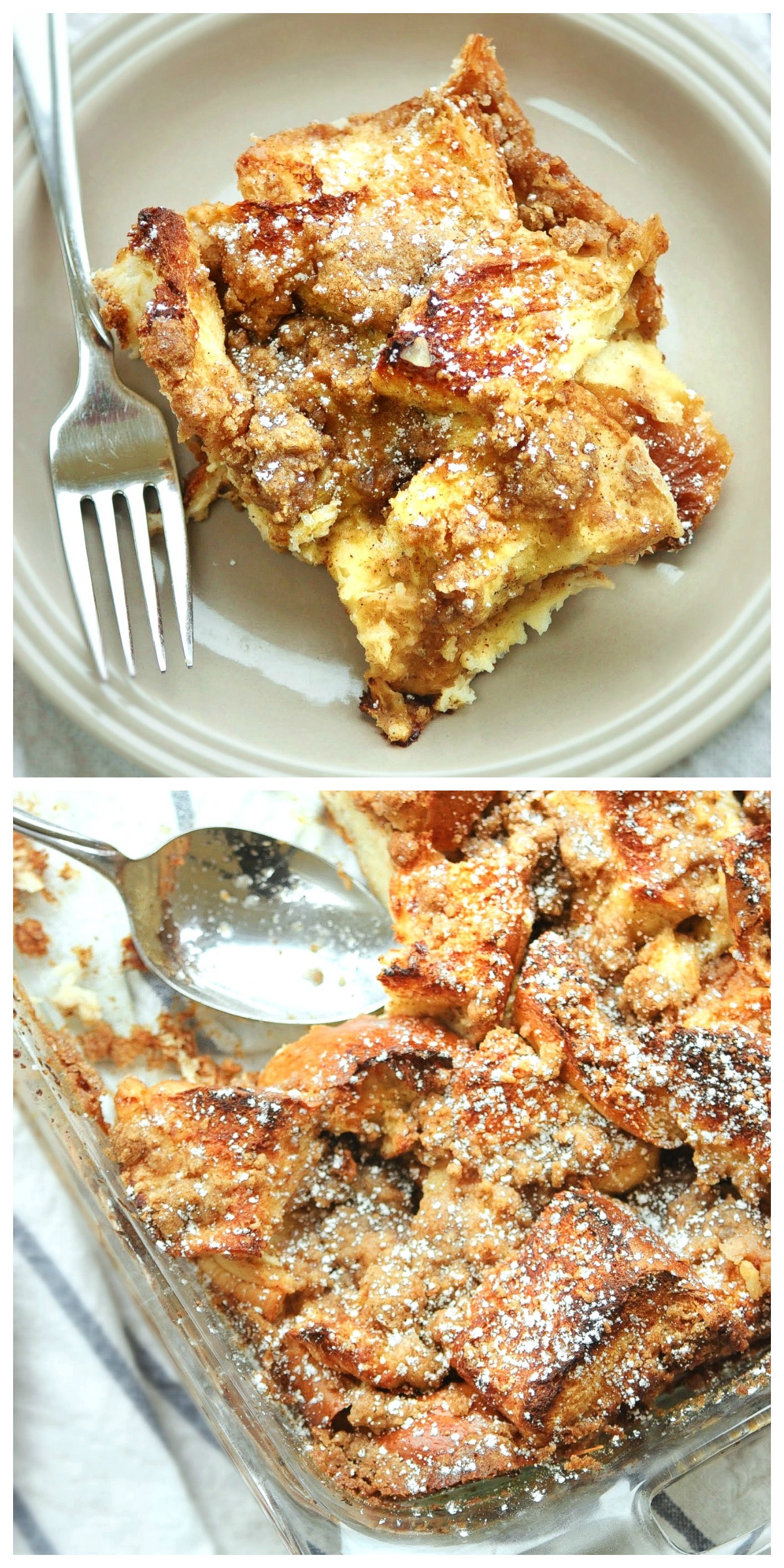 I can't STRESS how easy this is to make guys – you literally cut your bread into cubes – mix all your wet ingredients together, coat the bread cubes in the mix, toss it in the fridge overnight and pop it in the oven the next day. The overnight piece is really important too. Letting all that soppy egg goodness really soak into the bread makes all the difference in the world as to how moist and soft the french toast gets. I feel like now I'll never be able to have a not-soaked-in-eggs-all-night piece of french toast ever again! If you make the Apple Pie filling from scratch, it adds a bit more time to the recipe. But you could easily swap out the homemade apple pie filling with the canned version, or even sweetened apple sauce. That would make it extra ridiculously easy which makes it taste even BETTER!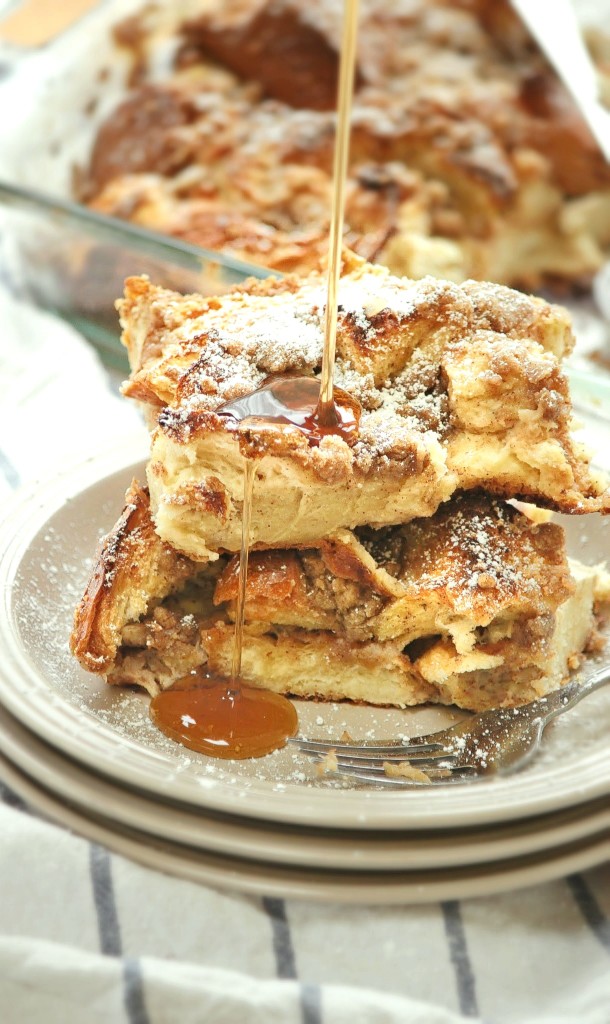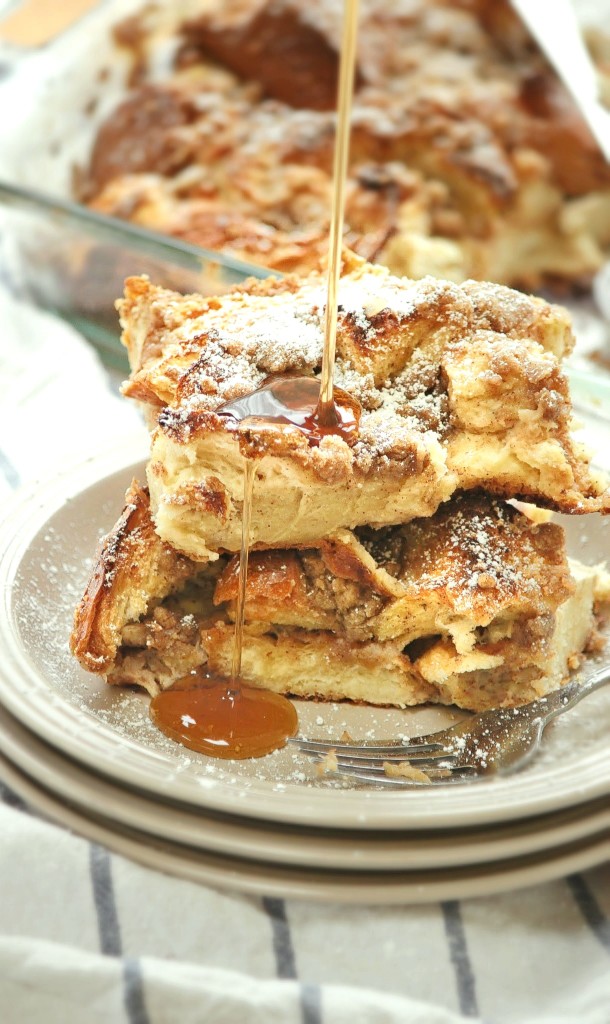 Overnight Apple Pie French Toast
2014-11-09 10:16:16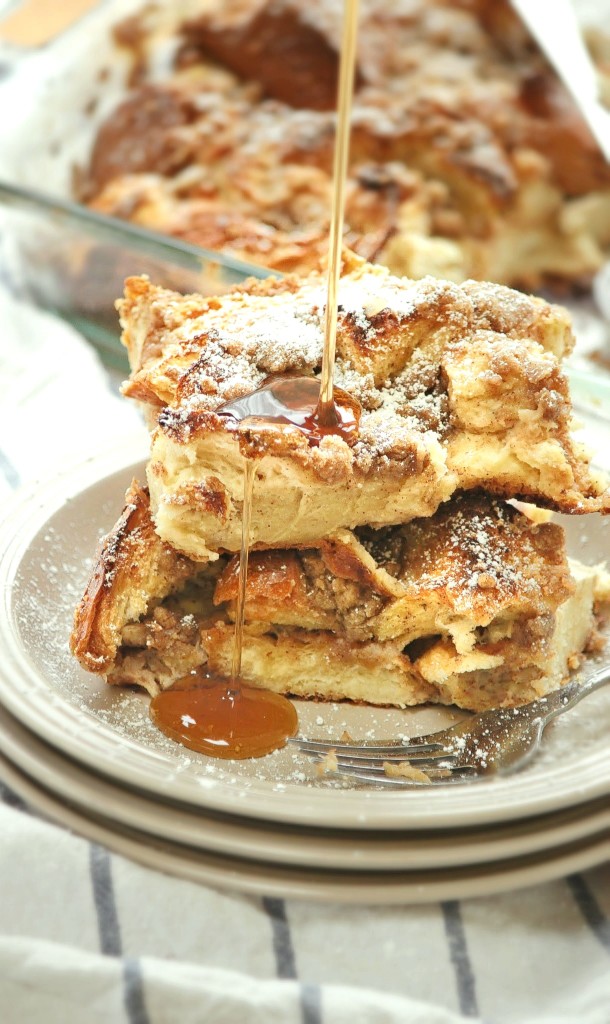 So easy to make its not fair - Apple Pie French Toast, left to sit overnight in the fridge. Perfect for holiday brunches and breakfasts coming up!
For the French Toast
1 loaf challah bread, sliced and cut into 1-2" cubes
1 cup milk
3 eggs
1 cup homemade apple pie filling (recipe below - to save time, you can also use sweetened applesauce or canned apple pie filling)
1/2 teaspoon cinnamon
1 teaspoon vanilla
For streussel topping
1/4 cup all purpose flour
1/4 cup brown sugar
1/2 teaspoon ground cinnamon
1/4 cup (4 tablespoons) cold unsalted butter, cut into small cubes
For the apple pie filling
5 cups peeled,chopped apples (about 5 apples - I used macintosh)
1 Tablespoon lemon juice
1/2 cup brown sugar
1/2 cup sugar
1/4 cup cornstarch
1 teaspoon cinnamon
1/4 teaspoon nutmeg
1/4 teaspoon salt
2 cups water
To prepare your apple pie filling
Toss the apples with lemon juice and set aside. Combine the sugars, cornstarch, cinnamon, nutmeg, and salt in a saucepan. Stir in water. Bring mixture to a boil. Boil 2 minutes stirring constantly.
Add the apples and bring to a boil again. Reduce the heat to medium low and simmer for 10-12 minutes, or until the filling reaches your desired texture. I wanted this to be more like an applesauce consistency, so I let it reduce for quite a while (almost an hour) but if you want the apples to be a little chunkier, reduce them for less time to hold their texture.
Let the applesauce cool. You'll have quite a bit left over (makes about 4 cups total) so you can rerigerate for 4-5 days, or throw it in the freezer.
To prepare your french toast
Spray a 9x13" baking dish with non-stick cooking spray. Lay all your chopped challah cubes in the baking dish.
Whisk together the milk, eggs, apple pie filling, cinnamon and vanilla and pour over the bread cubes, tossing them together to coat the bread cubes. Cover with plastic wrap or foil and place in the refrigerator for at least 2 hours, but preferably overnight.
Preheat your oven to 350 degrees F. Prepare your streussel topping by mixing together the flour, brown sugar and cinnamon, and then cutting in the cold butter cubes with a fork (or sometimes just using your hands works best) until crumbs start to form. Sprinkle the streussel over the top of the bread cubes.
Bake in preheated oven for 35-40 minutes, until the tops of the bread cubes start to turn golden brown. Serve warm with powdered sugar and maple syrup.
Notes
You can save time by using the canned apple pie filling or sweetened apple sauce in place of the homemade apple pie filling.
Adapted from Damn Delicious & Inside BruCrew Life
Adapted from Damn Delicious & Inside BruCrew Life
And They Cooked Happily Ever After http://www.andtheycookedhappilyeverafter.com/