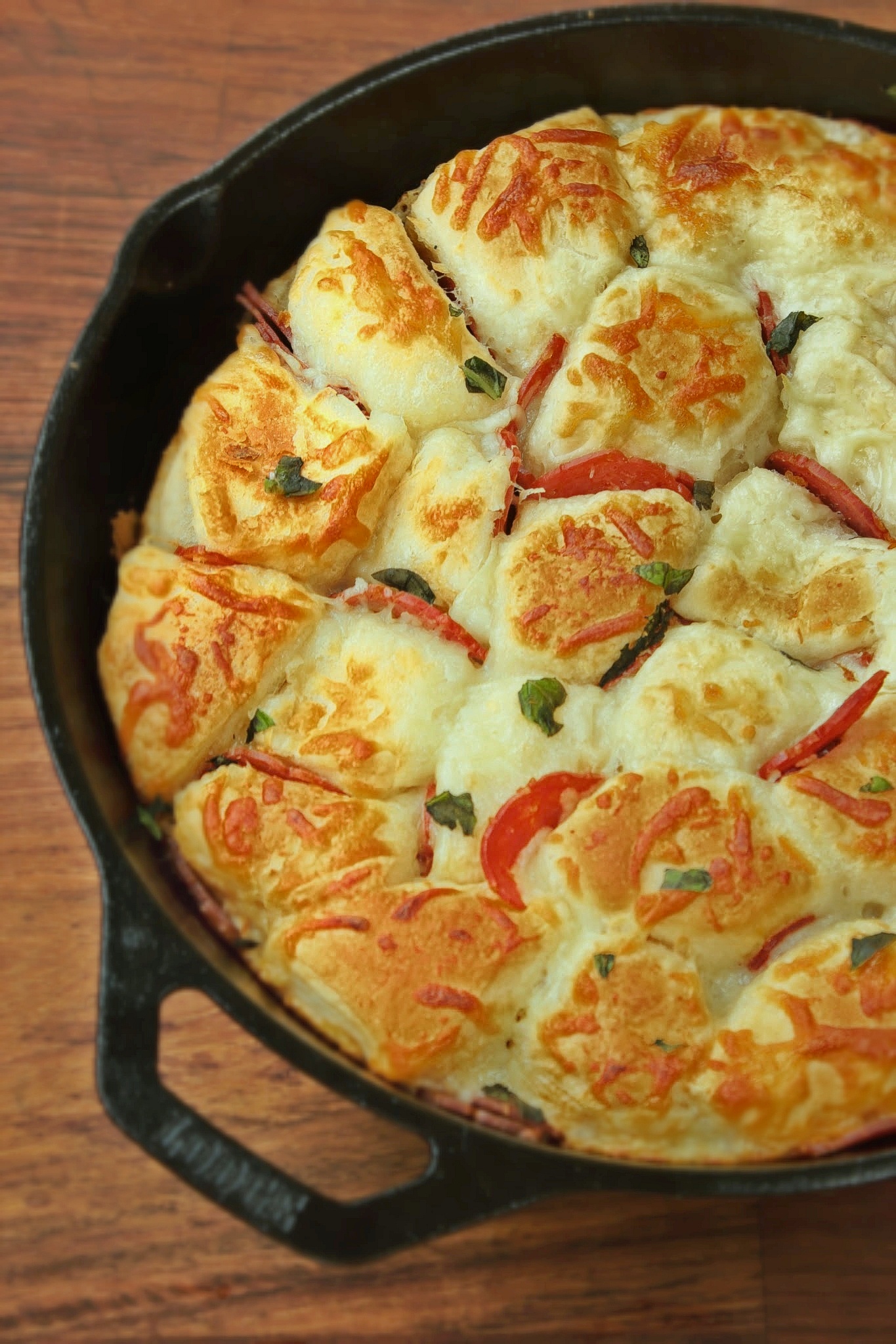 So I just started this like clean eating challenge thing at the gym. And only 3 days in I've really already come to the realization of one thing.
I'm more of a dirty eater.
However, I'm not gonna throw in the towel just yet. I AM though gonna give you this RIDICULOUSLY insanely easy and seriously, to die for Garlic Pepperoni Pull Apart Bread. Back in my dirty eating days (er, um, like 3 days ago) I made this after seeing Damn Delicious' Garlic Knots (actually I saw them like months ago and couldn't get the vision of the sparkling, glistening flecs of butter and parsley and parmesan cheese on a golden brown garlic knot. (BAD DIRTY THOUGHTS – NO!). And I realized like, woa, you can do nine zillion things with refrigerated biscuits.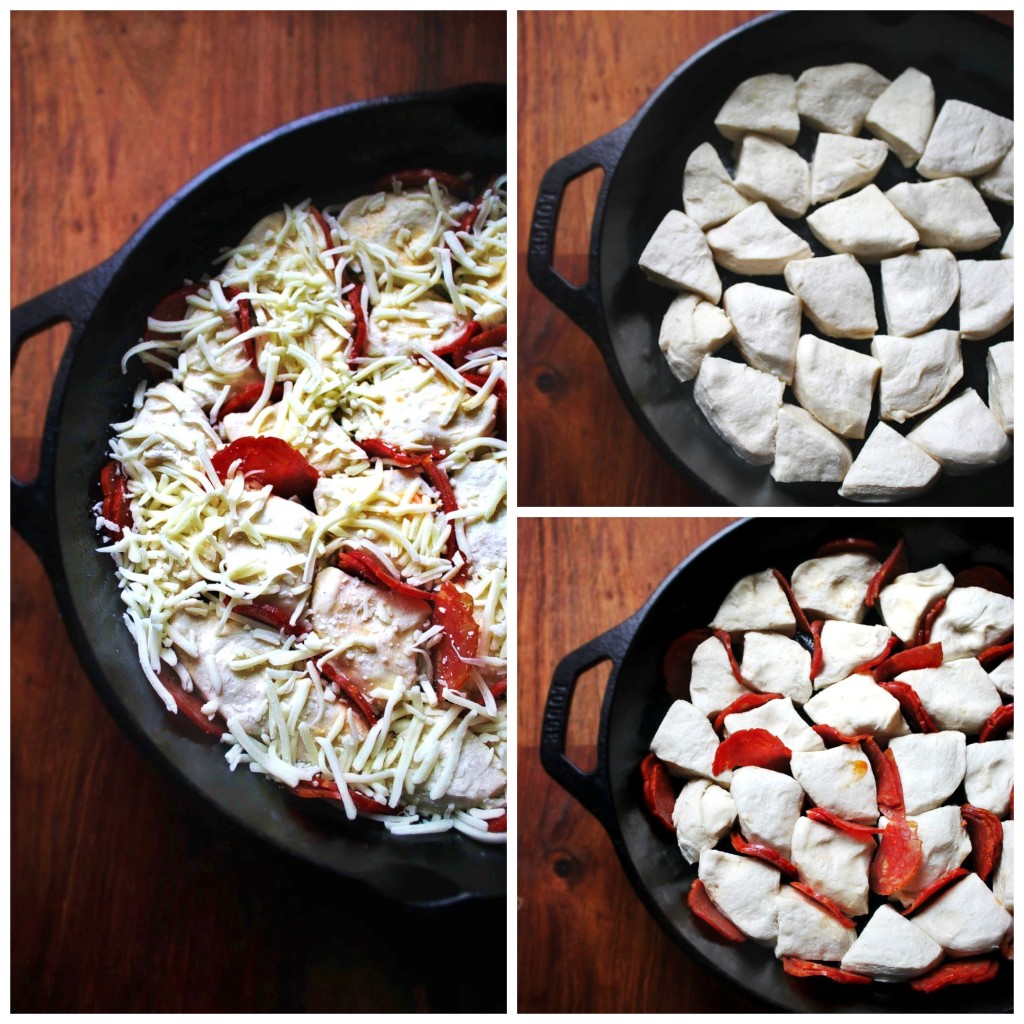 And you can. Like this. And you should, for those of us who are dreaming of eating dirty. It's perfect for game day. Cauliflower is not.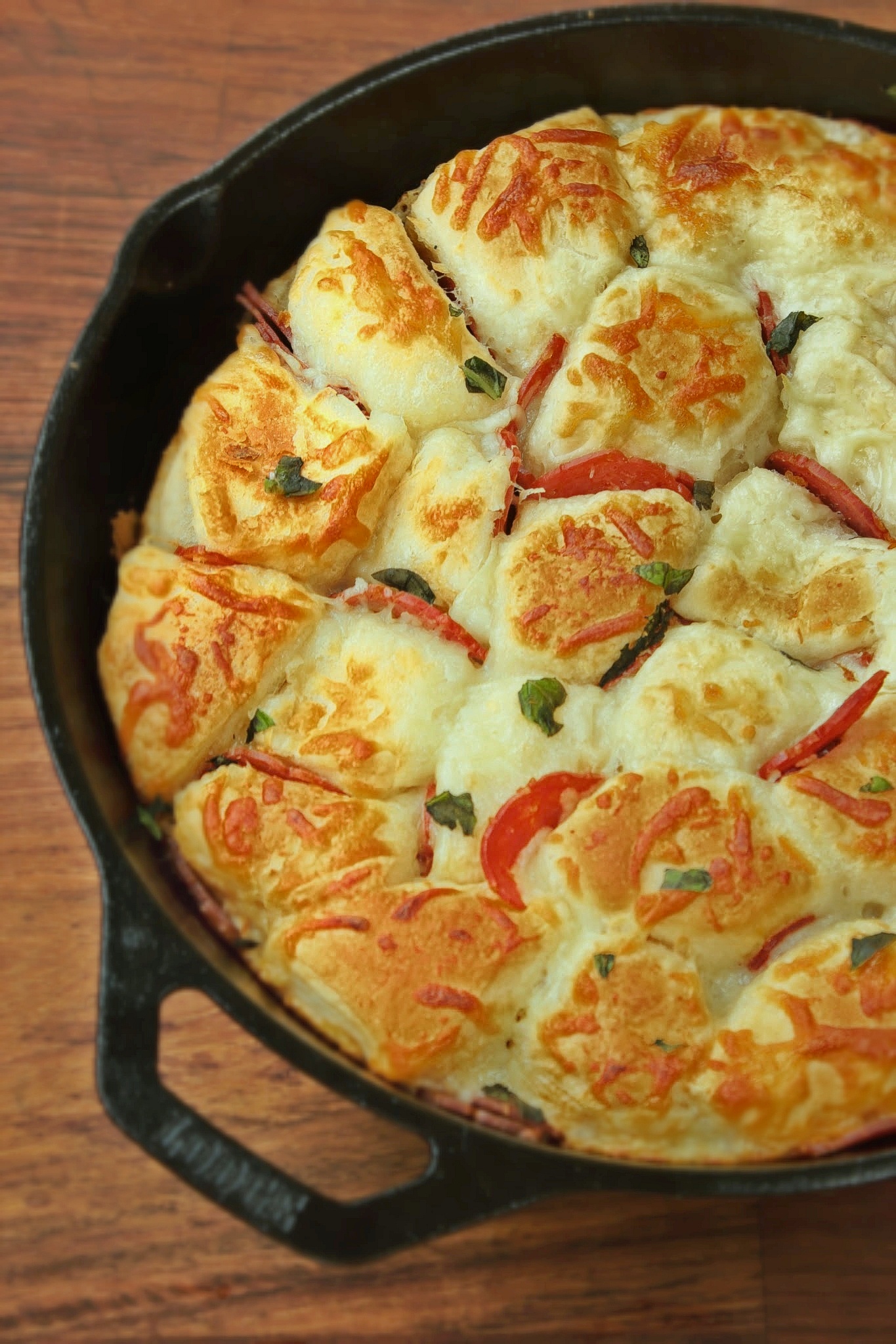 Garlic Pepperoni Pull Apart Bread
2014-10-25 08:59:45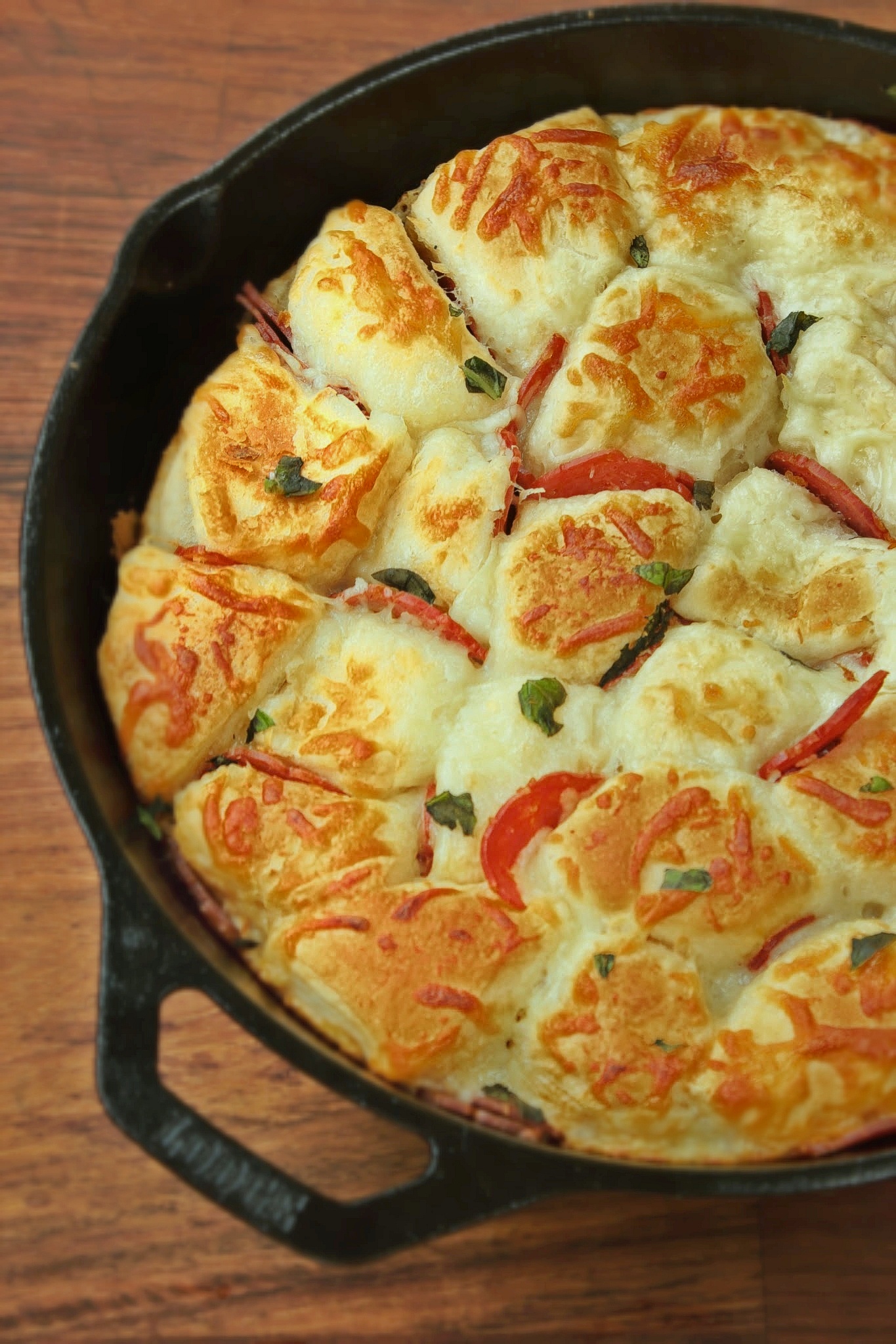 Serves 4
6 ingredients and about 20 minutes will give you the most delicious and addicting and scarily easy to make Garlic Pepperoni Pull Apart Bread. YES!
Ingredients
1 package of Pillsbury Grands Biscuits (I used all but 1 biscuit – I'll explain why)
1 cup of pizza cheese (mozzarella or whatever kind you like on your za)
About 30 turkey (or regular) pepperoni slices, cut in half
4 tablespoons unsalted butter
1 large garlic clove, crushed (not minced)
2 tablespoons freshly ground parmesan cheese
2-3 fresh basil leaves, chopped (this is optional)
Instructions
Preheat your oven to 350 degrees F. Lightly grease your cast iron skillet or 8" or 9" pie dish with non-stick spray or butter.
Slice your grands biscuits into quarters. As I mentioned above, I didn't use the full package, only because you want to leave room between each quarter where you can stuff the cheese and pepperoni. The biscuits will also plump up a bunch when you bake them, so you want to leave space between them.
Place your biscuit quarters in the greased pie dish, leaving just a bit of space between each piece. Take your pepperoni slices and stick them in between the creases and along the inner edge of the dish. Then, distribute your cheese so that there's some in the crevices as well as sprinkled on the top. You may need/want more than 1 cup – I thought that was a good amount but I would never get mad at anyone for using more cheese. NEVER.
In a small saucepan, melt your butter over medium heat. Add the smashed garlic clove and stir until the garlic is fragrant, making sure it doesn't burn (about 1 minute). The point here is just to get the flavor of the garlic in the butter. After it becomes fragrant, remove the clove from the butter. With a pastry brush (or just a spoon) lightly baste the top of the biscuits with the garlic butter and then sprinkle with the parmesan cheese (again, feel free to use more – I support excess cheese).
Bake in preheated oven for 15-20 minutes until the tops of the biscuits and the cheese start to turn golden brown. Let cool for 5 minutes, sprinkle with chopped basil and serve hot with pizza sauce or marinara.
And They Cooked Happily Ever After http://www.andtheycookedhappilyeverafter.com/