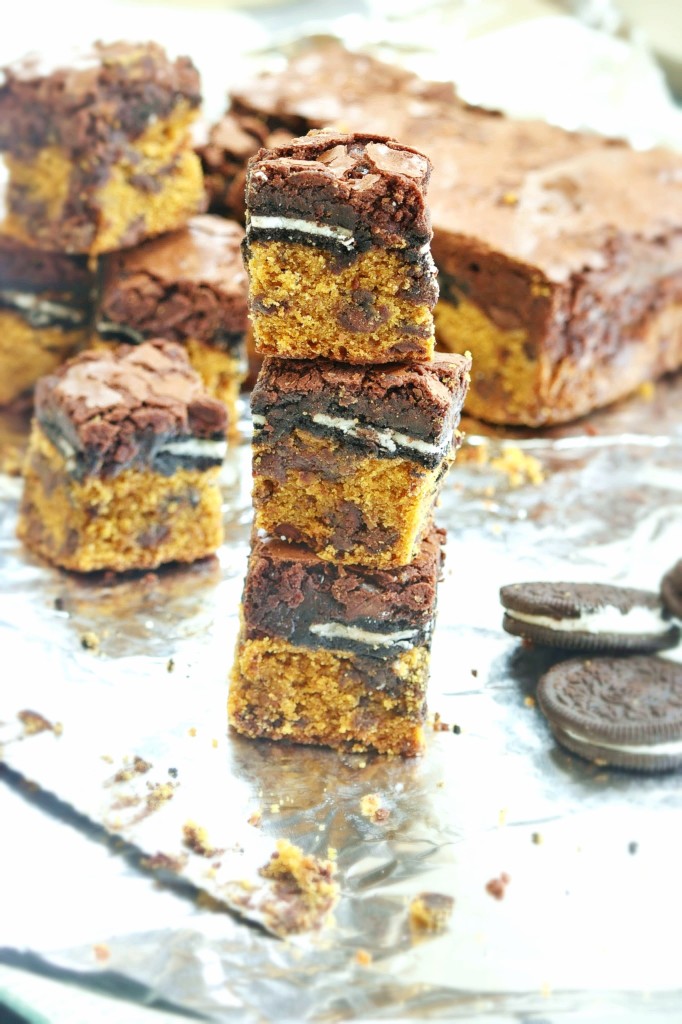 Theres not a lot of words for these. And the ones that come to mind are short and don't have many letters. Like YES. YUM. OMG.
A layer of pumpkin blondies – mm hmmm. Then a layer of oreos. Oh yeah. Then a fudgy chocolatey brownie layer on top. Boo-yeah.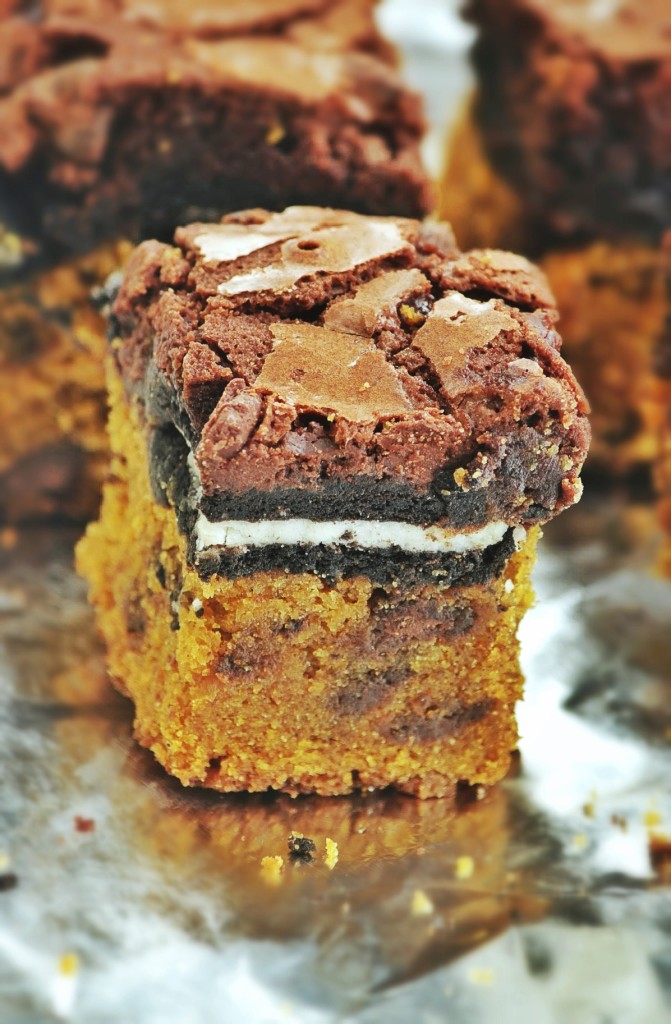 I got this idea from Gabby – and while I would never usually say 'slutty' and 'pumpkin' in the same sentence, well, these brownies get around folks.
This is a LOT of action happening in one dessert and these bad boys will be piled high when you pull them out of the oven, which is why you'll notice that after 45 minutes of baking, you need to turn the oven down to 300 from 325, just to make sure that they bake through.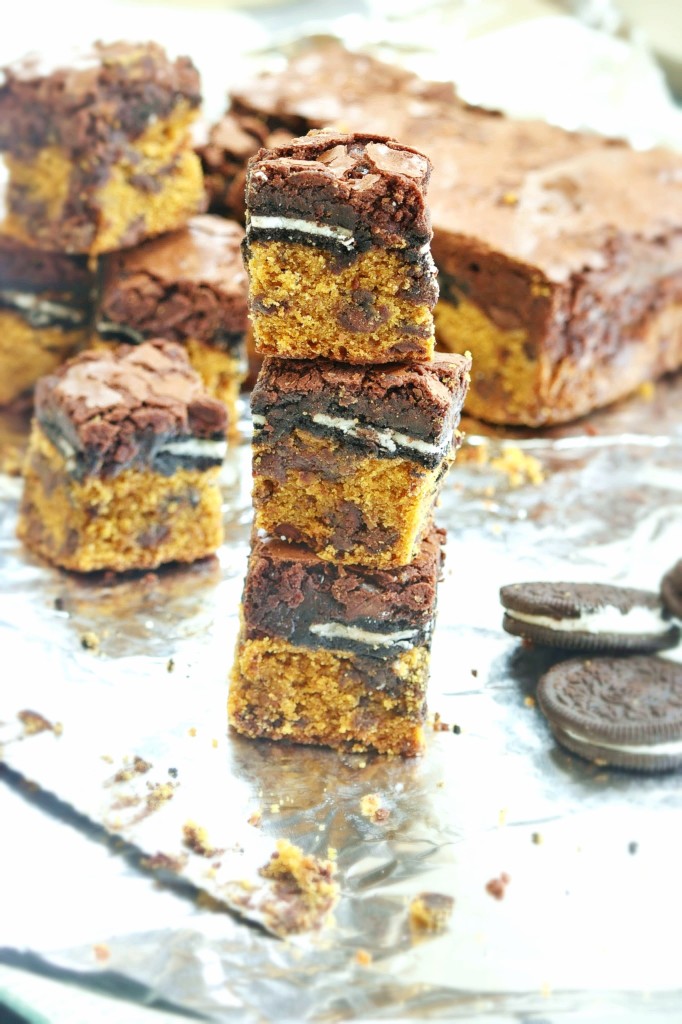 Pumpkin & Chocolate Oreo Brownies
2014-10-21 18:18:22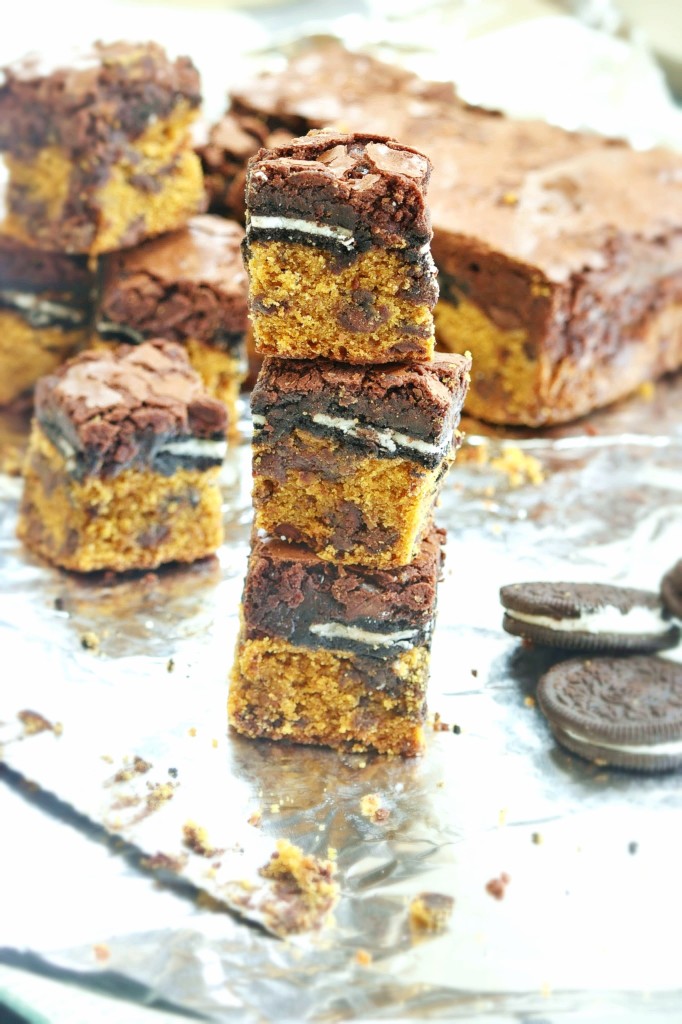 A layer of Pumpkin Chocolate Chip Blondies, Oreos, and a top Chocolate Fudge Brownie layer, for one jam packed fall dessert that'll blow your socks off!
For the pumpkin layer
2 cups all-purpose flour, spooned and leveled (NOT scooped into the flour bag/jar)
1 tablespoon pumpkin pie spice
1 teaspoon baking soda
¾ teaspoon salt
1 cup (2 sticks) unsalted butter, softened to room temperature
½ cup packed brown sugar
¾ cup white sugar
1 large egg
2 teaspoons vanilla extract
1 cup canned pumpkin puree
1 -12oz bag semi sweet chocolate chips
For the brownie layer
1 box of brownie mix, prepared according to instructions (I always use Ghiradelli – it's the Cadillac of boxed brownies – why, I'd even say the Escalade – usually involves oil, water and eggs - but any brownie mix should do the job)
16 -20 Oreos (depending on how tightly you pack them), regular or double stuffed
Instructions
Preheat your oven to 325 degrees F. Line a 9x9" square baking dish (metal or glass) with aluminum foil, leaving an overhang on all sides, and then spray it with non-stick cooking spray, making sure to cover all the way up the sides (your brownies will be that tall – YES)
In a large mixing bowl, whisk together all of your dry ingredients (flour/pp spice/baking soda/salt). Set aside.
With an electric mixer or in the bowl of a stand mixer, cream together the butter and sugars on medium speed until fluffy and smooth. Slowly beat in your pumpkin puree. It may look a little lumptastic at this point, but that's ok. Turn speed down to low and add your dry ingredients a little at a time, until just combined. Turn your mixer off and fold in the chocolate chips. Set aside.
Prepare your brownie batter according to the instructions. Set aside.
Spread the pumpkin chocolate chip dough into the prepared pan, making sure to get in all the corners. Then, take your Oreos and push them gently into the pumpkin batter, covering the top. Then, pour your brownie batter on top of the Oreos, spreading it out to cover them entirely.
Bake in preheated oven for 45 minutes. After 45 minutes, turn the heat down to 300 degrees F and bake the brownies for another 10-15 minutes. If you prefer your brownies a bit on the underdone side, only bake for an additional 5-8 minutes. Let them sit for at least an hour before pulling them out by the foil overhang. They will be HEAVY, so making sure that they've cooled is essential if you don't want them to break apart.
I always trim the edges off my brownies, just cuz I like a clean cut. But then I always eat the edges anyway, so it's really a moot point.
Store in an airtight container for 3-5 days or freeze for up to a month..
Adapted from Martha Stewart & What's Gaby Cooking
Adapted from Martha Stewart & What's Gaby Cooking
And They Cooked Happily Ever After http://www.andtheycookedhappilyeverafter.com/