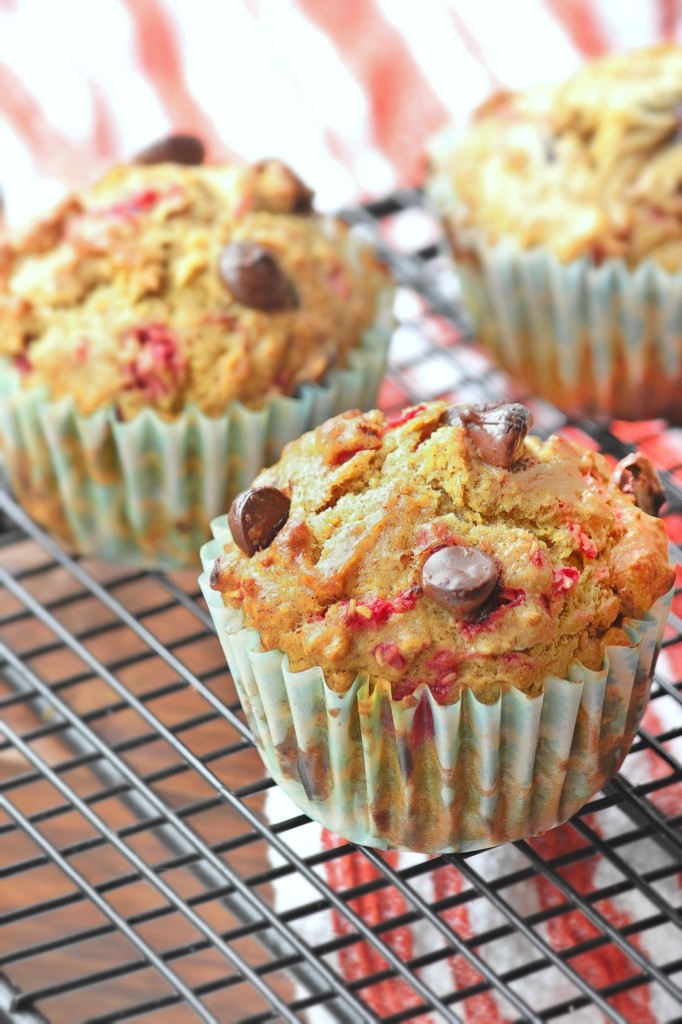 (P.S. – who decided to throw a 'P' in the word raspberries?)
I love a good muffin. I love a good scone too. I love basically any breakfast pastry you put in front of me. But when I sought out to make Pumpkin Scones last weekend, something weird happened. I modified Damn Delicious' recipe for Starbucks Copy Cat Pumpkin Scones, but just a smidge. I tried them once – and they were scone'y. But then I decided I wanted to add chocolate chips AND raspberries, because well, #YOLO.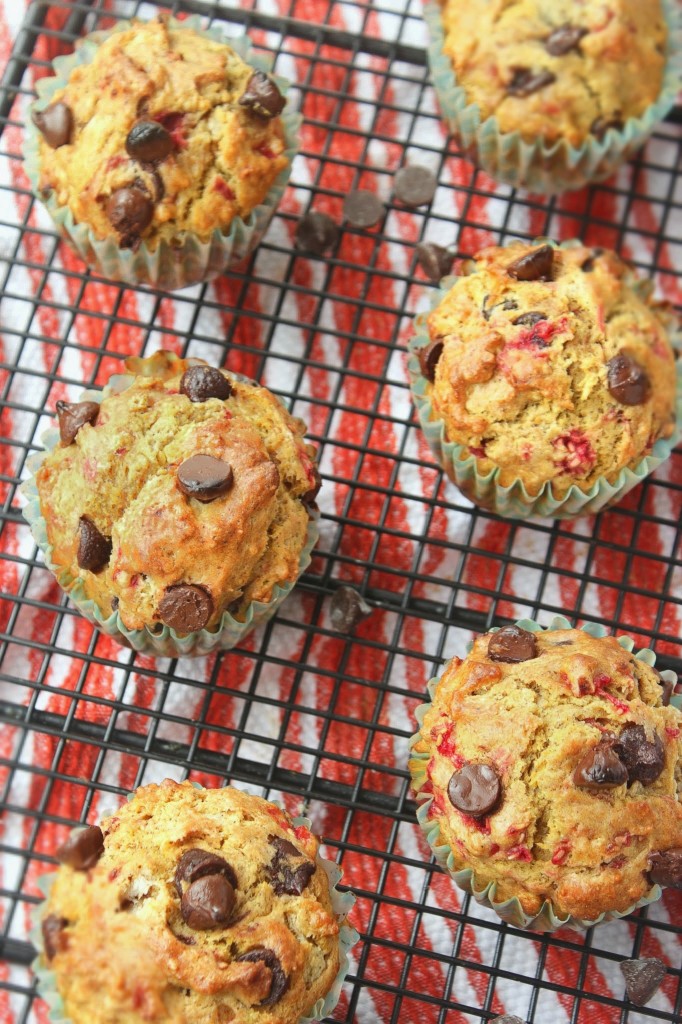 So I made them Saturday again, and the batter was TOTALLY different. Like not dense like scone batter at all, but more wet and soft like a muffin batter. I even rolled the dough out like you would with scone dough and tried to punch out round scones with a juice glass, like I'd do to any other scone recipe I've made (like this one and this one) and it was just a hot, sticky, mess. But after likcing all the dough off my hands and then eating about 10 additional finger fulls of the dough myself, I knew I couldn't toss it cuz well, it was devine. So I pulled out my paper muffin cups, and voila – muffins!
They're nice cuz' I didn't use oil or a ton of eggs – just butter and 1 egg. They're more of a hearty muffin, made even heartier with the addition of chocolate chips and raspberries.
This is one example of when a recipe gone wrong actually goes RIGHT! LOVE when that happens!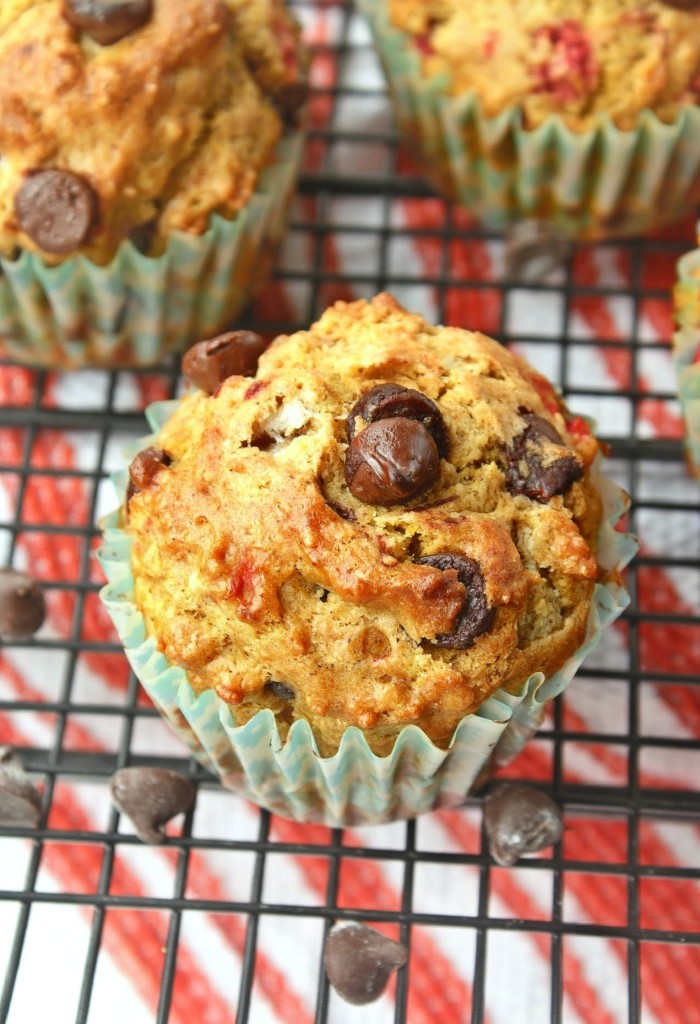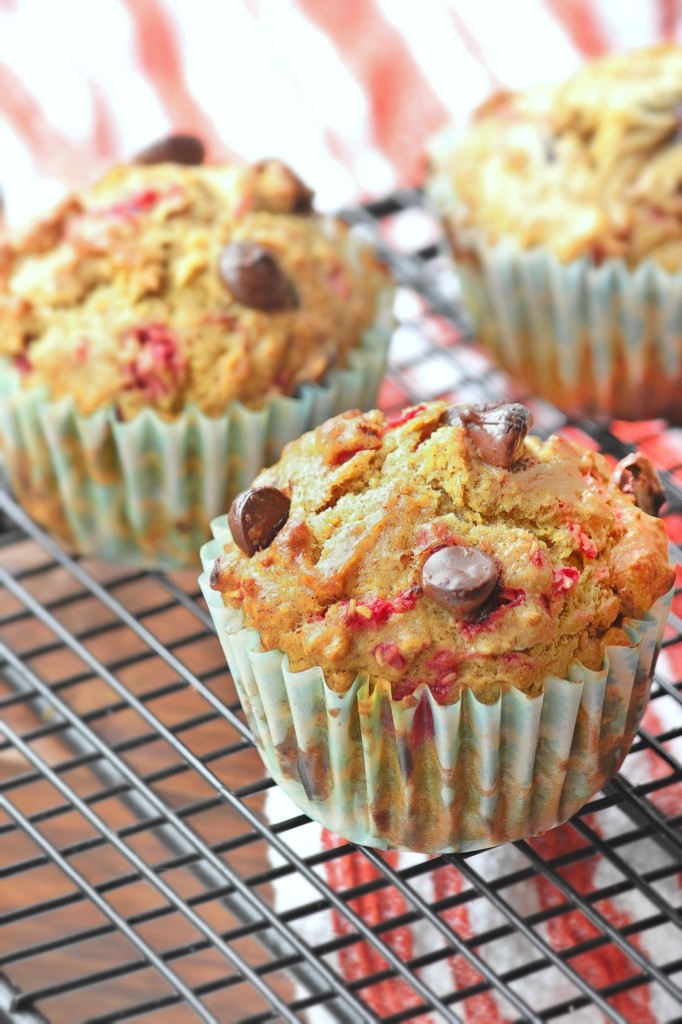 Pumpkin Raspberry Chocolate Chip Muffins
2014-10-13 18:19:46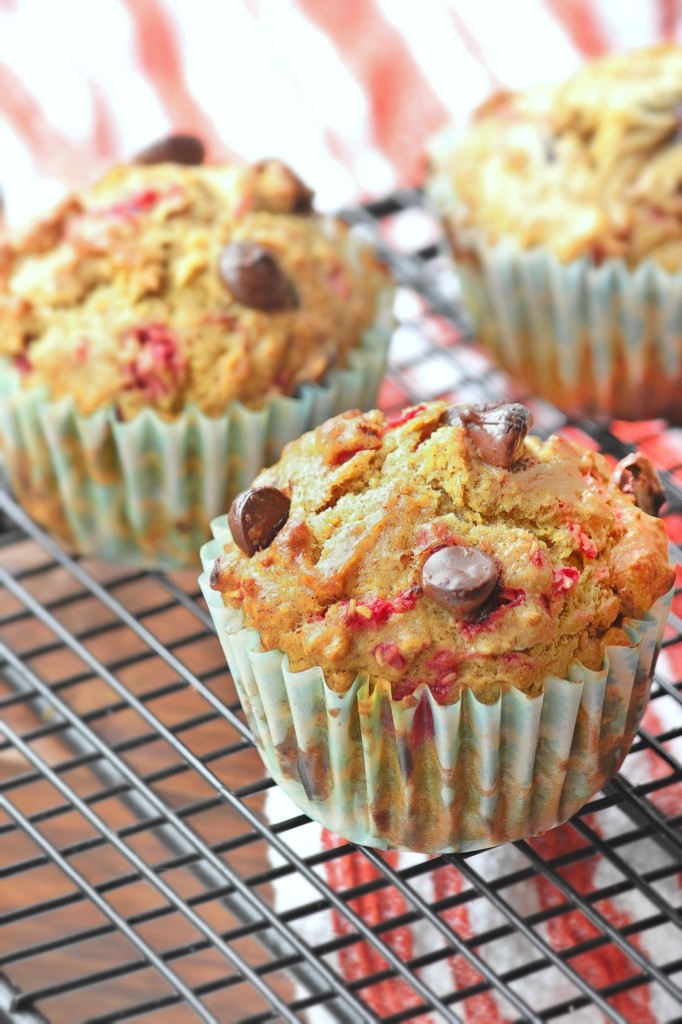 Ingredients
2 cups all-purpose flour
1/4 cup white sugar
1/4 cup packed brown sugar
1 teaspoon cinnamon
1 teaspoon pumpkin pie spice
1 teaspoon baking powder
1/2 teaspoon baking soda
1/4 teaspoon salt
1 stick of butter, cold and cubed
1/2 cup pumpkin puree
3 tablespoons milk
1 egg
2 teaspoons vanilla
1 cup chocolate chips
1 small container fresh raspberries
1 tablespoon white sugar
Instructions
Preheat your oven to 400 degrees F.
In a large mixing bowl, combine all ingredients from flour to salt, mixing lightly to combine. Then, add the cold butter cubes, working it into the dry mix with a fork or pastry cutter coarse crumbles start to form. I actually just end up using my hands. It seems to work the best.
In another medium sized mixing bowl, whisk together the pumpkin puree, milk, egg and vanilla until combined. Add the wet pumpkin mixture into the dry ingredients, folding with a spatula until your batter starts to form.
Toss your raspberries with 1 tablespoon white sugar, and then gently fold the chocolate chips and the raspberries into the batter. Be VERY gentle with the raspberries as they will fall apart really easily. It's inevitable that they will break but the less you fold the less chance they have of becoming completely broken and mooshy.
Line a muffin pan with 12 paper liners, spraying them with non-stick cooking spray. Fill each paper just about to the top with the batter.
Bake muffins for 15-20 minutes, until a toothpick inserted in the center comes out clean.
And They Cooked Happily Ever After http://www.andtheycookedhappilyeverafter.com/