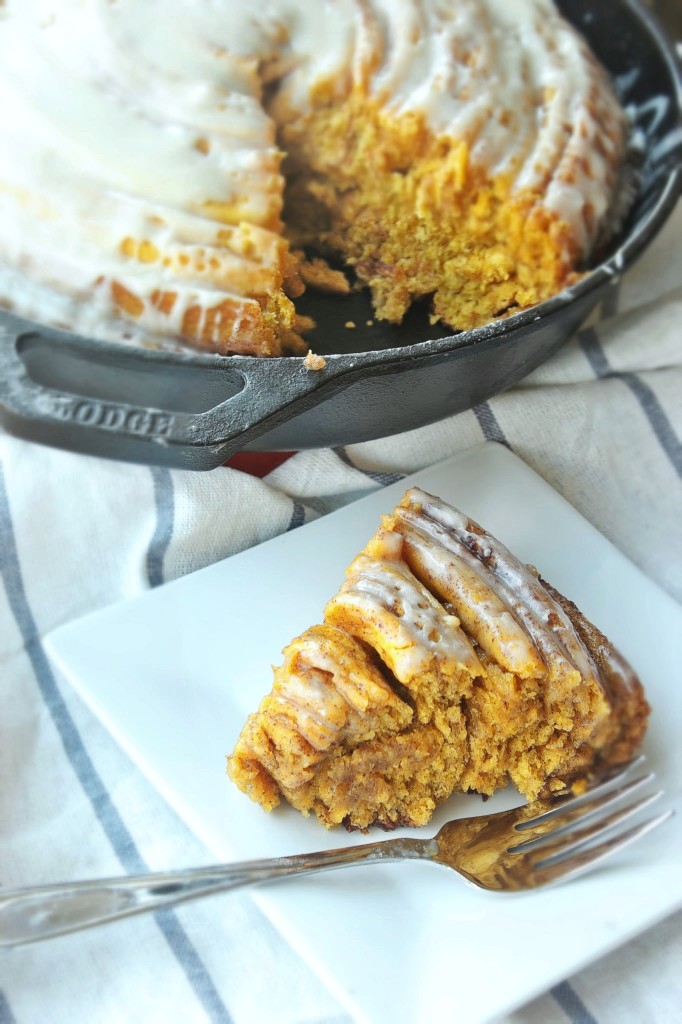 I think it was last year when I saw this beauty on Pinterest – a cinnamon roll, but like a cake and also giant. How can that be bad? So while trying to catch up with my fall baking this weekend, I thought of those fabu Pumpkin Pecan rolls from last year, and then my wheels started turning.
Now – this takes a bit of time. And as much as you'll look at it and think "Ugh, gross. That's gonna take forever", really the longest part of it is waiting for the dough to rise. You also may think that the giant, face-sized cinnamon roll may be hard to put together. But its so not! I used Sally's guide from her blog, but honestly, you don't even need the pics. You're basically just looping all your pieces together to form one massive cinnamon roll.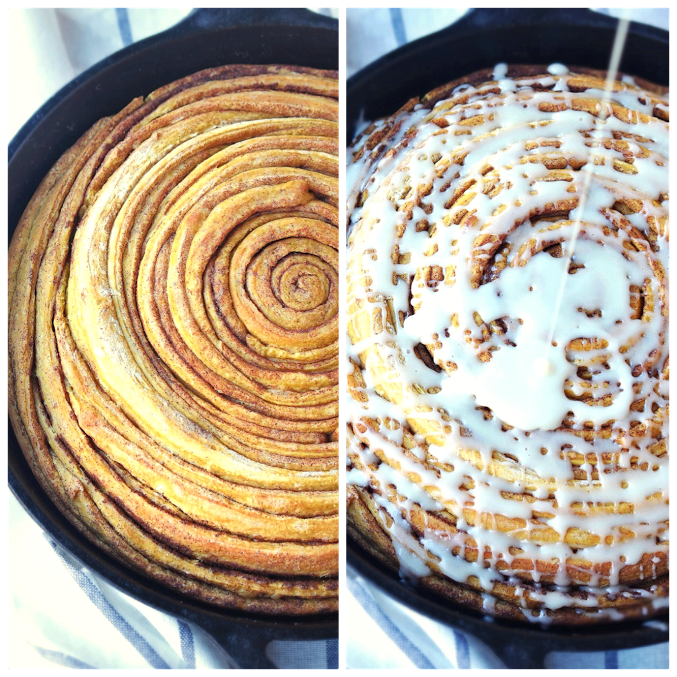 In the directions, I'm going to tell you exactly how I did it, but in terms of the dough rising, there are different ways you can do that. I got this great guide to postponing the baking of your dough from Red Star Yeast that really helped me figure out how to time it just right. It really depends on when you plan to actually bake your cinnamon roll. For me, I made the dough and assembled the roll on Saturday but then didn't bake it until Sunday, so it was a little different than if I was going to bake it the same day.
Also note that you'll probably only use about 2/3 of the dough – the rest you can freeze for the next time you want a face sized pumpkin cinnamon roll. It will happen REAL soon, trust me.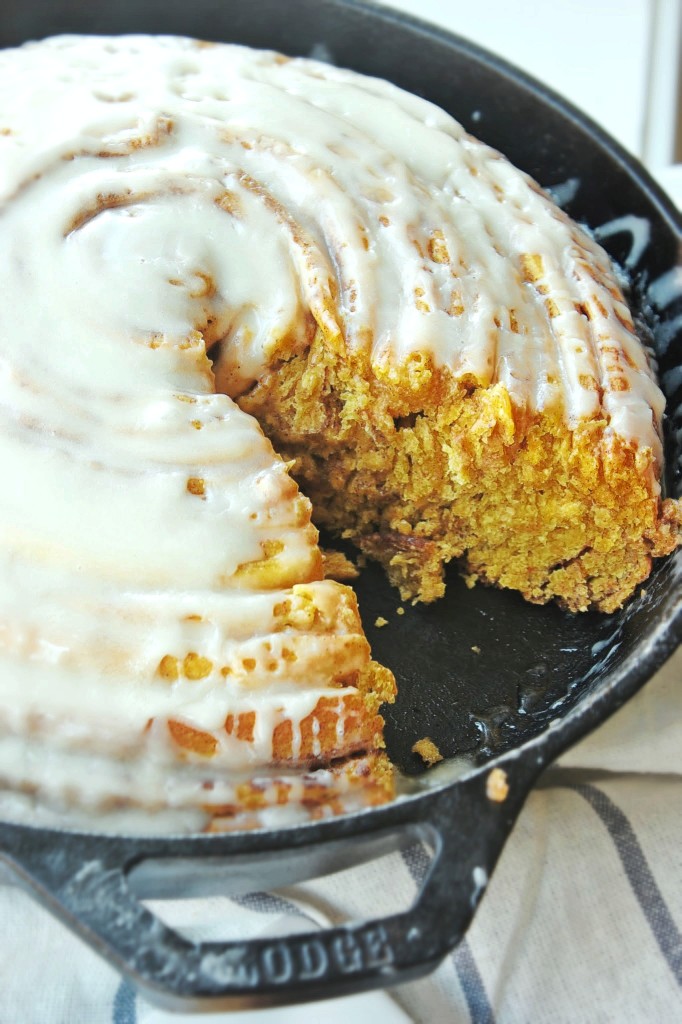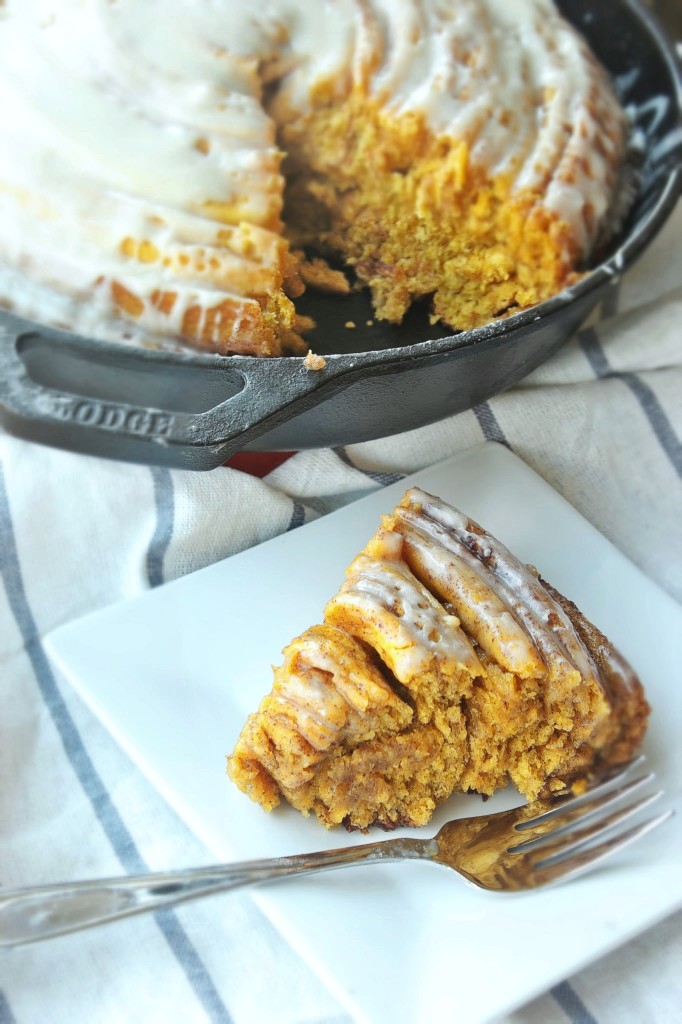 Giant Pumpkin Cinnamon Roll with Maple Glaze
2014-10-13 16:20:56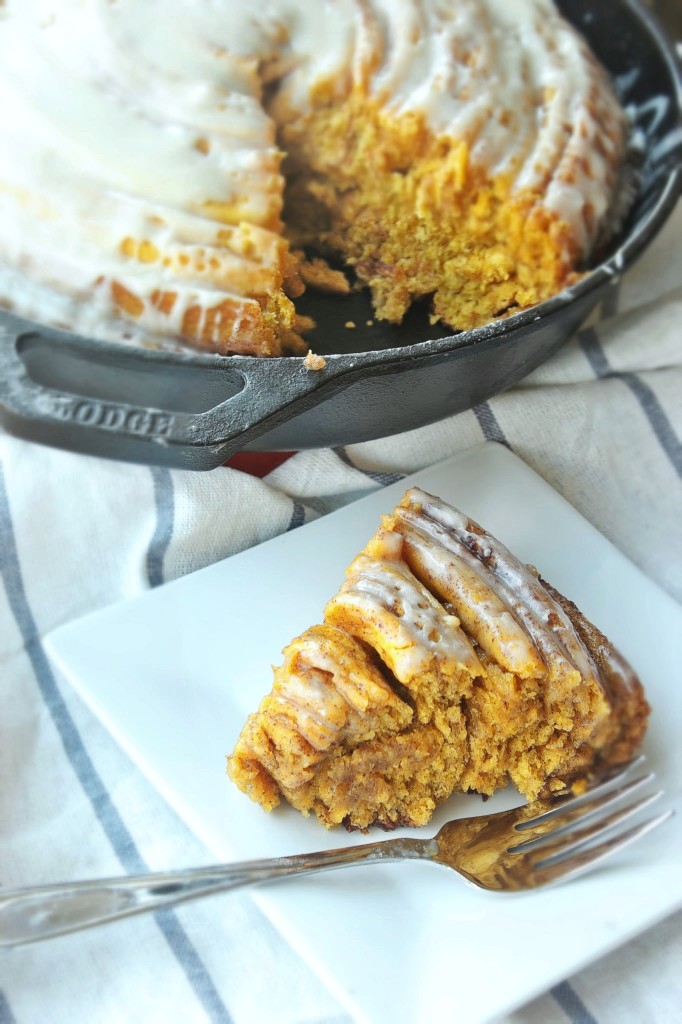 A giant sized pumpkin cinnamon roll, baked to perfection in a cast iron skillet and topped with sweet maple glaze
For the Pumpkin Dough
1/2 cup warm water
2 packages active dry yeast
2/3 cup warm milk
2 large eggs, beaten
1 & 1/2 cups pumpkin puree
2 tablespoons vegetable oil
7 cups (about) all-purpose flour
1/2 cup brown sugar
2 teaspoons salt
2 teaspoons pumpkin pie spice
For the Cinnamon Sugar Filling
6 Tablespoons unsalted butter, melted
3 Tablespoons ground cinnamon
1/2 cup granulated sugar
For the Maple Glaze
1 cup powdered sugar, sifted
1 tablespoon maple syrup
2 teaspoons vanilla
3 tablespoons light cream (or milk)
To prepare your dough
In a large bowl, stir the yeast into the warm water. Add the milk, eggs, pumpkin, oil, 4 cups flour, brown sugar, salt and pumpkin pie spice to the yeast mixture. Beat ingredients together for 2 minutes until combined.
Add the remaining 2.5-3 cups of flour, a little at a time, until the dough stiffens enough to knead. You may not need the entire additional 3 cups. I used about all of it though. Turn the dough out onto a WELL-floured surface, kneading it until you have a smooth ball of dough. Place the dough into an oiled bowl, cover with a towel and let rise for about 1-2 hours, until the ball of dough has doubled in size. It helps to try to put it in a warm place (a preheated oven that has been turned off works well!)
After the dough has risen, take about 2/3 of it. The other 1/3 you can wrap up tightly in seran wrap and freeze. Or if you're going to use it within the next couple of days, you can leave it in the fridge.
On a lightly floured surface, roll the dough out to as close to a rectangle as you can get. I actually trim the edges after rolling so that I have an exact rectangle. Set the scraps aside (you can always add them to the other dough).
Melt your 6 tablespoons of butter and spread it out over the dough.
Then, in a small bowl combine your granulated sugar and cinnamon and sprinkle it over the butter. With a sharp knife, cut your rectangle into 2" strips. Try to keep them as uniform as possible to help with even cooking. You should end up with about 8 of them.
Grease your pie plate or skillet with a little butter or non-stick spray, to avoid sticking.
Take the first strip and roll it into a cinnamon roll. Don't roll them super tight so that they'll have room to rise again. Place the cinnamon roll in the center of your pie dish or cast iron skillet. Then, take another strip, connect it to the end of the cinnamon roll in the center, pinching the two ends together slightly, and then roll it around the edge of the cinnamon roll. Repeat until you've used all of your strips. At this point, I wrapped mine tightly in foil and placed in the fridge overnight. However, if you wanted to bake it right away at this point, you would just want to let it rise again for about 45 minutes – 1 hour, until the cinnamon bun has doubled in size again. When I placed it it the frige, it did rise a smidge overnight, but when I took it out in the morning I let it rise a little more (about ½ hour).
When you're ready to bake, preheat your oven to 350 degrees F. Bake the cinnamon roll for 30-35 minutes. I did mine for about 35 minutes, and I wish I had only done 30 because the edges were a bit crisper than I'd like. But I also was baking it in a cast iron skillet which I think contributed to that. Use your best judgement. You'll know it's ready when the top starts to slightly brown on the top.
Remove from the oven and let cool for about 10 minutes.
In the meantime, prepare your maple glaze by combining 1 cup of sifted powdered sugar, 1 tablespoon maple syrup, 3 tablespoons light cream, and 2 teaspoons of vanilla. If you want a thicker glaze that you really have to spread out, only use 1-2 tablespoons of cream. I kind of wanted mine to be a bit smoother and easy to drizzle, so I added more cream.
While the cinnamon roll is still hot, glaze the top with your maple glaze. Serve warm. Or else.
Adapted from Sallys Baking Addiction
Adapted from Sallys Baking Addiction
And They Cooked Happily Ever After http://www.andtheycookedhappilyeverafter.com/