Wrapping stuff in things is fun. Like tacos? Yes. Burritos? Yes. Speedos? Ew. Just kidding.
Last week once again, I was stuck with a big ole' thing of ground chicken wondering "why in the world do I even bother with this stuff". Every time I get it home I stare at it – and stare some more – and then put it in the freezer so it doesn't expire – and then usually its a ground chicken freezer burned popsicle before I know it. But then there were those times when ground chicken magic happened – like this time – and definitely this time.
Before I knew it I was channeling my inner asian heritage (I don't have any, but man, after tasting these you'd like I did!) These almost became lettuce wraps, like PF Chang's, but then the chicken was whispering to me "make me a burger….come on…burgers are less messy….and you can make me not have a bun…which will be good for your buns…hun"
So here they are – Thai Chicken Burger Lettuce Wraps, which could easily also be made how they're done at PF's (basically just follow all the same steps, but scramble and cook your chicken vs. making it into patties – see notes in recipe box).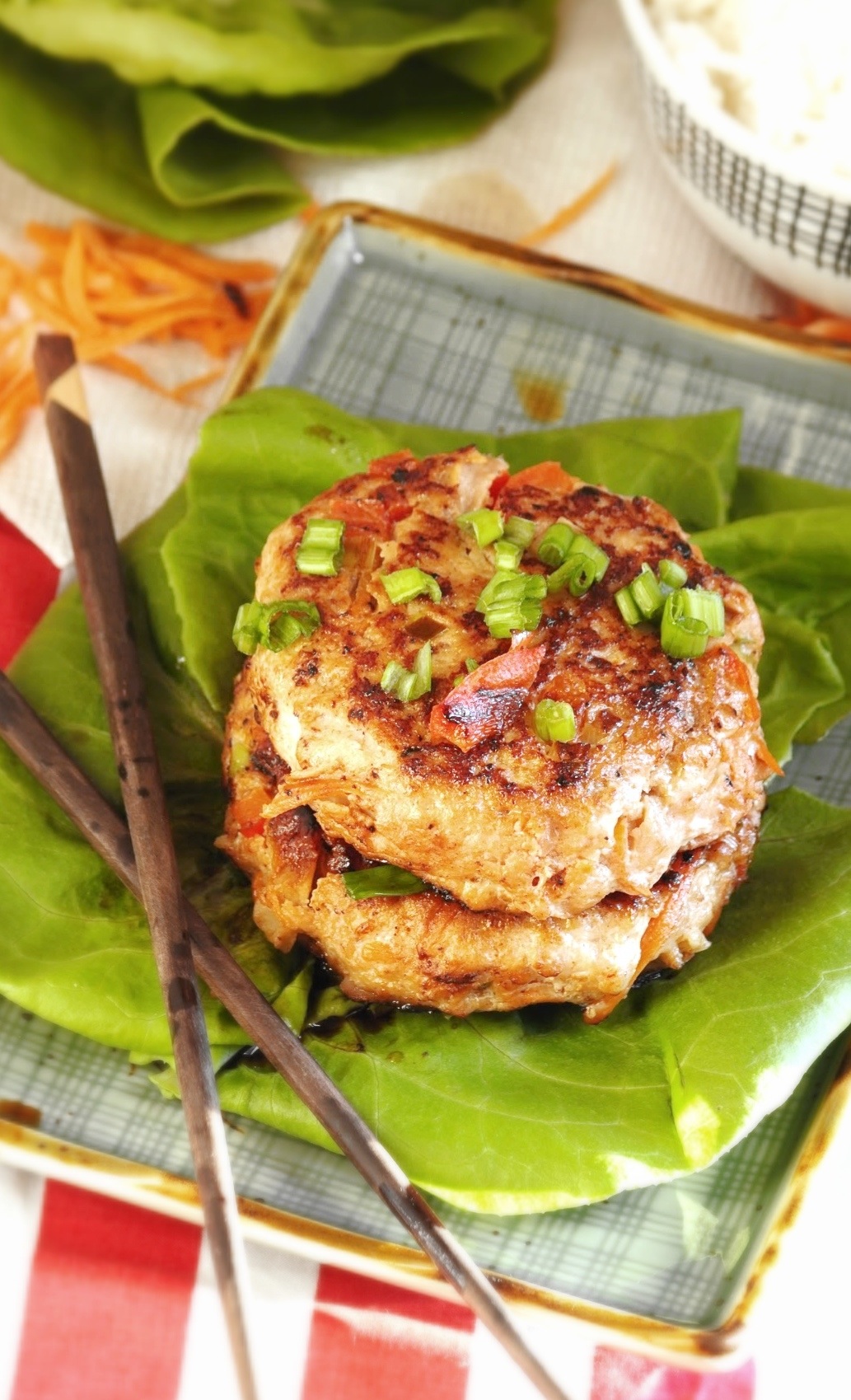 Thai Chicken Burger Lettuce Wraps
2014-06-24 18:17:17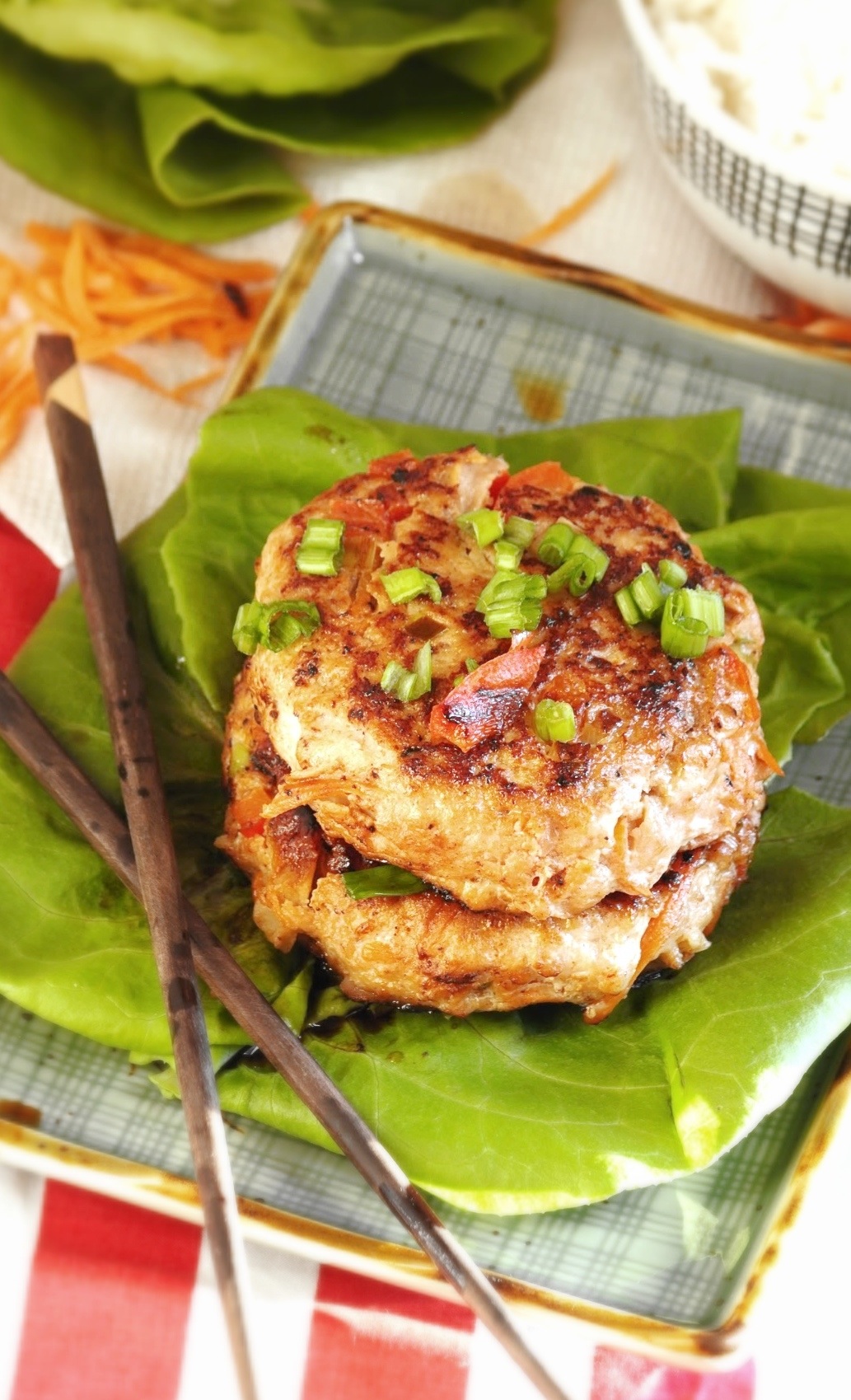 Serves 4
Tasty, healthy and low fat Thai Chicken Burgers made even healthier by holding the bun and adding the lettuce wrap instead! Only 6 Weight Watchers points per burger
Ingredients
1 pound ground chicken
2 tablespoons sesame oil
1 teaspoon fresh ginger
1 garlic clove minced
1/2 red pepper chopped small
1/2 cup shredded carrots (doesn't have to be shredded - basically 1/2 carrot cut however you like)
2 green onions (scallions) chopped small (white and light green parts - save the tops/dark green for garnish)
1 tablespoon hoisin sauce
1 tablespoon teryaki sauce (I used La Choy)
1 tablespoon soy sauce
1 tablespoon rice wine vinegar
1/4 cup water chestnuts, chopped small
1 head of Boston lettuce (or lettuce of your choice)
Instructions
Heat 1 tablespoon sesame oil in a large skillet over medium heat. Add the ginger, garlic, red pepper, carrots and green/white onions and sautee for about 3-5 minutes until the carrots start to soften (they will take the longest). Remove from heat and let cool for 5 minutes
Whisk together hoisin, teryaki, soy sauce, and rice wine vinegar in a small mixing bowl and season with salt and pepper.
Place your ground chicken in a large mixing bowl and gently knead in the cooked veggies, sauce mixture and chopped water chestnuts, being careful not to overmix. You'll find that ground chicken is a little, um, slimier? than ground turkey or beef. Dont be creeped out! Form 4 burger patties.
Heat the remaining tablespoon of sesame oil in your skillet over medium heat. Cook burgers for about 5 minutes on each side.
Serve each burger patty on 1-2 leaves of lettuce.
*Optional step: prepare another batch of dressing (1 tablespoon each hoisin/teryaki/soy sauce/rice wine vinegar) and dress your chicken burgers with a little sauce.
Notes
*If you want to make these more like the PF Chang's style lettuce wraps, more of a crumbled chicken, just add the grilled chicken to the pan with the veggies and cook maybe a couple minutes longer. Ground chicken cooks pretty quickly though - just make sure there's no pink left and you'll know its done. With a couple of minutes left to cook, add the chopped water chestnuts. Remove the chicken/veggie mixture and pour the sauce mixture over it, folding to combine. Serve hot on lettuce leaves.
And They Cooked Happily Ever After http://www.andtheycookedhappilyeverafter.com/