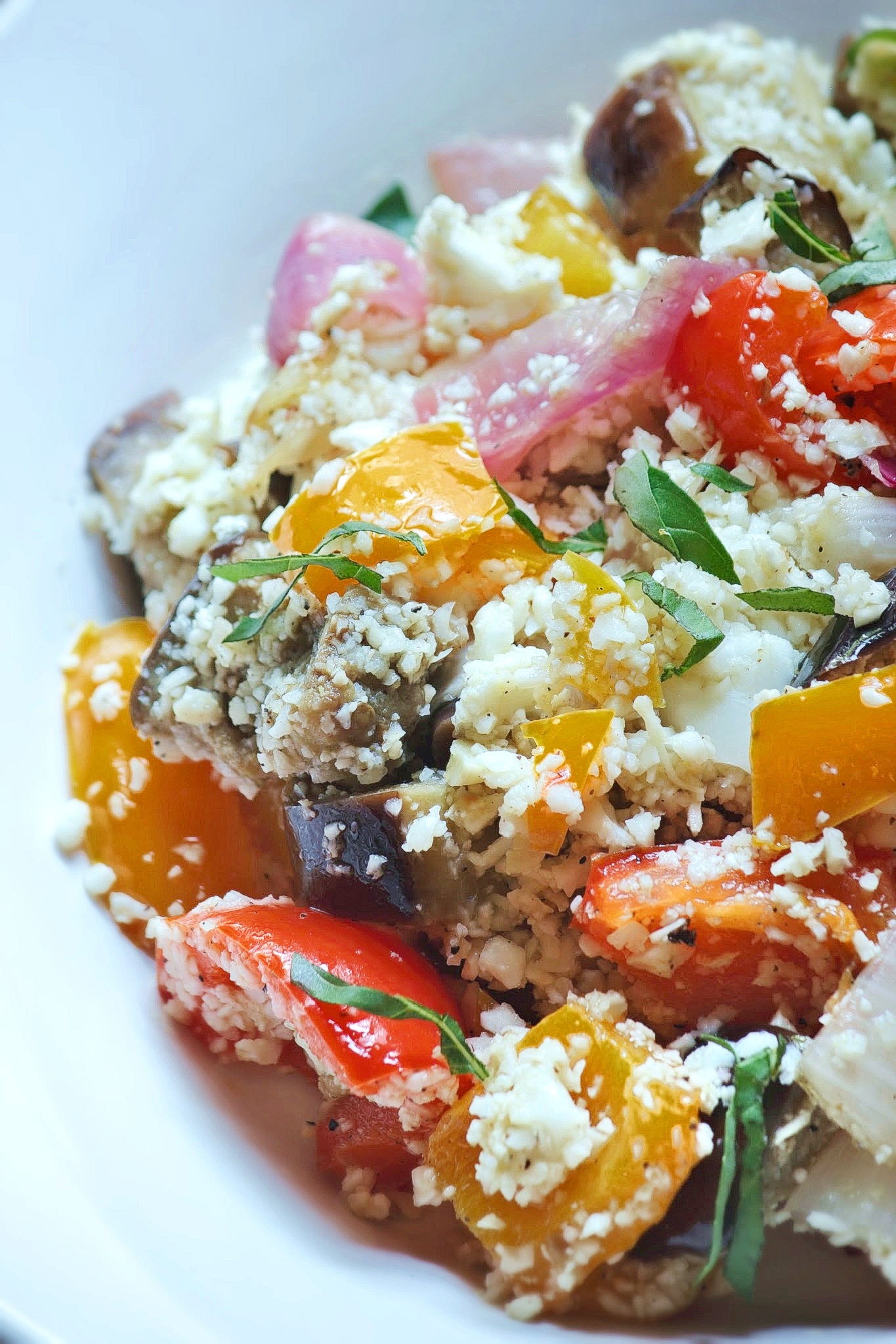 Until recently, I knew Cauliflower to be the forgotten veggie in a veggie platter. But things have changed.
Its so weird all the things that you see people doing with it. Like iFoodreal – Cauliflower Breadsticks? WHAT? Cauliflower pizza crust? REALLY? Then I saw people making rice out of it (great tutorial here!). I love rice. I love cous cous. Basically anything that is heavily loaded with carbohydrates is a good friend of mine. So my first attempt at making Cauliflower rice was this. And lets just say that I think it turned out pretty amazeballs. I took Ina's Roasted Veggie Orzo (one of my top 5 recipes of all time and PERFECCCCCCTION for the summer months!) and swapped out the orzo for the cauliflower rice. WIN. I think the thing I never realized about Ina's dish until I tried making it this way is that the star of it is the roasted veggies in that heavenly lemony dressing. The orzo is just like a little pillow for them to lay their delicious lemony heads on. So why not just give them a skinnier pillow to lay their heads on? That tastes just as good?
Sorry orzo – it's cauliflower's time to shine. We'll use you again – maybe in the winter time when I can cover you with a heavy sweater.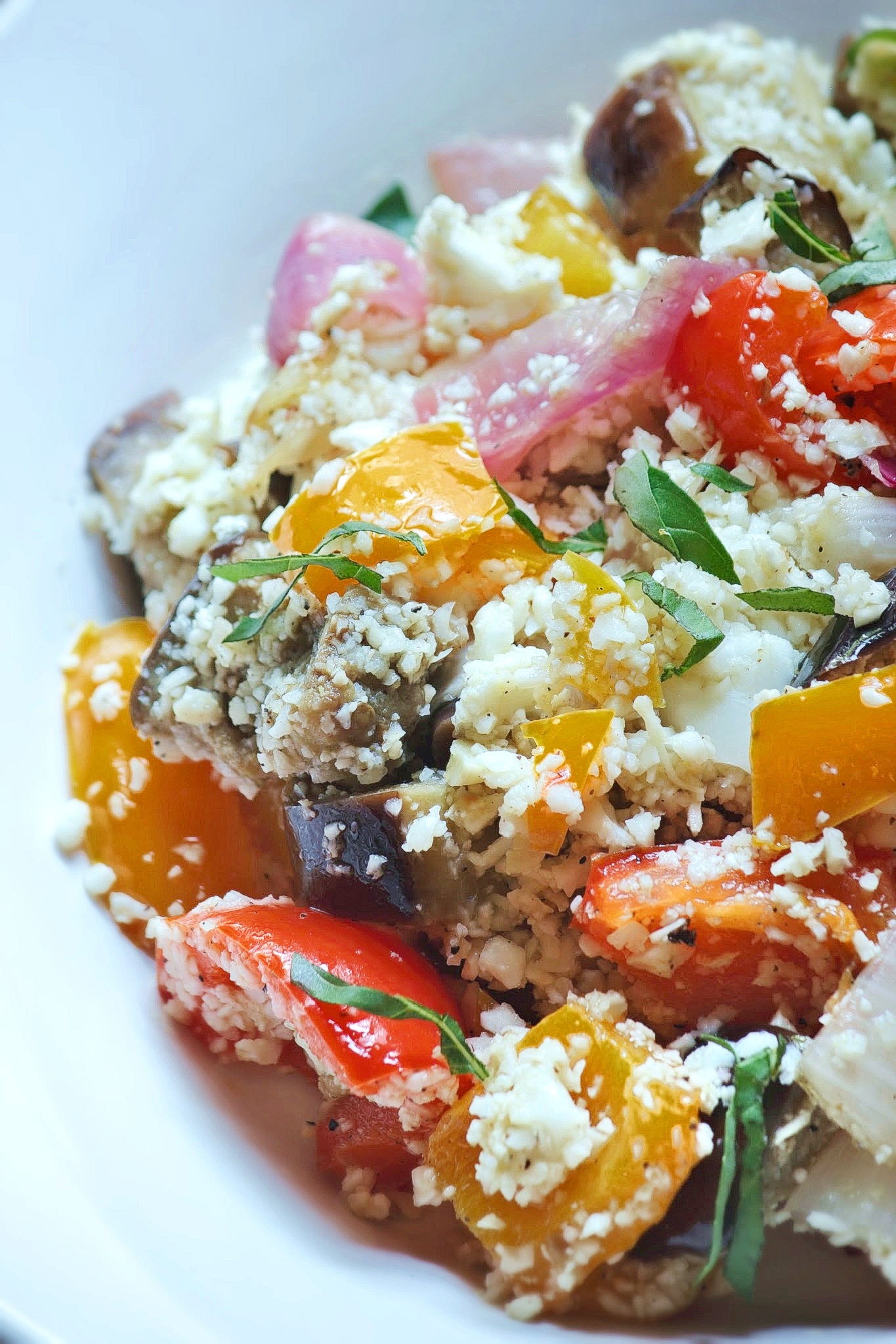 Cauliflower Rice with Lemony Roasted Veggies
2014-06-17 16:54:52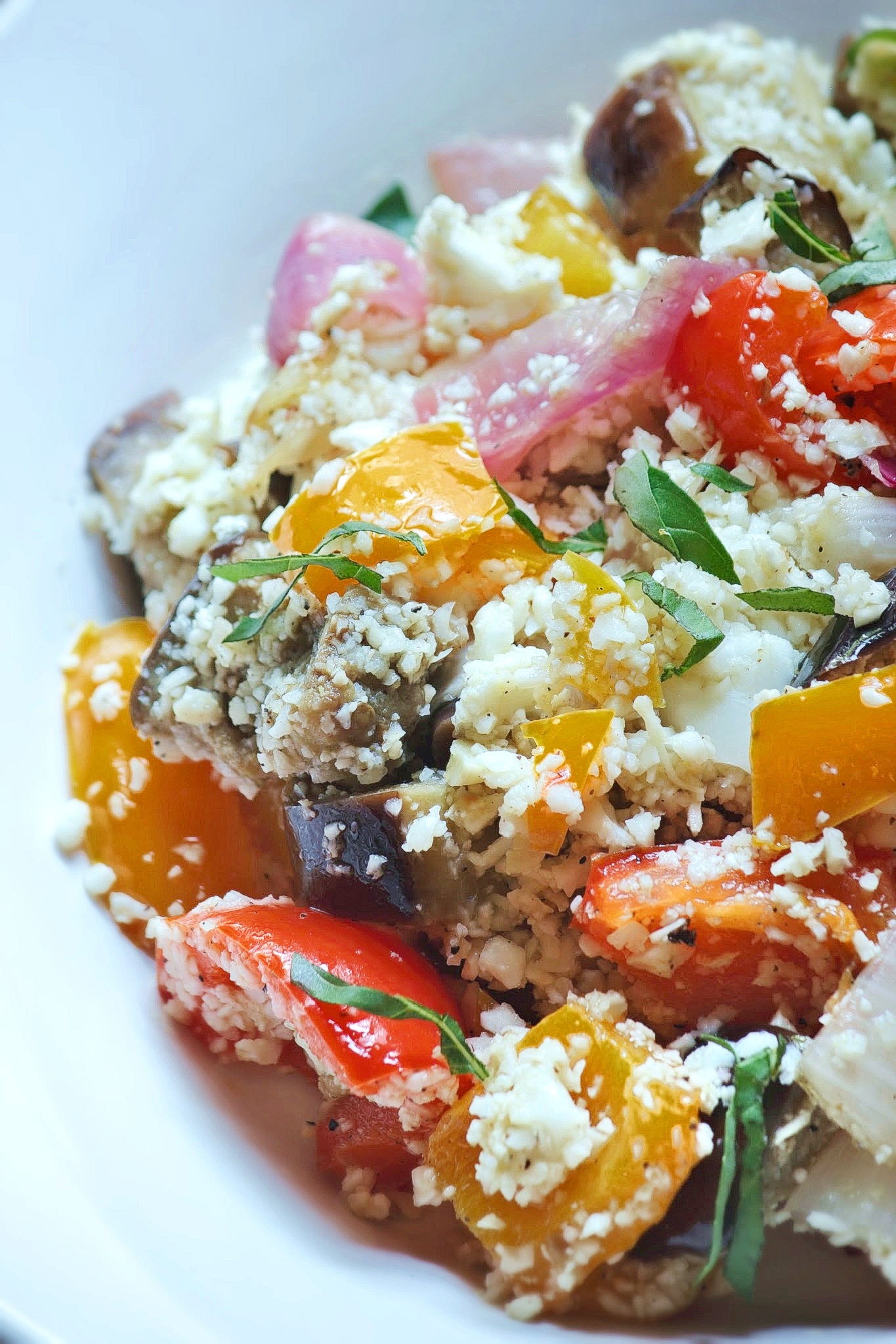 A gluten free and clean eating recipe for cauliflower rice served with roasted veggies in a tangy lemon dressing. Perfect for summer!
Ingredients
1 large head of cauliflower (or 2, depending on what you want the ratio of rice to veggies to be – see note below)
1 small eggplant, diced small
1 red bell pepper, diced small
1 yellow bell pepper, diced small
1 red onion, peeled and diced small
2 large garlic cloves, minced
1/3 cup of olive oil (or olive oil cooking spray to save some calories)
1 & ½ teaspoons kosher salt
½ teaspoon freshly ground black pepper
For dressing
1/3 cup freshly squeezed lemon juice (juice of 2 large lemons)
1/3 cup good olive oil
1 teaspoon kosher salt
½ teaspoon freshly ground black pepper
To prep your cauliflower rice
Preheat your oven to 400 degrees F.
Remove the leaves from your head of cauliflower and break it into smaller sized florets. Be sure to rinse them well and also dry them, patting out as much of the water as you can.
Place your florets in a food processor (or alternately against a cheese grater if you don't have a food processor). In 2 parts, pulse the florets in the food processor until they become small and course like the texture of rice (or maybe more like a cous cous almost). Dump the rice onto a parchment lined baking sheet and season generously with salt and pepper. Roast in the oven for 20-25 minutes, until the rice just starts to brown on the top. Remove and place in a large mixing bowl and set aside.
To roast your veggies
Toss the diced eggplant, peppers, onion and garlic with the olive oil (or cooking spray) garlic, salt and pepper on a parchment lined baking sheet. Roast them in the preheated 400 degree oven for 40 minutes, turning once with a spatula.
Prepare your dressing
Whisk together the olive oil, lemon juice, salt and pepper
To assemble
After veggies are done roasting, while they are still hot, dump them into the bowl with the cauliflower rice, scraping any brown bits off the parchment into the rice. Then cover the rice and veggies with the dressing, tossing lightly to combine. Serve warm or at room temperature.
Notes
By using one head of cauliflower, the ratio of rice to veggies will be pretty equal so if you want the dish to be more 'rice'y', use a second head of cauliflower.
And They Cooked Happily Ever After http://www.andtheycookedhappilyeverafter.com/