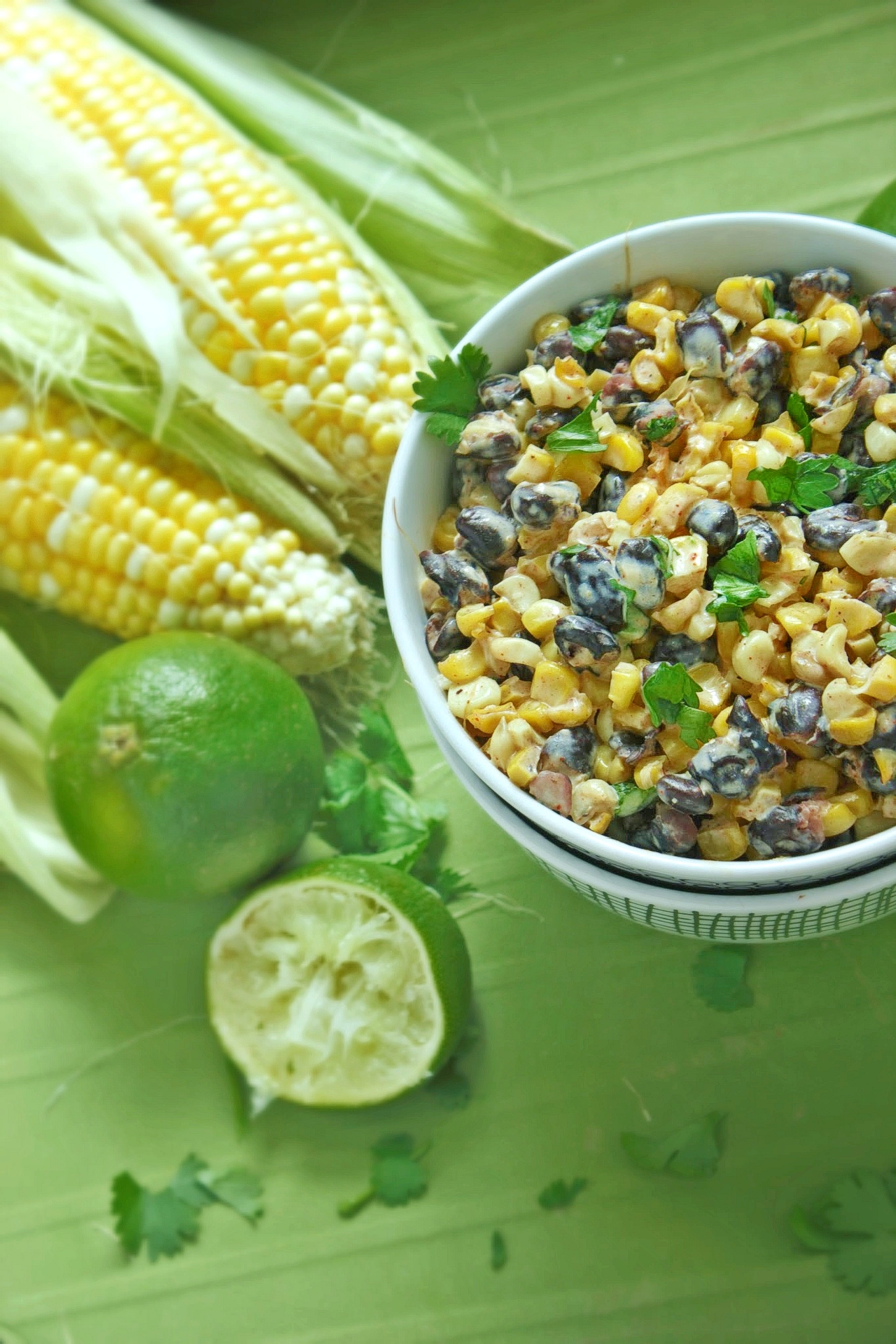 Our taco nights have come a long way in the last couple years. Once a week, it used to be ground beef, water, taco seasoning, fill shell, top with cheese – taco night perfection. Now, we do things like these – or these – and fish tacos. I kind of feel like fish tacos have become trendy. Like everyone out in Hollywood decided that it was one of the best ways to stay on the healthy side but still get to eat something fun like a taco and it's just migrated.
Regardless, we LOVE fish taco night (minus the 'fish taco' aroma that seems to follow you around days after). But lately I've been feeling like we have the saaaaame old thing with them every time – sliced avocado, maybe a little sour cream, fresh salsa. When I was getting them ready for dinner last week I decided it was time to branch out. I literally googled "fish taco side dishes" (yay google) and this Roasted Corn Salad from Food52 came up. I was intrigued, mostly by the dressing. I added black beans, a few spices and now this will become that thing I get sick of from making so much. It's the PERFECT accompaniment for fish tacos. You could serve it as just a salad or top your fish tacos with it. It's really great to pair with any Mexican dish really. Roasting the corn and black beans gives them a whole different flavor and the dressing, while it may seem like a weird combination of ingredients gives the corn and black beans a great finish. And, I'm relishing in the fact that the cilantro we're growing on our porch is still alive, so I'm using it in anything I can!
Do it guys. DO IT!
Roasted Corn & Black Bean Salad
2014-06-08 10:19:40
Serves 2
Roasted Corn and Black Beans with a tangy dressing make this a perfect accompaniment for your favorite mexican dish
Ingredients
3 ears of corn
1 cup black beans, rinsed and drained
salt/pepper
1 tablespoon olive oil
1 tablespoon mayonnaise
1 tablespoon fat-free sour cream
1/4 teaspoon cumin
1/4 teaspoon chili powder
1/4 teaspoon paprika
1/4 cup fat-free milk
juice of 1 small lime
3 tablespoons freshly grated parmesan cheese
2 tablespoons fresh cilantro, chopped
Instructions
Preheat your oven to 400 degrees F. Shuck the corn and remove the kernels from the cobs. On a parchment lined baking sheet, toss the corn kernels and black beans with the olive oil and season generously with salt and pepper. Roast the corn and black beans in oven for 20 minutes, flipping once or twice.
To prepare your dressing, whisk together mayo, sour cream, cumin, chili powder, paprika, milk, lime juice and parmesan cheese until fully combined. Set aside.
When corn and black beans are done roasting, let them cool for about 5 minutes. While still warm, toss them in a large bowl with the dressing and then sprinkle the top with chopped cilantro.
Adapted from Merrill Stubbs, Food52
Adapted from Merrill Stubbs, Food52
And They Cooked Happily Ever After http://www.andtheycookedhappilyeverafter.com/