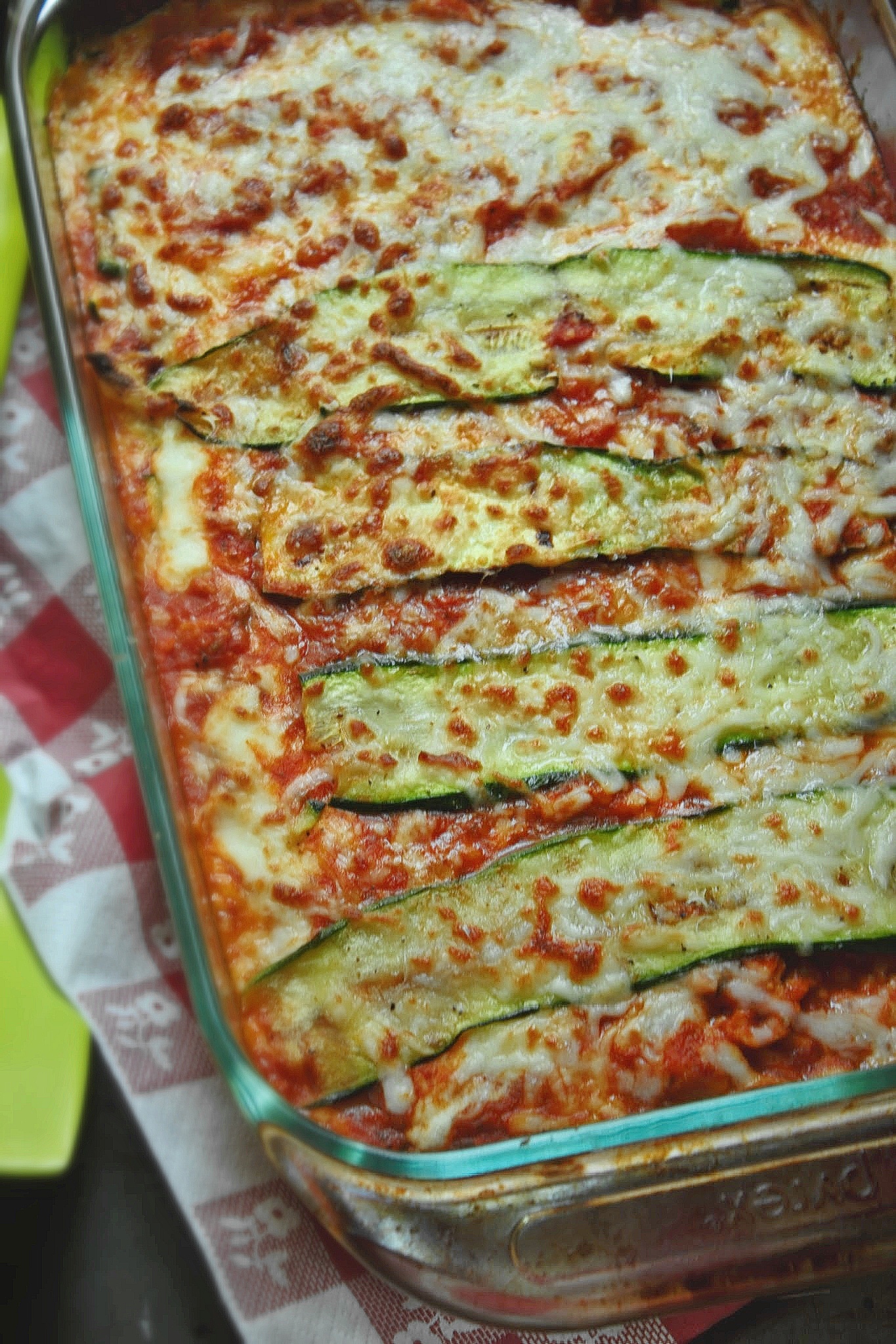 I may never eat regular lasagna again guys. For real.
I've seen this concept of using zucchini slices as a substitute for lasagna noodles a bunch. But never really thought to do it myself until last week. Dave had a hockey game so I thought "This means I can try something different without any commentary from the peanut gallery" (peanut gallery = Dave; I say that with love OBVIOUSLY) So I tried it, but made little lasagna roll ups vs. a whole pan of lasagna, since it was just me.
SOOOOOOOOOO GOOOD OMG. The same to die for taste of lasagna but without all the guilt thanks to those fancy zucchini noodles. It was so good in fact that I thought that the peanut gallery may actually like it.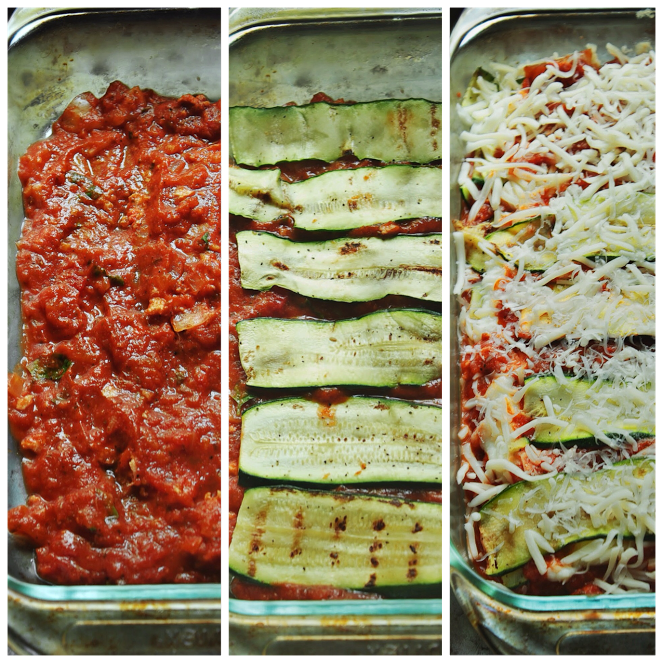 And well….the peanut gallery took leftovers to work! This made a smaller sized pan of lasagna (not the usual 9×13″), and I added some chicken sausage in the sauce to give it some substance, but you could certainly use ground beef or turkey as well. I'm not lying when I tell you that you won't even miss the traditional lasagna noodles. By the time you get all the cheese and sauce and it melts together in one heavenly mess, you can't even taste them anyway! And using fat free ricotta vs. regular saves you some serious fat and calories, but of course if you're one of those people who thinks that low fat/calorie stuff is icky, feel free to use just regular.
I'm glad the peanut gallery liked this, cuz' he's gonna be seeing it ALOT!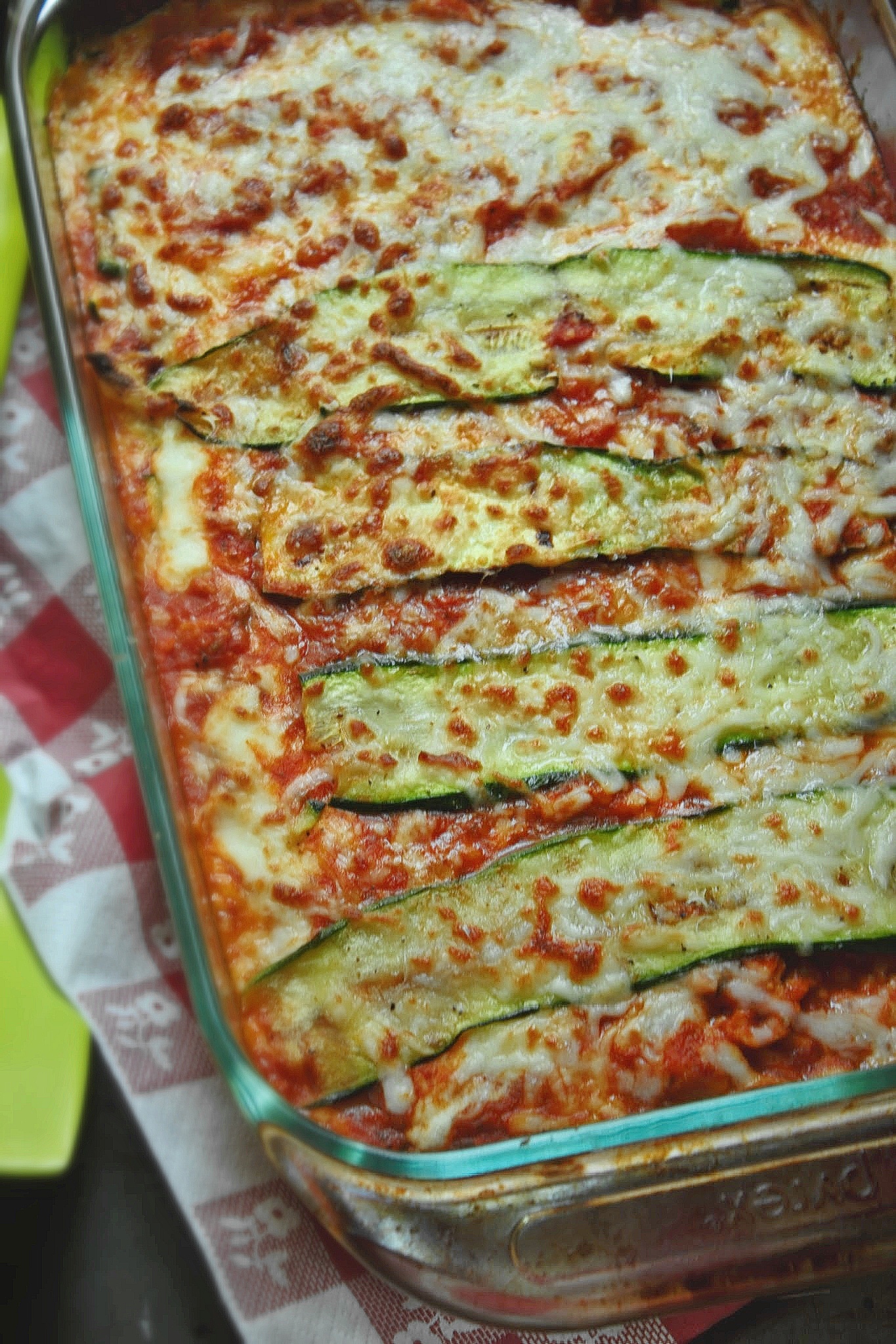 Zucchini Lasagna with Chicken Sausage
2014-06-04 18:16:42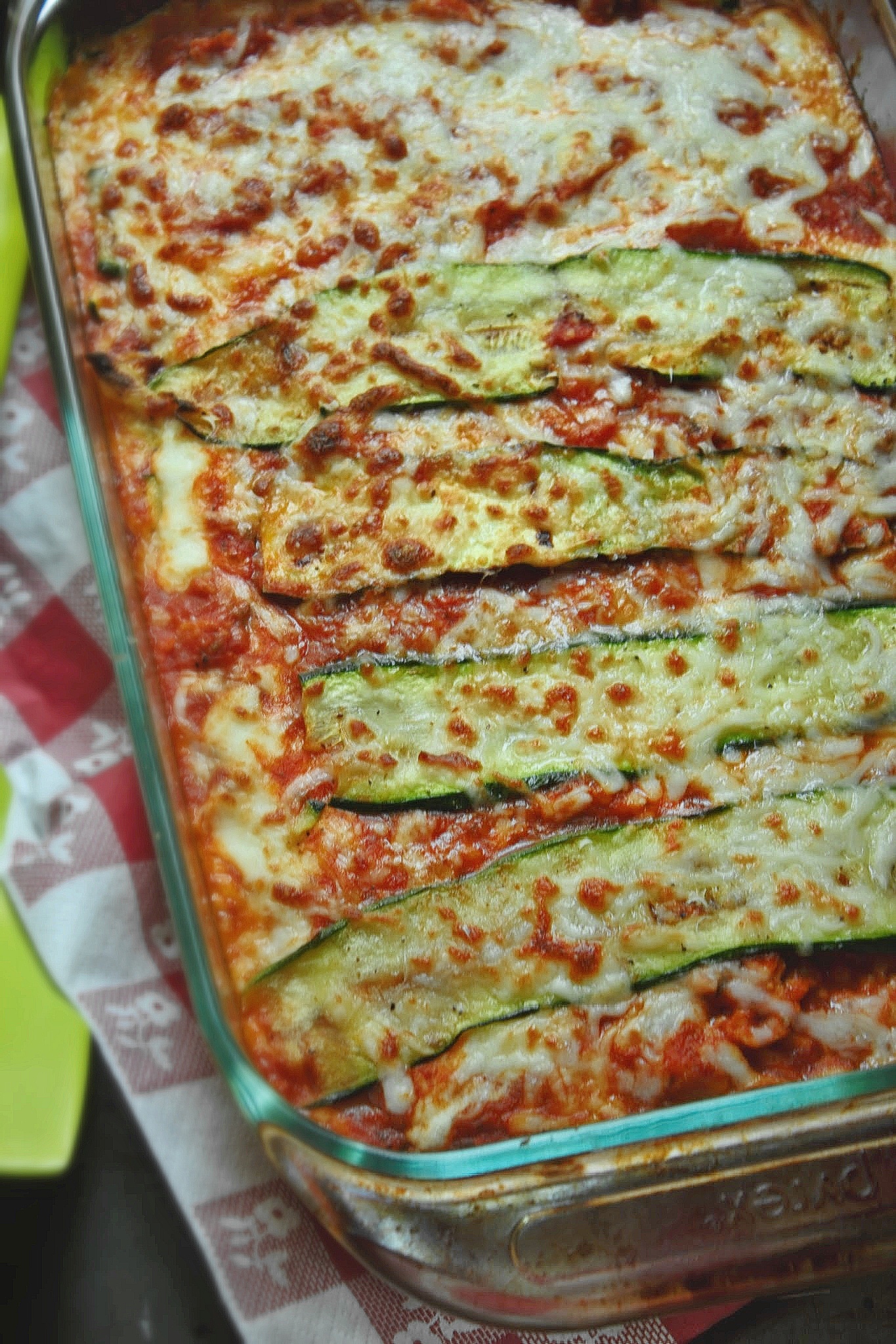 A lighter version of an Italian favorite - lasagna, made with a hearty chicken sausage sauce and zucchini noodles in place of traditional pasta ones. You'll never even taste the difference!
Ingredients
2 – 3 medium sized zucchinis
Salt/pepper
1 small yellow onion, chopped small
2 garlic cloves, minced
1 teaspoon salt
½ teaspoon fresh ground pepper
1 teaspoon cumin
2-3 chicken sausage links, depending on how meaty you want your sauce to be, with casings removed (I used Thin n' Trim sweet Italian style - only 2.5 grams of fat per link!)
1 - 15oz jar of your favorite spaghetti sauce (I used a tomato basil flavored one but any style will do)
4-6 small fresh basil leaves, chopped
1 - 15oz tub of fat free ricotta cheese
1 egg
¼ cup freshly grated parmesan cheese
1.5 cups shredded mozzarella cheese
To prepare your zucchini noodles
With a thin knife or mandolin, slice your zucchini very thin (about 1/8" thick – if they end up being a little thicker than that it's ok as you'll be grilling them before placing them in the lasagna). If you're not using a mandolin, the sharper the knife the better as it will really help to cut through the zucchini without breaking the slices as you cut.
Lay the zucchini slices out on a piece of wax or parchment paper. Sprinkle them with salt and pepper on both sides and let them sit for about 10 minutes (or longer). The salt will help some of the liquid to "sweat" out of the zucchini – literally. When you come back to the zucchini after it's been sitting for a while, they'll be little beads of sweat on the top! Soak up the sweat by blotting each slice with a paper towel. Then, grill the slices of zucchini on a grill pan for 1-2 minutes on each side, just until you can see grill marks on them. Lay them back out on the wax paper and blot one more time. You want to try to get as much of the liquid out of the zucchini as possible as it has quite a bit. You want to end up with about 20-25 slices, give or take, depending on how large your zucchini is.
In a medium saucepan over medium heat, saute your garlic and onion for about one minute, then add the chicken sausage, crumbling and breaking it up with your spatula, and then stir until cooked (about 3-5 minutes). Season the mixture with the salt, pepper and cumin and then pour the spaghetti sauce over the mixture, stirring in the chopped basil. Let the sauce come to a boil and then turn heat down to low and simmer for about 10 minutes (or longer).
In a large mixing bowl, mix together the ricotta, egg and parmesan cheese and set aside.
To assemble your lasagna
Preheat oven to 350 degrees F.
Spray an 8"x8" or 8"x11" pan with non-stick cooking spray. Layer the bottom with about 1/3 of the sauce and then 1/3 of the grilled zucchini. Then place dollops of the ricotta mixture (about ½ of it) on top of the zucchini, spreading gently with the back of a spoon. Then sprinkle about ½ cup of the shredded mozzarella on top. Repeat layers until you have just zucchini on the top, and sprinkle it with the remaining mozzarella cheese. (since I often times get confused w/ layering in lasagna recipes, the layers should go as follows: sauce – zucchini – ricotta – mozzarella – sauce – zucchini – ricotta – mozzarella – sauce – zucchini – remaining mozzarella on top.)
Cover with tin foil and bake for 40 minutes. Uncover, and then bake for another 10-15 minutes until the cheese on the top starts to brown. Let sit of the oven for about 10 minutes before cutting and serving.
Adapted from Skinnytaste
Adapted from Skinnytaste
And They Cooked Happily Ever After http://www.andtheycookedhappilyeverafter.com/