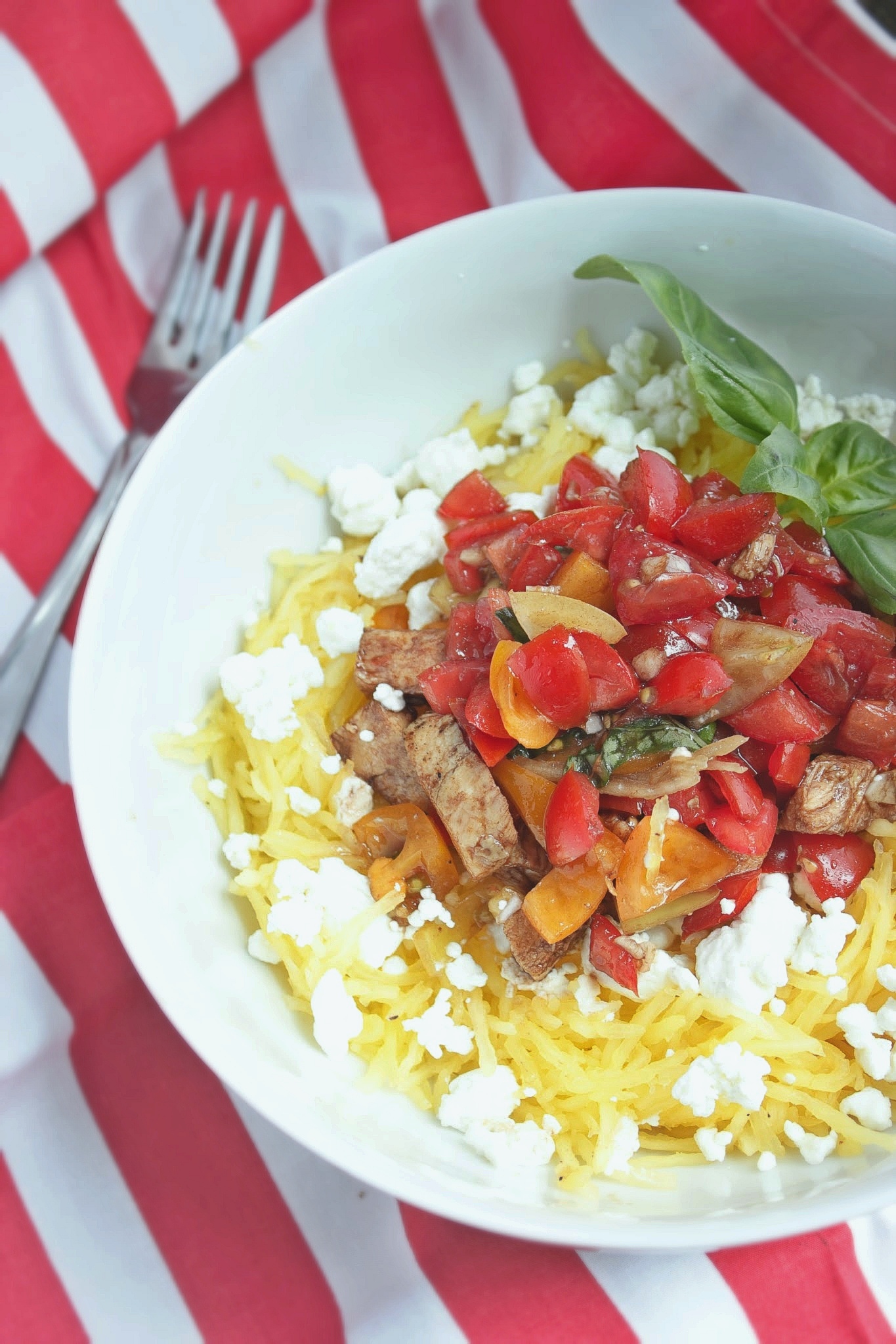 Hey kids – it's been a while. Yeah. Sorry bout' that! But I'm here with kind of a departure from the last few posts (um muffins, pizza rolls and a bunch of delicious dishes for your sleep deprived friends withe new babies who have no time to cook).
There's this crazy fat shredding, all protein, no-carb-eating fitness challenge thingamajig going on at my gym, and since I'm easily peer pressured, I figured I'd give it a shot (well, maybe like 75% of a shot). And while I actually usually loathe squash, I figured since this is like probably the healthiest way you can kind of eat spaghetti, well then what the hell. I'll try anything once. Every time I go home to my parents house, my mom has a Spaghetti Squash sitting in her vegetable/fruit bowl. And I kept see it popping up all over the interwebs. Squash that looks like spaghetti after you cook it? I gotta see some of that.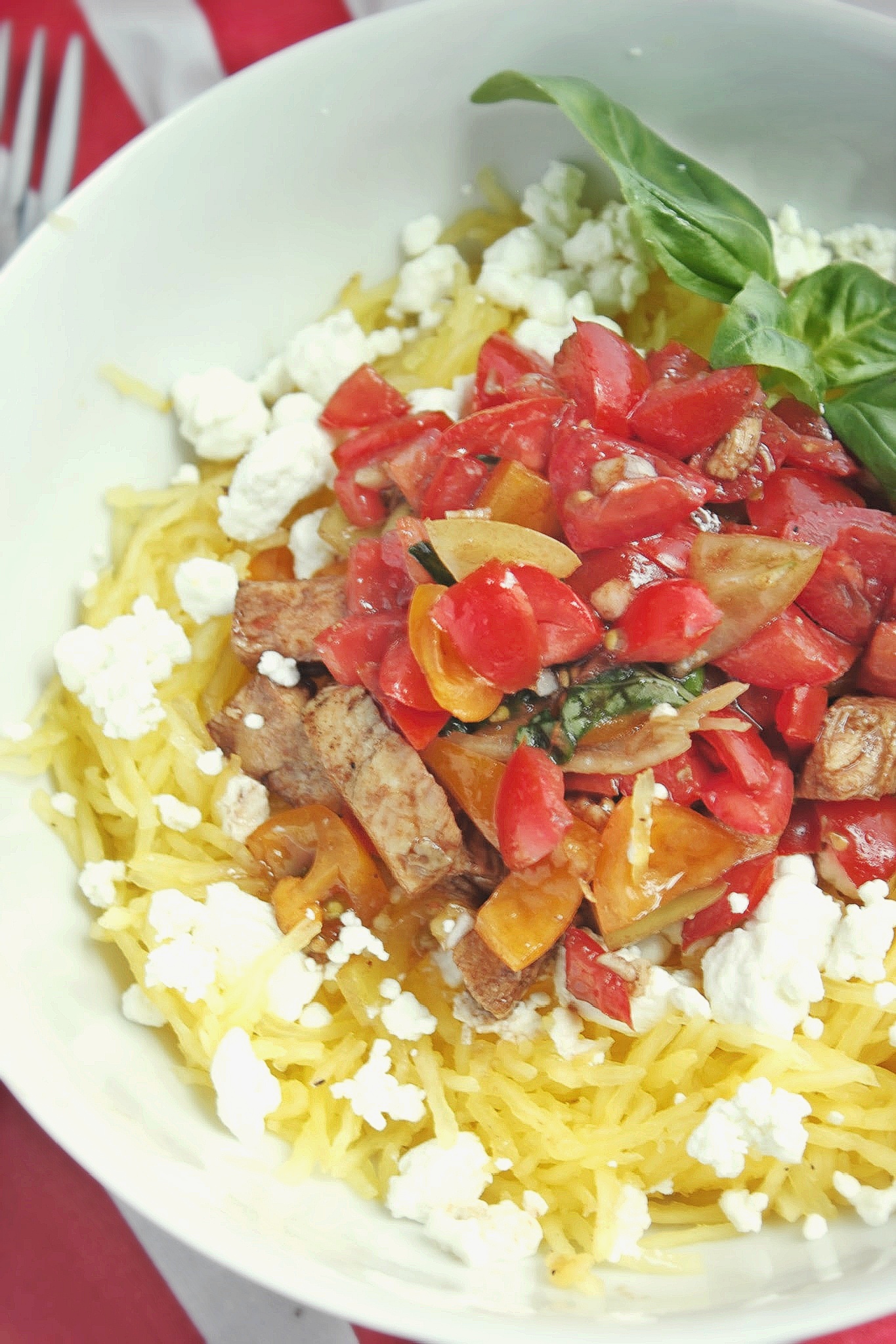 And I'm a believer now that squash is the magical vegetable? fruit? You can carve it into a scary face at Halloween and bake it in the oven for less than an hour and have faux spaghetti. Now, does it taste like spaghetti? No. Does it look like it? YES! Can you throw some meatballs on there and feel like you're gonna have to unbutton your pants from eating so many carbs? YES! I mean how often to you ever just sit down to the table and gobble up a bowl of PLAIN pasta? Without anything on it? Come onnnnn….you NEVER do that! And what in the hell is Bruschspaghetti you ask? It's Bruschetta – on top of Spaghetti Squash – and there's some Chicken and Goat Cheese crumbles in there too. It's light, healthy, tasty and really filling if you're looking to cut back before unlocking your safe where all your bikinis are kept for the winter. And you can thank that spaghetti squash when they actually fit!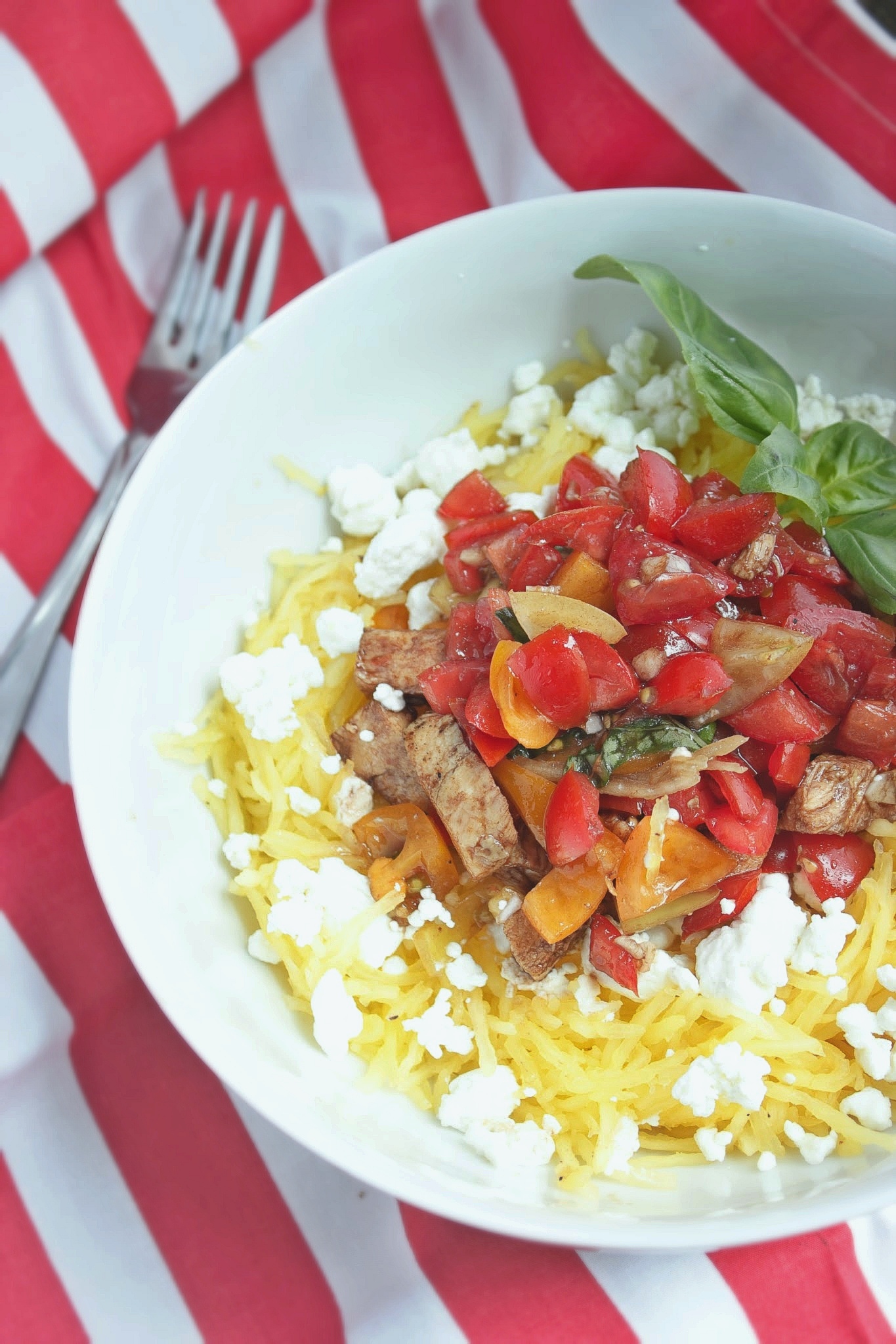 Chicken Bruschpaghetti Squash with Goat Cheese
2014-05-22 17:56:30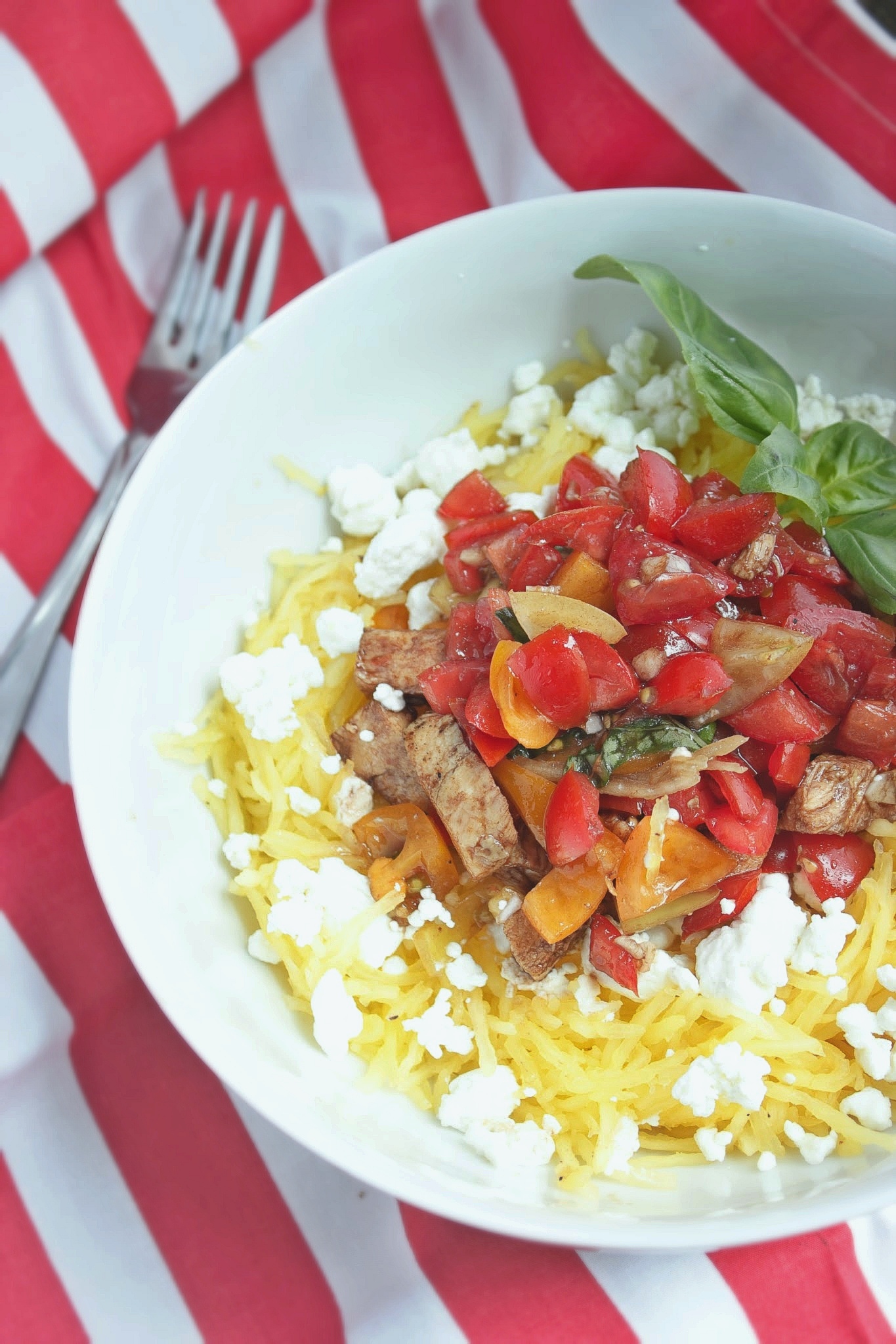 Serves 2
Spaghetti squash topped with Chicken, Bruschetta and Goat Cheese Crumbles
Ingredients
1 large spaghetti squash
salt/pepper/olive oil
For the Bruschetta
1 pint of grape tomatoes (or heirloom - any tomato really - I use Trader Joe's small Heirloom tomatoes and they are perfect for this!)
1 boneless, skinless chicken breast, cooked and cubed into small pieces
1 large garlic cloved, minced
2 tablespoons Italian dressing (or just plain olive oil - I find the ID gives it a little more punch)
3 tablespoons balsamic vinegar
salt/pepper
8 fresh basil leaves, chopped julienne style, plus additional for garnish
4oz goat cheese crumbles
To prepare your spaghetti squash
Preheat your oven to 400 degrees F. Slice your spaghetti squash vertically down the middle (it's quite tricky to cut. The outer shell is very hard, so make sure to use a sharp knife). Scoop out the seeds and the 'guts' on the inside. You'll feel like it's halloween scooping a pumpkin out! Then, baste the flesh of the squash with olive oil, and then season generously with salt and pepper.
Place the two halves on a baking sheet, flesh side down, and roast for 45 minutes. There's a bunch of different ways to do this. Some people do it in the microwave - some bake it whole without cutting it. This is the method that I've found to work best for me, but feel free to try other methods out!
To prepare your bruschetta
Chop your tomatoes into small chunks (or you can pulse in the food processor). Place tomato chunks in a bowl and then add the chopped chicken. Mix together and set aside.
In a small mixing bowl, whisk together the garlic, italian dressing, balsamic vinegar, and salt/pepper to taste. Pour this over the tomato and chicken mixture, mixing to combine, and then gently fold in the chopped basil. I like to let this mixture sit for at least a half hour to let all the flavors meld together, but it's certainly not mandatory.
When the squash is done, take it out of the oven and let it sit for about 5 minutes. Take a spoon and scoop the flesh out of the shells. It's like magic - it comes out in strands that look like spaghetti. Nature is cool.
Divide your squash between two bowls (this will yield two very generous servings or four smaller sized ones). While the squash is still warm, sprinkle the top with the goat cheese crumbles, and then place the bruschetta/chicken mixture on the top. Sprinkle with additional chopped basil for garnish. Feel free to fold it all together for one bruschetta-y, goat cheesy mess of spaghetti squash goodness!
And They Cooked Happily Ever After http://www.andtheycookedhappilyeverafter.com/