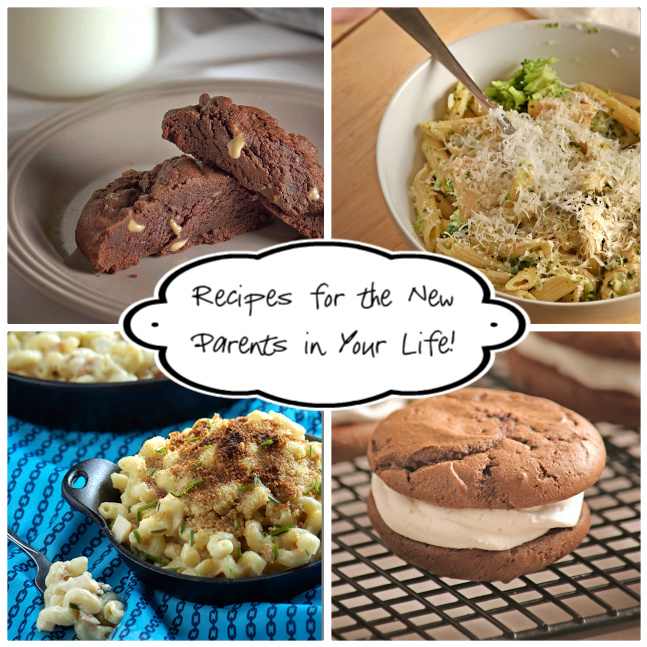 I think I'm going to refer to 2013-2014 as the year of the baby. Babies are coming out like cray. Friends – cousins – bloggers I follow. It's just like baby mahem (and no friends/family/mom/pat, this is not a segway to announce that I am with child – sorrryyyyyy)
It IS however a segway to say that from what I understand, this baby thing kind of ties you up a bit. There's not a lot a lot of time for things like sleep – watching t.v. – applying deodorant – never mind making dinner! So that's when friends and family come in and shower you with delicious dishes that you can eat for days so you can focus on your little bundle of joy and try to figure out the last time you showered. In the last week, I whipped up a batch of Buffalo Chicken Mac and Cheese and Grammy Murphy's Whoopie pies for Jon, Sarah and Baby Violet, and then three days later, some One-Pot Chicken Broccoli Ziti and those sinful Levain Chocolate Cookies for Katie, Sarin and Baby Max.
I decided that this theme was worthy of a post, because there are SO many great meals you can prepare for your new parent friends who are STARVING but are up to their eyeballs in dirty diapers and simply don't have the time or energy to think about where their next meal is going to come from (and because Lindsay from Pinch of Yum nearly stole the thoughts right out of my brain a couple weeks ago!)
So here are some great recipes from the archives that will bring a smile to the faces of the new parents in your lives, and fill their bellies at the same time. And they won't take a lot of time or energy for you to make either because you're so busy doing….um…well, breathing…breathing can be hard sometimes….
Mac & Cheese – Buffalo Chicken (left) or Bacon, Chicken & Chive (right)
Who ever got a huge pan of piping hot Mac & Cheese and said "Eh, I don't know – I'm not a huge fan of Mac & Cheese"? NO ONE EVER SAID THAT! These are two fun flavors to shake up the old classic comfort food and will provide at least 2-3 meals for mom and dad (and maybe the new baby if they're lucky)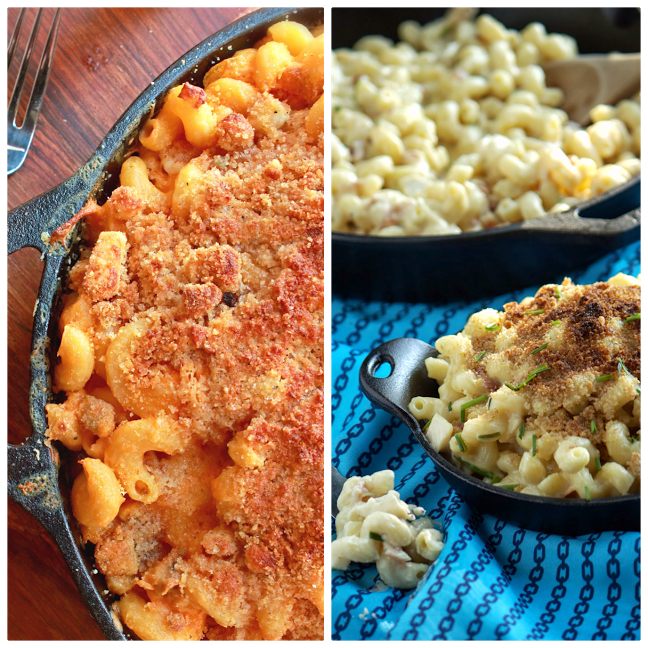 Bruce's Pulled Chicken Sliders
Because every side of Mac & Cheese needs a protein partner, this recipe for pulled chicken is stupidly easy to make. You brown chicken, and throw everything in the crock pot – set it – forget it – and voila! Pulled Chicken for everyone! Why, it's almost as easy as giving birth….wait…scratch that….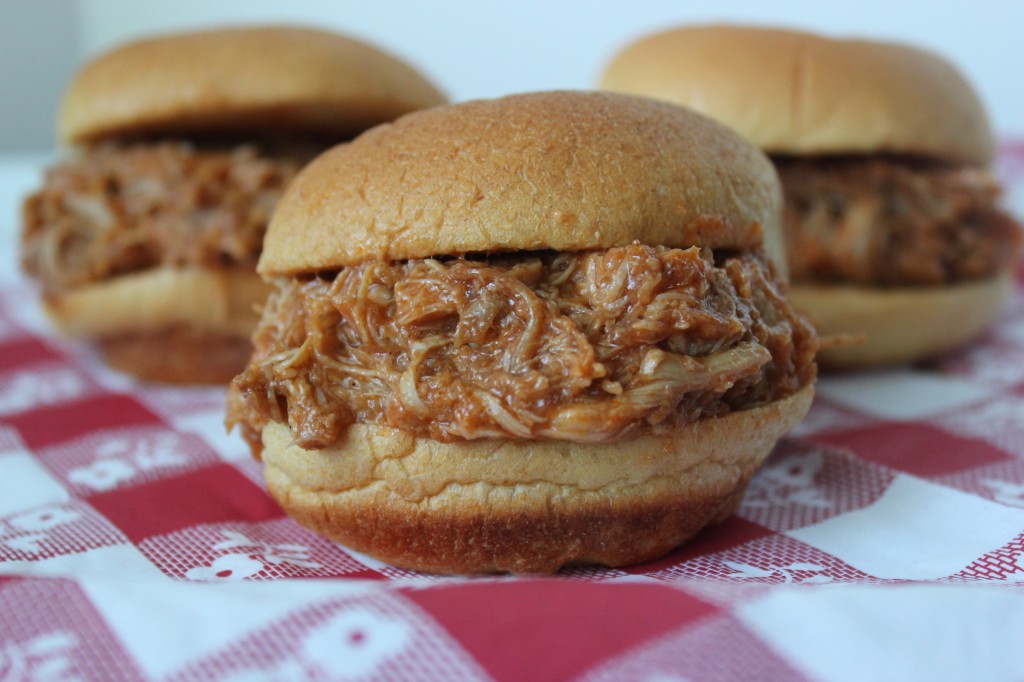 One Pot Pasta – Chicken Broccoli Ziti (left) or Whole Wheat Tomato Basil (right)
One pot and less than an hour separates you from these two amazingly awesome pasta recipes. Both are slightly on the healthier side too for any mom's looking to keep things on the lighter side post baby.
Summer is nearly here, and nothing, truly nothing says summer like this life changing Roasted Veggie Orzo from my girl Ina. I literally think I made it once a week last summer. It's just so good. OMG. Add some grilled chicken to it to make it a full meal for Mom & Dad!
Date night may not be on the horizon for a while for the new parents in your life, but these two, perfectly sized individual Chicken Pot Pies will make them feel like they're at a candlelit table for two, sipping wine, gazing longingly into each others eyes instead of wiping baby puke off the couch.
One of my top 5 rated recipes of all time – Paula's Crockpot Meatballs – that take a little time and elbow grease to put together but make a TON and freeze really, really. REALLY well – just in case all your new parent friends' OTHER family members and friends had the same idea in mind and they have a kitchen full of food with only two (and like 1/4) bellies to fill.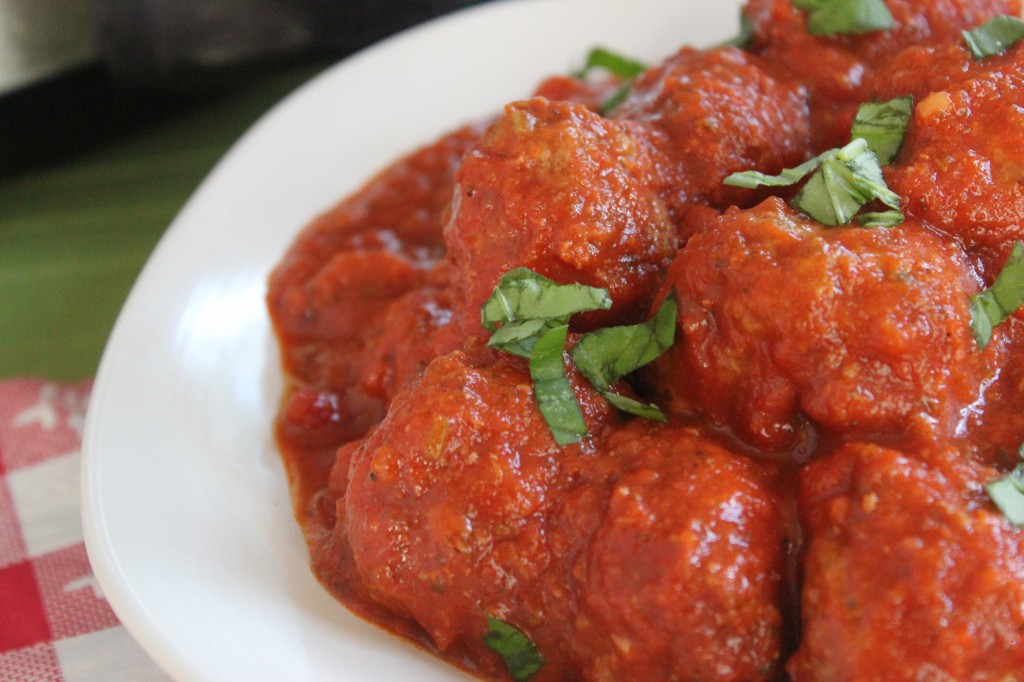 Copycat Levain Chocolate Cookies with PB or Chocolate Chips
When I get stressed out, I like to eat. And when Jr. has been crying all night, and no story book or pacifier or tenth rendition of rock a bye baby will put him to sleep, you can stuff your face with one of these cookies (or just cover your ears with them – they're ginormous). Best served warm with milk (just not breast milk – that's for the baby you goose!)
Grammy Murphy had 8 children – and I'm pretty sure she probably ate Whoopie Pies with all 8 to keep her sanity. Her Whoopie Pies do something magical to the taste buds, so I wont even judge you if you give baby Suzie a piece. I mean people used to wipe whiskey on babies' gums to calm them down – a piece of a Whoopie Pie is nothing!