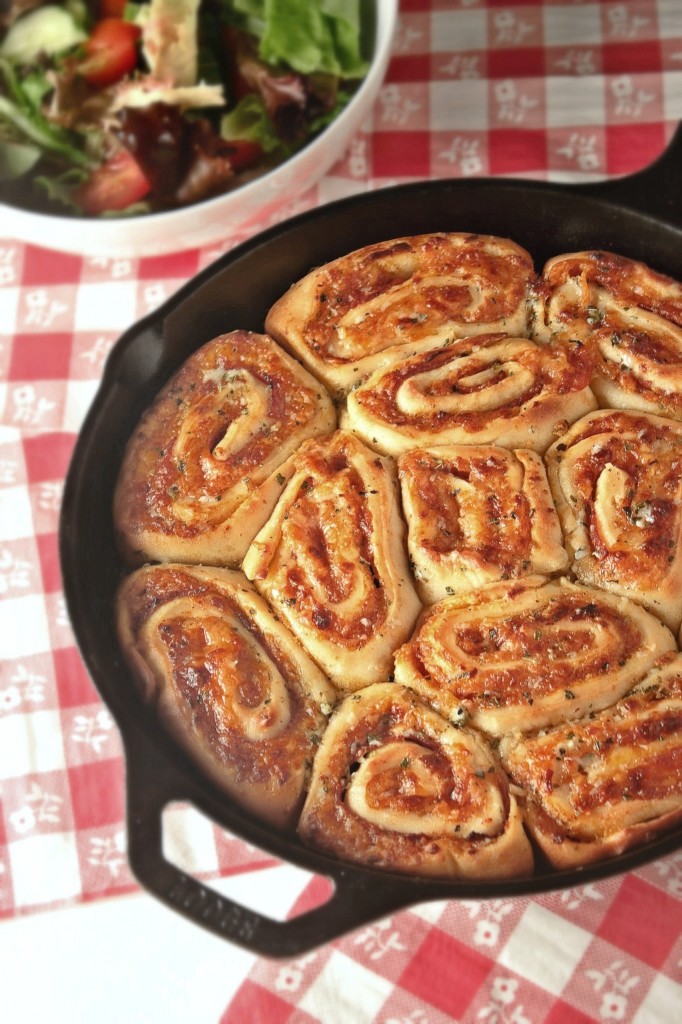 Dave and I eat pizza every Friday night. No really. EVERY Friday night. It's like that old, loyal friend that you can always count on to never disappoint your taste buds, and it just never tastes as good any other night of the week. Right? I know you know I'm right.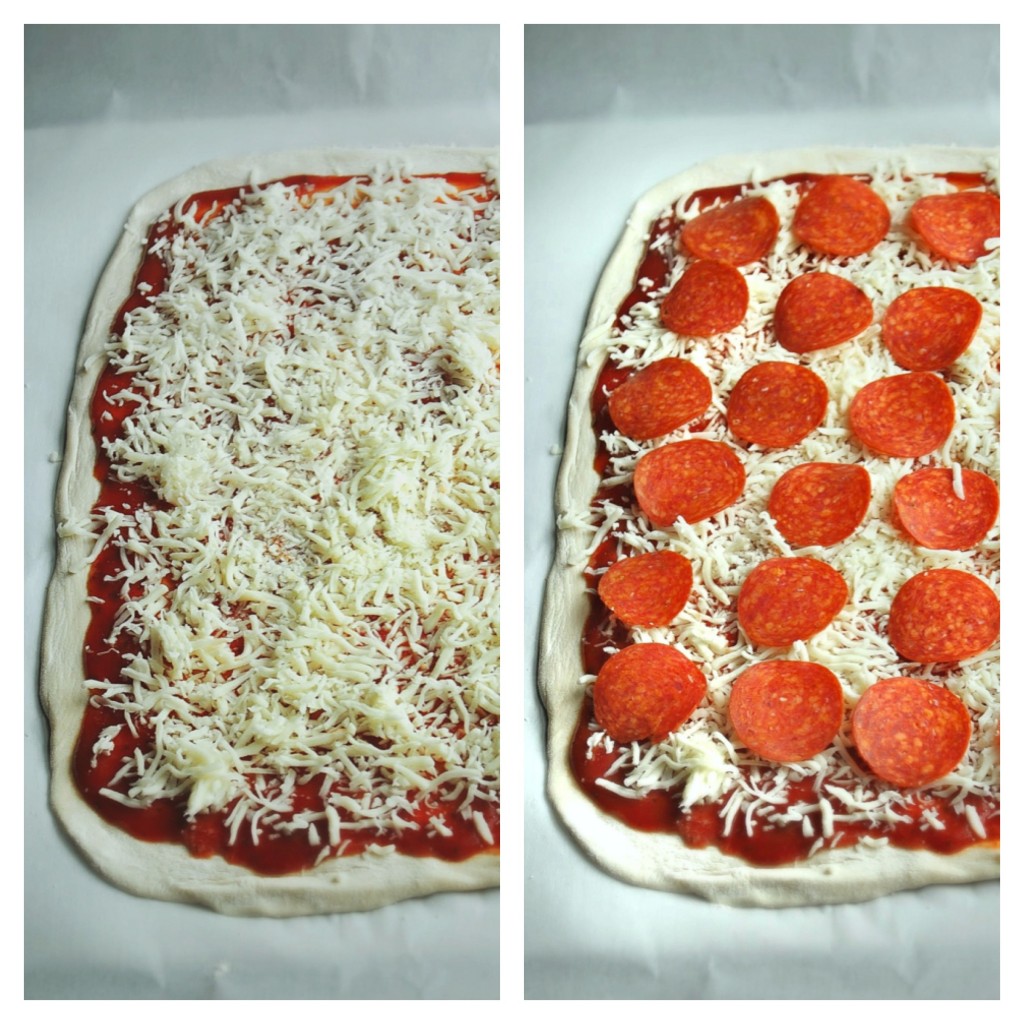 But as many toppings and sauces as we've swapped out, even pizza can get old. So I thought of a way to switch it up. And that's by rolling it up. Its like a cinnamon roll – but instead of butter, brown sugar and cinnamon, it's sauce, cheese and pepperoni (or any pizza topping of your choice natch). Instead of rolling the dough out in a circle, you roll it out in a square. Then into a log. Slice it. Place it in your cast-iron skillet (YES! One more reason for cast iron skillet'ing!) And it's pizza night with a new twist. Or roll. Dave said it best when he so eloquently said "I like these cuz' like….there's crust on every side" – I mean – Shakespeare wouldn't have even gotten that right.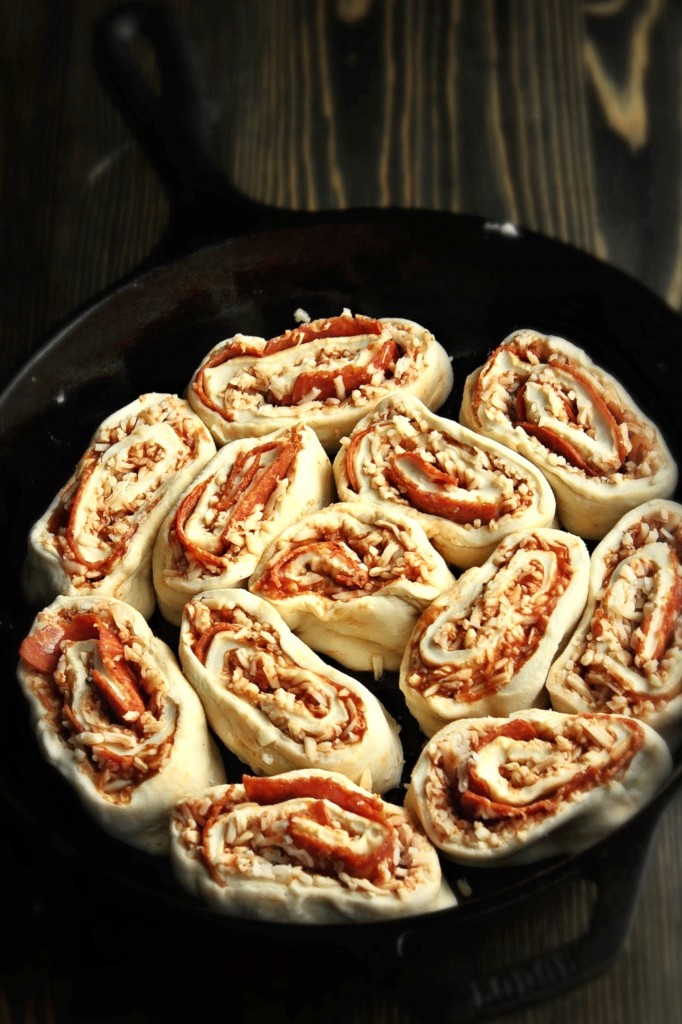 And then to add an even further twist, I saw these Garlic Parmesan knots from one of my blog crushes, Damn Delicious, and decided "What the hell? It's Friday – why not add some butter on top of these pups".
They're great for dinner and even better for your next gathering where you need a good, hearty, booze soaker upp'er that requires no utensils and or flatware. Your buzzed guests will never even stop to think that its basically pizza, just in a different format. Yay for booze!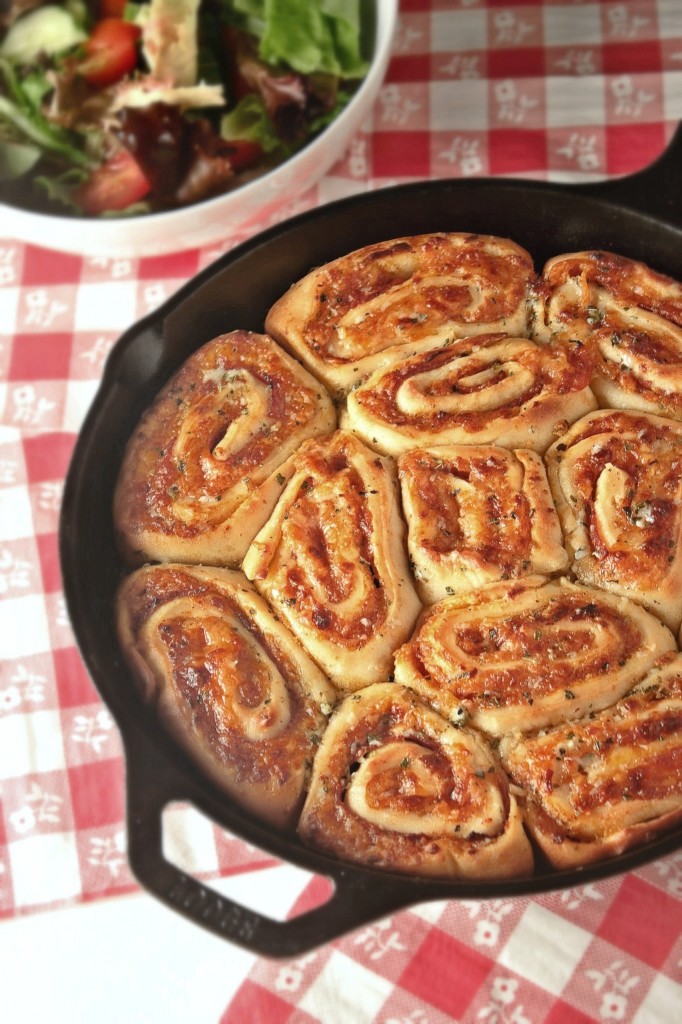 Garlic Parmesan Pepperoni Pizza Rolls
2014-04-18 19:24:58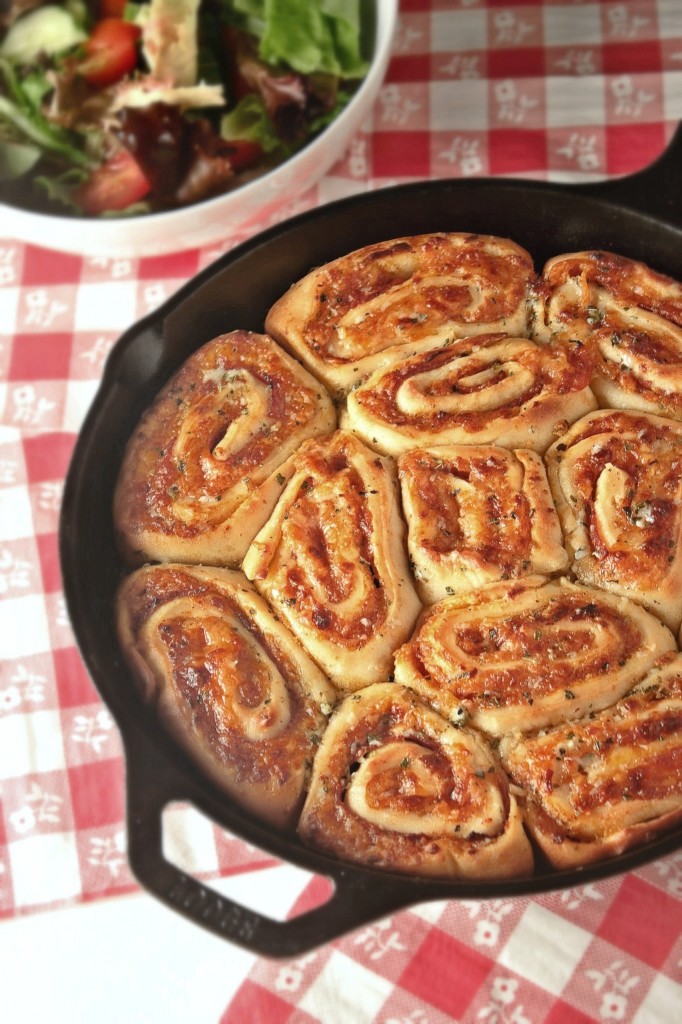 Your favorite meal and mine - pizza - in the form of a roll - that you can still eat with your hands!
Ingredients
1 ball of your favorite pizza dough
1/2-1 cup pizza sauce (depending on how saucy you like it)
8oz shredded mozzarella cheese
20 slices of pepperoni (or more)
2 tablespoons plus 1/4 cup unsalted butter, melted
2 tablespoons freshly grated parmesan cheese
2 small garlic cloves, finely minced (preferably with a microplane)
1/2 teaspoon oregano
Instructions
Roll out your pizza dough to form a rectangle about 14-16" in width and about 6" in height. Brush the edges of the dough with 2 tablespoons of melted butter.
Spread your sauce out over the dough, leaving about 1/2" border around the whole rectangle. Sprinkle your cheese and then place your pepperoni over the top.
Roll your pizza dough (wide side) tightly into a log, pinching the seams together. Slice off the two ends and then cut 12 rolls from the log.
Place pizza rolls in a lightly greased cast-iron skillet, leaving some space in between each (they will fill in as they rise). Place a towel over the skillet and let the rolls rise in a warm place until they double in size (about 1 hour or so, depending on how warm an area you let them rise).
Preheat your oven to 500 degrees F.
Mix together your 1/4 cup melted butter, parmesan cheese, garlic and oregano and then baste the top of the rolls with the mixture, using just about half of it. Reserve the other half for when the rolls come out of the oven.
Bake the rolls in your preheated oven for 20-25 minutes until they start to brown on the top. Remove them from the oven, letting them sit in the skillet for another 5 minutes or so, and basting the warm rolls with the remaining butter/garlic/parmesan cheese mixture.
Notes
A tip for speeding up the rising process is to preheat your oven to 450 degrees then turn it off and place the rolls in the warm oven (make sure you turn it off before placing the rolls inside - otherwise they will start baking).
And They Cooked Happily Ever After http://www.andtheycookedhappilyeverafter.com/