Did you think I left out a few commas in that title? Cuz' I did. But then I realized that no – all of those things are together in one perfect banana, chocolate and chocolate chip muffin baby.
I don't know what it is about banana and chocolate. One is funny shaped and helps me not get charlie horses – one gives me zits and whispers my name in the middle of the night (I'll let you figure out which is which). But together, they're the power couple of flavor combinations.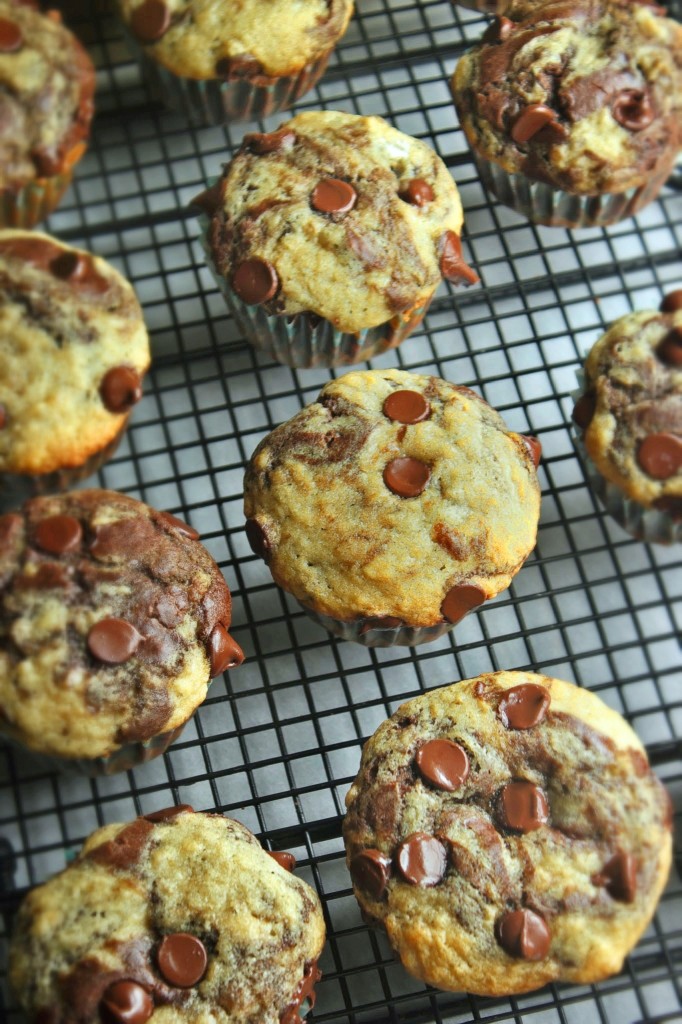 I was actually in Denver for work recently when I got the inspiration for these. I went to get my third coffee before noon and in the pastry case was these banana and chocolate muffins – together. I've seen banana muffins with chocolate chips before and I've seen chocolate muffins with chocolate chips but never together.
So I'm not gonna talk anymore. I'm just gonna give you these.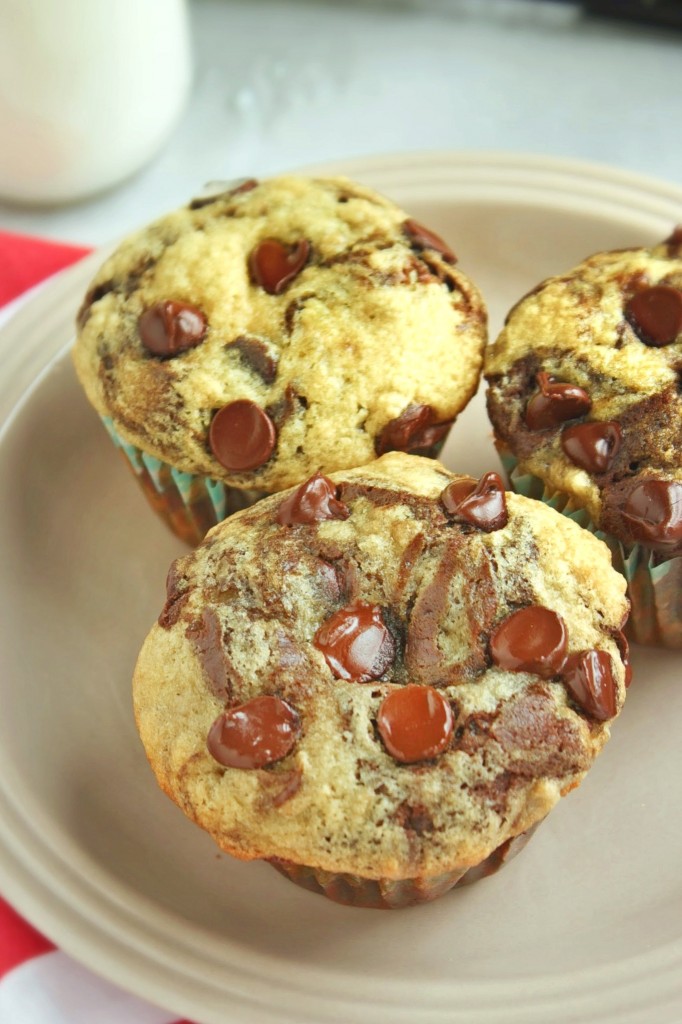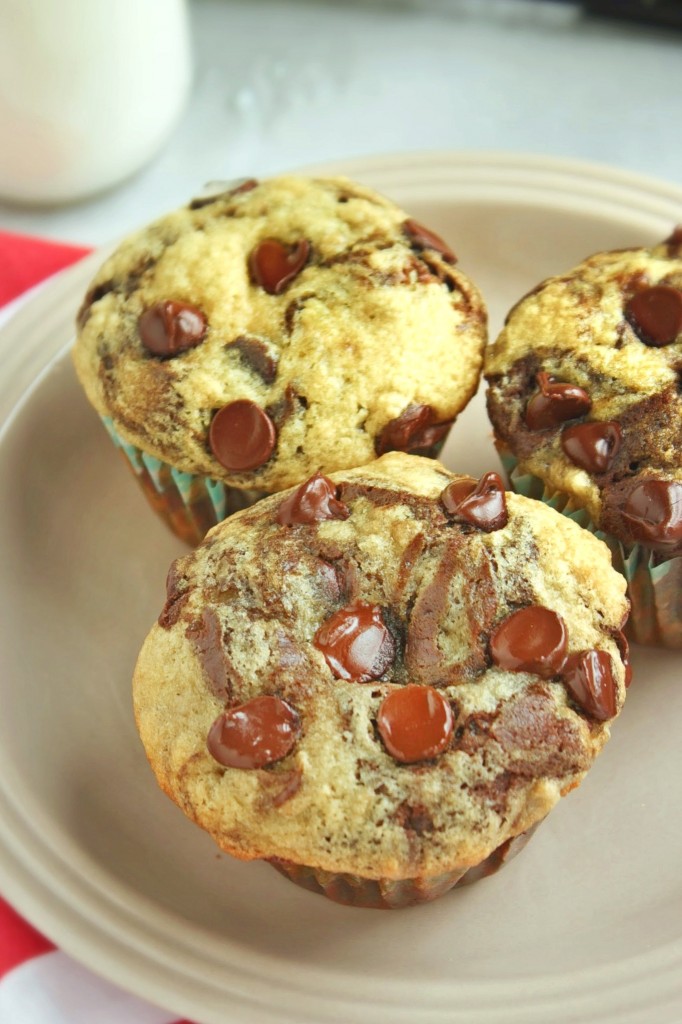 Marble Banana Chocolate Chocolate Chip Muffins
2014-04-18 18:50:22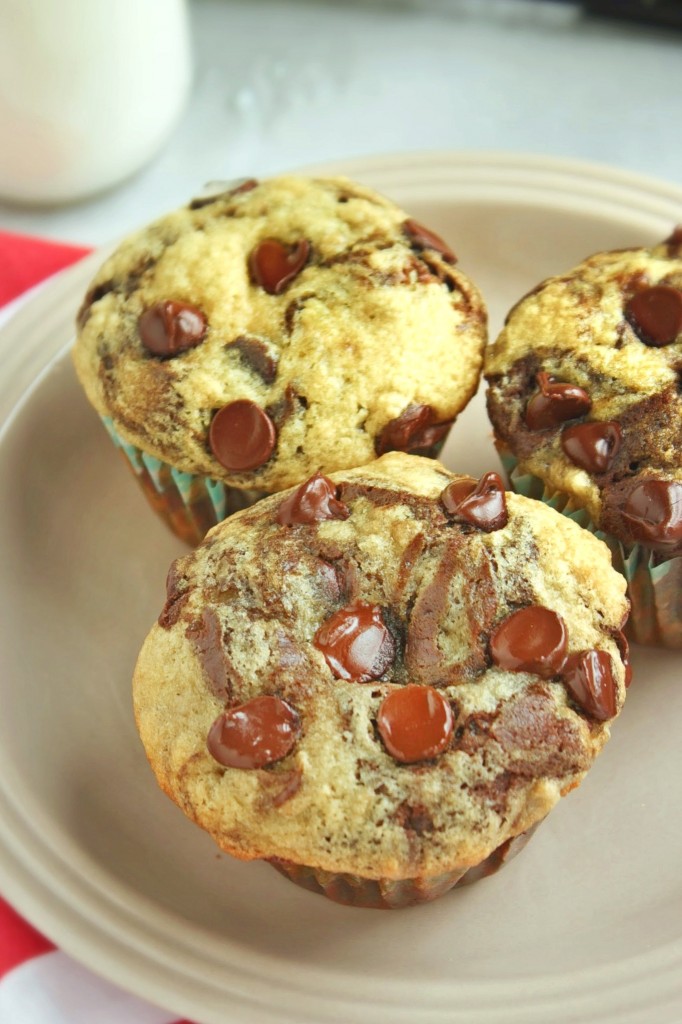 Swirls of banana and chocolate, with a sprinkling of chocolate chips, all in one 'can't have just one' muffin
For the banana muffin batter
1 & 1/2 cups all-purpose flour
1 teaspoon baking powder
1 teaspoon baking soda
1/2 teaspoon salt
3 large bananas, mashed
1/2 cup white sugar
1/4 cup light brown sugar
1 egg
1/3 cup butter, melted
For the chocolate muffin batter
2 cups all-purpose flour
3/4 cup cocoa powder
1/2 cup white sugar
1/4 cup light brown sugar
1 tablespoon baking powder
1/2 teaspoon salt
1 & 1/4 cups whole milk
2 large eggs, lightly beaten
2 tablespoons butter, melted
1/3 cup vegetable oil
1 teaspoon pure vanilla extract
Additional
1 cup semi-sweet chocolate chips + more for sprinkling
Instructions
Preheat your oven to 350 degrees F.
To Prepare your banana muffin batter
Sift together the flour, baking powder, baking soda, and salt; set aside.
Combine bananas, sugar, egg, and melted butter in a large bowl. Fold in flour mixture, and mix for about 1 minute (you will still have lumps - it's ok. You don't want to overwork the batter). Gently fold in about 1/2 cup of the chocolate chips and set aside.
To prepare your chocolate muffin batter
Combine the flour, cocoa powder, baking powder, sugar and salt in a large bowl.
Combine the milk and the melted butter. Then add the oil, and finally whisk in the beaten eggs and stir in the vanilla extract.
Add the liquid ingredients to the dry ones and mix until all ingredients are just combined. Again, lumps are good! You don't want to overwork the batter. Gently fold in 1/2 cup of chocolate chips.
Coat 2 - 12 count muffin pans with non-stick spray, or paper liners. Take a large spoon, holding it in the center of the muffin slot, and pour the banana batter in (the spoon will act as a barrier). Then, with the spoon still in the center of the muffin slot, pour the chocolate muffin batter on the other side. If they mix that's fine.
Remove the spoon from the center and then take a knife and swirl the banana and chocolate batters together until they look marbleized. Sprinkle each muffin with extra chocolate chips.
Bake muffins in preheated oven for 18-20 minutes until the muffins spring back and appear spongy when touched. Let sit in the muffin pans for 5 minutes, and then remove to a wire rack to cool completely. Store in an air tight container for up to 5 days.
Notes
You will have a bit more chocolate batter than banana. I just made extra chocolate muffins with it (how can that be a bad thing?)
The chocolate batter is a little 'wetter' than the banana which is why I recommend placing the banana batter in the muffin slots first and the chocolate second.
Adapted from Allrecipes.com & About.com (Danilo Alfaro)
Adapted from Allrecipes.com & About.com (Danilo Alfaro)
And They Cooked Happily Ever After http://www.andtheycookedhappilyeverafter.com/