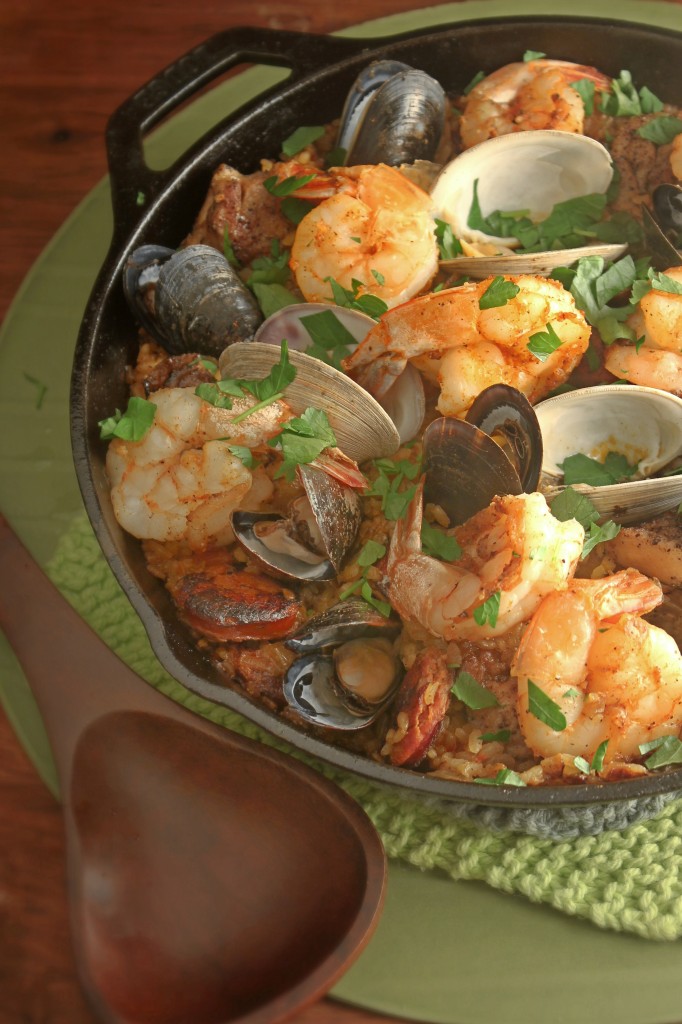 I spent a semester abroad in Spain in college and there was this funny named dish with rice and a bunch of other stuff I didn't really like and was kind of hard to say (but not really). So I may have had it like once while I was there.
BOY am I kicking myself in the toosh for that.
Dave and I went out to celebrate our 2 yr. anniversary a couple of months ago at Toro, a restaurant in the South End of Boston that we have been trying to go to for years now. No really. YEARS. But the wait is always at least 2 hours long. Far too much for my hangry tendencies. Granted, every time we go, it's usually Friday or Saturday night when the rest of the city of Boston decides they also want some Spanish tapas. How dare they? Luckily enough for us though, our anniversary was on an icky old Tuesday this year (hands down worst day of the week) so voila. Toro.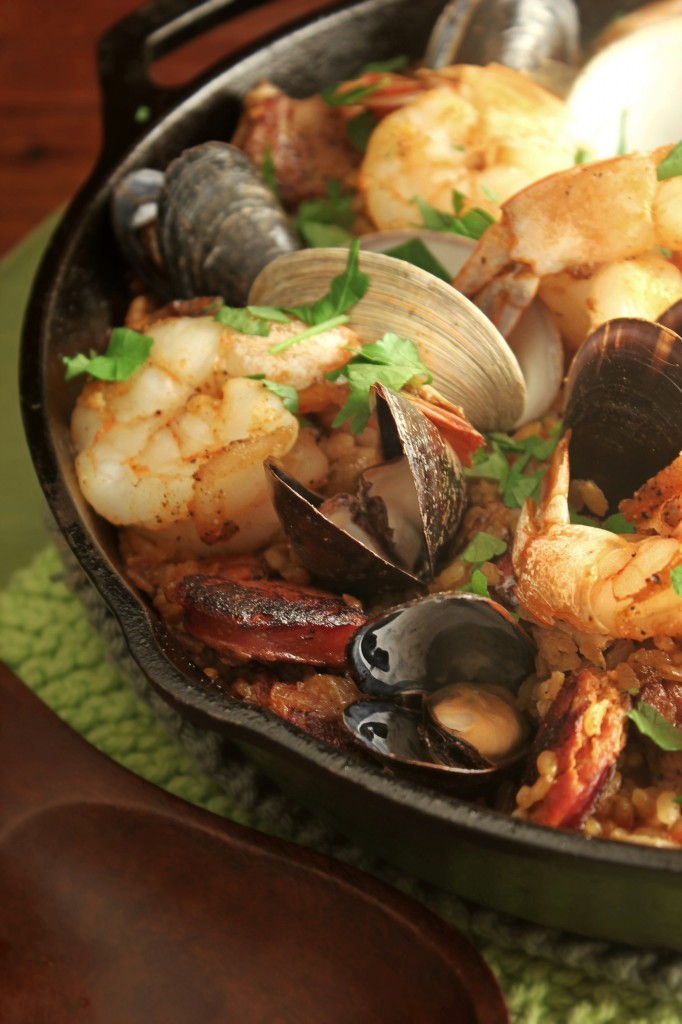 We thought for sure we'd just waltz right in, grab the candle lit table for two by the window and stare longingly into each others eyes while feeding each other spanish tortilla. And even on a freezing, cold Tuesday night, there was almost an hour wait! But that's when you know a place is good. And man was it good. Specifically, the Paella. It.was.amaaaazing. Usually when Dave and I find something that we really like out at a restaurant we tell ourselves that we're gonna try to 'recreate' it at home. So this Sunday night, after literally consuming a month's worth of calories in about 24 hours with my besties from high school in NYC, Dave decided to welcome me home with Paella.
I pretended like I was all full and stuff. And then 2 helpings later, I just undid my top button and told myself that calories don't count on the weekend…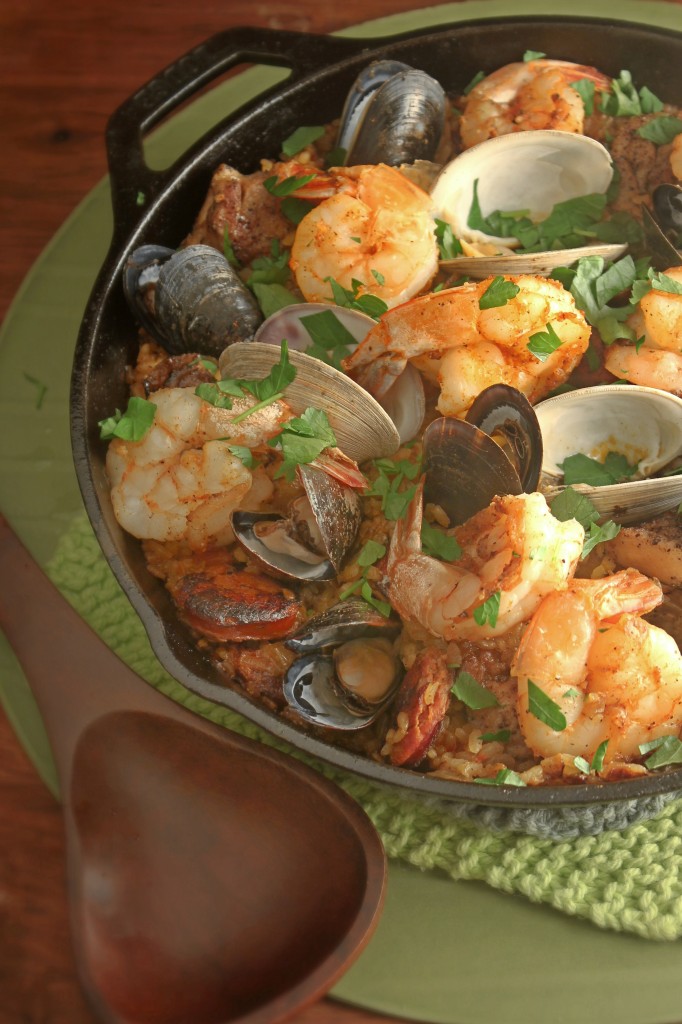 Paella Mixta (Paella with Seafood, Spanish Chorizo and Chicken)
2014-03-25 18:59:44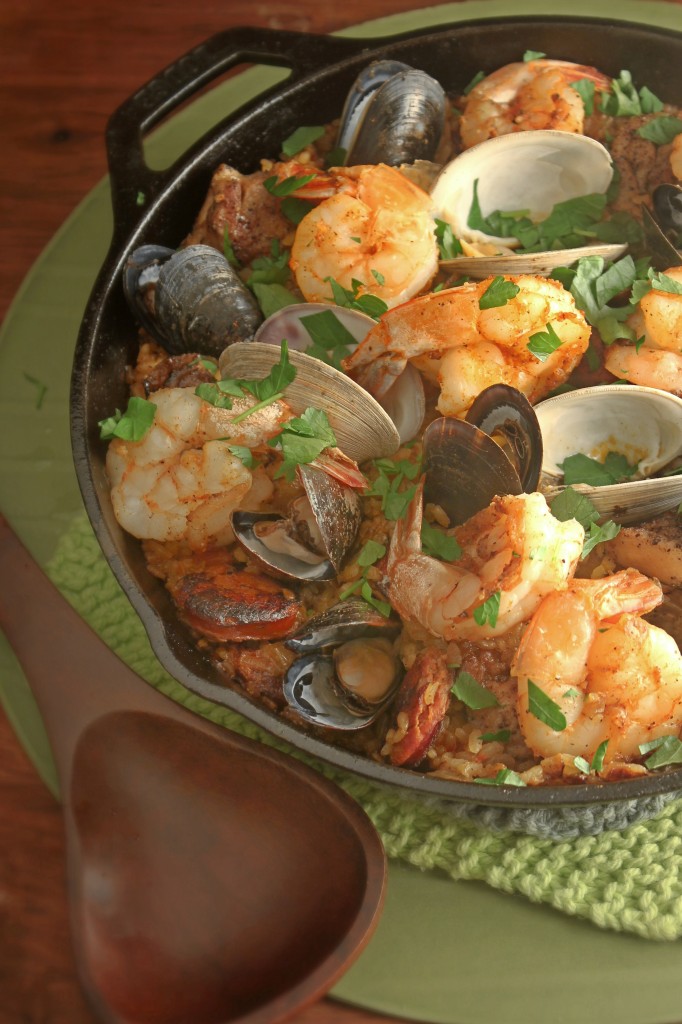 Serves 4
Spanish rice, seafood and meat in a filling, hearty dish that will fool you into thinking you're at a cafe in Barcelona!
Ingredients
2 medium, ripe tomatoes (about 12 ounces)
16 large shrimp (about 12 ounces), peeled and deveined
1 teaspoon smoked Spanish paprika
1 pound boneless, skinless chicken thighs, cut into 1-inch pieces
8 ounces Spanish chorizo, cut into 1/4-inch-thick rounds
1 to 2 tablespoons olive oil, as needed
1 medium yellow onion, chopped small
2 medium garlic cloves, finely chopped
1 large pinch saffron threads
2 cups paella rice (about 1 pound), sometimes labeled bomba or Valencia
1 teaspoon kosher salt, plus more for seasoning the shrimp and chicken
4 cups (1 quart) low-sodium chicken broth
16 mussels, Manila clams, or a combination, scrubbed
2 tablespoons coarsely chopped fresh Italian parsley leaves
2 medium lemons, cut into 8 wedges each, for serving
Instructions
Core and halve the tomatoes. Grate the flesh side of each half on the large holes of a box grater (or microplane) set over a medium bowl, stopping when you get to the skin. Discard the skins. You should have about 3/4 cup of tomato pulp and juice; set aside.
Place the shrimp in a medium bowl, add 1/4 teaspoon of the paprika, and season with salt and pepper. Toss to combine and refrigerate.
Place the chicken in a medium bowl and season generously with salt and pepper; set aside.
Place a 15-inch paella pan on the stovetop over medium-high heat (Dave actually used our 10" cast iron skillet to prepare this). Cover, and heat until hot, about 2 minutes. Add the chorizo to the pan and cook, stirring occasionally, until the sausage is starting to brown and the fat is rendered, about 2 to 3 minutes. Using tongs or a slotted spoon, transfer the chorizo to a large bowl; set aside.
There should be a thin layer of rendered fat in the pan. If there's not enough, add 1 to 2 tablespoons of olive oil. Add the seasoned chicken to the skillet in a single layer and sear, stirring occasionally, until both sides of the chicken pieces are golden brown, about 6 minutes total. Using tongs or a slotted spoon, transfer the chicken to the bowl with the chorizo; set aside.
Turn the heat on the skillet down to low to allow it to cool off a little bit, still leaving it over the heat (this helps to not burn the onions when you add them as the skillet gets very hot). Add the onion to the pan, season with salt and pepper, and cook, stirring occasionally, until softened, about 5 minutes, and making sure the the onions don't burn. Adjust the heat if necessary. Add the garlic, remaining 3/4 teaspoon paprika, and saffron, stir to combine, and cook until fragrant, about 30 seconds (also not letting the garlic burn).
Add the reserved tomato pulp and juice and cook until the mixture has slightly darkened in color, scraping up any browned bits from the bottom of the pan, about 3 minutes. Add the rice and measured salt and stir to coat in the tomato mixture.
Add the broth and stir to combine. Arrange the rice mixture in an even layer. Distribute the reserved chorizo and chicken over the rice, adding any accumulated juices from the bowl. (Do not stir the rice from this point on.)
Bring the mixture to a lively simmer. Continue to simmer, checking occasionally, until the rice grains have swelled, most of the liquid has been absorbed, and the rice begins to make a crackling sound, about 12 minutes. (Make sure to check the pan occasionally and adjust the heat as needed to maintain a lively simmer.)
Arrange the reserved shrimp and the shellfish (hinge-side down) in the rice, nestling them slightly. Continue to simmer until the shellfish have opened, the shrimp are just cooked through, and the rice is tender but still al dente, about 10 to 12 minutes.
Remove the pan from the stovetop, cover with foil, and let stand for 5 minutes. Before serving the paella, discard any unopened shellfish and sprinkle the dish with the parsley. Serve with the lemon wedges.
Notes
As I said, Dave used our 10" Cast Iron Skillet and also cut the above recipe in half. The above recipe would be perfect for about 4-6 people.
The original recipe also calls for a 15" Paella pan and for the Paella to be prepared on the grill. However, the 10" skillet over the stovetop worked perfectly, still giving that crusty layer of rice on the bottom.
Adapted from Chow.com
And They Cooked Happily Ever After http://www.andtheycookedhappilyeverafter.com/