Guys. I haven't been posting much lately. So when I do, I make sure it's GOOOOOOD. Life has been cray cray biz, mostly with work. Just like that it's Spring!
And it just so happens that today is my (blank blank) birthday! You can insert any number you wish in there (ok….it's thirty…..t….t…t…w….o)…phew. Lucky for me my birthday always happens to fall during Cadbury Egg season, and you know I love me some mini and cream eggs (as I displayed last year with this and this).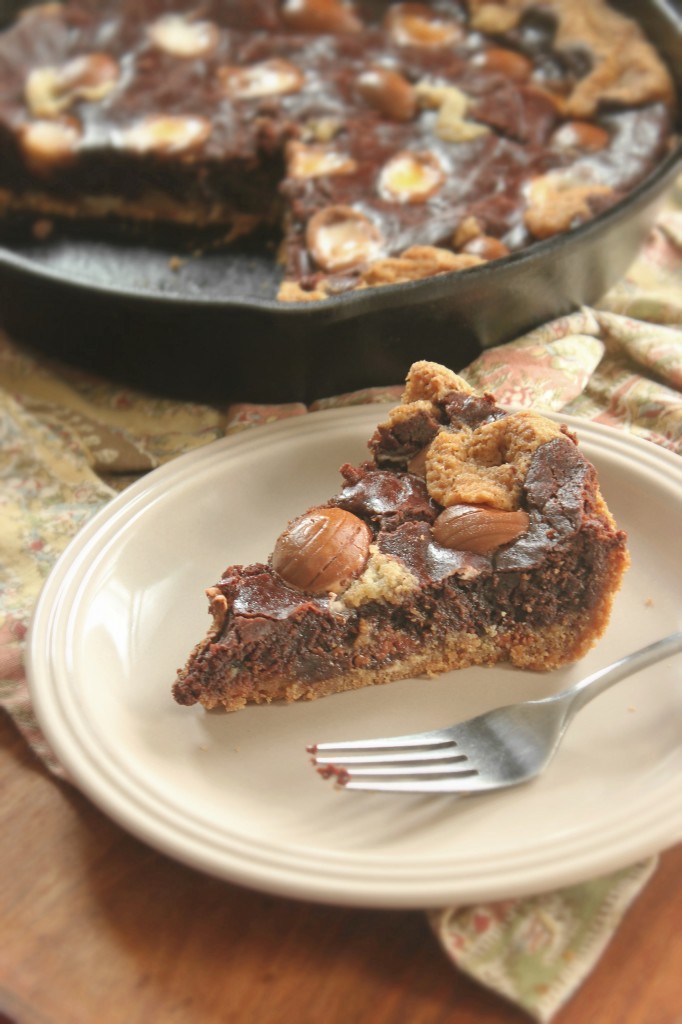 So my birthday gift to you is these – inspired by What's Gaby Cooking's Slutty Brownies, but made sluttier with both Cadbury Mini Eggs AND Cadbury Cream Eggs (the teeny ones that come in the dozen sized package – not the full size) and then cooked inside my new obsession that I made literally every dinner in this week – my cast iron skillet. So they're crunchy on the outside, and soft and chewy on the inside, just how I like 'em.
Go on now – get Cadbury slutty

Cadbury Egg Skillet Brownies
2014-03-21 08:26:55
Two kinds of brownies with two kinds of Cadbury Eggs, baked in a cast iron skillet for extra awesomeness
For the Chocolate Brownie layer
10 tablespoons unsalted butter
1 & 1/4 cups white sugar
3/4 cup cocoa powder
1/2 teaspoon salt
2 teaspoon vanilla extract
2 large eggs
1/2 cup all-purpose flour
12 small sized Cadbury Cream Eggs
For the Blondie layer
1/2 cup unsalted butter (at room temp)
1/4 cup brown sugar
3/4 cup white sugar
1 egg
1 & 1/4 teaspoons vanilla extract
1 & 1/4 cups all-purpose flour
1/2 teaspoon salt
1/2 teaspoon baking soda
1/2 tsp baking powder
1 - 2 cups crushed Cadbury Mini Eggs
Instructions
Pre-heat the oven to 350 degrees.
For the Chocolate Brownie layer
In a medium sauce pan, melt the butter over medium high heat. Add the sugar and cocoa powder once the butter is melted. Mix to combine all ingredients and remove from heat. Add the salt, vanilla and eggs and continuously whisk until the eggs are combined. Add the flour and continue to mix until all ingredients are fully incorporated. Set batter aside.
For the Blondie layer
Cream together the butter and sugars in a stand mixer. Add the eggs and vanilla, making sure to scrape down the sides of the mixing bowl. Add the flour, salt, baking soda and baking powder and mix on low until everything is incorporated.
To crush your mini-eggs, take take the back of a wooden spoon and tap the bag continuously. The eggs are somewhat hard to crush to it may take quite a few taps to break them up. Fold the crushed mini eggs into the blondie batter.
Spray your 9" or 10" cast iron skillet generously with non-stick cooking spray. Layer the blondie dough on the bottom, pressing down to form the bottom of the brownies.
Pour the chocolate brownie batter on top of the blondie layer and spread it out to cover the blondie layer. Then take your cream eggs and slice them in half vertically, placing them on top of the brownie batter, gently pushing them into it.
Bake for 35-40 minutes. Test with a knife to see if the center is done. If the knife comes out with batter still on it, allow the brownies to bake about 5 minutes more. Let them rest for AT LEAST an hour before cutting. The skillet gets really hot so it takes a while for the brownies to cool down enough that you can cut them without them falling apart.
Slice and serve warm!
Notes
You could also prepare these in a regular brownie pan. I would recommend and 8 or 9".
Adapted from What's Gaby Cooking
And They Cooked Happily Ever After http://www.andtheycookedhappilyeverafter.com/