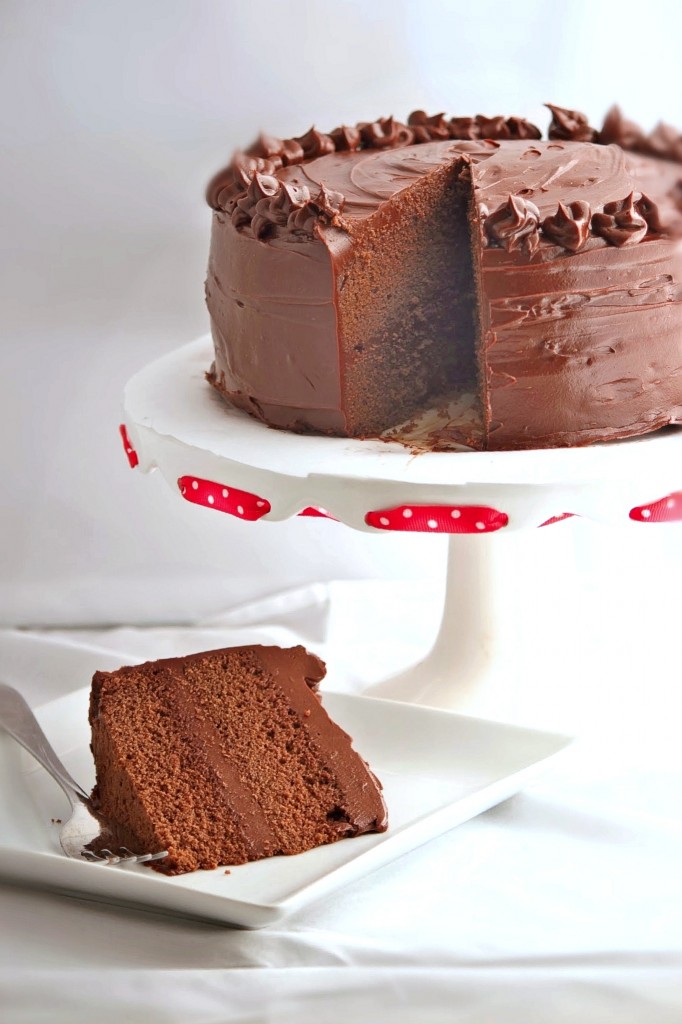 The only time I'll pass on dessert is if it doesn't involve chocolate. I like chocolate – and I like cake – and I like them together. A lot.
I first saw this gem on Yums and Loves. I've been following Alex for a while and she has the cutest little nugget of a daughter – oh and her recipes are pretty amazing too. SO she posted this cake. And woah, did it look good. But then she mentioned how she made it – with MAYO. Yes – mayonnaise. The white, jiggly condiment that often times gets a bad wrap – but no more. I have a new found respect for Mayo after making this cake. Mayo is oil and eggs in essence – and most cake recipes have those two things anyway – even the boxed mixes. So why not give it a break from Tuna Salad and start adding it to your cake recipes? GENIUS!
The cake: MOIST (I hate the word too – sometimes its just essential). Easy to make. I may never make boxed cake again.
The frosting: DARK CHOCOLATEY – although I must say, tastes nothing like Caramel, as the recipe would have you believe. It just tastes like a rich, dark chocolate frosting that's the perfect compliment to it's spongy counterpart.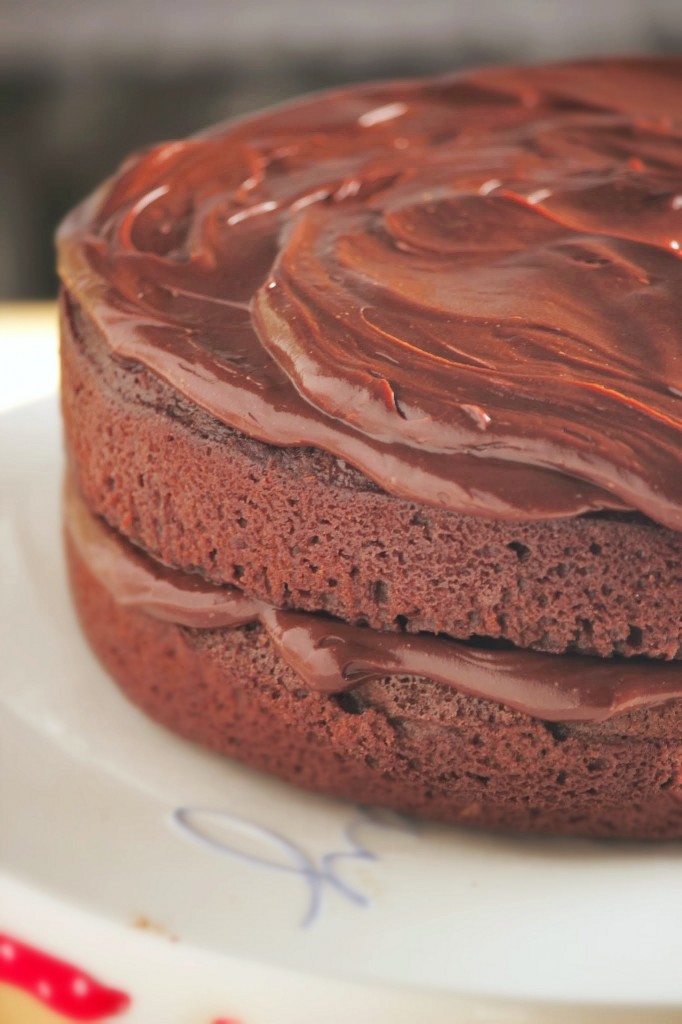 The original recipe also called for the addition of Sea Salt – which I left out. Not because I don't love that combo – but ah, because I didn't have any. And while I'm sure it would be delish, it didn't take anything away from the outcome. Moist, spongy chocolate cake and one of the most decadent chocolate frostings I've ever had.
Grab a fork and share this with someone you love today! What says I love you more than Mayo? I'd say nothing

Chocolate Caramel Cake
2014-02-13 19:09:24
The best chocolate cake I've tasted (made with Mayo - who knew?) with a deep, dark chocolate frosting
For the Cake
Nonstick vegetable oil spray
2 & 1/4 cups all-purpose flour
3/4 cup natural unsweetened cocoa powder
1 & 3/4 teaspoons baking powder
1/4 teaspoon baking soda
1/2 teaspoon kosher salt
3 large eggs
1 & 1/2 cups sugar
1 & 1/4 cups mayonnaise (not low-fat)
1 tablespoon vanilla extract
1 & 1/3 cups lukewarm water
For the Frosting
12 oz. bittersweet chocolate, chopped (I used Trader Joe's 72% Chocolate Bar)
3/4 cup sugar
1/4 cup water
1 tablespoon honey (original recipe calls for corn syrup)
1 cup heavy cream
1 & 1/2 cups (3 sticks) unsalted butter, room temperature
To prepare your cake
Preheat oven to 325°. Lightly coat 2 - 9" or 3 - 8" cake pans with nonstick spray and line bottoms with parchment paper and then spray again.
Whisk flour, cocoa powder, baking powder, baking soda, and salt in a medium bowl.
Using an electric mixer on high speed, beat eggs and sugar until pale and doubled in volume, about 4 minutes. Add mayonnaise and vanilla and beat until just combined. With mixer on low speed, add dry ingredients in 3 additions, alternating with 1⅓ cups lukewarm water in 2 additions, beginning and ending with dry ingredients. Scrape batter into pans, dividing evenly.
Bake cakes, rotating halfway through, until a tester inserted into the centers comes out clean, 25–30 minutes. Transfer pans to wire racks and let cool 20 minutes before turning out onto racks. Let cool completely.
To Prepare Your Frosting
Put chocolate in a medium bowl. Bring sugar, water and honey to a boil in a small saucepan over medium-high heat, stirring to dissolve sugar. Boil, swirling pan occasionally and brushing down sides with a wet pastry brush or rubber spatula, until mixture turns a deep amber color, 10–12 minutes. Remove from heat and whisk in cream (mixture will bubble vigorously). Return to medium heat and cook, stirring, until smooth, about 2 minutes. Pour caramel over chocolate and stir until mixture is smooth; let cool, stirring occasionally.
Using an electric mixer on medium-high speed, beat chocolate mixture, gradually adding butter, until frosting is thickened and smooth, about 1 minute. Chill, stirring occasionally, until stiff enough to spread easily, 20–25 minutes.
To Assemble Cake
Place 1 cake layer on a cake stand or platter. Spread 1/3 of the frosting over to come just beyond edges. Place second cake layer on top, pressing down gently. (If using 3 layers, repeat process one more time). Spread remaining frosting over top and sides of cake. Chill in refrigerator until ready to serve. Let stand at room temp for about 5-10 minutes before cutting and serving.
Adapted from Bon Appetit
And They Cooked Happily Ever After http://www.andtheycookedhappilyeverafter.com/