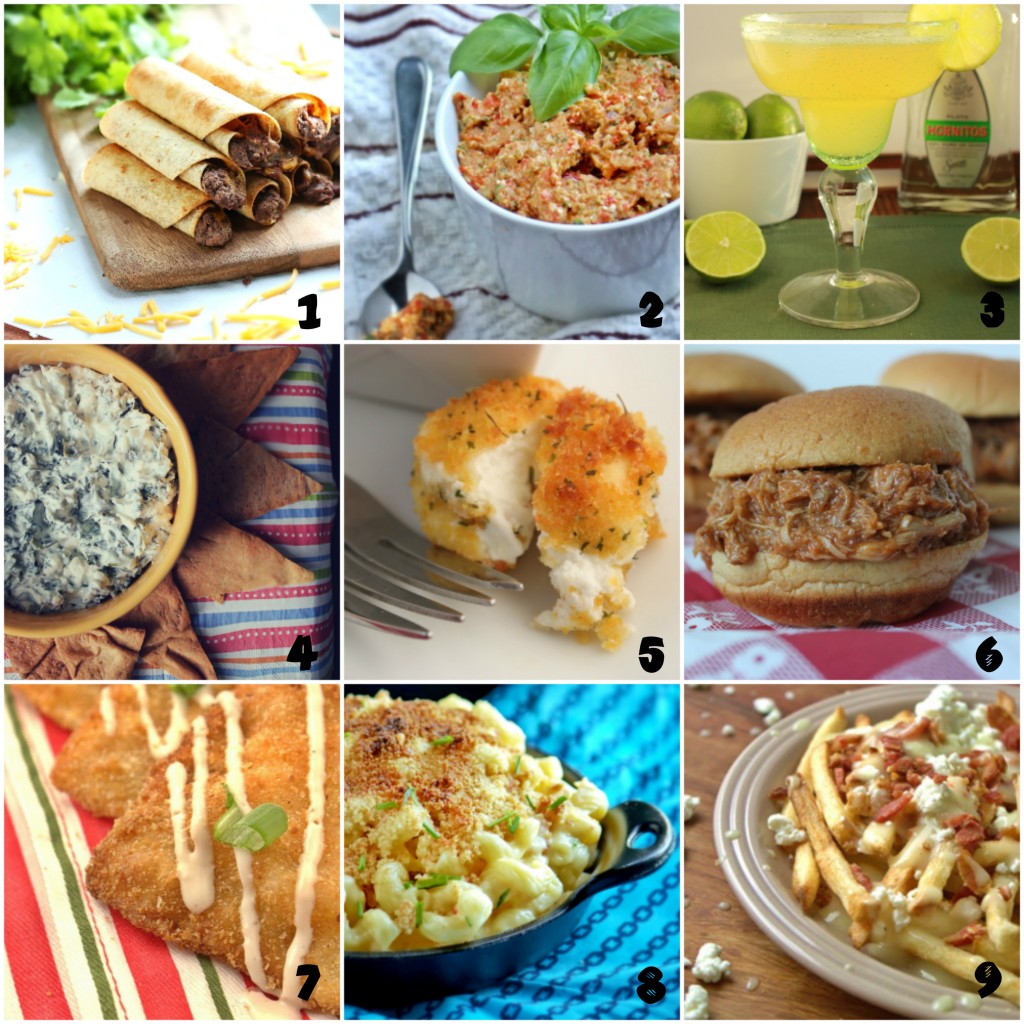 Superbowl Sunday is in FOUR days! (Yet I've already watched the Budweiser Superbowl commercial with the puppy in it enough times to mimick everything that happens in it).
It may just be one if the best days of the year, even if your team (AHEM) isn't on the field – there's something for everyone: for the men – jersey wearing , hand slapping, and shouting at the top of your lungs is fully acceptable. For the women: there's delicious food to eat, wine to drink, and the occasional attempt to 'pay attention' so you'll know what everyone at the office is talking about on Monday.
Here's 9 awesome Superbowl recipes for the big day from the archives – some healthy, some not even close, but all crowd pleasers for the pigskin lovers in your lives!
(number matches photo above)
1) Black Bean Taquitos – inspired by one of my favorite frozen apps from my main man Trader Joe, these Black Bean Taquitos are baked, not fried, low in fat and calories and they're even Weight Watcher friendly! Swap out the wings and Chilli for a couple of these healthy and delicious rolled bits of heaven.
2) Roasted Eggplant Dip – Roasted eggplant and veggies, feta cheese, basil – and when you get to the bottom of the bowl, you don't even have to feel guilty. 4 Weight Watchers points for the ENTIRE bowl. Get yourself some homemade pita chips or carrot sticks and you've got yourself a filling and ridiculously tasty dip.
3) Skinny Beergaritas – You can't have Superbowl Sunday with out a taste of beer. This is the best of both worlds. Oh and, it's not an entire day's worth of calories like most Margaritas are all by themselves!
4) Skinny Kale & Feta Dip – A lightened up version of a gameday classic – Spinach dip – only made with crunchy kale, salty feta and your own homemade pita chips! Go ahead – double dip
5) Fried Goat Cheese Balls – Ok – now the good stuff. Goat Cheese rolled into a ball, dipped in crushed up Funyuns and fried to perfection.
6) Bruce's Pulled Chicken Sliders – Still one of my most favorite Crockpot/BBQ recipes of all time. It's as easy as throwing some ingredients in a crockpot, setting it, forgetting it, but then remembering it when you smell the heavenly aroma of pulled chicken. Then you slap it on a slider roll, and life has never been better.
7) Toasted Buffalo Chicken Ravioli – Sadly one of my worst photos, but happily one of my best recipes. Seriously. OMG. If you're a a) toasted rav and b) buffalo chicken fan, run to the store. Now. Go.
8) Bacon, Chicken & Chive Macaroni & Cheese – The folks at The Local in Newton broke the Mac & Cheese mold when they made this dish (and then when I copied it). Creamy mac and cheese dispersed with chunks of bacon and chicken
9) Poutine with Bacon and Goat Cheese – The one reason I would move to Canada. Salty fries – gravy – goat cheese – bacon. SWEATPANTS.