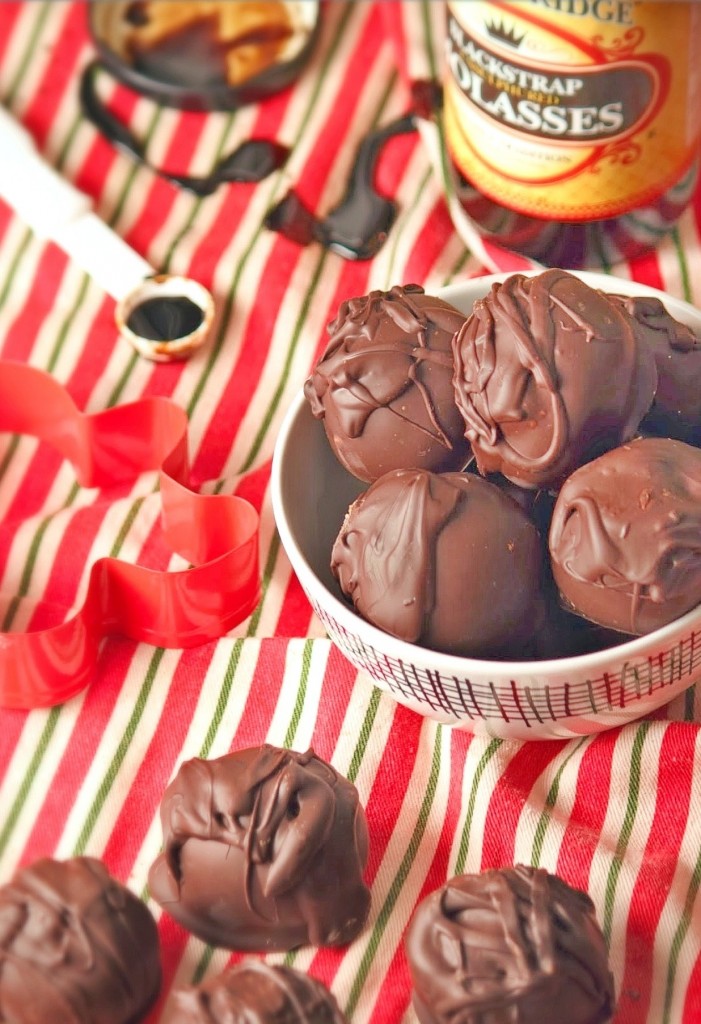 I think being resourceful is one of the biggest gifts a truly talented chef has. Like on Chopped – when you open your basket and they give you a pile of dog poop, twenty minutes, and you're expected to make culinary magic.  And somehow, it always happens! So when I'm in the kitchen, I try to remember all those ridiculously talented cooks out there who may often times get handed with lemons – and not only do they make lemonade, they make it look really fancy, and may even put some booze in it.
What were my lemons? These Ginger Molasses cookies, another recipe from Ashley (i.e. my friend whose recipes I steal 95% of). She made them last year and she has a way with cookies. She just knows how to make them taste good. Probably because she has patience and a gentle touch and a cute little sneeze that is very unintimidating to the cookies.  So I made them last year for one of my cookie plates. And they came out perfect.  I wanted to make them again this year, but add a spin from this great place in Boston called Ginger Betty's (she basically takes soft ooey gooey Ginger cookies and then slathers them in dark chocolate. We need to meet).
This is what they looked like.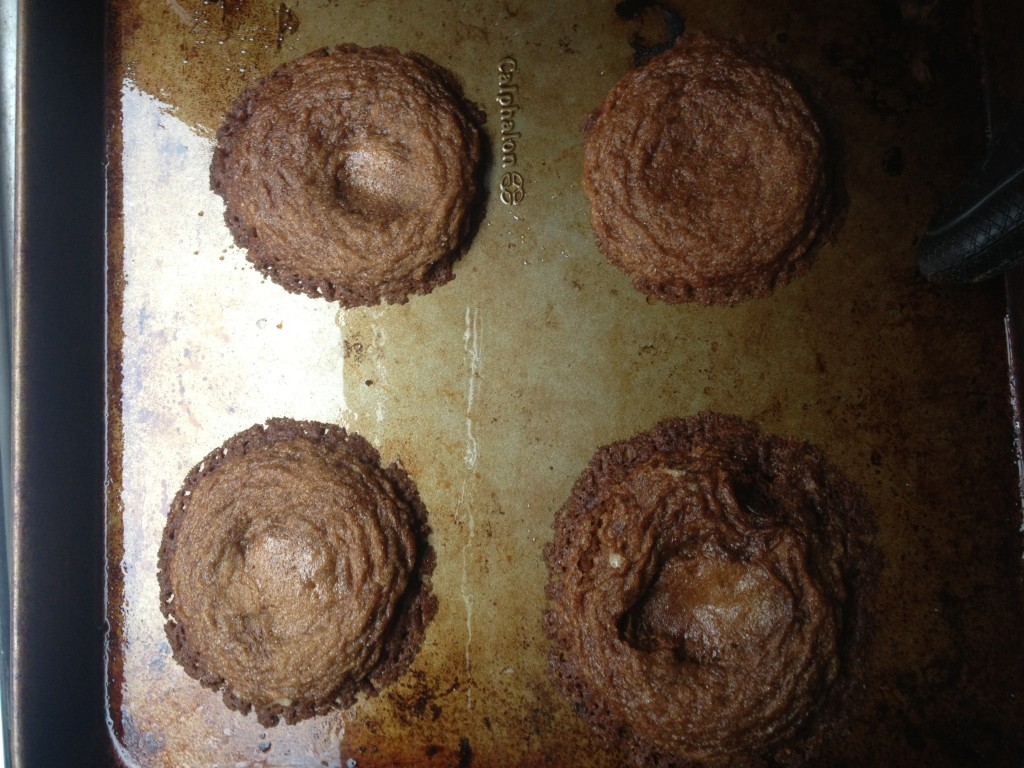 Sigh.  I think one of the things about baking that I love and hate the most is that it's a science. You canNOT do anything wrong or you will be left with tird shaped cookies that you couldn't pass off to your dog (trust me – Hairy took one sniff and ran for the hills).  But that's what makes it so worth while when you knock one out of the park! That it's not just a pinch of this and a dash of that – it's true craftsmanship to make a baked item perfectly.
The most frustrating part about these was that the taste was there! They were amazing! Just like I remember, minus the super crunchy edges and the doughy center (I am not choosey when it comes to cookies).  It was painful to think of throwing them away. So I thought hard – scratched my head – probably ate 2 of the cookies in my thought process.  And it came to me – food processor – cream cheese – chocolate. BOOM. TRUFFLES. Never disappointing.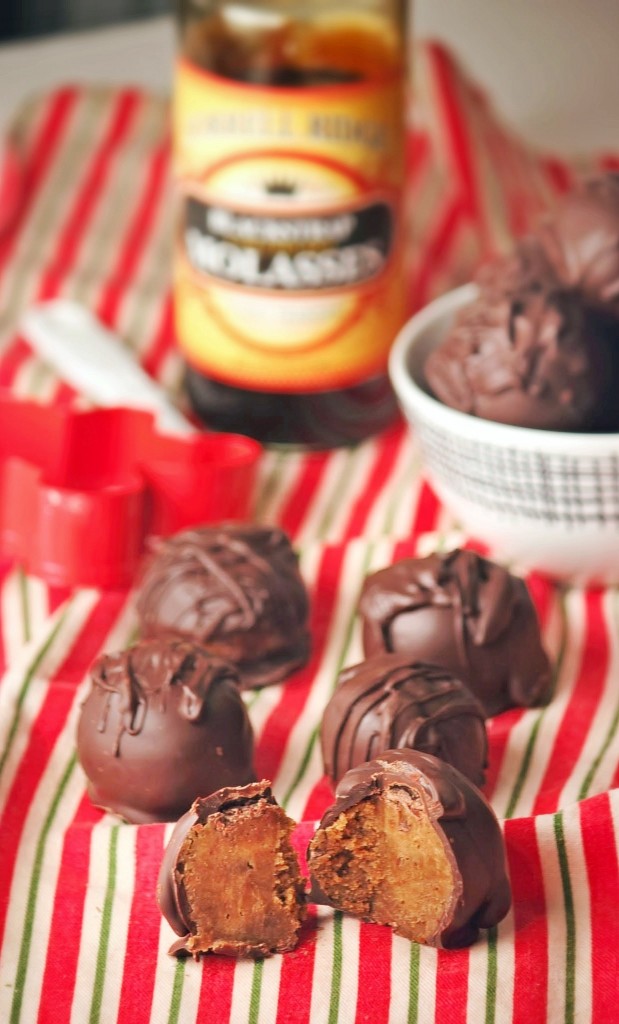 Now you can make these cookie as they are. It's an AWESOME recipe if you like ginger/molasses flavored cookies. I truly have no idea what went wrong, except that maybe I chilled them just a hair too long. I throw my hands up.  However, I think if you wanted to make a gingerbread truffle, you could save yourself some time and use a store-bought cookie. Or make a double batch and do half cookies/half truffles. Either way, they are both perfect for your Christmas Cookie Swap or wrapped up in some pretty cellophane wrap for an easy gift.
Or you could just stuff your face with them to alleviate the stress of the holidays (7 SHOPPING DAYS LEFT!)
Dark Chocolate Gingerbread Truffles
Ingredients
For Ginger Molasses Cookies:

3/4 cup of unsalted butter, melted and cooled to the touch
1 cup packed light brown sugar
1/4 cup unsulfured dark molasses
1 egg
2 cups un-bleached all-purpose flour
1 teaspoon baking soda
1 teaspoon ground ginger
1/2 teaspoon ground cinnamon
1/2 teaspoon kosher salt
1/4 teaspoon ground cloves
granulated sugar for coating

For truffles:

8oz. dark chocolate (either chocolate chips or a chocolate bar - TJ's 1lb'ers are my go to)
1 8oz block of cream cheese, softened to room temperature (about 1-2 hours)
Instructions
To prepare the cookies:
1) Mix together butter, sugar, molasses, and egg on low speed for about 20 seconds or until well combined.
2) In medium bowl, stir together the flour, baking soda, ginger, cinnamon, salt, and cloves until well mixed. Add flour mixture to the butter-sugar mixture and stir until just combined.
3) Refrigerate dough for 3-4 hours or overnight. When ready to make your cookies, preheat oven to 350 degrees F. Measure 2.5 ounces of cookie dough and roll into a ball. Roll balls through granulated sugar. Place on baking sheet and cook for 16-18 minutes. Let cool for about 10 minutes on a cooling rack.
4) To assemble your truffles: place your cookies in a food processor and pulse until they become crumbs. Cut the block of cream cheese in half and add to the cookie crumbs, continuing to pulse to combine the cream cheese into the cookie crumbs. Then add the other half of the cream cheese and continue to mix. It will be a really thick mixture. Sometimes it may be easier to take the dough out of the bowl of the food processor and just form the truffle dough with your hands.
5) Chill your dough for an hour in the fridge. Then, take about 1 tablespoon of the dough, roll into a ball between the palms of your hands, and place on a wax paper lined baking sheet. Chill truffles for about 1/2 hour, just to set the shape.
6) Melt your dark chocolate in a double boiler or microwave and dip each truffle in the chocolate, setting them back on the wax paper lined sheet until they dry. Store in the refrigerator until ready to serve.
http://www.andtheycookedhappilyeverafter.com/2013/12/19/dark-chocolate-gingerbread-truffles/
Copyright And They Cooked Happily Ever After