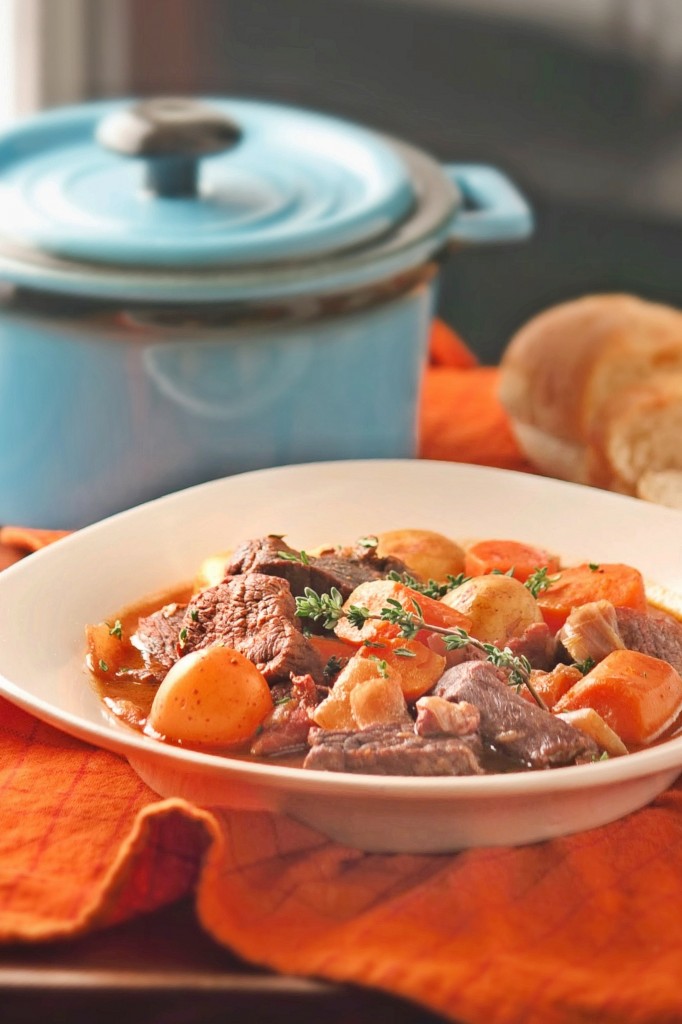 The Crockpot and I have been having a secret (or totally out in the open) love affair lately. It's just like a gift sent from heaven. Throw a bunch of stuff in a pot, press a button, and dinner appears before your eyes. Can I get a' amennnn! There are some Crockpot recipes that take a little more doing, and others where you literally just throw stuff inside and let it do it's thing. This beef stew has a few steps before the throwing in can occur, but it's worth every last dribble of beef juice on your shirt. And I can say that because I have made a lot of beef stew in my life time. It may be one of my favorite things to make in the cold winter months. The best part about it is that you can always add and take away ingredients and somehow it always ends up tasting amazing.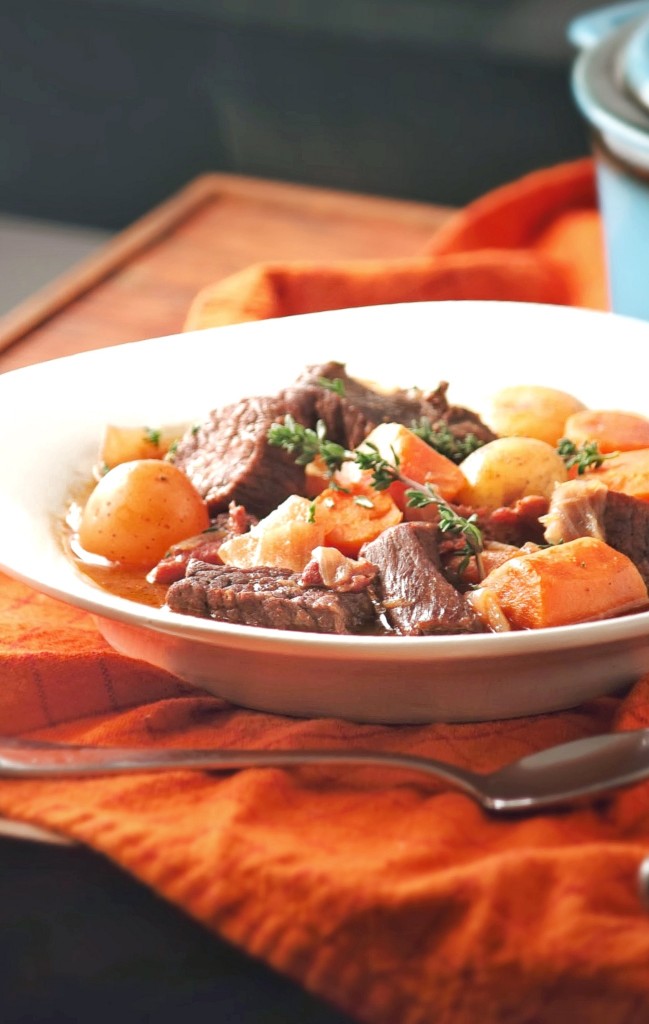 But I know I got a keeper with this one.  Besides some pre-browning of meats and sauteeing of veggies, it's pretty much a set it and forget it'er.  In this recipe, I added those cute little roaster potatoes, but it is also dreamy served on top of mashed potatoes if you've got a little extra time on your hands.  And lastly, I personally like a bit of a thicker broth, hence the last steps of making a bit of a gravy in the final steps of the cooking process. But this is optional really – the broth has so much flavor. It's really just a texture preference.
It's beeeefeeeeeyyyyyyy.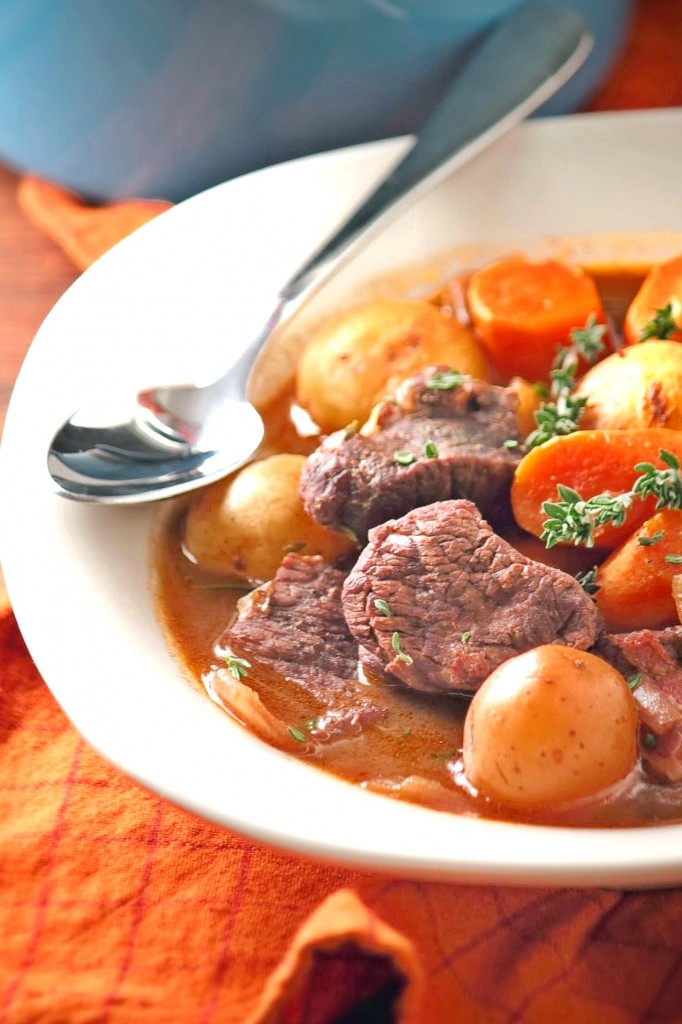 Best Ever Crockpot Beef Stew
Ingredients
3 slices bacon, uncooked
1.5 - 2lbs beef stew meat
Salt and pepper to taste
1 medium onion, sliced
1/2 teaspoon paprika
1 tablespoon balsamic vinegar
1/2 teaspoon brown sugar
2 cups beef broth
1 cup red wine
2 tablespoons ketchup
1 tablespoon tomato paste
Sprig fresh thyme
Sprig fresh rosemary
2 garlic cloves, sliced
2 carrots chopped into 1" pieces
1/2 pound (about 10-12) boiler potatoes
2 tablespoons butter
2 tablespoons flour
Instructions
1) In a medium/large skillet, cook the 3 pieces of bacon until crunchy. Crumble into pieces and throw into the crockpot. Season the beef with salt and pepper and then brown on both sides in the same skillet as the bacon. Set beef in crockpot with the bacon.
2) Slice your onion, sprinkling the paprika, balsamic vinegar and brown sugar over the slices, and sautée it in same pan as bacon/beef for about 2-3 minutes until they just start to become fragrant. Add onion slices to crockpot with the beef and bacon, scraping all the bits from the pan into the crockpot.
3) In a small mixing bowl, whisk together the beef broth, wine, ketchup and tomato paste. Pour the mixture over beef and onion mixture in the crockpot. Add the thyme, rosemary, garlic cloves, carrots and potatoes. Cook on high for 4-5 hours or low for 6-7.
4) About 1 hour before cooking time is through, take almost all of the broth from the crockpot (a turkey baster works well) and set it aside in a bowl. In a separate small saucepan over medium heat, melt the butter. Once the butter is melted, slowly whisk the flour into it, stirring constantly, until the two are fully combined. When they're fully incorporated, slowly whisk in the liquid from the crockpot until a thick gravy starts to form (about 3-5 minutes). Keep wishing until combined, then add the gravy back to the meat and veggies in the crockpot and stir to coat. Let cook for another 1/2 hr- 1 hr on low. Serve hot with a huge piece of crusty bread, or over mashed potatoes!
http://www.andtheycookedhappilyeverafter.com/2013/12/11/best-ever-crockpot-beef-stew-no-for-real-it-is/
Copyright And They Cooked Happily Ever After