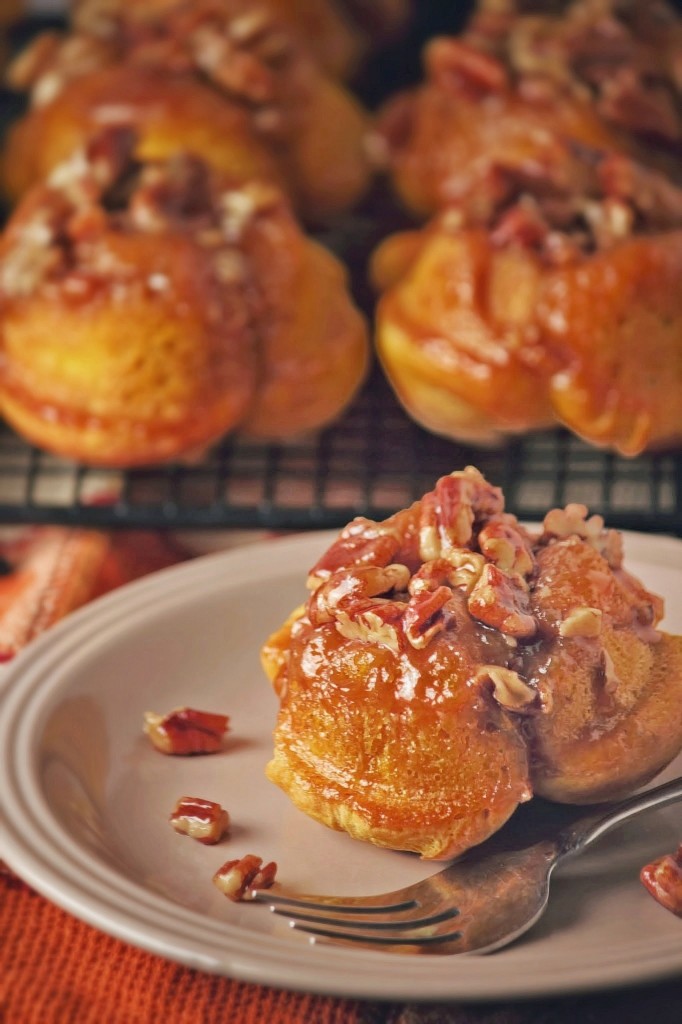 Don't be fooled Boston'ers – even though it was almost 70 degrees yesterday, we're still only about a month away from Christmas and just about a week from Thanksgiving! Eeeeeeeee! I can smell the Balsam already!
Everyone's got those holiday dishes that are a must every year, whether they've been passed down from generation to generation, or they're a seasonal item that can only be enjoyed around this special time of year. For me, it's Grammy Murphy's Pecan Rolls. It's not enough for us Murphy's to have more desserts than regular food items at every holiday gathering – we have to try to make our regular food items like dessert too.  And that is what these pecan rolls are. It's like a lame old dinner roll that you could have on any given Sunday. But at the bottom, there's a sticky, gooey surprise of sweet, caramel pecan glaze, that makes it essential to eat the bottom first. It shouldn't be a surprise that when I asked for the recipe, there wasn't one to be found. Because it was written down in the notepad that is Grammy Murphy's head, proof that the best recipes in life don't come from a book, but from the memory of those who make them, year after year, so much so that they can rattle them off without a second thought.
Although I must admit, I added one slight twist to her original recipe – a pumpkin twist, using pumpkin dough instead of regular bread dough. Because well, my pumpkin using days are numbered, and because the combination of pumpkin and this sweet pecan glaze is just out of this world.
So don't be alarmed when your family members fall at your feet, smooching your Ugg boots when you unload these onto the Thanksgiving table. And if they don't, take their temperature. Fast.
Ingredients
For the Dough:

1/2 cup warm water
2 packages active dry yeast
2/3 cup warm milk
2 large eggs, beaten
1 & 1/2 cups pumpkin puree
2 tablespoons vegetable oil
7 cups (about) all-purpose flour
1/2 cup brown sugar
2 teaspoons salt
2 teaspoons pumpkin pie spice

For the Pecan glaze

1 stick (1/2 cup) unsalted butter
2 cups packed brown sugar
1/2 cup milk or heavy cream
2 cups chopped pecans
Instructions
Prepare the dough:
1) In a large bowl, stir the yeast into the warm water. Add the milk, eggs, pumpkin, oil, 4 cups flour, brown sugar, salt and pumpkin pie spice to the yeast mixture. Beat ingredients together for 2 minutes until combined.
2) Add the remaining 2.5-3 cups of flour, a little at a time, until the dough stiffens enough to knead. You may not need the entire additional 3 cups. I used about all of it though. Turn the dough out onto a WELL-floured surface, kneading it until you have a smooth ball of dough. Place the dough into an oiled bowl, cover with a towel and let rise for about 1-2 hours, until the ball of dough has doubled in size. It helps to try to put it on a warm surface.
3) After the dough has risen, turn it onto a lightly oiled surface. Form a long rectangle with the dough, and cut it into 24 slices. Take each slice of dough and rip it into three pieces, rolling each piece of dough in between your hands to form a ball (each roll will be comprised of 3 dough balls). Set the dough balls aside.
4) Preheat your oven to 375 degrees F.
5) Prepare the pecan topping by melting the butter, brown sugar and milk (or cream) together in a saucepan over medium heat, bringing it to a boil, stirring frequently. Remove from heat once it begins to boil and add the pecans.
6) Take a 12-muffin tin and grease it well with either butter or non-stick cooking spray. Pour the pecan topping into the bottom of the muffin tin, filling it about 1/3 of the way. Then take the 3 dough balls and place gently on top of the pecan topping in a triangle shape. Once you've filled your muffin tins, place the towel back over the top of the rolls and let the dough rise again for another 20 minutes or so.
7) Place the muffin tin with the rolls on a baking sheet (the pecan topping will bubble up over the muffin tin while they're baking so you don't want it to leak all over the inside of your oven). Let rolls bake for 20-25 minutes until they start to turn golden brown on the top.
8) Remove rolls from the oven and immediately turn them over onto a cooling rack, so that the glazed part of the roll is on the top and the unglazed part is on the bottom. Add additional glaze if you'd like. Serve warm for best results!
http://www.andtheycookedhappilyeverafter.com/2013/11/19/pumpkin-pecan-rolls/
Copyright And They Cooked Happily Ever After