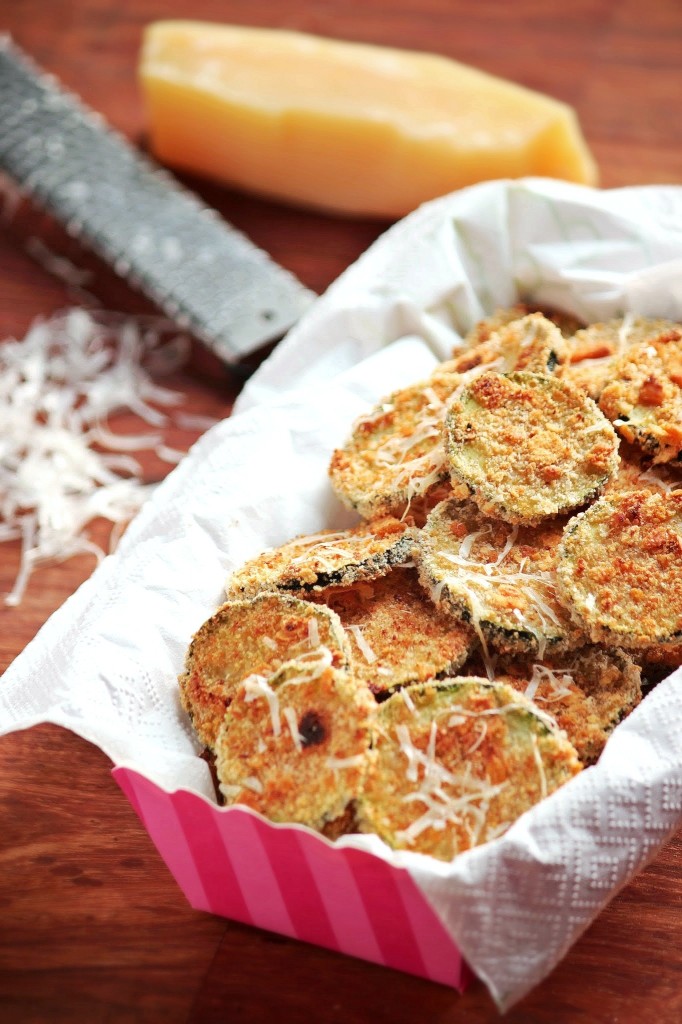 Zucchini is BLOWING up lately. I'm seeing it everywhere – on pizza – in cookies – cakes – breads.  What in the world?
Zucchini is one of those veggies that I always tend to put in my basket at the grocery store.  It's like a veggie staple. And then I get it home and have no clue what to do with it – I always end up just roasting it or sauteeing it with some salt and pepper. B-O-R-I-N-G.
Well, things will be different now that these Zucchini crisps have come into my life.
I actually saw these Zucchini Crisps from Ellie Krieger while I was reviewing the ingredients for Ina's Roasted Eggplant dip, the inspiration for my own version of Roasted Eggplant Dip. I thought "oooh – they're like chips – but they're cheesy – and I guess maybe a little healthy too". I was intrigued.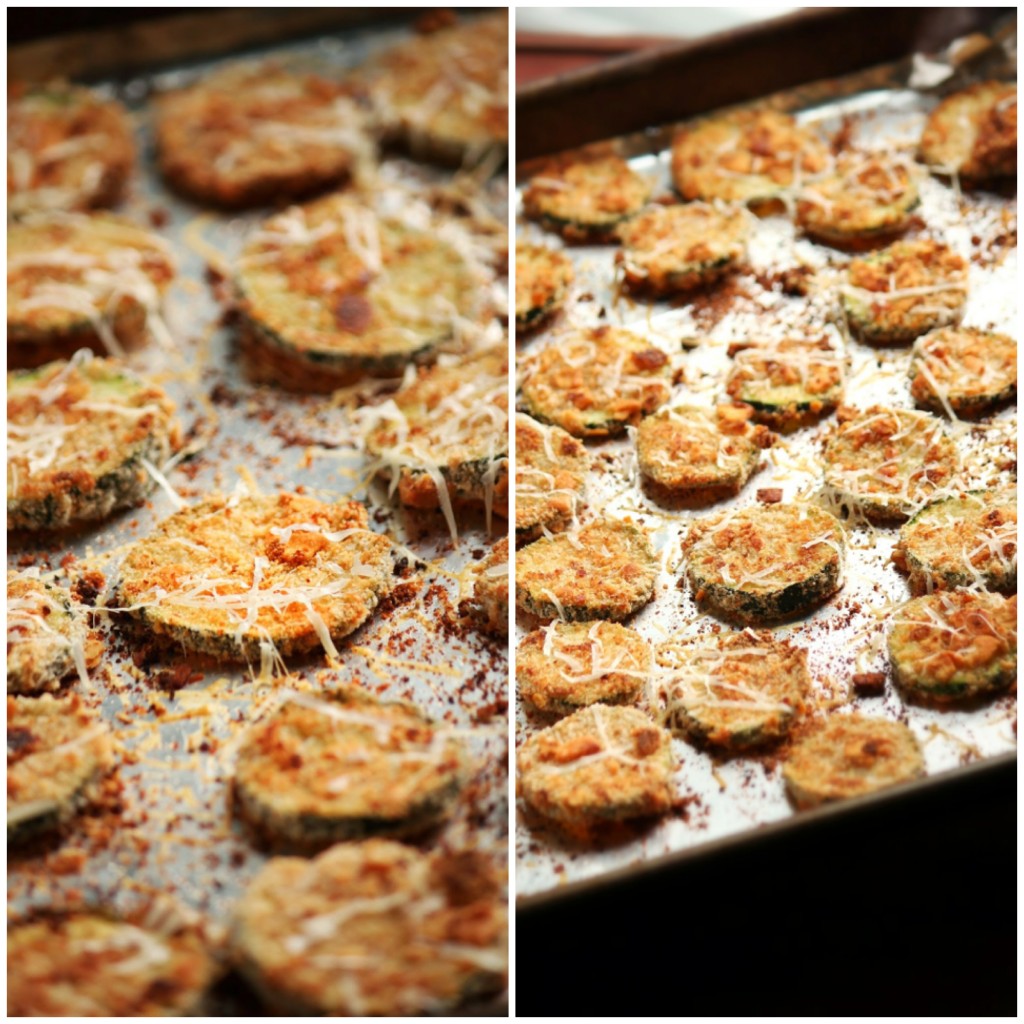 But when I saw them again on Smitten Kitchen's Facebook feed a couple days later, it was confirmed. Must.make.these. So instead of fries with our burgers, we had Cheesy Zucchini Crisps! I took Ellie & SK's recipe, and added a little twist of my own, swapping out the parmesan cheese with your favorite cheddar snack and mine – Cheez-its.
Dipped in a little ketchup or ranch dressing, why I may never eat a fry again (that's a lie) – but these are my new favorite fry alternative!
*Adapted from Ellie Krieger & Smitten Kitchen
Ingredients
1 medium or 2 small zucchinis
1/2 cup reduced fat Cheez-its
1/2 cup plain bread crumbs
2 egg whites
2 teaspoons water
salt and pepper to taste
1/2 cup shredded parmesan cheese
Instructions
1) Preheat your oven to 450 degrees F. Line a baking sheet with aluminum foil and spray with non-stick cooking spray.
2) Slice your zucchini about 1/8-1/4" thick (I think the thinner the better as they get crunchier when they're thin) and set aside.
3) Crush up your cheez-its with your hands or in a food processor. Place them in a small mixing bowl. Add the breadcrumbs and mix together. Set cheez-it/breadcrumb mixture together.
4) In a medium sized mixing bowl, whisk together the egg whites, water and salt and pepper. Dip each zucchini slice in the egg white mixture and then in the cheez-it/breadcrumb mixture, and then place on the foil lined baking sheet. When all your zucchini discs have been dipped, sprinkle the shredded parmesan cheese over them, and then bake in your preheated oven for about 30 minutes, flipping them over half way through the cooking time. Let cool slightly and serve with ketchup or ranch dressing.
http://www.andtheycookedhappilyeverafter.com/2013/09/09/cheesy-zucchini-crisps/
Copyright And They Cooked Happily Ever After