I'm a creature of habit in a lot of ways, especially when it comes to restaurants. As much as Dave and I like to go out and try the plethora of dining options in Boston, once we find one that we really love, we tend to go back to them again and again and again (and maybe one more time after that).  One of those places is The Local in Newton, about 10 minutes outside of Boston.  If you were to ask what's so unique about it, I don't know that I would tell you, because honestly their menu is simple – nothing too fancy or out of the ordinary, but it's just so good.  Their heavy handed pours of wine (all $8 a glass), homemade potato chips with french onion dip, and what Dave swears is the best lobster roll in Boston keep us and many others coming back for more.
Being the creature of habit that I am, I always tend to order the same thing when we go. But recently, my friend Ash who is also a Local frequenter introduced me to their Chicken, Bacon and Chive Mac & Cheese. I had never dabbled into the mac & cheese options before, but now that I have, there's no turning back. Last Friday when trying to figure out what to make for dinner, I realized I had just about all the ingredients to attempt to recreate this Local gem. And while I believe that things are never quite as good as when someone else makes them for you, I'd say it was pretty close.
Feel free to use your favorite cheese combination – cheddar is always a safe bet with mac and cheese but get creative! Gouda, fontina – the bacon/chicken/chive flavors will go with just about anything.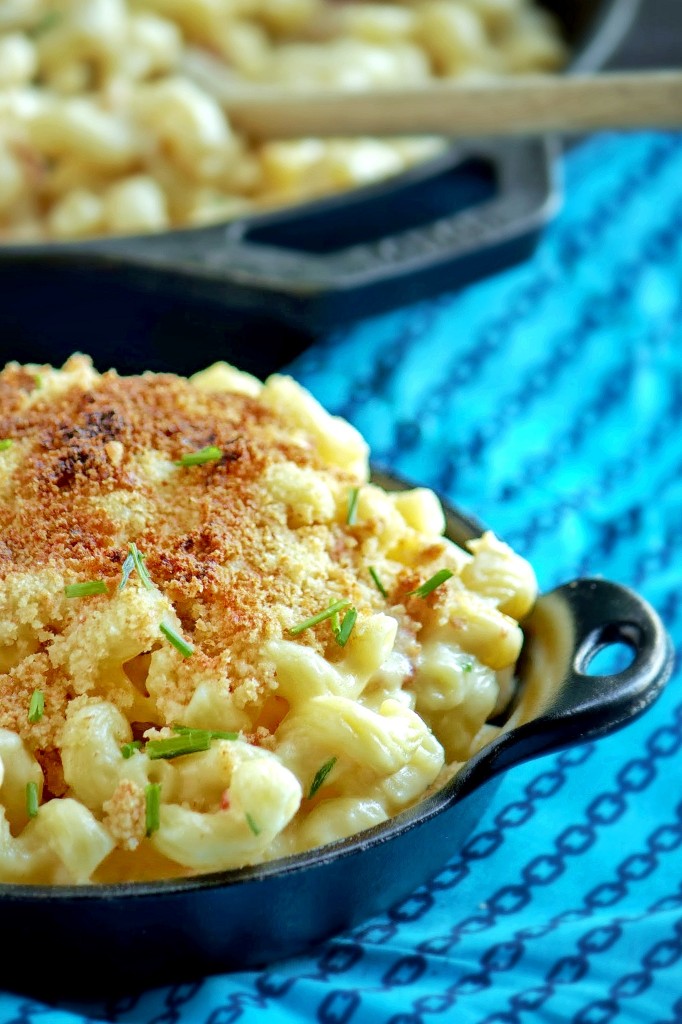 Chicken, Bacon & Chive Macaroni & Cheese, inspired by The Local in Newton
Ingredients
1 lb pasta (I used Cavatelli, but any tube style pasta will work)
2 tablespoons unsalted butter, plus 4 tablespoons for breadcrumbs (6 total)
2 teaspoons dry mustard
2 tablespoons flour
2 & 1/2 cups half half
8oz cheddar sharp cheddar cheese
1 cup cheddar jack cheese
1/3 cup sour cream
8 slices cooked bacon, chopped
1/4 cup chives, chopped
2 cups cooked chicken
1 cup bread crumbs
2 cloves garlic
Instructions
1) Preheat your oven to 350 degrees F. Lightly grease a 9x13" baking dish with non-stick cooking spray or butter. Cook your pasta in a pot of boiling, salted water until al dente. Set your cooked pasta aside.
2) Melt 2 tablespoons butter over medium heat. Stir in the flour and mustard with a wooden spoon until smooth. Whisk in the half-and-half, then the cheeses and sour cream until smooth.
3) In a large mixing bowl, add the cooked pasta, cheese sauce, cooked bacon, chives and chicken and fold them all together until fully combined. Pour the mixture into your greased baking dish.
4) To prepare your breadcrumbs, heat the other 4 tablespoons of butter in a small saucepan. When the butter is just about melted, add the two garlic cloves and stir them in the butter. Stir them for about 2-3 minutes, until the garlic just starts to become fragrant, making sure the cloves don't burn. Discard the two garlic cloves and pour the butter into a small dish. Add your breadcrumbs to the melted butter and then sprinkle them over the top of the macaroni and cheese mixture.
5) Bake the macaroni and cheese in your preheated oven for about 30-40 minutes, until the breadcrumbs just start to brown on the top. Let sit for about 5-10 minutes before serving.
http://www.andtheycookedhappilyeverafter.com/2013/09/03/chicken-bacon-chive-macaroni-cheese-inspired-by-the-local-in-newton/
Copyright And They Cooked Happily Ever After