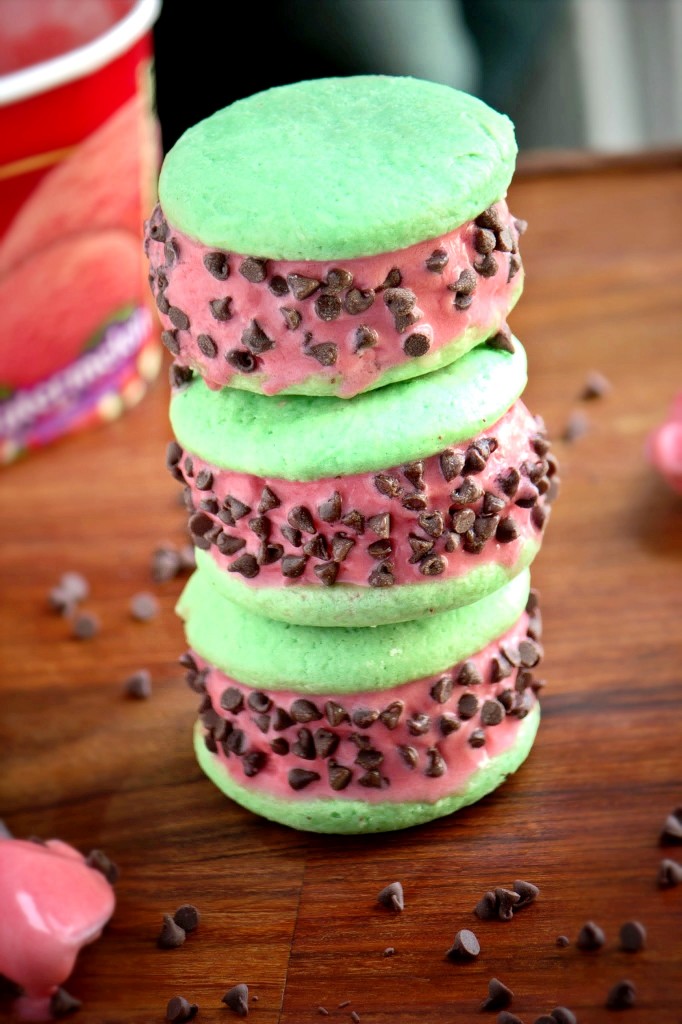 Did you hear it was Labor Day weekend? Yeah. Summer is pretty much over.  And I'm in a serious state of conflict because while I love summer, I LOVE LOVE LOVE fall and well, I'm pretty excited for it.  So thank- you summer – you've been fun – you've been hot – you provided a lot of fun mems.  But pumpkin is calling my name

Anyhow, as a summer send off, this dessert is to honor one of my most favorite summer treats – watermelon. It's like candy really, but healthy candy. Candy that your Dr. wants you to eat. It's pink, juicy. And it 's sherbet sister is one of the most refreshing things you can treat yourself to on a hot summer day.
Anyone who follows me on instagram and were curious about what was going to happen with that green dough (which of course, I most certainly did lick the beaters….and the bowl) – welp – here they are folks! Watermelon Sherbet Chipwiches.
Have a wonderful Labor Day weekend everyone!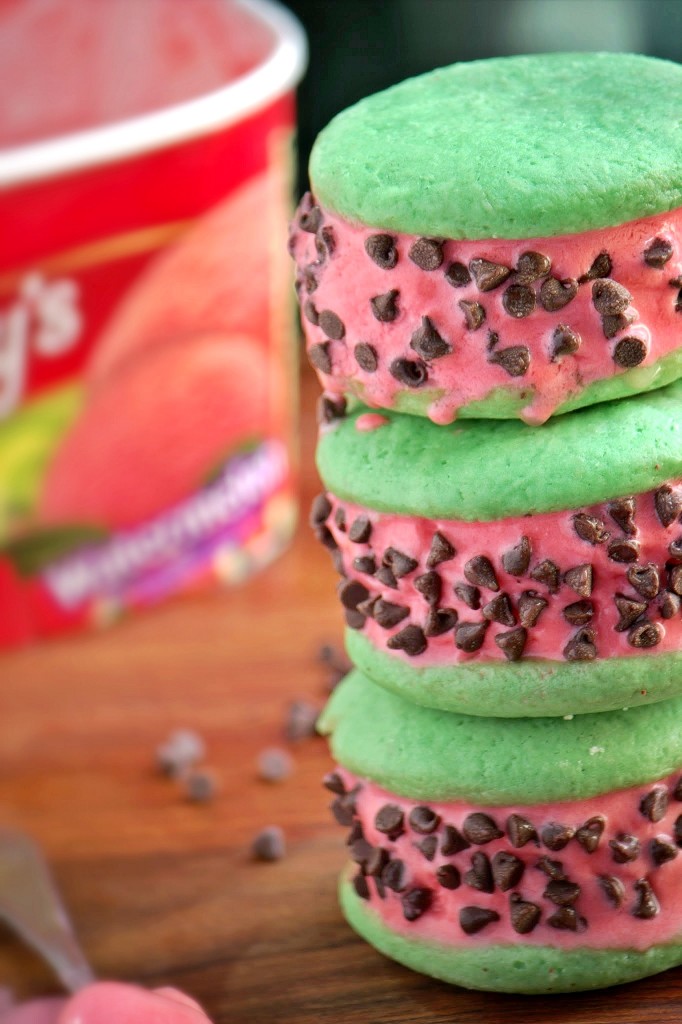 Watermelon Sherbet Chipwiches
Ingredients
For the Sugar Cookies:

1/2 cup (1 stick) unsalted butter
1 cup sugar
1 egg
1 & 1/2 teaspoons vanilla
1/2 cup sour cream
green food coloring
1/2 teaspoon salt
1 teaspoon baking soda
2 & 3/4 cups flour

For the sandwiches:

watermelon sherbet
mini chocolate chips or chunks
Instructions
To Make the Cookies:
1) Preheat oven to 375 degrees F.
2) In a large mixing bowl, cream together the butter and sugar until fluffy. Then add the egg, vanilla and sour cream and mix again until combined. Fold in the green food coloring until the mixture reaches your desired shade of green.
3) In a medium bowl, sift together the flour, salt and baking soda. Then gradually add the dry mixture into the wet until a dough starts to form. The dough will be very sticky.
4) Roll dough out onto a piece of plastic wrap and cover. Refrigerate the dough for at least an hour, up to 4 hours.
5) After the dough has chilled, roll it out onto a well floured surface until it's about 1/4" thick. Take a cookie or biscuit cutter about 3" in diameter and cut circles out of the dough, placing them on a greased cookie sheet.
6) Bake cookies in a preheated oven for 8-10 minutes (10 minutes max). They may appear to not be fully cooked, but you don't want to over bake them. Let them cool on the cookie sheet for five minutes, and then move to a wire cooling rack.
To assemble your chipwiches:
1) Take your watermelon sherbet out of the freezer and let sit for about 5 minutes to soften a bit. Take about 1/2 cup of the sherbet, place it on one cookie, and then GENTLY press down on the sherbet with another cookie on top. With the back of a spoon (or even your finger) smooth the edge of the sherbet so it's flush with the edges of the cookies. Sprinkle the edge with mini chips or chunks. Freeze your chipwiches or serve right away as they will melt fast!
http://www.andtheycookedhappilyeverafter.com/2013/08/30/watermelon-sherbet-chipwiches/
Copyright And They Cooked Happily Ever After