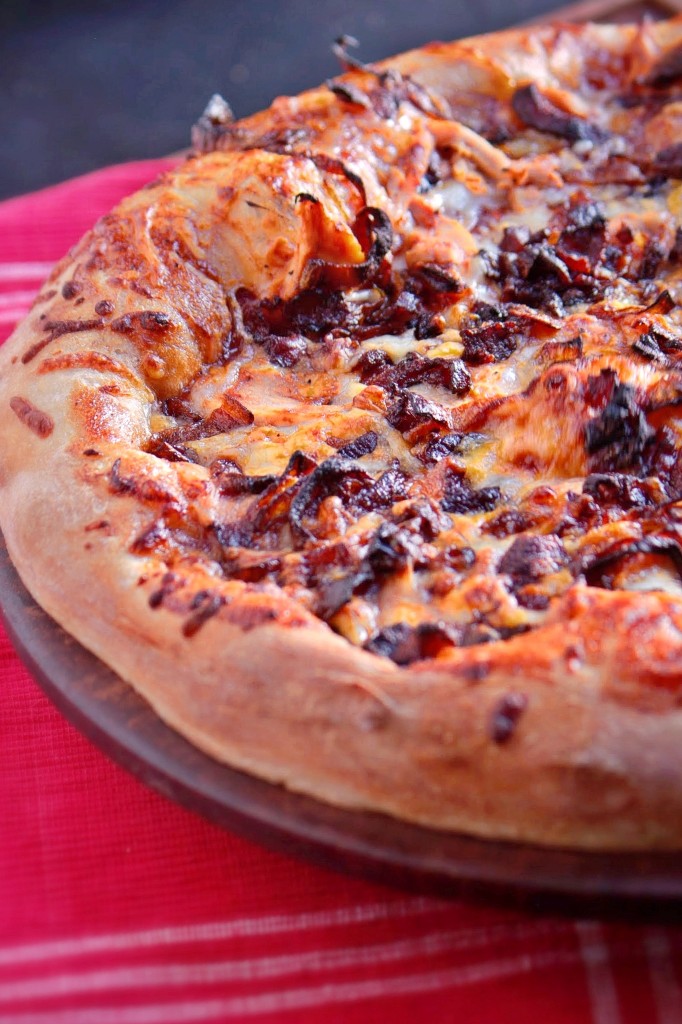 This pizza night installment though is a simple one – BBQ chicken – caramelized onions – bacon – pizza dough. Yes. This was my first time ever caramelizing onions if you can believe that, and it was a bit more of a process than I expected. By far the longest part of the pizza making process. But something came over me while I was stirring and caramelizing. I thought of bacon.  And how it might taste good if there were little bits of bacon mixed in with the caramelized onions.  That and the fact that the fat from the bacon would probably add a little more flavor.
I love when I'm right

(p.s. this photo was taken at 8pm, when it was almost dark out – not my best clearly, but photo editing is magical!)
Ingredients
1 ball of your favorite pizza dough
1 cooked chicken breast, sliced, cubed or shredded
1/2 cup your favorite BBQ sauce, plus 1/4 cup
1 large onion
extra virgin olive oil
2 tablespoons kosher salt
1 tablespoon sugar
4 slices uncooked bacon, cut into cubes
1 cup cheddar jack cheese (a combination of cheddar and moneterrey jack cheese)
Instructions
1) Preheat your oven to 500 degrees F.
2) To carmelize your onions: - Slice your onion. Coat the bottom of a heavy skillet with the olive oil and heat over medium heat for about 2 minutes. Then, add your onion slices, coating them in the olive oil, stirring occasionally for about 10 minutes. After ten minutes, add the salt and sugar and coat the onions with them. Continue to cook for another 10 minutes, stirring frequently. After the onions have been carmelizing for about 20 minutes, add your bacon to the mixture and continue to cook for another 10-15 minutes, until the onions are a rich brown color and the bacon is cooked. Be sure to keep an eye on the mixture so that the onions and bacon don't burn.
3) Take your sliced, cooked chicken and coat it with another 1/4 cup of the BBQ sauce.
4) Roll out your pizza dough and place on a pizza stone. Layer your BBQ sauce on the crust, adjusting the amount depending on how much sauce you prefer. 1/2 cup will give you a thin layer. Sprinkle the cheese on top of the sauce, and then top with the chicken and the carmelized onion/bacon mixture.
5) Cook pizza in preheated oven for about 10-15 minutes until cheese starts to turn golden brown.
http://www.andtheycookedhappilyeverafter.com/2013/08/22/barbecue-chicken-pizza/
Copyright And They Cooked Happily Ever After