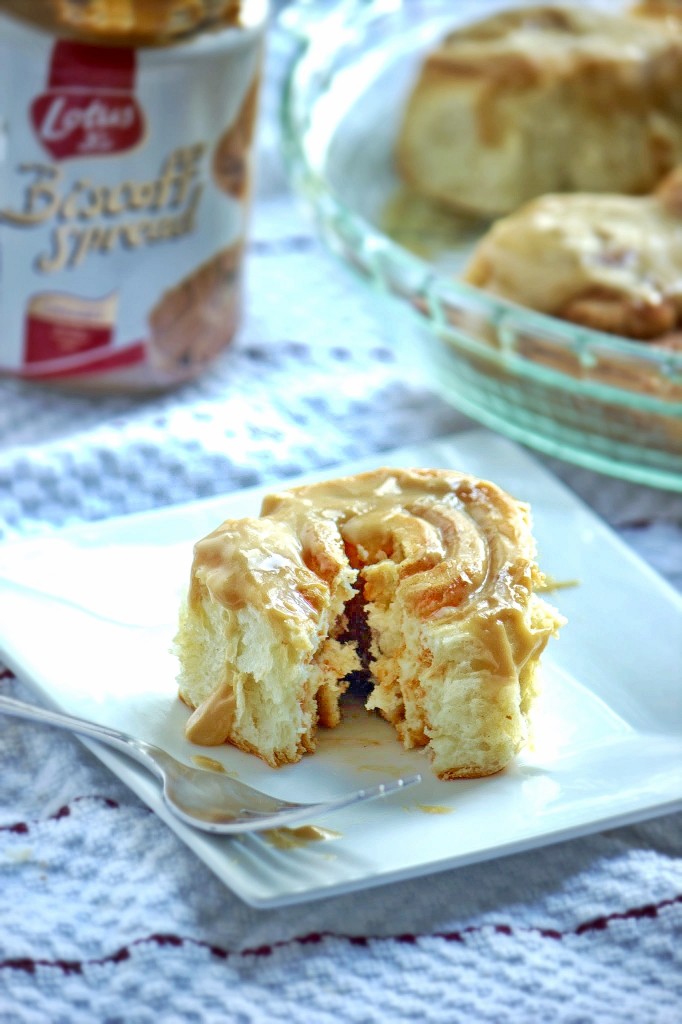 There's not many times that I've been able to say my life will be different knowing that a food product exists.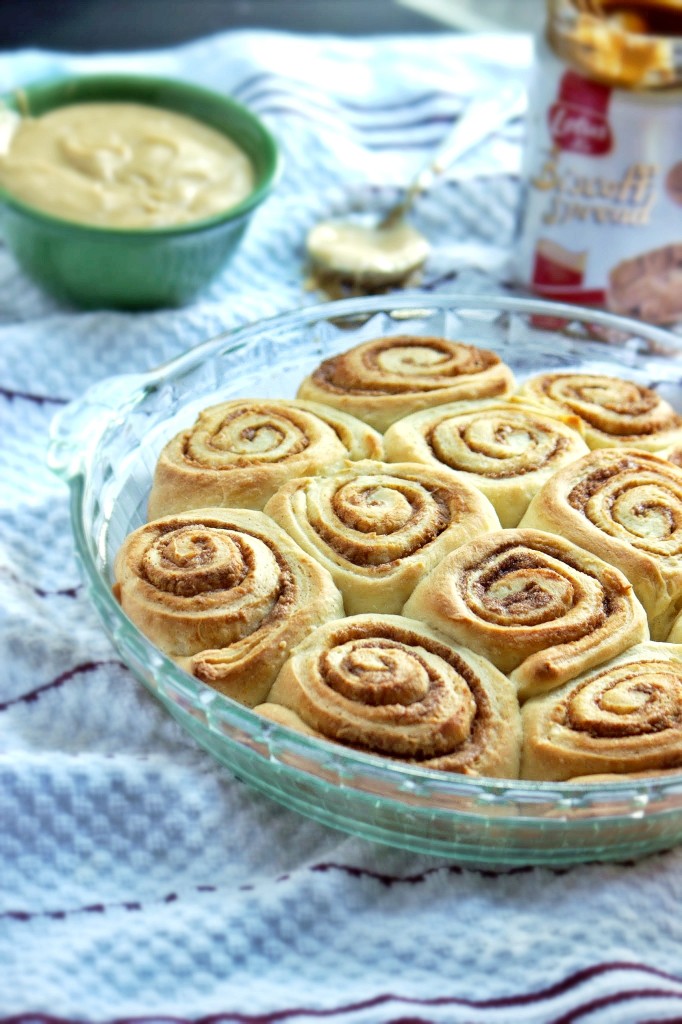 But that all changed when I bought my first jar of Biscoff Spread yesterday.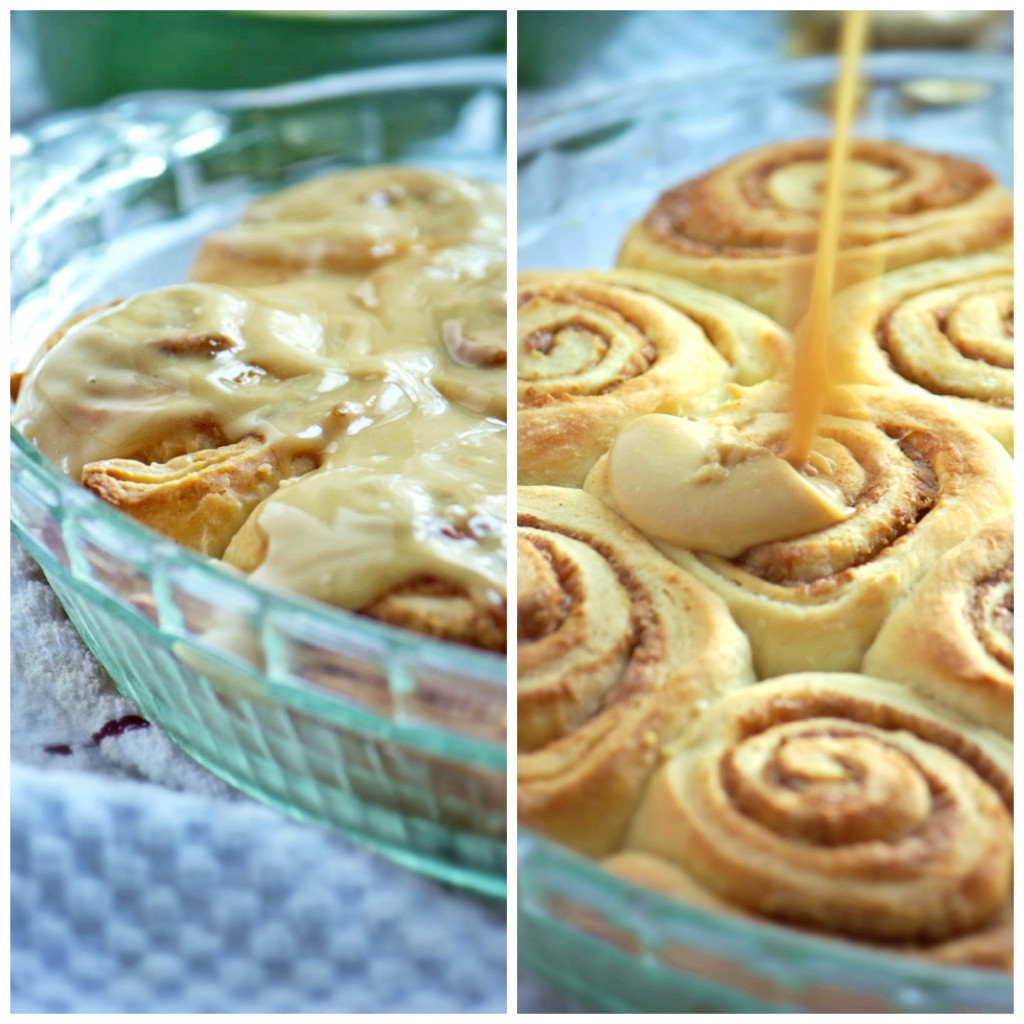 I've seen it all over the internet – facebook, instagram, and I was intrigued.  I've always thought of Biscoff cookies as the one free thing you get on an airplane now a days (that or a bag of 10 stale pretzel rings) and my step-father Court's favorite cookie, which luckily enough for me fits PERFECTLY in a stocking at Christmastime. But there's a spread made from them – a cookie butter (as Trader Joe's calls it) that is like a creamy, smooth peanut butter texture but tastes like buttery Biscoff Cookies.  And I think I will now be trying to find excuses to use it daily – on toast – a spoonful for a snack – maybe even as a new moisturizing cream (just kidding…maybe).
How'd I use it the first time after practically sticking my face in the jar? (I tried – it didn't work) Cinnamon Buns – replacing the butter in the  filling with Biscoff Spread and topping them with a Biscoff Spread Glaze.
HELP.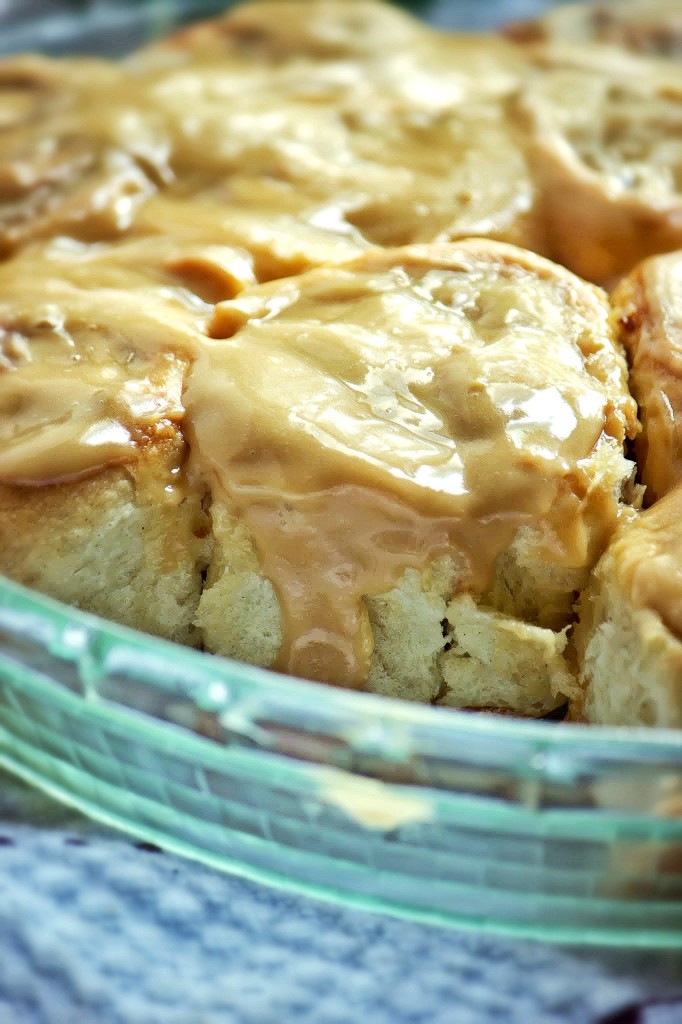 Ingredients
For the Dough:

2 &1/4 cup all-purpose flour, plus another 1/2 cup
3 tablespoons granulated sugar
1 teaspoon salt
1 package yeast (I used Fleishmans)
1/2 cup water
1/4 cup heavy cream (or milk - I just happened to have cream)
2 & 1/2 tablespoons unsalted butter
1 large egg

For the Filling

3 tablespoons Biscoff Spread
1 & 1/2 tablespoons ground cinnamon
1/4 cup granulated sugar

For the Glaze:

3 ounces cream cheese, softened
4 tablespoons Biscoff spread
3/4 cup powdered sugar
1/4 cup + 3 tablespoons heavy cream
1/4 teaspoon vanilla extract
Instructions
To Prepare the Dough:
1) In a large bowl, toss the 2 & 1/4 cup of flour, sugar, salt, and yeast together until evenly dispersed. Set aside.
2) Heat the water, milk, and butter together in a small saucepan over low heat (or in the microwave) until the butter is melted and the mixture is hot to touch (About 125F-130F degrees). Stir the butter mixture into the flour mixture until combined. Add the egg and enough of the extra 1/2 cup of flour to make a soft dough. I ended up using the full 1/2 cup but you may not need the entire amount. Use your best judgement. Dough will be sticky and stretchy when it's ready.
3) On a lightly floured surface, knead the dough for about 5-6 minutes until it starts to become more firm. Place the ball of dough in a lightly greased bowl (you could grease it with butter or non-stick cooking spray) and let rest for about 10 minutes.
Prepare the Rolls:
4) After 10 minutes, roll the dough out in a 14x8 inch rectangle. Spread the 3 tablespoons of Biscoff Spread to cover the dough entirely. Mix together the cinnamon and sugar and sprinkle it all over the top of the Biscoff Spread. Starting at the wider edge, roll up the dough tightly. Cut into 12 even pieces and place in a lightly greased 9-inch round pan, lightly sprayed with nonstick spray. Try to leave a little bit of space in between each roll, as they will expand in size when they're rising.
5) Loosely cover the rolls with aluminum foil and allow to rise in a warm, draft-free place for 60-90 minutes (when the rolls have doubled in size, they're ready). While the rolls are rising, preheat the oven to 375 degrees F. After they've doubled in size, bake them in preheated oven for 20-25 minutes until lightly browned on the top.
Prepare the Glaze:
6) While the rolls are baking, prepare your glaze by whipping together the Biscoff Spread and the cream cheese until light and fluffy. I did this by hand with a fork, but you could also use and electric mixer. Add the powdered sugar, heavy cream and vanilla until the glaze reaches your desired texture. You can always add more cream if you want to thin it out a bit. I personally prefer a bit of a thicker glaze, but to each his own!
7) Apply the glaze to the cinnamon rolls right out of the oven - this will help the glaze to spread. There will be quite a bit of glaze, so you can also add more onto each individual roll as you remove it from the dish so that it drips over the sides. Serve warm right out of the oven!
http://www.andtheycookedhappilyeverafter.com/2013/07/24/biscoff-cinnamon-buns/
Copyright And They Cooked Happily Ever After