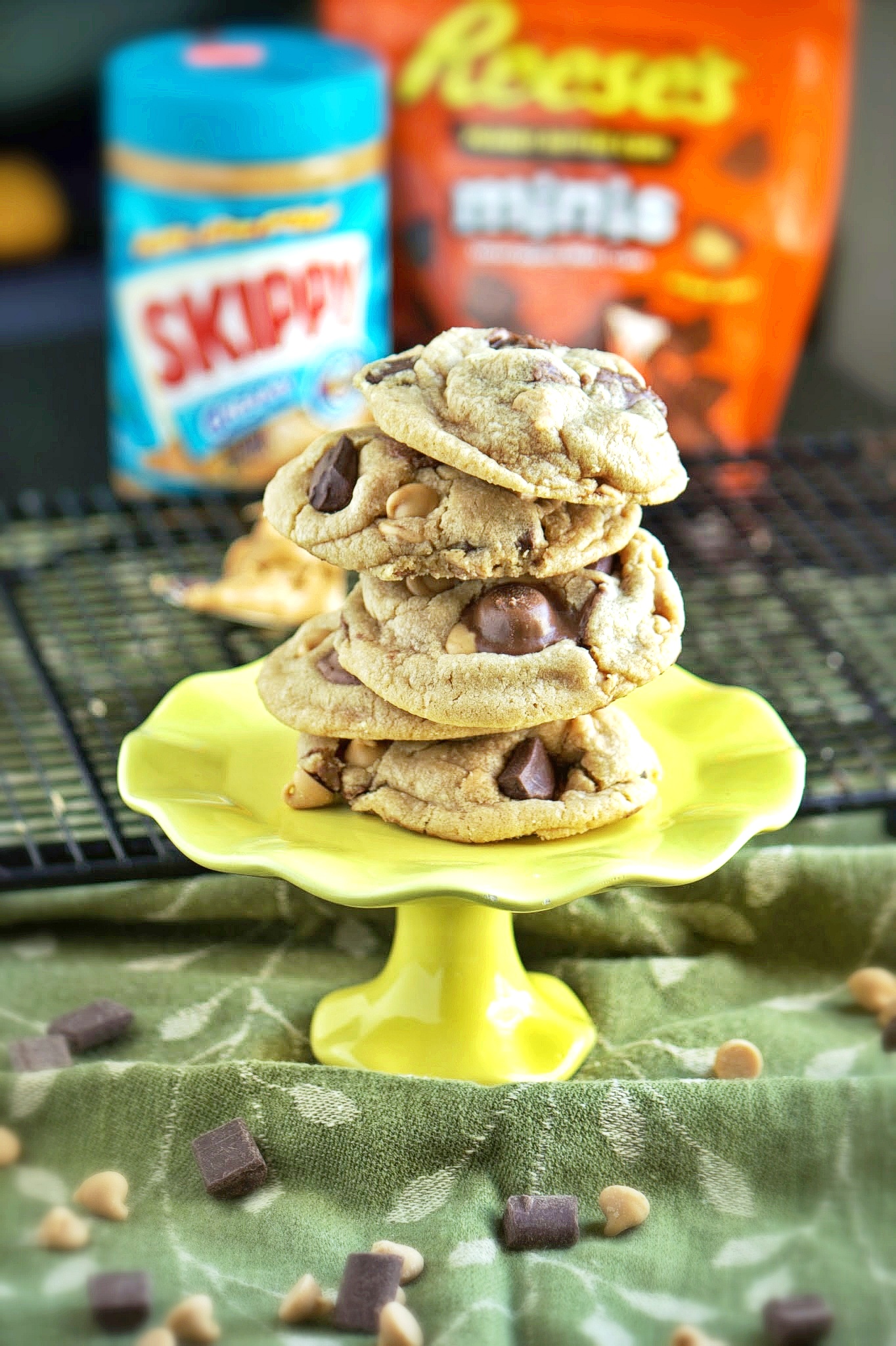 This cookie recipe is an oldie but a goodie – and a doooozie. I've mentioned before that I steal quite a few recipes from my friend Ash, like this one. Well, this is another.  Since having these hot out of the oven at her apartment for the first time years ago, they're definitely a recipe that I keep in my cookie archives.  It's a combination of my favorite things in life – chocolate and peanut butter, a marriage made in heaven.  And while I don't necessarily love peanut butter cookies on their own, with the addition of chocolate chunks and Reese's cups, well, I swoon.
This time around though, I wanted to try them a little differently.  I've been eyeing Sally's recipe for Chewy Chocolate Chunk Cookies for months now.  So I basically tried to blend the two recipes together, taking all of Sally's tips for making her chocolate chunk cookies super soft, thick and chewy, and those are:
Using cornstarch
Adding an egg yolk
Underbaking the cookies
Use melted butter vs. softened butter
Chilling the dough before baking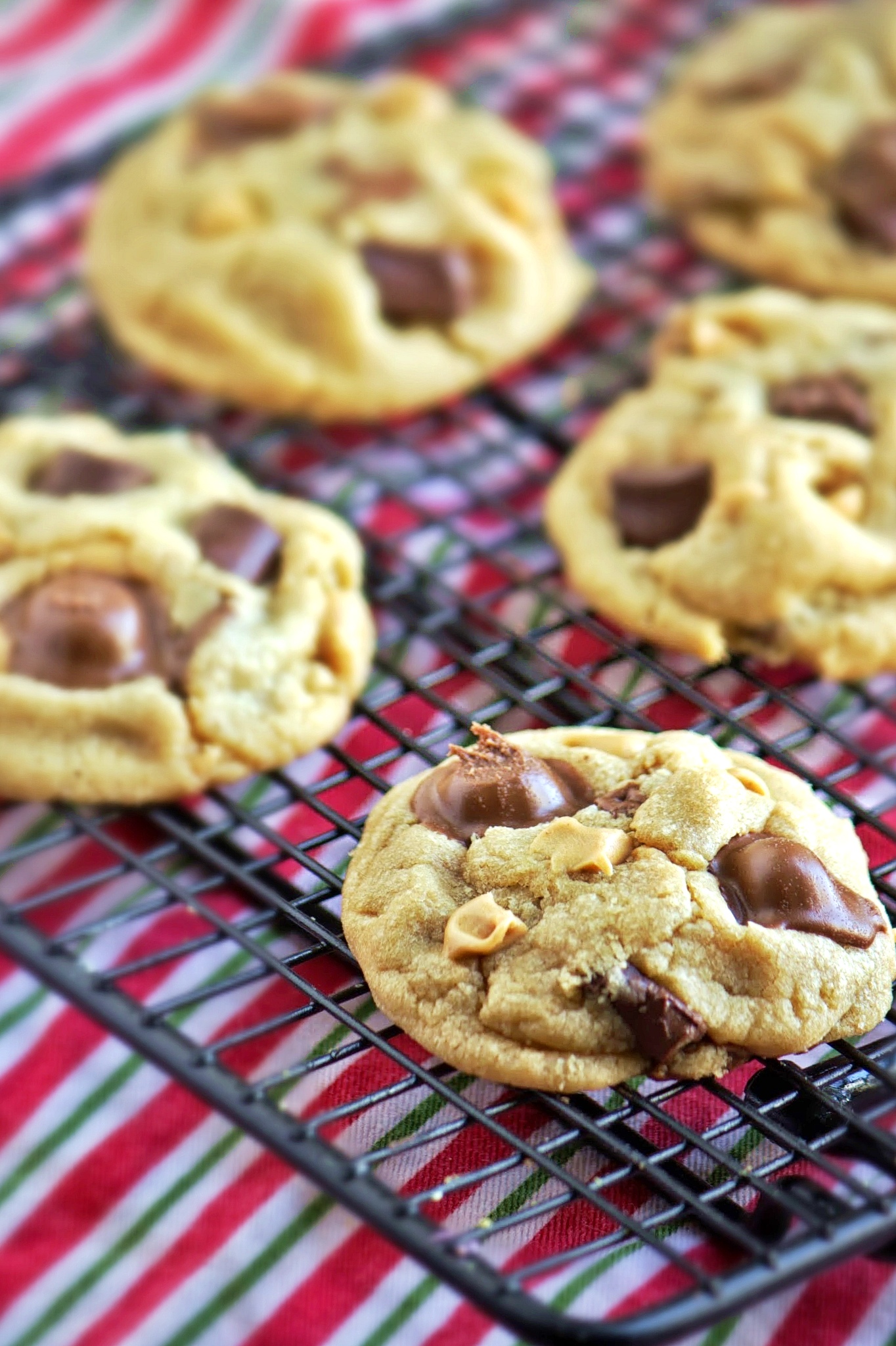 It's funny but I never really realized the importance of chilling dough until recently, firstly when making those NY Times Chocolate Chip Cookies and now with this recipe.  If you cook the dough immediately after mixing everything together (which is so tempting because you just want them to come to life and be in your mouth ASAP) it will cause them to be kind of like flat cookie pancakes.  So if you can wait, your tastebuds will be rewarded exponentially
Ironically, in the 90+ degree weather my oven decided to go kaputz on me, but luckily, I was able to get one successful batch.  And what was the outcome? The softest, chewiest, most pillowy cookies that have ever come out of my oven. Seriously.  I know some people like to have a little crunch outside with a chewy inside or just all around more of a well done cookie overall, but if you are a fan of soft, chewy goodness, puh-LEAAAAAAAAASE try this.  You won't be sorry.
Well, you might be sorry when your pants won't pull up because you've eaten so many…not that I'm feeling that way or anything…..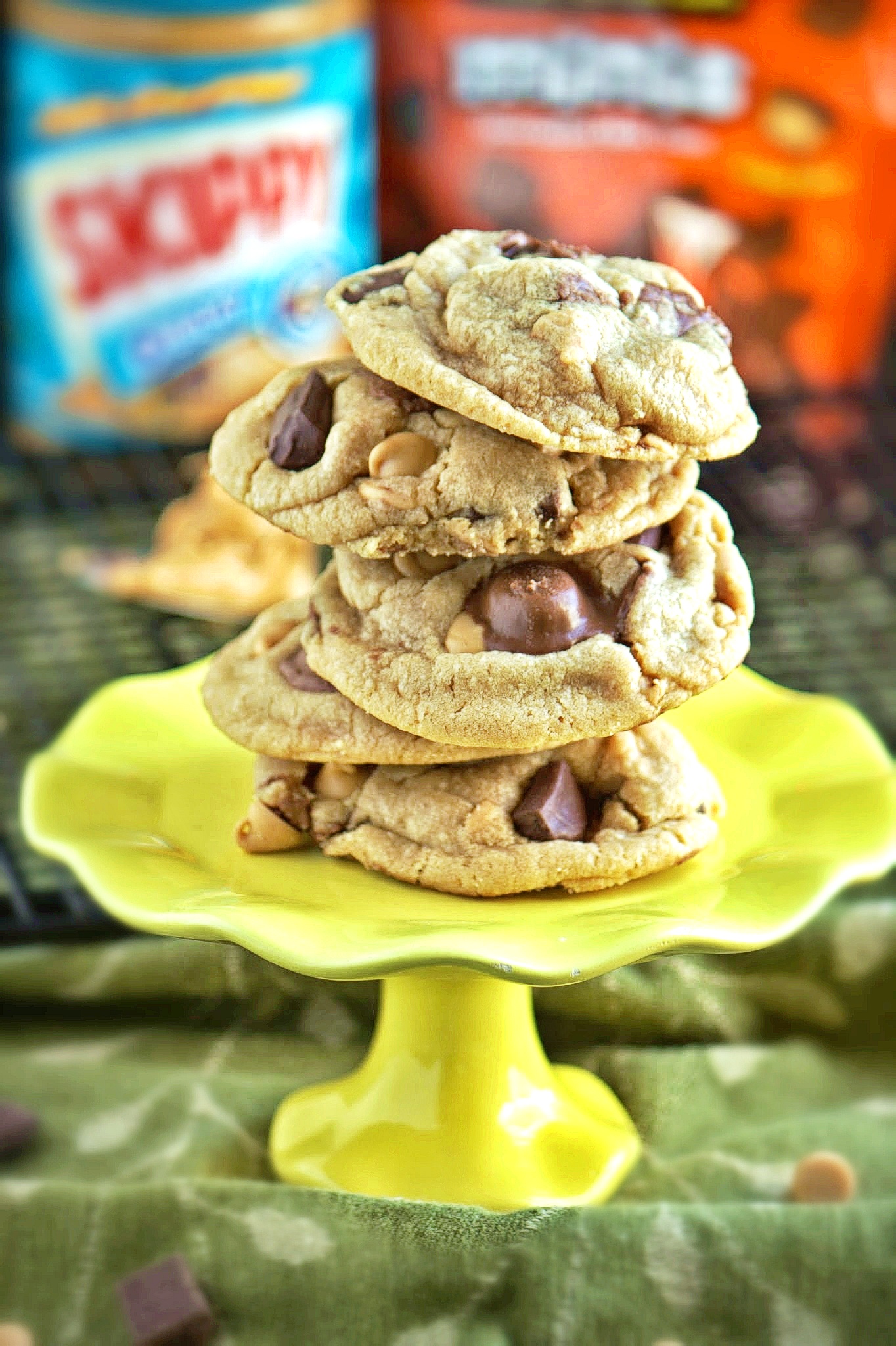 Soft & Chewy Peanut Butter Cup and Chocolate Chunk Cookies
Ingredients
2 and 1/4 cup all-purpose flour
1 teaspoon baking soda
1 and 1/2 teaspoons cornstarch
3/4 cup unsalted butter, melted
3/4 cup creamy peanut butter
3/4 cup brown sugar, loosely packed
3/4 cup white sugar
1 large egg + 1 egg yolk at room temperature
1 & 1/2 teaspoons vanilla extract
1 cup semi-sweet chocolate chunks
1 cup peanut butter chips
1 cup mini Reese's cups (or 10 large Reese cups cut up into small pieces)
Instructions
1) In a large mixing bowl, sift together your flour, baking soda and cornstarch. Make sure that when you measure out your flour, you do it the right way, which means spooning the flour into the measuring cup and then leveling off with a knife vs. sticking the cup into the flour and scooping it out. That can give you twice as much flour as you're really supposed to use which can make a huge difference in how your cookies turn out.
2) In another mixing bowl, whisk together melted butter, peanut butter, and the brown and white sugar until there are no lumps. Then whisk in your egg and egg yolk until combined. And lastly whisk in the vanilla. Add the dry mixture to the wet ingredients, 1/2 cup at a time, mixing well in between. Lastly, gently fold in the chocolate chunks, peanut butter chips and Reese cup pieces. The dough will be quite dense with chunks and chips so feel free to use less of them if you don't want them to have so many. Cover your dough and chill for at least two hours, up to three days. I chilled for just about 4 hours.
3) Preheat your oven to 325 degrees F. While your oven is preheating, take out the dough and let it sit for about 10 minutes to come to room temperature Line 2 baking sheets with parchment paper or non-stick cooking spray. Take 2 heaping tablespoons of the dough. It will be a little bit crumbly, but the warmth of your hands will help to form each ball. Form each ball, making them taller rather than wider (this will make them thicker). Place on the linked baking sheets.
4) Bake in preheated oven for 11-12 minutes. They will appear to be undercooked, but will continue to bake on the sheet when you take them out of the oven. After removing from the oven, let them sit on the sheet for another 10 minutes and then place on a wire rack to cool. Serve cookies hot or store at room temperature for up to a week to maintain the soft, chewy goodness.
http://www.andtheycookedhappilyeverafter.com/2013/07/18/soft-chewy-peanut-butter-cup-and-chocolate-chunk-cookies/
Copyright And They Cooked Happily Ever After