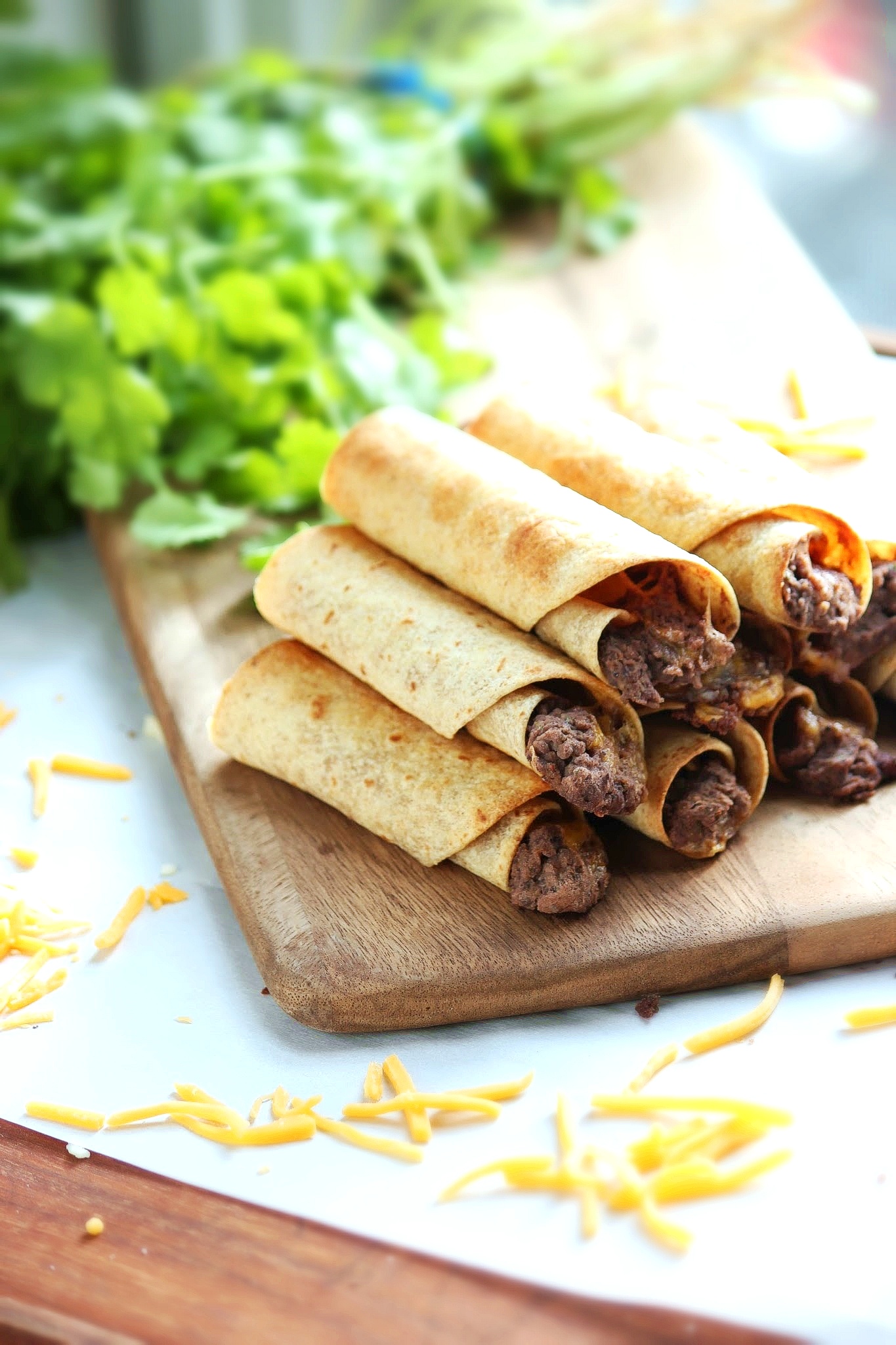 Another Trader Joe's inspired appetizer here folks. Like those Homemade Spanakopitas and Buffalo Chicken Dip Profiteroles from a while back, these Black Bean Taquitos were inspired by my man, Trader Joe. Their Black Bean and Cheese Taquitos are one of Dave and I's staple frozen apps that we like to keep handy in the freezer. But the last time we had them, I realized that these could totally be made from scratch!
After checking out the label on the back to see what kind of magical ingredients TJ puts into these rolled pieces of deliciousness, I added a few of my own, and bing, bang, boom. Homemade Black Bean Taquitos, fresh out of the oven in less than 30 minutes. And by using my favorite Josephs Flax, Oat Bran and Whole Wheat Flour Tortillas, I saved some major calories. But of course, feel free to use corn or flour tortillas, whole wheat, really anything would work (especially for my GF – GF's if you used a Gluten-Free version!) Unfortunately, pureed black beans are not the most visually appealing sight in the world, but you'll forget all about it after your first taquito….and second…and third….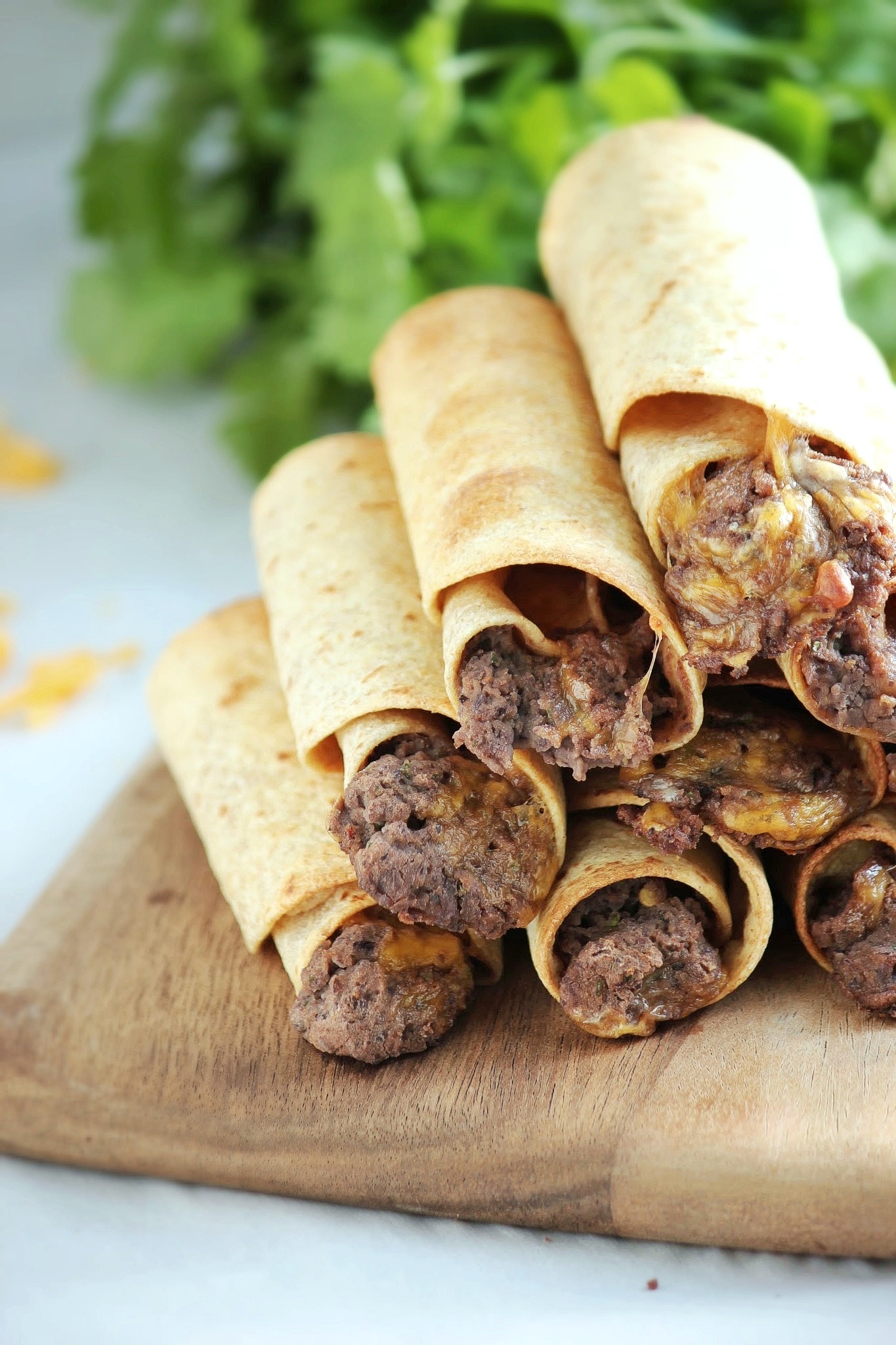 Black Bean and Cheese Taquitos
Ingredients
1 - 15.5oz can of canned black beans, rinsed and drained
2 tablespoons fat-free plain greek yogurt
1/2 teaspoon cumin
1/2 teaspoon chili powder
1/2 teaspoon kosher salt
1/4 teaspoon ground black pepper
1 tablespoon chopped cilantro
1 cup shredded jack cheese (or cheese of your choice)
5 large tortillas (or 10 smaller ones)
Instructions
1) Preheat oven to 425 degrees F. In a food processor, pulse all ingredients but the cheese and tortillas together until it becomes a thick, paste-like consistency. Set aside.
2) Take each tortilla and cut it in half. Spray each side with non-stick cooking spray. Take 1.5 - 2 tablespoons of the black bean mixture and place it in the center of the tortilla, spreading it out in a line, leaving just a little bit of room on either edge of the tortilla. Sprinkle a little bit of cheese on the top of the black bean mixture and then roll your tortilla up tightly into a taquito.
3) Bake in preheated oven for 15-20 minutes until tortillas start to turn golden brown. Let cool for 10 minutes and then serve with salsa or sour cream.
© And They Cooked Happily Ever After
Notes
Nutritional Info (per serving - 1 taquito)
Fat - 4.6/ Calories - 108/ Carbs - 11.8/ Protein - 8.8/ Fiber - 4.9/ WW points - 3
http://www.andtheycookedhappilyeverafter.com/2013/07/01/baked-black-bean-and-cheese-taquitos/
Copyright And They Cooked Happily Ever After