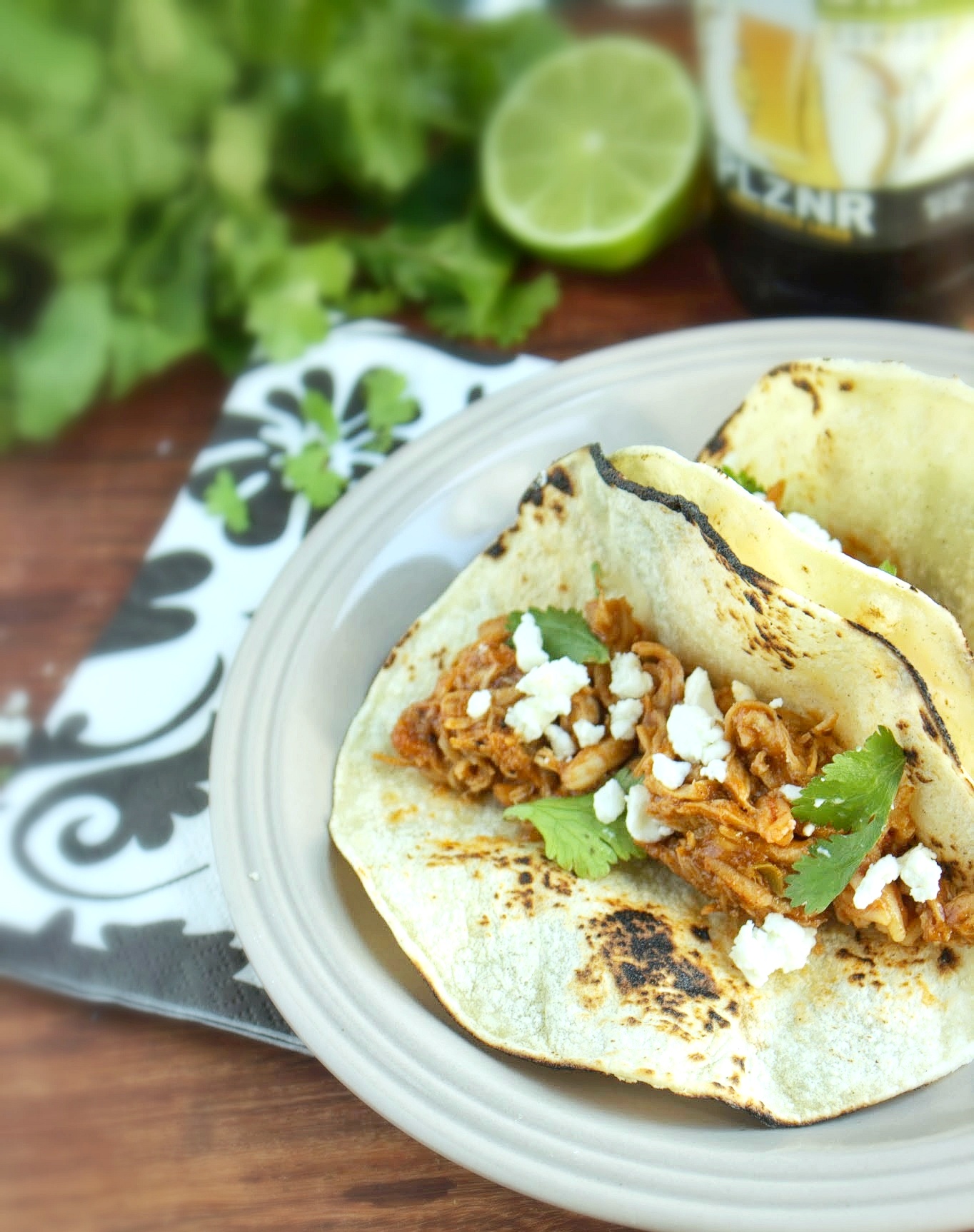 Dave and I have tacos at least once a week.  I feel tacos are that good food friend that is always around to chat (0r eat), never disappoints you (because they always taste amazing) and just generally easy to be around (or make in 1/2 hour or less).  Comparing tacos to friends, that's totally normal right?
Since taco night is a regular occurrence, we try to shake the flavors up as much as possible.  Shrimp tacos are probably our favorite, but take a bit more time to make, so nine times out of ten it's your run of the mill beef or chicken tacos.  And obviously those can get tired after a while.  So this beer and lime chicken taco recipe is the same loyal, dependable friend that is so easy to make in under a 1/2 hour and will not disappoint those taste buds.
Beer and Lime Chicken Tacos
Ingredients
1 pound 99% fat-free chicken tenders
1 packet of taco seasoning
12oz. (1 can or bottle) beer of your choice (I used a pilsner)
juice of one lime
1 tablespoon brown sugar
*cilantro, queso fresco and taco shells or soft tortillas
Instructions
1) Spray a medium skillet with non-stick cooking spray. Brown chicken tenders, cooking for two minutes on one side and then flipping over and cooking for two minutes on the other side.
2) In a separate bowl, mix together the taco seasoning, beer, lime juice and brown sugar. Once the chicken has been browned on both sides, pour the mixture over the chicken tenders, cover and reduce heat to low. Allow the chicken tenders to simmer for about 10 minutes, until you can shred the chicken apart with a fork.
3) After shredding the chicken, allow the pulled chicken to simmer in the beer/lime/seasoning mixture for another 10-15 minutes, until almost all of the liquid has absorbed.
4) Serve chicken hot on soft tortillas or taco shells with queso fresco and chopped cilantro.
http://www.andtheycookedhappilyeverafter.com/2013/06/26/beer-and-lime-chicken-tacos/
Copyright And They Cooked Happily Ever After