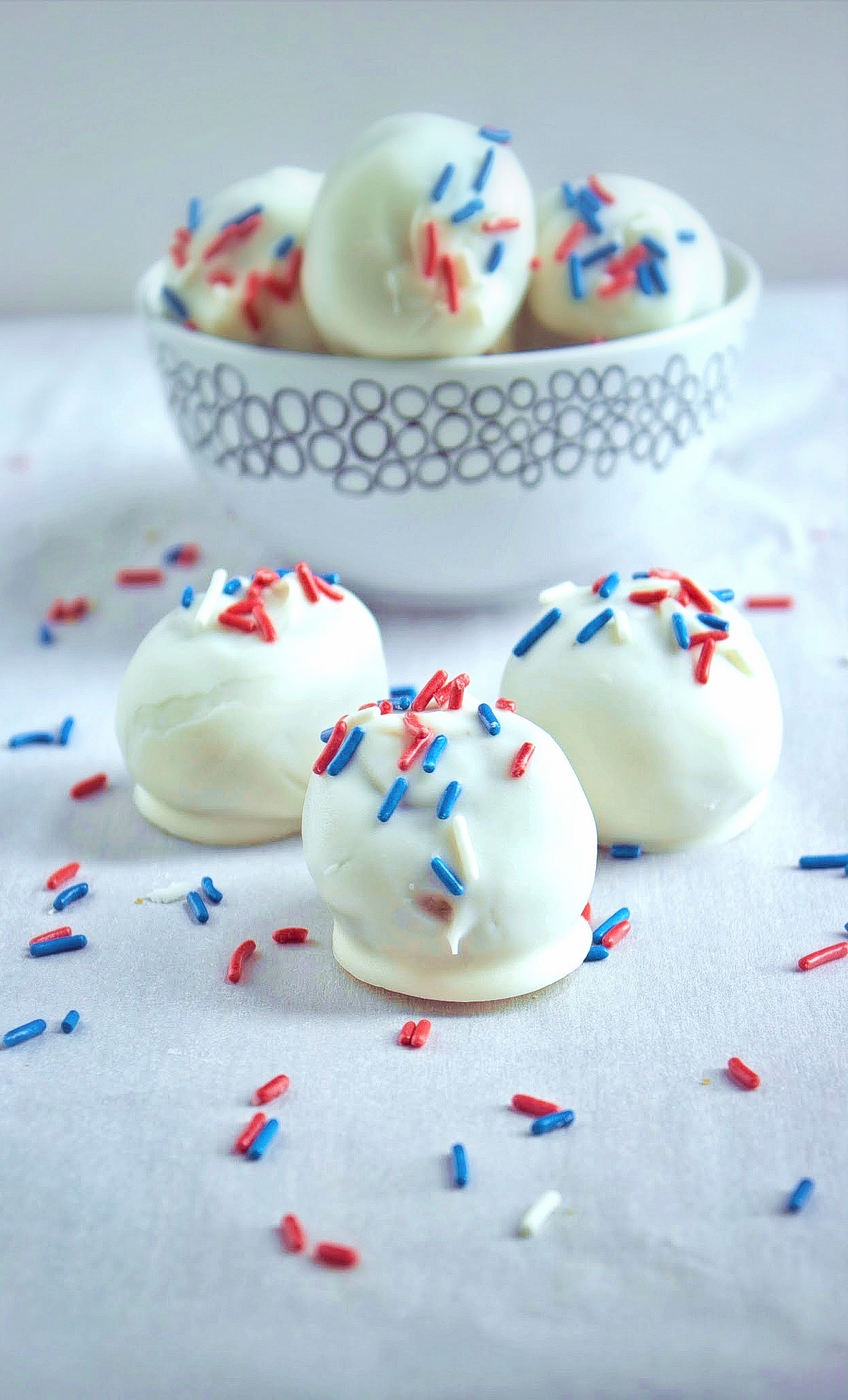 So you made these last night right? Or maybe today?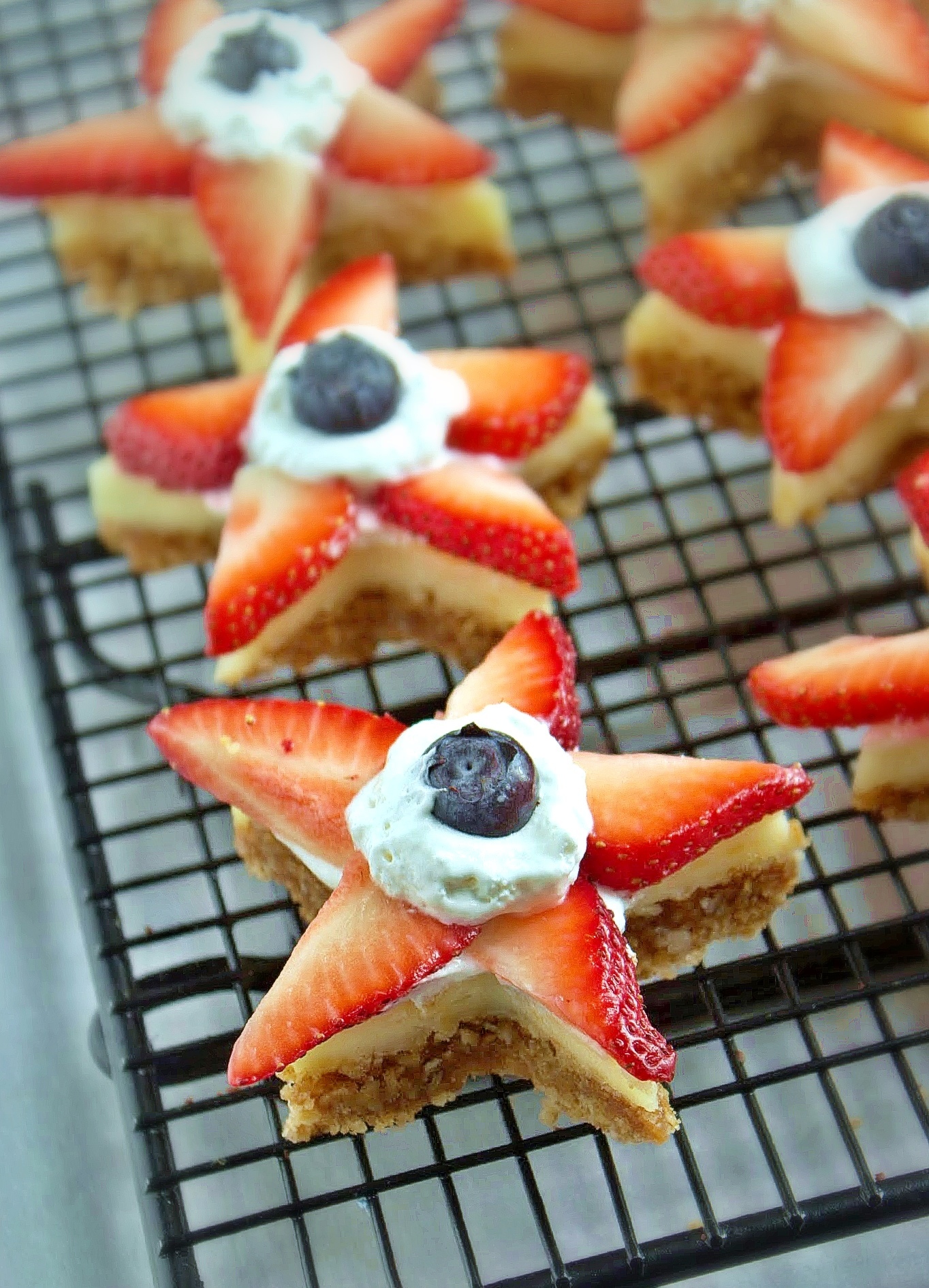 Well, either way, I bet you're scratching your head when you see those star cut outs that are left in the baking pan.  It seems that at first, your only option is to just make a meal of the starry scraps (which I started to do) but then I thought no way, there must be SOMETHING I can do with these.  And then that light bulb went on over my head and a little voice started whispering "oatmeal cookie truffles….oatmeal cookie truffles" – and while sometimes listening to the voices in your head is a bad idea, this time, it was a good one.
I basically took all the scraps from the baking dish that were left over from the stars, broke them up into smaller pieces, tossed them in the food processor and pulsed a few times until it became a dough ball.  From that point on, it was as easy as pie to make these truffles.  Chill the dough – roll it into balls – freeze – dip in chocolate – sprinkle – boom.
Now of course if you didn't make the Oatmeal Cheesecake Fruit Stars, you could surely make these truffles by following the instructions from that recipe, up until the point where you cut the stars out.  Obviously you would have a lot more dough and subsequently more truffles.  And that can't be a bad thing!
Ingredients
1 pouch Betty Crocker oatmeal cookie mix
1/2 cup cold butter or margarine, cut into small squares
2 packages (8oz each) cream cheese, softened
1/2 cup sugar
2 tablespoons all-purpose flour
1 teaspoon vanilla
1 egg
1 bag of Wilton vanilla flavored candy melts
Instructions
1) Preheat oven to 350 degrees F. Line a 13x9" baking pan with aluminum foil, leaving enough to have about an inch overhang, and then spray foil with non-stick cooking spray.
2) Place cookie mix in large bowl. With pastry blender or fork, cut in butter until mixture is crumbly and coarse (I actually used my hands to do this part). Press the oatmeal cookie crumbs in bottom of pan and bake for 10 minutes
3) Meanwhile, in large bowl, beat cream cheese, sugar, flour, vanilla and egg with electric mixer on medium speed until smooth. Spread cream cheese mixture evenly over partially baked crust and then bake for 35-40 minutes, until the edges of the cheesecake start to turn golden brown.
4) Once your cheesecake/cookie bars have baked, let them cool for at least 30 minutes. Once they've cooled, break the cheesecake and oatmeal cookie up into pieces and place in the food processor. Pulse until the mixture becomes a ball of dough. Take the dough out of the food processor and chill for 30 minutes.
5) After 30 minutes, remove the dough from the refrigerator and roll it into balls. About 1/4 cup of the dough will yield a large golf ball sized ball and 2 tablespoons will yield a smaller ping pong sized ball. Place the formed truffle balls back on a baking sheet lined with wax paper and freeze for an hour. This will help them to hold up in the chocolate when they're being dipped.
6) Just before you're ready to remove the truffles from the freezer, melt your chocolate discs over low heat in a double boiler or in the microwave. Dip each ball into the melted chocolate and then place back on the wax paper to dry. Store in the refrigerator until ready to serve.
http://www.andtheycookedhappilyeverafter.com/2013/05/25/oatmeal-cookie-truffles/
Copyright And They Cooked Happily Ever After