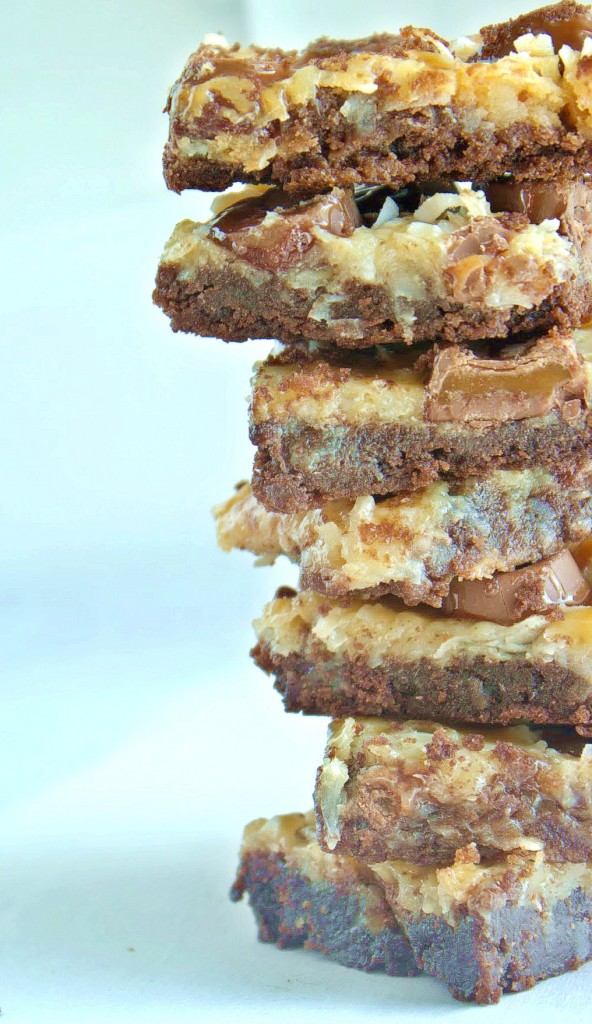 What a weekend it was – Cinco de Mayo – The Kentucky Derby  – and The Blogger Bake Sale!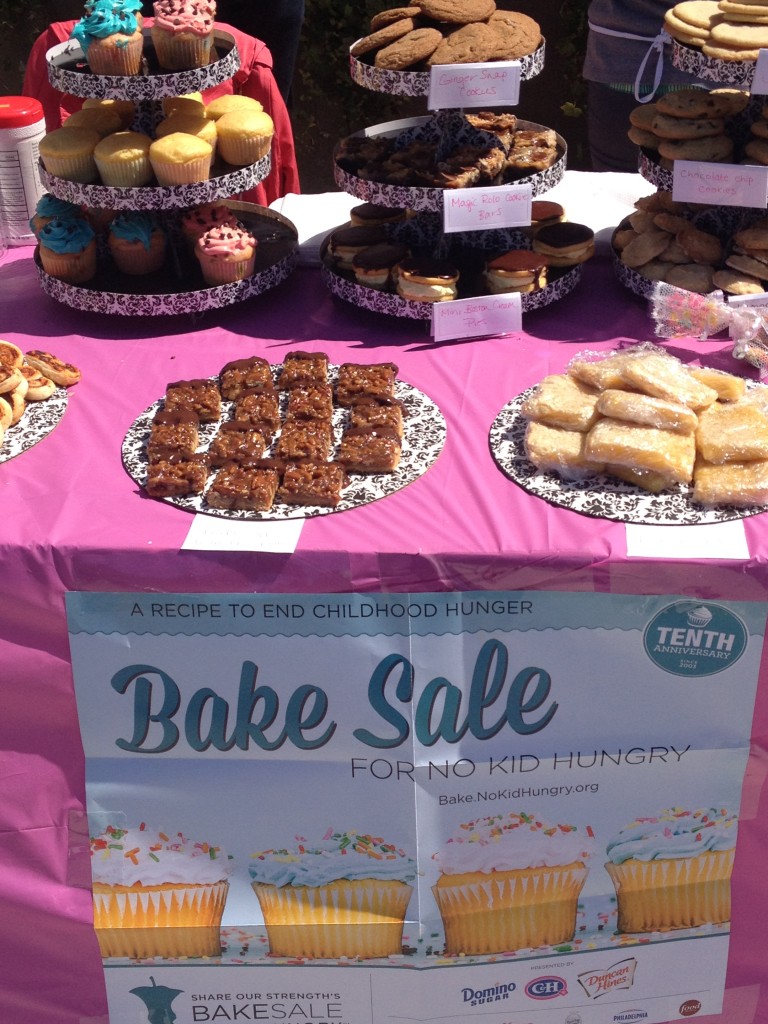 A couple weeks ago, Alana from Good Girl Gone Blog put the word  that she was hosting a bake sale at Middlesex Commons as part of the Share Our Strength's Bake Sale for No Kid Hungry, which is a national fundraising initiative that encourages people to host bake sales in their communities to support Share Our Strength's 'No Kid Hungry' campaign, to end childhood hunger in America.  For me, this was a no brainer – I get to bake, get all baked goods out of the house so I don't eat them all myself, AND it's all for a good cause! Love that!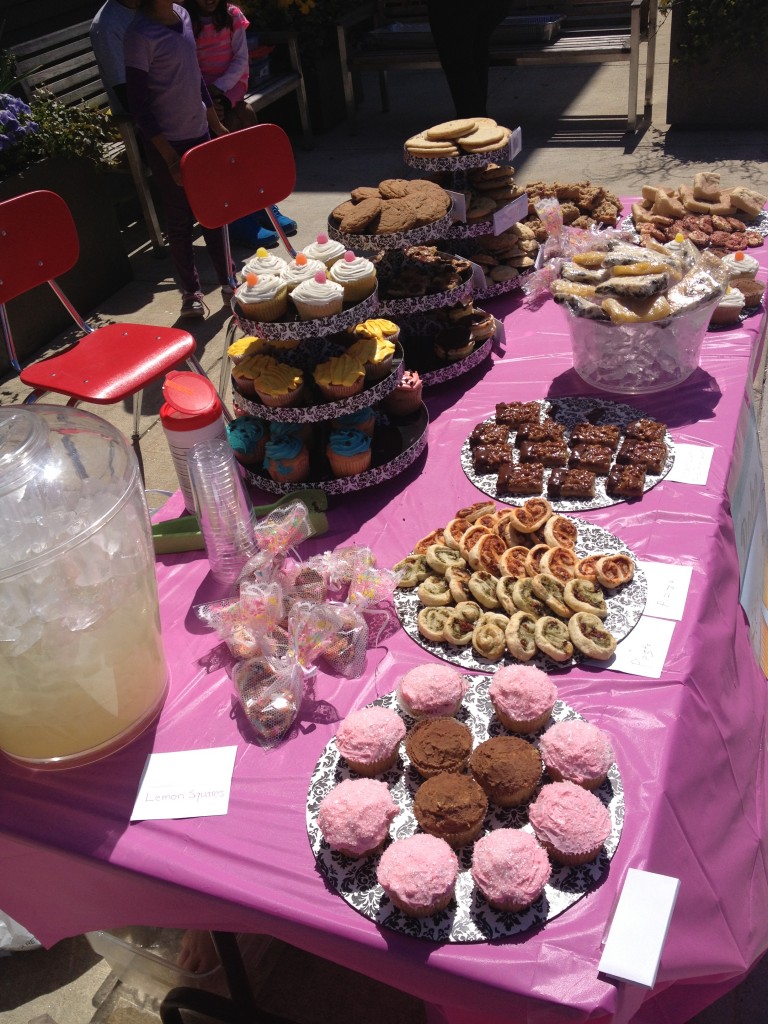 It was a perfect spring day – bright sun – blue sky – and some seriously delicious sweets from local Boston Bloggers like Pearls & Oysters, Mommy Niri and lots of others.  And I finally had a really great excuse to make these Magic Rolo Bars that I've been dreaming about for weeks now.
When I made Kristine's Magic Cookie Bars a few weeks back, I was reintroduced to the magic of Magic Cookie Bars and how much I really do love them.  And the re-birth of Mini Rolos after a several year hiatus had me thinking of how I could try to incorporate them into a recipe.  Cue Magic Rolo Bars – as easy to make as Magic Cookie Bars, with a few tweaks.  And the end result was a rich, chocolate and caramel dessert that took on a completely different flavor and texture than I was expecting.  It was almost like a german chocolate dessert bar, that reminded me of Samoa Girl Scout cookies, which are my all time favorite.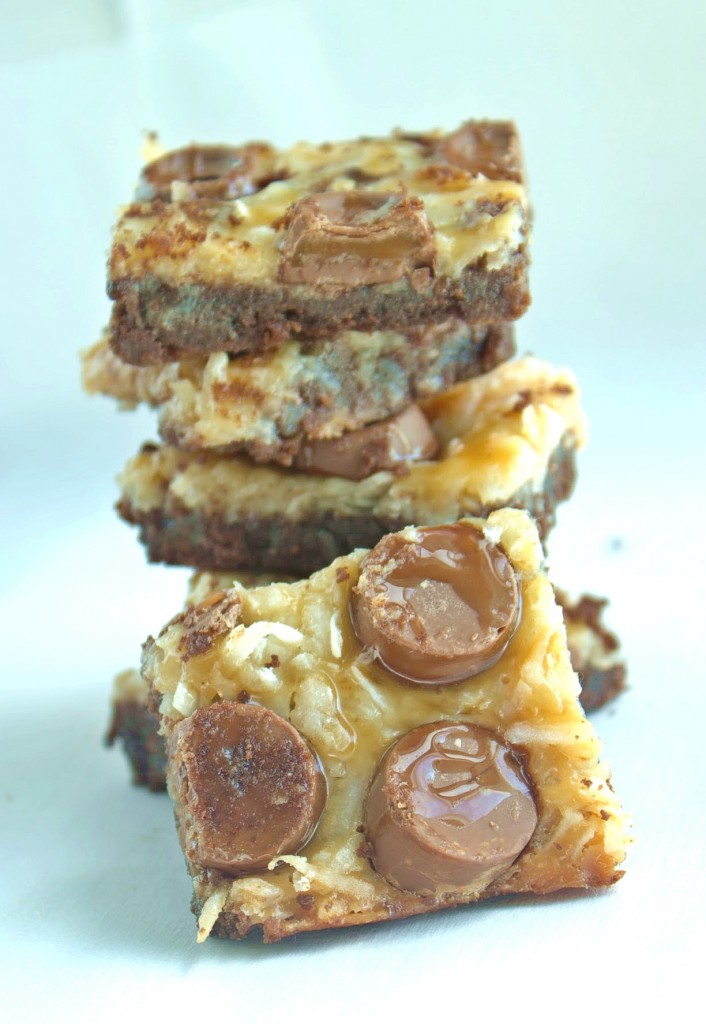 Ingredients
1/2 cup (1 stick) unsalted butter, melted
1 & 1/2 cups chocolate graham cracker crumbs
1 - 14oz can sweetened condensed milk
3 tablespoons caramel topping, plus about 1/4 cup more for drizzle
1 & 1/3 cups flaked coconut
1 - 8oz bag of mini rolos
Instructions
Heat oven to 350 degrees F (325 degrees for glass dish). Coat 13x9-inch baking pan with no-stick cooking spray.
Combine graham cracker crumbs and butter. Press into bottom of prepared pan.
In a small mixing bowl, whisk together the sweetened condensed milk and the 3 tablespoons of caramel until combined. Pour sweetened condensed milk mixture evenly over graham cracker crumb mixture.
Layer evenly with flaked coconut and mini rolos. Press down firmly with a fork.
Bake 25 minutes or until lightly browned and allow to cool. Just before serving & cutting into bars, drizzle the remaining caramel topping over the bars. Cut and serve!
http://www.andtheycookedhappilyeverafter.com/2013/05/06/magic-rolo-bars/
Copyright And They Cooked Happily Ever After