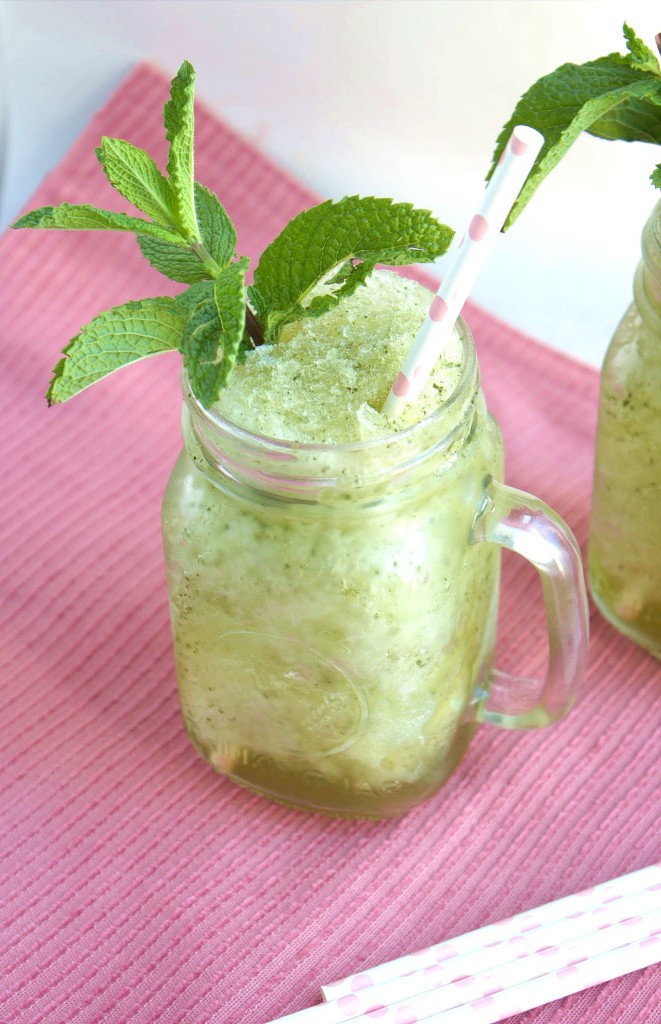 Today is Derby day. Tomorrow is Cinco de Mayo. What a jam packed weekend with so many delicous things to eat and drink! To anyone who follows us on Facebook I posted a throwback from last year's Kentucky Derby and these Mini Kentucky Derby Chocolate Chip Cookie Pies.  Mmm squared.
But today folks, I have a throwback from childhood – a slushy.  But it's not your run-of-the mill slushy – it's an 'adults only' slushy, perfect for Derby day.  A Mint Julep Slushy! Get your straw, and try NOT to get a brainfreeze!
*Adapted from Claire Robinson of The Food Network
Ingredients
2 & 1/2 cups good-quality Kentucky bourbon
1 cup packed fresh spearmint leaves, plus more for garnish
1/2 cup stevia (or granulated sugar)
1/2 cup water
2 full trays of ice
seltzer water (I would recommend a lime or lemon flavor - or plain would work too)
Read more at: http://www.foodnetwork.com/recipes/claire-robinson/frozen-lemon-mint-juleps-recipe/index.html?oc=linkback
Instructions
Combine the bourbon and the mint leaves in an air tight container. Chill in the refrigerator for at least an hour, up to overnight.
In the mean time prepare your simple syrup by combining the stevia and water in a saucepan over medium-high heat until syrupy.
Once chilled, place bourbon with mint leaves, simple syrup and tray of ice in a blender. Using the ice crush setting, pulse for about 1-2 minutes until all ingredients are combined. Place the blender in the freezer for 2-3 hours to allow the mixture to become slushy.
After 2-3 hours (or until mixture has reached your desired level of slushiness) take about a cup of the slush mix and top it off with seltzer water, mixing to combine. Garnish with spearmint leaves and a fun straw :)
http://www.andtheycookedhappilyeverafter.com/2013/05/04/mint-julep-slushies/
Copyright And They Cooked Happily Ever After