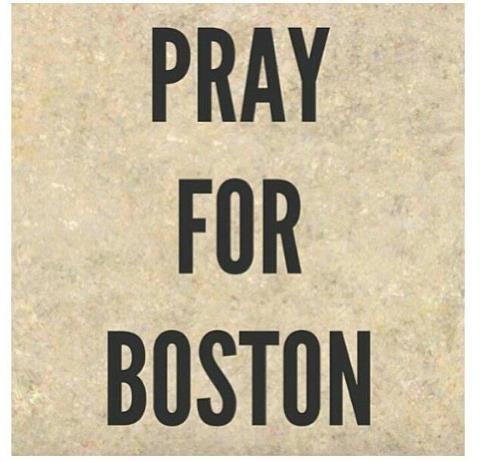 The best part about waking up from a nightmare is the feeling you get when you open your eyes. You think back to the horror that you just experienced in your dream and how glad you are that it wasn't real. It was just a bad dream. That all is right with the world, just as it should be.  I was hoping to have that feeling this morning when I woke up – that everything that happened in Boston yesterday was just a bad dream. That every runner who worked for months, training through the winter in the cold and snow got to cross the finish line, whether it was a personal best for a seasoned marathoner, or just the accomplishment of crossing the finish for a first timer. And that the families of the runners, who were standing there for hours, watching and waiting patiently for them to cross, with signs, cheers, and hugs ready and waiting to welcome them across the finish line got to do just that. And that the city of Boston would be waking up to another bright and sunny day, business as usual – people heading to work – kids enjoying another day of their school vacation – another great day in a great city.
But the nightmare was real – everything that happened yesterday is real – and it's hanging heavy over the heads of everyone, like a bad hangover that you just can't sleep off.  Boston is waking up not only to the reality of what happened yesterday, but the reality of a city that has literally been changed over night. The final stretch of the marathon course, a busy street downtown that today would typically be bustling with locals, tourists, business men and women, maybe a few stray water cups and energy gel wrappers from yesterday's race, the feeling of excitement and achievement still hanging heavy in the air, has now been deemed the most complex crime scene in Boston history, manned with armed members of the FBI and the national guard. Unclaimed bags from runners who never got to finish still line the streets – what's always been one of the most iconic stretches of pavement in the city will now be iconic for all the wrong reasons.
As a kid, I remember Marathon Monday being a big day for my family.  We'd congregate across from Boston College, at the bottom of heartbreak hill, which was always a great spot because as the runners passed us, grabbing our orange slices and slapping us five, the look of relief on their faces, that they had made it past the biggest hump of the course, and the joy of knowing that they were in the home stretch of the race, with  just about 5 miles to go, always made us feel like that lone orange slice and "keep going! you're almost there" chant was really helping them through.  And I'm angry that now a day that was so special to so many people, not only in Boston but around the world has been changed.
It hits home for so many reasons.  It's Boston – a city that has been home for almost 10 years – always been a safe place to live. Every time there was tragedy going on in other cities, you took solace in the fact that 'Boston was safe – nothing like that will ever happen here'.  I think of my own marathon training – in just a month, I'll (hopefully) be crossing the finish line in Providence, and my family will be there, cheering me on, waiting for me to cross.  And I think to all those runners who came from all over the world to partake in one of the most prestigious road races in the world, and never got to finish – they were robbed of that sense of accomplishment that they deserve so much.  And then I think of the innocent victims, who were waiting so patiently, sharing that same sense of accomplishment for their loved ones who were so close to finishing, in seconds, their lives were changed forever.
Emotions are raw here.  Everyone's walking around in a daze, trying to carry on with life as usual, but also on edge, feeling a sense of insecurity in a place that has always been their safe place. And while sadness is predominant, the feeling of pride is just as prevalent. It's not a coincidence that this happened on 'Patriots Day', a holiday celebrated in Massachusetts commemorating the patriotism of those who fought in the battle of Lexington & Concord, centuries ago. By definition, a 'patriot' is 'A person who vigorously supports their country and is prepared to defend it against enemies or detractors.' And the people of the city of Boston acted as true patriots yesterday.  Instead of running for their lives after the bombs went off, city officials, volunteers and spectators alike flocked to the scene to do whatever they could to help those that had been hurt.  Runners, who had crossed the finish, just running 26.2 grueling miles, kept running to area hospitals so that they could give blood.  Boston showed it's true patriotism yesterday – and while we may be knocked down, we will get back up again.
My prayers go out to the families of the victims – to the runners – and to the city of Boston. We're a great city, and we'll come back from this stronger than ever.