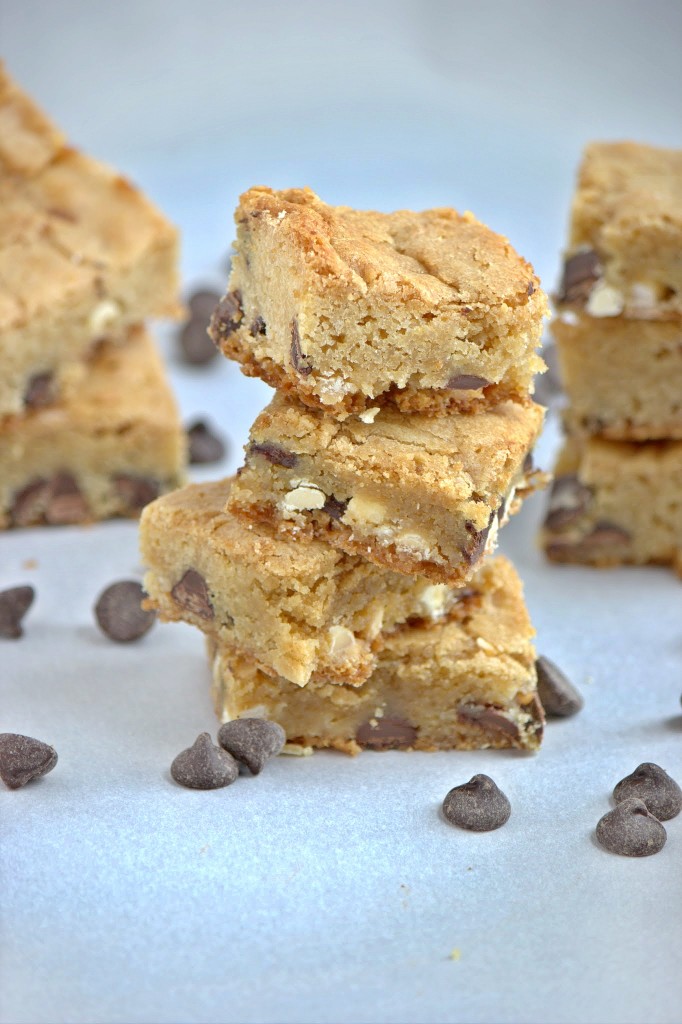 I'll start this off by saying that you may not see the validity in this kitchen bitchin' post, because this kitchen has things that others in the series haven't – like a stove – and a full size refrigerator.
But the other ladies weren't running a bakery out of their tiny kitchens either.
My cousin Erin lives in L.A. and she's been mentioned previously quite a few times for her:
1) Amazingly cute baked good ideas
But, that's never been mentioned before is how in the world she manages to run her 'side-gig', BellaBoos Bakery out of her teenie tiny kitchen.  With unique treats like 'The Lebowski' cupcake (Yellow cake, with a splash of vodka, topped with Khalua butter cream) or 'The Saturday morning bar' (Rice Krispies, Capn' Crunch and Fruit Loops all rolled together in marshmallow goodness), you'd think that she had a kitchen fit for a Food Network chef…
But she doesn't…
This is her Kitchen Bitchin' tale – AND shockingly enough, she's giving up her blondie recipe (of which I know for a fact is AMAZING after requesting about 150 of them for our wedding hotel bags last year!). Rich and chocolatey blondies fit for a celeb (from a kitchen that is NOT)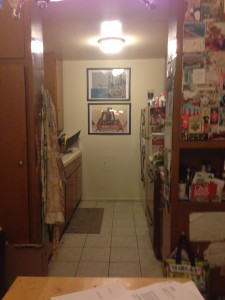 ATCHEA: Tell us a little about yourself
About the guest blogger or glogger if you will.  I live in Los Angeles and trust me it is not as glamorous as the Kardashians make you think it is. I work in reality TV mostly on Kitchen Nightmares and Hell's Kitchen. Yes Gordon is nice, and yes most of the time they deserve to be yelled at. I have always enjoyed baking and it is my stress reliever. During casting for Biggest Loser I started my baking company Bella Boo's named after my niece. I have done weddings, birthdays, baby showers, FOX pitch meetings and Kate's welcome bags for her wedding. For having a baking "business" my kitchen is small. This is also how I snuck into this blog. That and Kate owes me from stepping on my foot with her cast with a wooden heel after she broke her leg climbing a tree on Easter Sunday. Oh yea I went there (ATCHEA: I WILL NOT CONFIRM OR DENY THAT THIS EVER HAPPENED)
ATCHEA: Tell us a little about your kitchen – the general layout – appliances/tools/etc. you have and which ones you use the most and your
'system' for making it all work.
I have a one-bedroom apartment in Studio City, CA with an amazing walk in closet. If you saw the closet you would know why I took this place. But what my place has in amazing closet space it lacks in kitchen space. I call it the hallway, cause that is what it is. Fridge and stove on one side sink and microwave on the other. I have little to zero free counter space, which is a problem especially when you are trying to run a baking company. I use my stove; pull out cutting board and Sir Mix A lot (Kitchen Aid Mixer) the most. Side bar I got the mixer on my 17th birthday from my grandparents to this day it is the best present I have gotten and when my parents shipped it out to me in LA I hugged it for about an hour. Thank God I live alone. Side bar over. The pull out cutting board is basically my counter space. Thankfully I use my drawers to balance things on. I become like a gymnast in the kitchen trying to make it all work. I bake really well while doing handstands.  I try to make everything in one bowl if possible and try to pre measure things and also try to put items away as soon as I am done with them to make life easier.
ATCHEA: If you could have one thing in your kitchen that you don't have now because of space constraints, what would it be?
A dishwasher. Either one where you load the dishes in it or some person who can live with me and just do my dishes. I thought that washing dishes would be therapeutic and not a big deal. I was wrong. It blows. Especially after a marathon baking session.  A full sink of dirty dishes is my 2nd worst enemy. (Ina Garten is my 1st if you must know – ATCHEA: See what I mean?)
ATCHEA: What was your most challenging job and why? I had a very big Thanksgiving order for a client,which entailed lots different items. For some reason my broiler was not shutting off after I used it to brown marshmallows, so I definitely burnt a batch of blondies and a batch of lemon bars. It was annoying. And I had to re do everything.
ATCHEA: What's the largest amount of baked goods you've produced on your kitchen at one time?  I did 200 cupcakes once. To this day I have no idea where I put all of them.
And here they are ladies and gents….Erin's Hollywood Blondies. And if you're in the L.A. area and want to score some 'hollywood' treats, give Erin a holler! Her baked goods are sure to put a smile on your face (and your hips)
(sidenote to chef Erin – now can I finally have a baked good named after me?)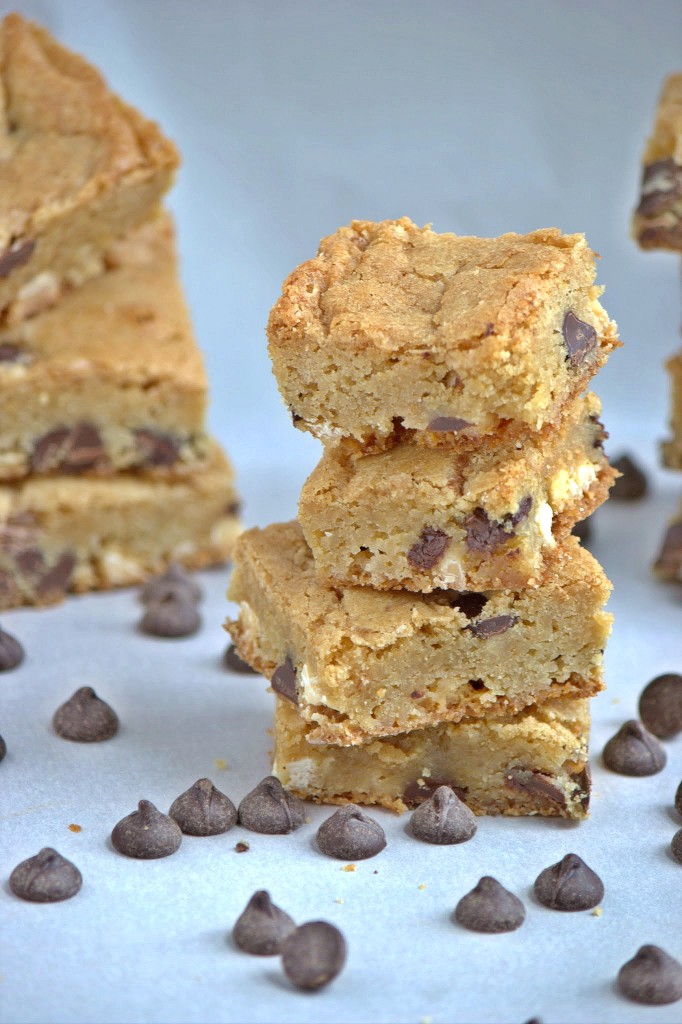 Erin's 'Hollywood' Blondies
Ingredients
3/4 cup of unsalted butter, melted and cooled
1 cup light brown sugar
1/2 cup of dark brown sugar
2 eggs
1 & 1/2 teaspoons of vanilla extract
1 & 1/2 cups of all-purpose flour
1 & 1/2 teaspoons baking powder
3/4 teaspoon salt
3/4 cup of White Chocolate (chips or chopped bar)
3/4 cup Semi-Sweet Chocolate (chips or chopped bar)
Instructions
Preheat your oven to 350 degrees F.
Line a 9x9" or 13x9" baking pan with tin foil, leaving an overhang over the edges. Spray the foil with non-stick cooking spray.
Whisk the melted butter and sugars together in a large bowl until combined. Add eggs and vanilla, whisking until well incorporated. Fold in the flour, baking powder and salt with a spatula until just combined. Add chocolates. You also don't have to add any chocolate at all or just one of them up to you. Spread mixture into prepared pan.
Bake at 350 for 22 minutes (if using a 13x9" pan) or 30-35 minutes (if using a 9x9"), testing with a tooth pick until center comes out clean. You have to watch it - the whole point of them is to be slightly under cooked. As soon as the toothpick is clean take it out and let them cool for at least 20 minutes. Cut and eat.
Chef's Note: And then call to thank me. For real though don't let them get too dark it is delicate baking balance
ATCHEA Note: Erin's recipe calls for the 13x9" pan, but I used a 9x9" because personally, I like a blondie I can really sink my teeth into, over and over again (seriously - I ate almost all of these myself - they are just so delish)
http://www.andtheycookedhappilyeverafter.com/2013/04/15/kitchen-bitchin-recipe-series-erins-hollywood-blondies/
Copyright And They Cooked Happily Ever After