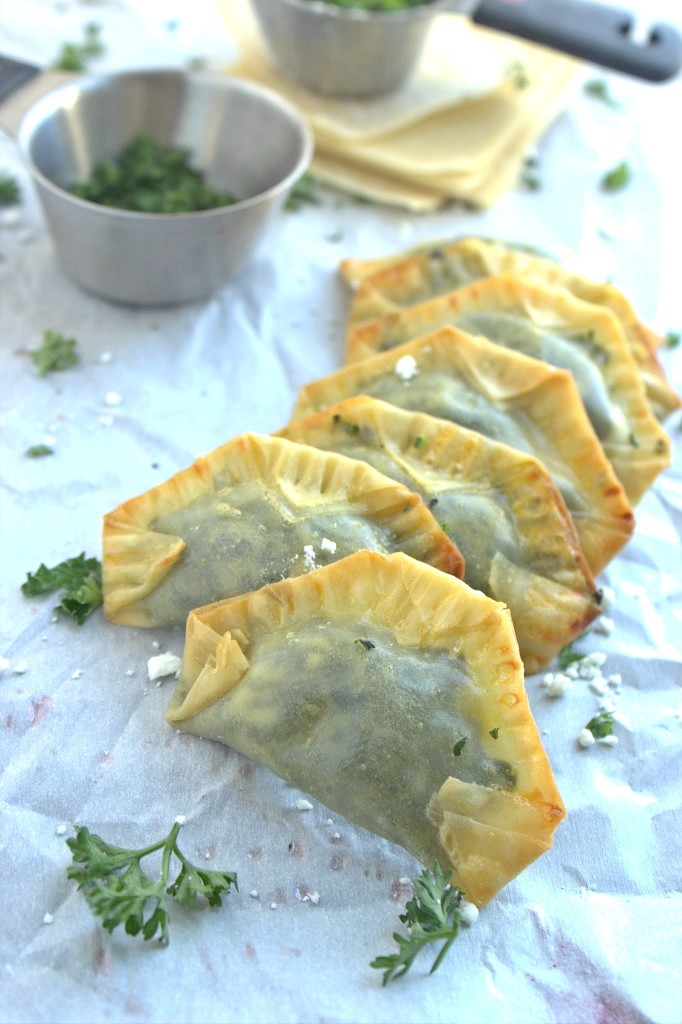 One of our go-to Trader Joe's appetizers is spanakopita – they're light, on the healthy side, and 20 minutes in the oven dinner is served!
There is however one thing about spanakopita that drives me slightly insane – FILO DOUGH. Now I know it's tradition to make SPK (my spanakopita abreev for the rest of this post) with filo dough.  But man this stuff is messy.  Any time we have a TJ's SPK dinner, the minute I stand up from the couch it's filo dough crumb city.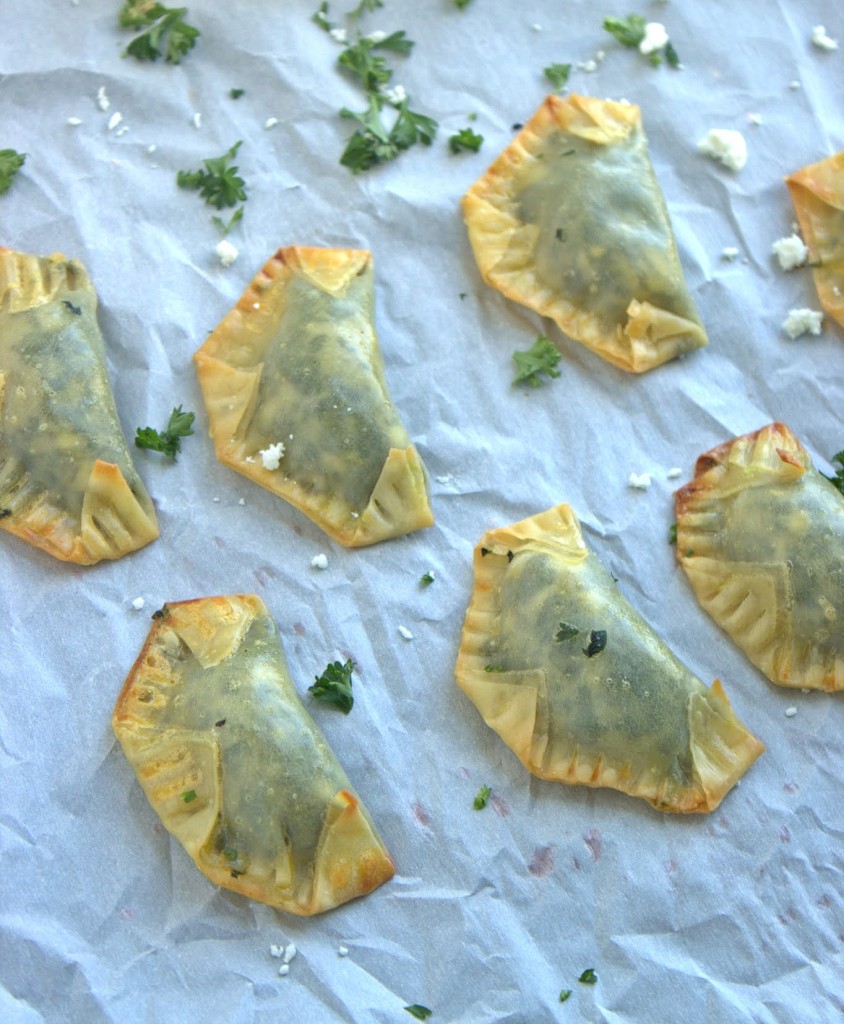 Filo dough can also be tricky to handle.  It's pretty delicate stuff.  But as you've seen from some other posts (like this one and this one) won ton wrappers are more versatile than you think. And, for spanakopita, they're the new 'no muss, no fuss' filo dough equivalent.
I tried these two ways, once with an egg wash finish and the second time with the olive oil cooking spray finish, and the olive oil spray definitely gave the outer shell more of a crunch.
The best part about these? They're a healthy and low calorie appetizer, coming in at just a hair over 1 Weight Watchers point per triangle. So go ahead and have seconds – and maybe thirds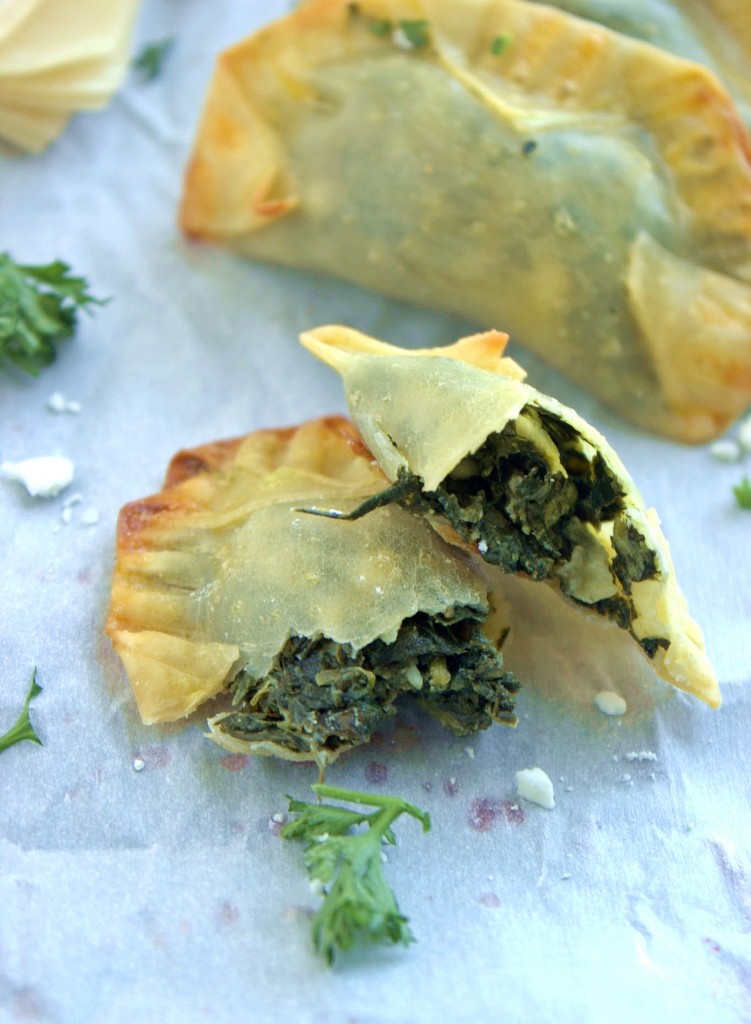 Homemade Spanakopita Made with Won Ton Wrappers
Adapted slightly from The Food Network
Ingredients
4 tablespoons olive oil
1lb. (16oz) spinach, washed, drained and chopped
1/2 of a full bunch of scallions (white and green parts) chopped
2 tablespoons parsley, chopped
1 medium-large garlic clove, minced
salt & pepper to taste
1 egg lightly beaten
1/2 cup fat-free feta cheese
24 (approximately) won ton wrappers
olive oil cooking spray
Instructions
1) Preheat oven to 350 degrees.
2) Heat 1 tablespoon of the oil in a large saute pan, add half of the spinach and saute until spinach wilts, tossing with tongs, about 2 minutes. Remove spinach, squeezing out excess liquid and set aside in a large mixing bowl. Repeat with remaining spinach, using 1 more tablespoon of olive oil, squeezing excess liquid and adding to other spinach in bowl.
3) Heat the last 2 tablespoons of olive oil and add the scallions, sauteeing until soft (about 2-3 minutes). Add the cooked spinach to the scallions, along with the chopped parsley and minced garlic. Season the mixture with salt and pepper and cook over medium heat for an additional 2-3 minutes. Remove the mixture from heat and let cool.
4) Once the mixture has cooled, add the feta cheese and the beaten egg a little at a time, just enough to moisten the mixture (I only used about 1/2 of the egg). Set mixture aside.
5) Line 2 baking sheets with aluminum foil and spray with non-stick cooking spray. Lay out your won ton wrappers, spraying the bottom of the wrapper with olive oil cooking spray before placing it down on the foil. Add about 1/2 tablespoon of the spinach mixture to the center of the won ton wrapper. Fold the won ton wrapper to form a triangle, sealing the mixture inside by pinching the edges together with a fork. Spray the tops of each spanakopita triangle with cooking spray.
6) Bake in a preheated oven for 10-15 minutes, until the won ton wrappers start to turn golden brown and the edges begin to crisp.
7) Serve hot!
http://www.andtheycookedhappilyeverafter.com/2013/04/09/homemade-spanikopita-made-with-won-ton-wrappers/
Copyright And They Cooked Happily Ever After